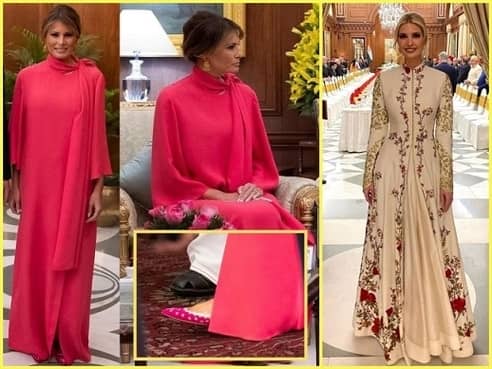 Melania Trump Stylishly Flaunted Her Indian Juttis. You Can Flaunt Them Too!
Monika Chauhan
403 views
add comment
US President Donald Trump and Melania Trump were recently in India to bolster the bilateral trade between the two countries. From her white jumpsuit in crème crêpe to the lotus-printed midi-dress to the pink gown with a front-slit, Melania was praised by all for her sartorial choices. Special shout-out to the US First Lady for her look at the state dinner at the Rashtrapati Bhavan! Melania chose to keep the traditional Indian touch visible though in a subtle way. We especially loved the way she accessorized her gown with gold jhumkas from renowned jewellery brand Amrapali. Above all, she ditched her heels to complete her desi look with embroidered pink juttis.
Needless to say, juttis have been a part of the Indian culture since the time of the Mughal rule. While they look great with ethnic wear, you can step out in style with a pair of beautiful juttis to complete your Indo-western look too. Moreover, Bollywood celebrities like Sonam Kapoor, Sara Ali Khan and Kriti Sanon are also not immune to the spell of juttis. They all often wear them to spice up their plain kurta or even a pair of jeans or shorts.
Be it about a crazy dance night, a casual brunch or a special occasion like wedding, juttis promise to offer far more comfort than your designer heels. Whether printed or embroidered, they are certainly not the wear-once-and-dump-forever kind of footwear.
Wondering where to shop for your perfect pair of juttis? We got you all the celebrity-approved top Jutti brands and their super comfortable, handcrafted juttis…
Falling Flowers Lilac Jutti From Fizzy Goblet

Pic Credit: Fizzy Goblet
This beautiful pair of handcrafted juttis from Fizzy Goblet comes with colourful three dimensional flowers all over. Specially designed with hand embroidery, this one certainly gives a fun, trendy twist to the traditional Indian jutti.
Wondering if your Fizzy's will survive only as an ethnic wear and not daily wear? Well, the Fizzy Goblet shoe brand is known for making super chic yet comfortable juttis. You will surely have happier feet as these juttis are well cushioned too. So one doesn't have to worry about shoe bites. Also, they have mastered the art of contemporarising the juttis with beads, gota patti, metallic as well as custom-made ones as well. Just perfect for your special day!
Moreover, the collection is among the favourites for celebrities as well. So you have one more reason to shop colourful, designer juttis from Fizzy Goblet.
2. Bridal Juttis From Jutti Choo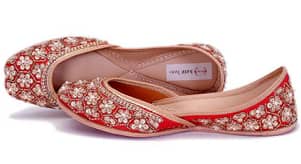 If you are looking for an authentic pair of Punjabi juttis, look no further. The exquisite handcrafted pieces from Jutti Choo are much loved not only by Indians but foreign folks as well. Also, they are quite famous among Bollywood divas as well. With loyalists like Deepika Padukone, Malaika Arora Khan, and Karishma Kapoor, Jutti Choo is certainly a sworn celebrity favourite.
Walking down the aisle, pairing with your suit-patiyala or hitting the dance floor, Jutti Choo is the brand to go for!
Besides their regular wear, the brand offers bridal and floral collections of juttis. The designs depict authentic Punjabi folklore, a big asset to Jutti Choo's products.
The Plush from Jutti Choo is made on silk brocade with hand embroidery of sequence. Plush is definitely one pair you would love to choose for all special occasions.
3. Floral Juttis From Coral Haze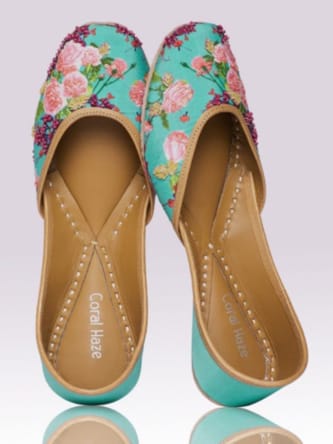 If you are a jutti lover, then you know what Coral Haze is. The brand is popular for its exquisite collection of designer handcrafted Punjabi juttis. From casual day wear to ornate wedding wear to subtle office wear, Coral Haze offers a perfect piece for every occasion. Moreover, each and every piece perfectly blends traditional Indian juttis with contemporary prints.
This pair of turquoise floral print juttis, for instance, comes with hand embroidered bead and sequin work. With pure leather used for the soles, these are properly cushioned for your comfort. Offering a perfect snug fit, the pair won't let you complain of any foot sore too. So you can easily wear them as long as you want to flaunt them!
While Coral Haze is also famous for its Victorian prints and fusion ensembles, one can get a host of options in terms of fabrics and hues as well.
Further, the brand boasts of its in-house design and development team. Looking for your own specialised juttis for a special occasion? Well, the Coral Haze design team can help you with the exact pair of juttis you've pictured in your mind.
4. Gold Zardozi Juti From Needledust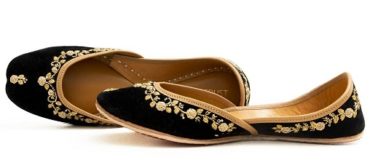 A strikingly beautiful piece from the house of Needledust! We are sure you can't take your eyes off these elegant gold zardozi juttis wrapped with gleaming sequin and delicate florals. The minimalism of the embroidery on the rich velvet surely makes this pair a spectacular one.
For the uninitiated, Needledust is a Delhi-based footwear brand. It is a hot favourite among Bollywood celebrities too. Kangana Ranaut, Sara Ali Khan, Alia Bhatt and Tara Sutaria, among others, certainly love the brand.
There is an interesting story behind the inception of the brand. Shirin Mann Sangha, Founder and Creative Head, Needledust always admired her mother wearing juttis and loved the craft too. But the first experiment happened when she was getting married. Unable to find any beautiful, pop colour juttis for the special occasion, Shirin decided to design her own wedding pair. She made it stand out by adorning her juttis with ghungroos.
Handcrafted by some of India's finest artisans, Needledust brings to you a beautiful range of fine leather juttis. The brand aims to sustain finery of an heirloom and bring excellence in designs as well as quality of raw material.
5. Nomadic Juttis from Pastels & Pop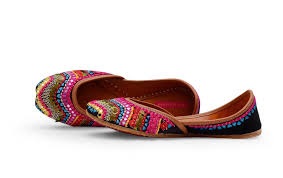 Here, we bring you one of the perfect pairs if you are looking for a head-turning pop for your all black look.
This 'Nomadic' piece from Pastels & Pop showcases the best in superlative embroidery. This pair comprises a multitude of elements in vibrant hues. These include silk threads, mirrors, lace, metallic copper coins, pearls and bugle beads perfectly brought together on a suede base.
With dexterous techniques like mirror work, resham and lace embroidery, Nomadic is a goes-with-everything kind of jutti.
The Chhabra sisters, Akanksha, and Aarti, started Pastels and Pop back in July 2015 to introduce this beautiful punjabi handicraft to the people in South India.
Luxury with comfort is the key driving force behind the brand, which is loved by clients from all over the world.
Furthermore, leading ladies of Bollywood also admire Pastels & Pop for its exquisite collection. These include Anushka Sharma, Sonam Kapoor, Kriti Sanon, Sonakshi Sinha, Taapsee, and Parineeti Chopra
6. Roshan Juttis From House of Vian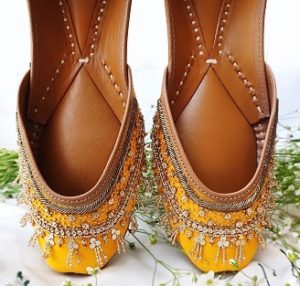 It's time to add a hint of desi to any outfit with versatile juttis from House of Vian. Take a look at these Roshan juttis, a perfect mix of edgy and elegant. Featuring a rich mango-yellow crepe base, these have dainty golden embellishments.
On a closer look, you will find them running along the neck of the jutti in one pattern with tiny beads and crystal tassels to finish the ends elegantly. What's more, these crystal tassels dangle and sparkle when you walk!
Gurgaon-based House of Vian is popular for its pure leather juttis, mojaris, wedges and handcrafted clutches. Are you a bride-to-be? We recommend you to check out pretty, embellished juttis from House of Vian. You will certainly love the way they bring forth the essence of Indian craftsmanship.
7. Pink Dandelion Jutti From Shilpsutra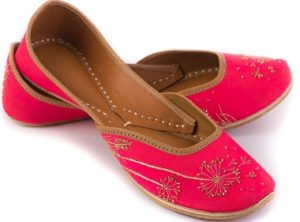 It's time to dive into all things colourful and playful! These juttis from Shilpsutra feature a vibrant rani pink cotton-silk base. It carries delicate gold embroidery of a dandelion done in gold zari and cutdana along with copper detailing. These pink dandelion juttis will definitely impress you with their style and exclusivity.
Talking about the brand, Shilpsutra brings you a line of bespoke fine leather juttis. Shilpa Agarwalla set up the brand way back in 2015, with a dream to bring some of India's best handiworks on the worldwide design grounds. Brilliant hues, clean blends, and uniqueness of item define Shilpsutra to the core.
Over the years, ShilpSutra has become a leading jutti brand in India as well as internationally. It is worn by most A-listers and celebrities including Aiswarya Rai Bachchan, Kangana Ranaut, Urvashi Rautela, and Kriti Sanon, among many more.
ShilpSutra is not only popular for its Shishmahal collection, but also for 3D embellishments, pompoms, and faux lather bases.
8. Florina Juti From Mojari Flake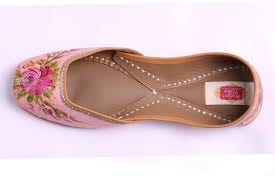 Looking for statement juttis? Say hello to florina juttis from Mojari Flake. Crafted with fine leather, these juttis are decorated with ceramic beads, mirrors, shells, bells and embroidery. They are just perfect to go with any ethnic outfit at festive occasions.
Mojari Flake offers you plenty of options when it comes to juttis/mojaris at affordable prices. Further, the ethnic range is made by skilled artisans to lend you far more comfort than any other footwear. You will certainly love the ones with beautiful kundan, zardozi and mirror work. Feel free to mix and match these beautiful juttis with bridal lehengas, anarkalis, or even your western wear.
9. Leather Juti From Purely Lush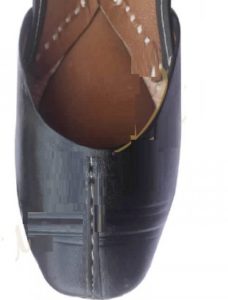 This handcrafted piece is made from pure leather. It speaks like the charm of an old school artisan with modern design sensibilities and we couldn't agree more.
Purely Lush, the luxury fashion label by Augmented Team Pvt. Ltd., makes beautiful, versatile products. Their range of juttis includes gota, kundan, zardozi, and hand embroidered ones. Additionally, the brand promises exclusive designs and premium quality.
10. Hot Shot With Mirrors And Dabka From Love For Jutti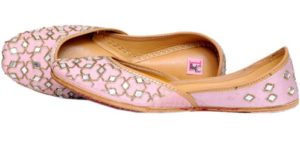 For those of you who admire elegance with class and culture, these juttis are sure to bring a smile to your face. Here you have a pastel pink silk base hand embroidered with mirrors and dabka to form a web pattern.
What makes the collection from Love For Jutti stand out is the blend of the royal colour combinations, stunning embroidery and perfect detailing. Handcrafted by specialized artisans, these juttis bring together the traditional craftsmanship with a contemporary twist.
The pair is made in genuine leather and can be easily twisted in hand, making it super soft on your feet.
Apart from these niche jutti brands, one may also explore shopping at Tourist Shoes Jaipur, Ramayana Retail, Metro Shoes, Venus Steps, Dilli Haat, Cottage Industries as well as Gujarat Emporium. These are all old but trusted names for easy shopping for that versatile yet comfortable pair of juttis.
So, slip them on and flaunt your style this summer season!!!
[Read: Put Your Best Foot Forward With These State of the Art Juttis]
---
View our videos
SIGN UP FOR NEWSLETTER
Be the First to Know. Sign up to newsletter today