Best Shopping Malls in Chennai
Apr 18, 2019
Guest Blogger
1519 views
add comment
Chennai is a vibrant cosmopolitan city with exciting shopping malls. The clean environment, shopping in an air-conditioned comfort, multiple entertainment options for kids and adults and last but not the least, the choice of gourmet restaurants have made shopping malls an essential  part of shopping and entertainment in the last decade. In addition, these shopping malls have become an important place for retailers to display their goods despite soaring mall rents. The key driving force is the lucrative business that the shopping malls pave the way for. With the ever increasing number of malls, Chennai is certainly a shoppers' delight. Let us take you through the top 7 shopping malls in Chennai.
1. Phoenix Market City:

Phoenix Market City is the largest shopping mall and has all the shopping, dining and entertainment options under the same roof. Dubbed as the eighth largest shopping mall in India, this Chennai shopping mall  also features a game zone and international stores. It is certainly one of the best malls in Chennai .
Highlights – Called 'Funcity', this acts as the main attraction for the kids. The Scary House is a haunted house that offers a thrilling  experience to the visitors.
Best Buys-Indo western and western outfits 
VENUE: 142, Velachery Main Road, Velachery, Chennai, Tamil Nadu 600042.
TIMINGS: 11:00 AM – 10:00 PM
TOP STORES AND BRANDS: Lifestyle, Big Bazaar, Marks and Spencers, Promod, Zara, Aeropostale, Da Milano, Global Desi, Soch and Biba.
Renowned footwear brands such as Adidas, Steve Madden, and Clarks.
Cosmetics – Further, it also houses many prominent cosmetic brands like MAC Cosmetics, Clinique and The Body Shop and Kama (Personal Care products)
Jewellery outlets are Claire, Kushals, and Utharika.
Brook Brothers is the store for men
RESTAURANTS: The Velachery mall offers perfect dining experiences with all-time fast-food favourites i.e., Dominoes and Burger King in addition to Hard Rock Café and Starbucks coffee shop.
2. Forum Vijaya Mall:

Forum Vijaya Mall is regarded as a hot shopping destination. The multi-storey building has a range of stores and dining outlets. In addition, IMAX and SPI cinemas offers entertainment options.
VENUE: NSK Salai, Arcot Road, Vadapalani, Chennai, Tamil Nadu 600026.
TIMINGS: 10:00 AM – 10:00 PM
TOP STORES AND BRANDS: One can find bags and accessories at Bata, Colourbag, & Ayesha; groceries at Hypermarket; electronics at Lenovo, HP; apparels at Westside, Levi's, Max and jewellery at Damini. The Tony & Guy is a trendy makeover salon and Relax 'N' go offers an ultimate SPA experience.
RESTAURANTS: With 42 food restaurants, you can spot KFC, Chopsticks, and McDonald's here along with other Indian and international cuisine options.
3. Ampa Skywalk:

Ampa Skywalk is a favorite shopping mall for many Chennaites. It stretches over 3.15 Lakhs Sq. Ft with exclusive parking facility. It provides a one-stop shopping for a range of products from garments to footwear to accessories. Most notably, the PVR Cinemas are the big attraction.
VENUE: No.1, Nelson Manickam Road, Aminjikarai, Chennai, Tamil Nadu 600029.
TIMINGS: 10:00 AM – 10:00 PM
TOP STORES AND BRANDS: M&S, Apple Imagine, Rado, United Colors of Benetton, Van Heusen, Adidas, Toni &Guy, Westside, Bata, Health and Glow, Samsung and Nikon are some popular stores present in the mall. The Thai Sabai Spa or YLG Salon, located on the ground and first floor are quite famous among visitors here.
RESTAURANTS: Every floor has dining and coffee options. To experience exceptional dining, head over to China Town and Pizza Hut.
4. Chennai Citi Center:

Chennai Citi Center located near Marina Beach is a compact shopping mall. This mall is right in the heart of the city and hence the name. The top floor has a great view of the Marina Beach. Lifestyle is the departmental store in this mall. This store is on 3 floors and is well stocked with garments, jewellery, footwear sportswear and cosmetics from leading brands .It is hence very popular.
VENUE: No.10 & 11 Dr. RadhakrishnanSalai, Mylapore, Chennai, Tamil Nadu.
TIMINGS: 10:30 AM – 09:00 PM
TOP STORES AND BRANDS: The mall has a few international and national brands such as Max, FBB, Giordano, Wills Lifestyle, Indigo Nation and Mom & Me. Lifestyle and Landmark are the anchor stores in this mall.
RESTAURANTS: The small food court serves fast food and beverages. There is a large play area for children to have fun.
5. Express Avenue: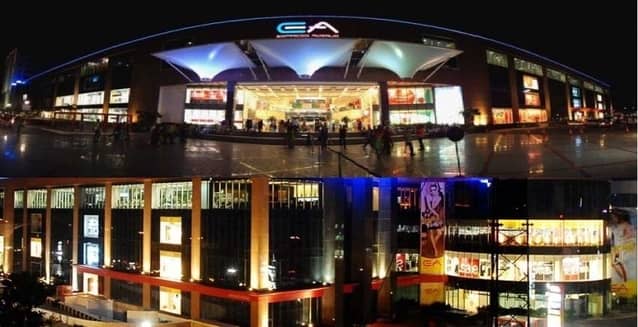 Express Avenue, the magnificent mall in Chennai, proclaims itself as "the mall for all." It is listed among the largest shopping malls in Chennai. Located in the heart of the city, it is promptly becoming the hub of activity centres for shoppers who desire to check out the latest shopping trends. It is perhaps popular due to its location, design and the number of brands available here.
VENUE: No: 2, Club House Road, Mount Road, Chennai, Tamil Nadu 600002.
TIMINGS: 10:00 AM – 10:00 PM
TOP STORES AND BRANDS:
The mall consists of product mix–flagship stores of renowned brands .
Marks & Spencers, H&M, Biba, Soch, Kalaniketan, Lifestyle, Utharika, Kushals, Skechers and Home Centre. Marks & Spencer is certainly a very popular shop here.
There is a wonderful book store in the mall for book lovers and DVD lovers.
They have a large well-designed multiplex and Family Entertainment Centre. One can have the exposure to a fantabulous enjoyment at PIX 5D Movies, Kids Play Zone and Gaming Zone.
RESTAURANTS:
The mall has a plethora of  eating outlets offering multifarious dining options like the Burger King, Chilli's, Subway and more.
6. Marina Mall: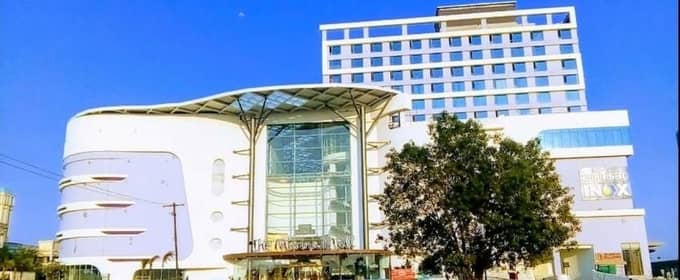 Popularly known as the 360-degree mall, Marina Mall is the finest hang-out spot to spend one's weekends in Chennai. This mall provides shoppers with a variety of brands for clothing needs. It attracts more visitors than any other mall as it is newly built. We recommend a weekend visit to this mall.
VENUE: Old Mahabalipuram Road, Egattur, Chennai, Tamil Nadu 603103.
TIMINGS: 10 AM – 10 PM
TOP STORES AND BRANDS:
High street fashion brands such as Reliance Trends, Pantaloons, Inox, Spar Hypermarket, Lifestyle, Max, Fashions are present in the mall. The mall houses an aquarium in the ground floor and viewing gallery above it as well as gaming centers.
RESTAURANTS:
The Marina Express Food Court offers a taste of multi cusine options.
7. Spencer Plaza:

Spencer Plaza is deemed to be the most conventional shopping mall in Chennai built during the British Raj. Unfortunately, the beautiful façade was demolished and a modern one was built in its place. The mall is spacious with unlimited shops available here. Above all, when you walk inside to view the atrium ,you will notice the erstwhile facade of this place which remains intact. The atrium is a place where musical evenings and events are held .
The mall, however, has no high fashion garment brand to offer. It is home to several craft and carpet stores though, including Kashmiri handicrafts and carpet stores. Shoppers love to buy beautiful Kashmir carpets, shawls and papier machie crafts of Kashmir at this mall.
Best Buys- Kashmiri carpets and gems
VENUE: No 174, Mount Road, Anna Salai, Chennai, Tamil Nadu 600003.
TIMINGS: 10:00 AM – 10:00 PM
TOP STORES AND BRANDS:
Brands like Nike, Adidas, Bata, Regal, Health & Glow, Vummidiars, Van Heusen, Levi's, Timex Watch and Titan are available here. This mall is preferred for items like leather goods, silver jewellery, mobile covers, handicrafts and cameras.
RESTAURANTS:
The mall is also attached with Hotel Saravana Bhavan, the popular South Indian vegetarian restaurant chain in the world. Consequently, it is crowded Shree Mithai, McDonald's, New Paradise Biryani, Sandwich Square, Bosotto Bros and Bhaghyam Snacks are other most-visited restaurants here.
Other blogs
Bridal Wear saree shops in Chennai 
---
View our videos
SIGN UP FOR NEWSLETTER
Be the First to Know. Sign up to newsletter today