Top 10 Saree Shops In Chennai For The Bride To Be
Jun 26, 2019
Guest Blogger
58633 views
add comment
"Elegance is the only beauty that never fades"
When was the last time you went saree shopping? When you wear a beautiful saree, you wrap yourself in a timeless piece of art and you can experience the feminine elegance and grace of the drape. No wonder then that new age heroines Anushka Sharma & Deepika Padukone chose to wear a gorgeous saree at their respective wedding receptions. Anushka wore a red Banarasi saree and Deepika wore a South Indian silk saree. Let us check out the most popular Saree Shops in Chennai.
Saree: The age old tradition 
As is evident, the saree never went out of style. No outside invasion or influence in India has dislodged the iconic saree from its preeminent position. The way a saree showcases the beauties of the diverse Indian culture is incredible. You go to any State in India and you will be amazed at the rich textures and the many stunning avatars of this six-yard wonder. Moreover, each Indian state is popular for its distinct varieties of sarees.
From Kanjeevaram silk to Banarasi, Maheshwari, Chanderi and Patola silk, the yarn and weave of the saree are distinct. Therein lies its beauty and complexity. The touch, weave, shades and the composition of a saree are totally different in a Kanjivaram saree from that of a Banarasi saree.
Saree Shops in Chennai
Chennai is a cosmopolitan city with exciting saree shops for both traditional silk sarees and modern zardozdi worked sarees. It also happens to be a city in which a saree is worn by most number of women everyday: at home, at work, and on special occasions. Not only that, the South Indian bride prefers to drape a Kanjivaram silk saree on her wedding day.
Let us see what the city of Chennai has to offer to both the conventional as well as modern day brides.
Shopkhoj.com criss-crosses the city of Chennai to find the  best places to go for bridal saree shopping. Take a look…
1. NALLI SILKS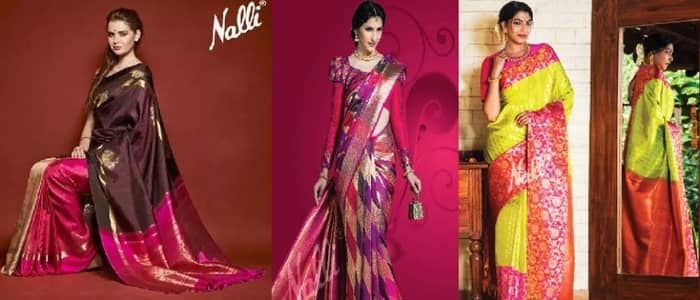 Nalli Silks is one of the trusted brands for bridal wear Kanjivaram silk sarees. They opened their first store in 1928. The iconic shop in T.Nagar is situated on three floors and stocks nearly 20 distinct varieties of sarees. It is rather quaint to walk into a store that is 90 years old. Hence, it  is interesting and is certainly a unique experience. When you walk into the old style establishment, you will notice that the interiors have been remodelled to house the ever increasing collection of sarees in the store. There is a good selection of traditional  bridal wear sarees.
Further, they stock an extensive range of textiles such as Banarasi silk, ikaat, crepe and printed cotton. There is a large sales force to assist you in your decisions.
Look out for 
Kanjivaram Silks, Kanchi cotton, Bengal cotton, Gadwal, Maheshwari, Pochampally(Ikaat) and polyester sarees.
TIMINGS: 9.30 am to 9.30 pm
BRANCHES:
T.Nagar : No. 9, Nageswaran Road, Thiyagaraya Nagar (T. NAGAR), Chennai-600017
 T.Nagar :100, Usman Rd, Thiyagaraya Nagar, Chennai-600 017
ADYAR: No.7,3rd Cross Street, Kasturba Nagar, Adyar, Chennai- 600 020
ANNANAGAR: AA-13, II Avenue, Annanagar, Chennai-600 040
MYLAPORE: New No.24, Old No.172, Luz Church Road, Mylapore, Chennai-600 004
FORUM VIJAYA MALL: Forum Vijaya Mall, NSK Salai, Arcot Road, Vadapalani, Chennai-600026
GRAND MALL: 137, Grand Mall, Velachery – Tambaram Main Rd, V.O.C Nagar, VGP Selva Nagar, Velachery, Chennai- 600042
CHROMPET: No 202, Rajaji Road, Great Southern Trunk Rd, Radha Nagar, Chrompet, Chennai- 600044
ONLINE SHOPPING FACILITY: AVAILABLE
RmKV is the ideal destination for grand wedding sarees. With its numerous branches, RmKV is certainly one of the most popular silk saree chains  in the city. Further, it has gained recognition due to its high quality silks, bold colours, designs and extensive zari work on the sarees. You can shop here for a range of Kanjivaram sarees(silk sarees and silk cotton sarees), soft silk sarees and handwoven sarees. The bridal saree range is limited. In addition, they also stock ready made dresses for children, ready to wear salwar kameez & clothes for men. The shop is  on four floors.
Look out for
Kanjivarm silk, Kanchi cotton, Uppada sarees and Mysore silks.
TIMINGS: 9.30 am to 9.30 pm
BRANCHES:
T. NAGAR: 125-127, Usman Road, Panagal Park, T. Nagar, Chennai 600 017
FORUM VIJAYA MALL: Unit No.16, 116, 215, Ground, 1st, 2nd Floor, Forum Vijaya Mall, Arcot Road, 183 NSK Salai, Vadapalani, Chennai-600026
PHOENIX MARKET CITY: S 55-58, 2nd Floor, Phoenix Market City, 142, Velachery Main Road, Velachery, Chennai- 600042
ONLINE SHOPPING FACILITY: AVAILABLE
Read More: Kanjivaram Silk Saree for An Indian Wedding
3. TULSI SILKS-Saree Shops in Chennai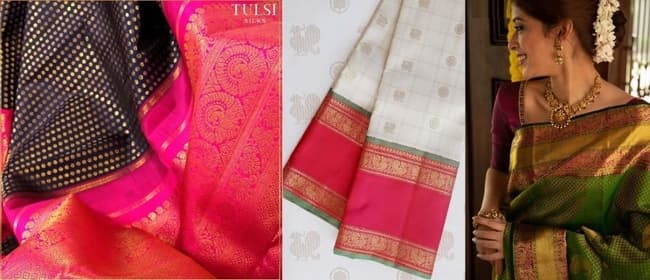 Discover the stunning varieties of sarees in this splendid store in the heart of Chennai. It is a three-storeyed shop in Mylapore. It was first started in 1993. Tulsi Silks enjoys a huge fan following due to its eclectic collection of beautiful sarees. What makes the store popular is the availability of both traditional and modern sarees and heavy & light weight sarees. It is a store  that is popular with the old & the young. There is a floor dedicated to exquisite Kanjivaram silks and Banarasi silks. The store is spacious and the customer service is excellent. It is one of the best Saree Shops in Chennai
Look out for
Tussar, crepe, bridal georgette, Banarsi and Kanjivaram silk sarees
VENUE: 68, Luz Church Road, CIT Colony, Mylapore, Chennai-600004
TIMINGS: 9.30 am to 7.30 pm
BRANCHES: No branches.
ONLINE SHOPPING FACILITY: AVAILABLE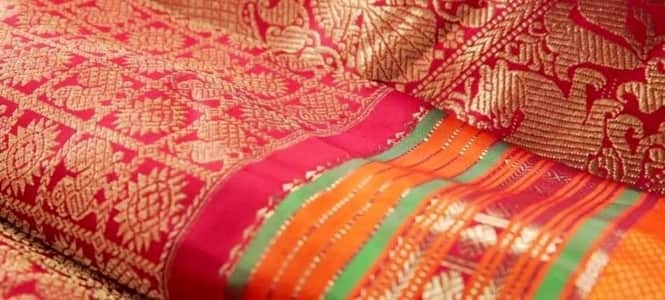 Image Courtsey: Kanakavali
Kanakavali is a luxury store for silk sarees in Chennai. This shop houses a spectacular collection of Kanjivaram silk sarees that were popular in the 50s and the 60s. Most noteworthy is the fact that they specialise in reviving traditional weaves. In fact, the store is housed in a renovated old and traditional home surrounded by gardens, reminiscent of a bygone era. The store is spacious and is never crowded. Time stands still and one can leisurely and deliberately view the limited collection. They focus on weaving unique sarees rather than focus on volume for mass consumption. Therefore, you can be assured that the sarees you buy here will be exclusive and the premium you pay will be for the quality and the offbeat deisgn. The silk and more importantly the zari is authentic. They also stock stylish saree blouses.
Look out for 
Pure Kanjivaram Silk in very traditional colours and designs.
TIMINGS: 10 AM to 8 PM
BRANCHES:
Adyar –  93/45, 1st Avenue, Indira Nagar,  Adyar, Chennai, Tamil Nadu 600020
Coimbatore –  1, GD Naidu Street Race Course Road Coimbatore – 641018
Bengaluru -2nd floor, Saanchi, #5, Setlur Street, Langford Town, Bengaluru – 560025.
Hyderabad- Plot No. 782, Road No. 44, Jubilee Hills, Hyderabad, Telangana – 500 033
ONLINE SHOPPING FACILITY: AVAILABLE

Image Courtsey:- Sri Kumaran Stores
Kumaran Stores is another iconic store in Chennai for bridal wear Kanjivaram silks as they have been around for more than 5 decades. The quality of the silk and the introduction of new designs and colours have ensured a loyal following of customers through the years. It is a fairly large store with several varieties of ethnic sarees in addition to the traditional Kanjivaram silks. The range of sarees is extensive from simple cotton to expensive bridal wear sarees.
They also stock ready made salwar kameez and dresses for children & men.
VENUE: -61, Usman Road, Parthasarathi Puram, Thiyagaraya Nagar, Chennai, Tamil Nadu- 600017
Look Out for
Kanjivaram silk sarees, kanchi cotton sarees, Gadwal sarees ,ikaat sarees.
ONLINE SHOPPING FACILITY: AVAILABLE

Located at Usman Road, Sundari Silks offers you a magnificent collection of silk sarees in innovative designs. They stock hand-woven silk sarees in beautiful designs. Most noteworthy, the designs are fresh and trendy. The ground floor has an extensive collection of silk sarees, Pochampally sarees, Gadwal sarees and so on. On the first floor, they stock simple cotton sarees and garments for children and men. Moreover, the store is spacious and the courtyard in the center of the store makes for a great ambience.
Look out for 
Kanjivaram silk sarees, Arni silk sarees and Kanchi cotton sarees
VENUE: 36, N Usman Road, Postal Colony, Parthasarathi Puram, T. Nagar, Chennai 600017
TIMINGS: 9.00 am to 9.00 pm
BRANCHES: No Branches
ONLINE SHOPPING FACILITY: AVAILABLE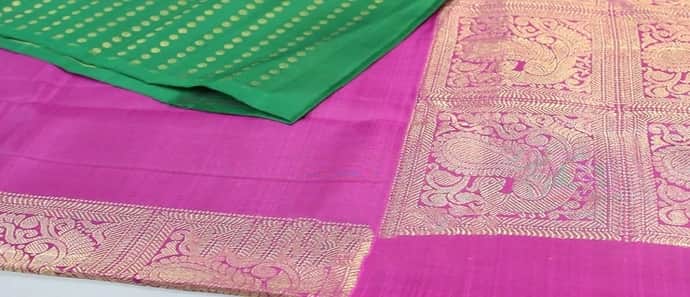 This store is literally a stone's throw from Kapalishwar Temple.
It is an unlikely shop to be included in the big league list for bridal wear sarees as it is quite a small store .However the thirdrd generation of the family is operating the store in Mylapore and the quality of the merchandise and the trust factor are very high.
They stock Kanchi cotton sarees and pure Kanjivaram silk sarees and it is the latter that interest  the brides. The range is distinctive with absolutely innovative colour combinations and designs. There is a mix of the modern & traditional styles. During the annual music festival season in Chennai, they introduce sarees with musical notes or musical instruments  in the designs.
They have also introduced a range of Kanjivaram silk sarees with extensive silver zari work in the body. This is certainly very original & novel. Traditionally gold zari is used in the borders. The sarees are stylish & grand and yet easy on the pocket. In fact, they have a range to suit every budget. The staff is knowledgeable and friendly.
Look Out for  
Kanjivaram Silk sarees, Kanchi cotton and silk sarees
VENUE:–   Near Kapalishwar Swami  Temple .Mylapore, Chennai, Tamil Nadu- 600004
TIMINGS: 11 AM to 8 PM
ONLINE SHOPPING FACILITY: AVAILABLE
The North Indian Saree Shops in Chennai
While Chennai is popular for grand Kanjivaram silk sarees, the recent trends indicate that young women prefer  georgette sarees and or bridal lehengas for one of their wedding functions.
8. MANMANDIR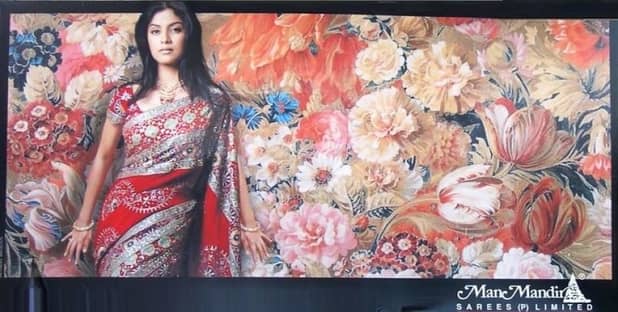 ManMandir on KNK Road, Nungambakam is a popular store for the non Kanjivaram silk sarees. They stock the traditional North Indian lehengas, bridal wear sarees with sequins, zardozi, embroideryand gotta patti work. These varieties of sarees are very different from the traditional South Indian Kanjivaram silk sarees that are woven with silk threads and silver dipped in gold zari borders. North Indian sarees are in georgette, crepe and satin. They are typical bridal sarees in Chennai
Look out for 
Georgette with zardozdi work and bridal lehengas
VENUE: 32, Platinum, Khader Nawaz Khan Road, Nungambakkam, Chennai 600006
TIMINGS: 10 am to 8:30 pm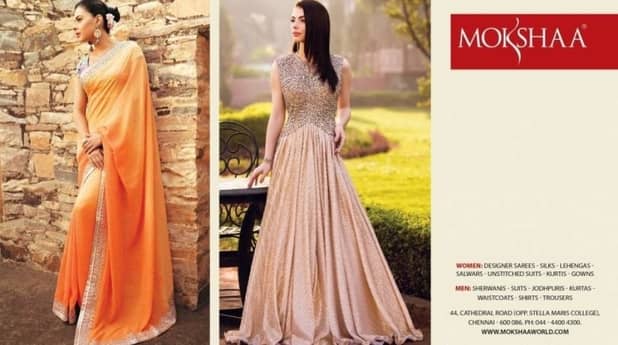 Mokshaa is located in Cathedral Road in Chennai. There are four floors dedicated to clothing for men & women in this store and it  is a spacious store. The first floor has clothes for men. Sherwani and jackets for men in ethnic styles are beautifully displayed here. The other floors are dedicated to womens wear. You can spot traditional bridal lehengas on one floor, heavily embellished sarees can be found in another floor and salwar kameez in yet another. Indo-western dresses such as gowns that are popular with today's brides are available here.
Look out for
Heavily embroidered salwar kameez and sarees as well as bridal lehengas
VENUE: No. 44, Cathedral Road Opp. Stella Maris College Chennai 600086
TIMINGS: 9.30 am to 7.30 pm
ONLINE SHOPPING FACILITY: AVAILABLE
10. KAY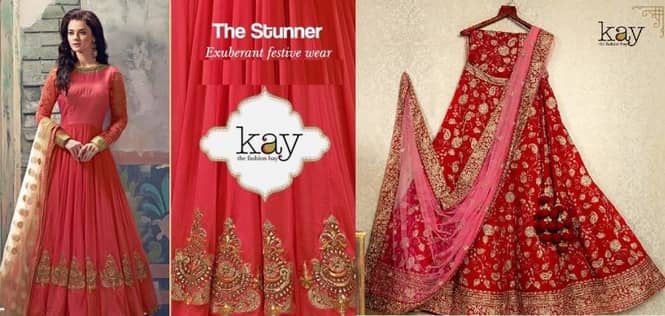 Kay is an all-time favourite shop for women's wear and children's wear in Cathedral Road near Moksha.
They stock a great variety of sarees in georgette and chiffon that are ideal for the bride as well as the besties of the bride. Further, there is a separate floor dedicated to bridal lehengas costing upwards of Rs 35,000/piece. The lehengas in traditional red and pink colours with plenty of beads, sequins and embroidery work in them are perhaps the best sellers. Additionally, a range of heavily embellished western style gowns are also available here.
Likewise, silk and tussar sarees are quite popular in this store. Georgette and crepe with thread work and stone work are also available here.
Look out for
Gowns, Bridal lehengas & bridal wear sarees.
It is one of the most popular stores for brides.
VENUE: 99/49, Cathedral Road, Chennai-86
TIMINGS: 9.30 am to 7.30 pm
ONLINE SHOPPING FACILITY: AVAILABLE
Wedding round the corner? Let us start shopping for bridal sarees in Chennai!        
[Banner Image : Kanakavalli]
Also Read
 7 things to know before buying a bridal lehenga
Other blog:  Imitataion jewelelry shops in Chennai 
---
View our videos
SIGN UP FOR NEWSLETTER
Be the First to Know. Sign up to newsletter today