Girls are shying away from from buying gold jewellery. They prefer the artificial jewellery these days. The sheer variety of imitation jewellery that is available in the market today is enough to entice them. Not to mention the affordable prices for these jewellery. Shopkhoj.com brings you the best shops for Imitation Jewellery in Chennai…
1. Imitation Jewellery in Chennai: Chamiers
Chamiers gift shop is in RA Puram Chennai. The gift shop stocks beautiful jewellery, home decor and dining accessories. Long danglers in Kundan, pearl and Kundan necklaces and silver jewellery with semi precious stones are aesthetically displayed in the shop. Jewellery is light weight and very fashionable.
2. Imitation Jewellery in Chennai: Amethyst
Amethyst stocks jewellery from Amrapali, Jaipur and silver jewellery from other designers. They stock heavy and chunky jewellery pieces.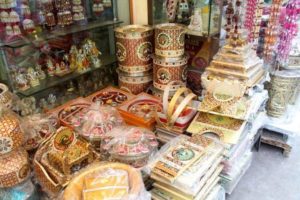 3. Imitation Jewellery in Chennai: Jugal Kishore
Jugal Kishore shop is in the ground floor in Alwarpet. They have an immense collection of artificial jewellery. Strings in pearl, rubies,jade,garnet and multi coloured beads look elegant.They stock pendant sets with meenakari work, silver jewellery and artificial gold jewellery. This is one of the best shops for imitation jewellery in Chennai.
4. Imitation Jewellery in Chennai: Kushal's fashion Jewelry
Kushals stocks a lot of traditional South Indian designs such as the long chains, the waist band, amulet and hair decor pieces. The necklaces look real although they are made with artificial stones. Maang tikka, the traditional jumki and ear chain are some of the best selling items in the store.
5. Imitation Jewellery in Chennai: Utharikha
Utharikha has a chunky silver jewellery, pearl sets  and kundan jewellery sets. They stock a few pieces of traditional south Indian jewellery as well.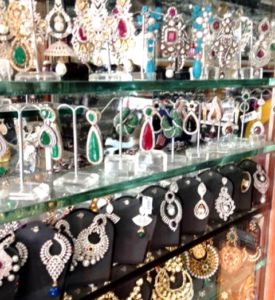 6. Imitation Jewellery in Chennai: Claires
Claires has non traditional jewellery that is suitable for teenagers and youngsters.Danglers, bracelets and chains mostly. They also stock clutches, hair accessories, makeup and toys and home decor pieces.
7. Imitation Jewellery in Chennai: Ayesha
Ayesha has costume jewellery with international designs that are very reasonably priced. They stock beautiful bracelets and necklaces that are ideal for young girls. Charm bracelets, gold toned necklaces and silver toned necklaces are delicate and light to wear. In addition to jewellery they stock, caps, clips and sunglasses for young kids.