Why Is Big Bazaar A Shopping Delight For Customers?
Monika Chauhan
3419 views
add comment
Talk about a household name that is closely associated with retail stores in India and the first name to cross your mind will be Big Bazaar. Big Bazaar's parent Company, the Future Group, were pioneers in setting up the retail chain store.
Big Bazaar is a hypermarket today with a wide gamut of essentials in 3 categories that is, home, food, and fashion.
Food Bazaar and fbb are Big Bazaar's food & clothing brands, respectively.
A Quick Look @ Big Bazaar's Origins
Founded in 2001, Kishore Biyani , the founder of the Future Group, is the brain behind Big Bazaar. A pioneer of modern Indian retail industry, Biyani has been a great source of inspiration to many entrepreneurs in the country for around two decades now.
Big Bazaar opened its first outlet in Kolkata, followed by Bengaluru and Hyderabad in late 2001. There is no looking back for the retail store ever since and it continues to grow continuously. With more than 250 multi-level stores in 120+ cities and towns in India, Big Bazaar is still going strong.
A One-Stop Shop for All Your Needs
Have you ever been to any local Sunday market in your neighbourhood? What is the experience like? We are sure you are tempted to visit the market every week or two specific reasons:
You get to shop for almost everything you can imagine from food to cookware to clothes, all at one place and
All the items available in the market match with your weekly/monthly budget too.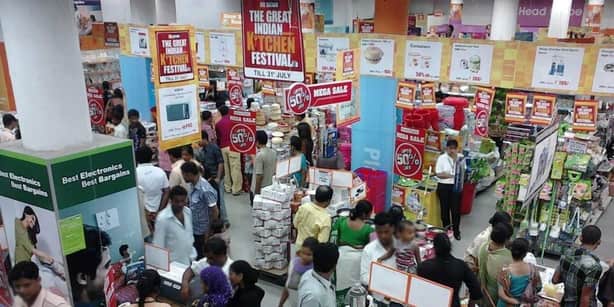 The not-so-bright side of these markets could be the crowd, which might make your navigation not very pleasant & memorable. Also, you may not be very sure of the quality of the products available here (of course, we are not referring to fresh fruits and vegetables but other items meant for home decor, home furnishings, stationary, clothes and so on.)
Enter Big Bazaar
The Indian retail market witnessed a massive disruption in the form of Big Bazaar in the year 2001. With its strong appeal for the urban middle class, Big Bazaar turned the foreign concept of supermarket/large department stores into reality in India.
…and so begins the Chapter of Organized Retailing in India
To put it simply, Big Bazaar brought a refined market experience to everyday shopping. It lured visitors with "the best products at the best prices".
India's first Big Bazaar store in Kolkata was purposely designed to reflect the look and feel of Indian bazaars. Consequently, customers discovered the delights of shopping, while wandering through aisles and  filling up their trolleys with diverse products and brands.
Likewise, what clicked the most with visitors was the products were in fact cheaper in some cases when compared to their local store. Everyone was delighted at the concept of picking up their own fruits, vegetables & groceries in a spacious store.
Big Bazaar has since then expanded to include several items, in addition to groceries and fresh food.
Big Bazaar @ V3S Mall, Laxmi Nagar
We visited Big Bazaar in V3S Mall, Laxmi Nagar to get a detailed view of the store. Located at the second floor of the mall, Big Bazaar here houses Food Bazaar and fashion brand fbb along with home furnishing products.
fbb: At their  in-house fashion brand fbb, you can shop for latest trends in clothing for men, women and kids.
Right from denims, jeggings, palazzos and other modern apparels to ethnic & fusion wear dresses, fbb has them  all covered.
What's in Store for Women?
Under the ethic and fusion wear category, fbb offers printed tops, cold shoulder tops, embroidered short kurtis, floral print kurtas, double layered kurtas, collared striped kurtas with pockets and similar dresses. They stock brands such as DJ&C, Srishti, Ateesa, and Morpankh.
You can also check out cotton pants, cropped and checkered palazzos, stretchable scuba pants, ankle length schiiffli pants, gold printed & churidar leggings, and embroidered patialas.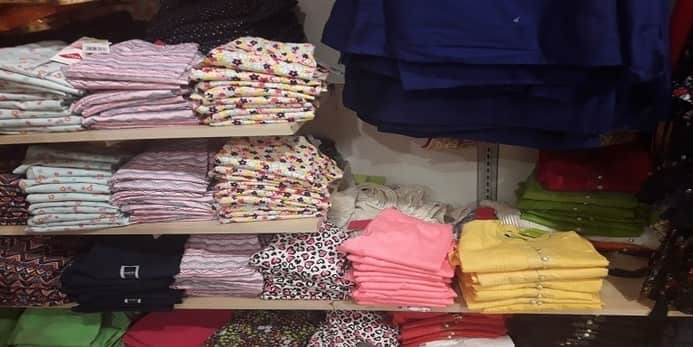 Even more, a gorgeous range of dupattas and stoles is available here to complement both your ethnic and casual look. These include brocade, embroidered, gold printed, crinkled, bandhani, chiffon, sequin, and floral embellished dupattas from Srishti.
Western Wear at Prices You will Love
Fbb has trendy range of western dresses in various sizes from Lee Cooper Originals and DJ&C. The latest collection comprises of strappy wrap dresses, off-shoulder overlay tops, denims, cut-n-sew tencel tops, casual shorts, striped shrug, slim fit denims, panelled jeggings with zippers and much more.
Furthermore, it has accessories on display such as jewellery, watches, sunglasses, clutch bags and handbags.
Besides that, the kids section covers all age groups, with brands including Pink & Blue, Spunk, DJ&C, Lee Cooper, Srishti and Disney.
General Merchandise
In addition to women's apparel, the store  provides a range of products under one roof. It comprises home decor, utensils, home appliances, crockery, cutlery, groceries, toiletries toys, sports goods, and stationary.
Products which are clubbed under Home Needs include cleaning accessories from Richline, Gebi, Gala, cookware from Prestige & Omega; kitchen appliances from Royale and Prestige; paper and disposables; plastic ware, repellants and fresheners; floor cleaners; detergents from popular brands; and travel accessories, among others.
Let's take a look at products which come under Home Furnishing section at Big Bazaar. These include pillows & pillow covers, bed sheets, blankets & quilts, and bathroom linen comprising of towels, bath robes & slippers.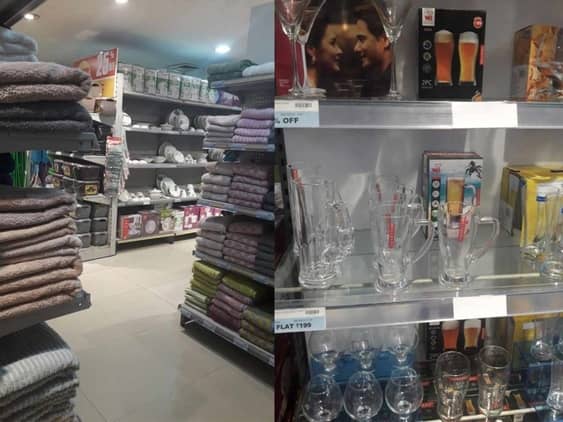 Beauty Centre
This section of Big Bazaar stocks personal care and beauty products for you from Garnier, Kara, Ponds, Nivea, Yardley, Vlcc, Park Avenue, Loreal and Sunsilk also.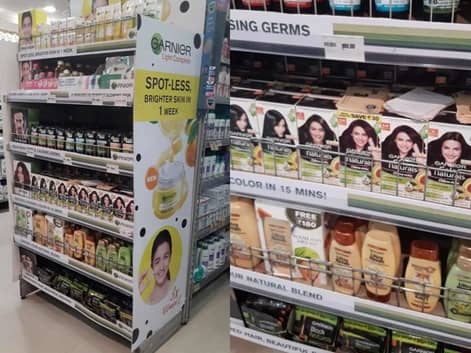 Food: In addition to fresh fruits and vegetables, dairy products and groceries, Big Bazaar also has ready-made food for you at a budget-friendly price.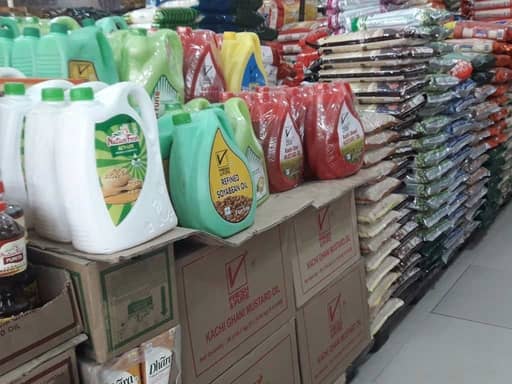 If you feel tired walking around a lot more than usual, it's time to grab an energy drink to do away with shopping fatigue. You can buy drinks from Real Activ, Paper Boat, Rasna and Ocean India from this part of Big Bazaar.
Create Your Shopping List Online

Big Bazaar has made it all the more easy for you to shop for daily essentials. You can create your shopping list online after checking offers on different products and then walk in to nearest store today for a swift shopping experience.
A Powerful Promise: "Is se sasta aur accha kahin nahi!"
The brand was launched with this tagline "Is se sasta aur accha kahin nahi!", which certainly resonated well with Indian shoppers.
Most importantly, the promise was to deliver the best products at the best prices.
Pros & Cons of shopping in Big Bazaar
Pros:
Big sales and promotions around public holidays
Exciting shopping rewards
Array of products under the same roof
Cons: 
An overcrowded hypermarket during sales
Slow Billing at times
Big Bazaar Near You
Delhi- Mayur Vihar Extension
Mayur Vihar Extn, Metro Station, Delhi
Store Time: 10:30 AM to 9:30 PM
Phone No: 011 3020 2601
Nearest Metro Station – Mayur Vihar Pahse 1
Gen Nxt- Noida- Sector 18- Mall Of India
Plot No. M-03, Sector-18, Mall Of India, Noida, Uttar Pradesh
Store Time: 10:30 AM to 10:00 PM
Phone No: 0120 2428280
Nearest Metro Station – Noida Sector 18 Metro Station, Noida
Noida- the Great India Place
The Great India Place, Entertainment City, Lower Basement, Sector 38 A, Near Atta Market, Noida, Uttar Pradesh
Store Time: 10:30 AM to 9:30 PM
Phone No: 0120 6557035
Nearest Metro Station – Noida Sector 18 Metro Station, Noida
New Delhi- Laxmi Nagar- v3s Mall
V3s Mall, 2nd Floor, Plot No. 12, Laxmi Nagar, New Delhi
Store Time: 11:00 AM to 10:00 PM
Phone No: 011 22423990
Nearest Metro Station – Nirman Vihar Delhi Metro Station
---
View our videos
SIGN UP FOR NEWSLETTER
Be the First to Know. Sign up to newsletter today