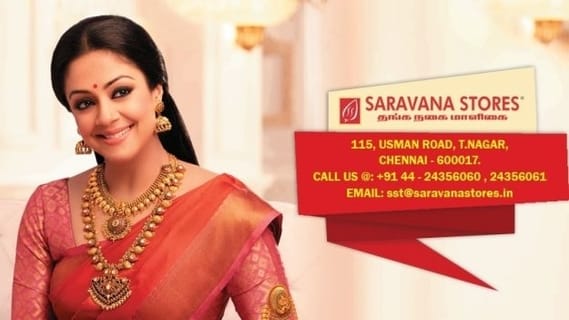 Saravana Stores ,Chennai- Why is it so popular?
Jul 12, 2018
manjula
1964 views
add comment
Firstly, Saravana Stores is one of the largest chain stores in Chennai. Further, it is a common sight to see customers walking out of the store with 2 or 3 bags filled with their purchases. Above all, this store started  as a single store with humble beginnings. In. other words, it has now grown to become a trusted departmental & grocery store. In fact  it has more than 5 branches in  Chennai. The branch at Ranganathan Street, T. Nagar, Chennai was the first to be opened. S Rajarathinam is the founder-owner of this departmental Store.
Currently, Sarvana Stores has branches at Purusawalkam, Chrompet and Padi among others. The Padi Store is said to be their largest in Chennai. The stores are now in multi storeyed buildings spread across several floors. They sell almost everything that a family would need . Ranging from  household appliances to graments & jewellery, they stock everything. For instance, kitchen appliances, household goods & luggage accessories  clothes, groceries, fresh food &  jewellery. The stores are perenially crowded. This fact is more evident during festivals such as Diwali, Pongal, Christmas and Ramzan. They are crowded on weekends as well.
Saravana Stores: Changing Chennai Shopping Experience
Saravana Stores' first entry was in the early 70s as a simple shop for kitchen utensils in T. Nagar, Chennai. The store was started by one Mr. Shanmuga Nadar and his sons from a little known town called Tuticorin in South India. The first shop was called "Shanmuga Stores" occupying an area of 720 sq ft. The store sold everyday kitchen utensils and had a staff strength of 10. Over the next 10 years Sarvana Stores expanded to include textiles, readymade garments, kitchen appliances and jewellery. Around this time, the stores got bigger and larger.
Today, they employ nearly 10000 people and have a revenue to the tune of INR 22.3 billion ($330million) approximately.
Offshoots of Saravana Stores are Saravana Selvarathinam Jewellery and Saravana Thanga Nagai Maligai( gold jewellery stores) which are now thriving businesses. They deal exclusivly in diamond & gold jewellery.
Saravana Stores: What to buy?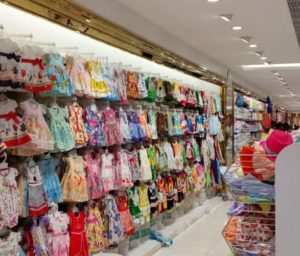 As the store has a wide range of products, there is something for everyone.
Children's clothes are one of the best buys in Saravana Stores. The clothes are placed in a heap in large containers categorized by age and gender. They are not neatly folded on shop shelves. It is possible to get good quality daily wear dresses such as cotton frocks, pants, t-shirts and shirts for children. The rates are very nominal. For, example, a daily wear cotton frock for children aged up to five is priced at INR 150/a piece ( $2- $3 ). A wide range of semi formal and formal dresses are also available.
As a matter of fact,  Fashion jewellery attracts a sizeable crowd. In fact, one can always see young and old women checking out the immense collection. They love to choose a piece or two of imitation jewellery.  They are less expensive. For example, jhimikis, also known as Jumkas in the North, are available in a variety of sizes. Further, they come with plain gold polish or embedded with several coloured stones. The choice is immense and sure to confuse any new customer. Again, the prices are very nominal.
Saravana Stores: Soft & Hard Luggage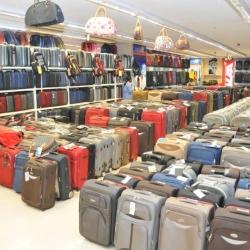 A separate section exists for soft & hard luggage. For example, the  soft range includes clutches, small purses, large travel bags, sling bags, jute bags & grocery baskets. The hard luggage section includes suitcases and hand luggage. Many of the purses are available in leather, rexine and cloth finishes and in multiple sizes and colours.
For instance, the clothes section for men and women is definitely worth a visit. Racks and racks of garments are stocked, segregated by type and price range. This makes the selection process easier. In fact, there  is  a whole floor for sarees with prices ranging from INR 200 to more than INR 50000/ a piece in cotton, georgette, polyester and silk. This makes you wonder at the sheer diversity and range of sarees in Chennai. The men's section includes formal and informal wear and a wide variety of jeans of all sizes.
Similarly, the store also has groceries, gift items, vessels, toys, stationary items and a wide range of consumer products.
Saravana Stores: Gold Bangles and Chains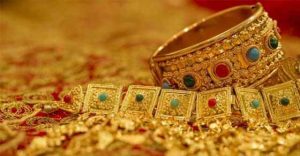 In addition, the store is also well known for its gold jewellery and an entire floor is dedicated to it in all their branches. Gold bangles and chains are available in plenty. The workmanship is intricate and unique. This section is very crowded during auspicious days and during those specific months when marriages are scheduled.
 Staff ,Street food & Amenities 
Essential & basic items at very affordable prices has attracted a dedicated & loyal clientele. Since the shops are very crowded, a visit during the early morning hours is recommended. So customers who would like to shop in silence can take advantage of the early hours.
Above all, the staff at Saravana Stores is worth a mention. As we enter the shop, we are greeted with a welcome smile and 'Namaste' by one of the numerous staff members. They hand us a placard which details floor wise organisation of the products. This is a helpful guide to quickly reach the floor and aisle specially if one has a clear idea as to what one wants to purchase. The young and friendly staff from rural Tamilnadu are always very helpful. They have also devised an effective billing system and with an efficient staff, they ensure minimal waiting time at the counters.
As a matter of fact, all branches of Sarvana Stores have street food outlets in or near the premises. One can stop by and enjoy tender coconut water, cups of corn, sugarcane juice, cakes, cutlets, tea or coffee in these places.
In addition, the stores have well planned parking spaces and a couple of Saravana Stores branches boast of multilevel automated car parking. However, it is wise to use public transport such as an autorickshaw to reach the stores. Autos are parked right outside the stores and after some bargaining they would take you to your destination.
Success of Saravana Stores
The success of Saravana Stores is a huge inspiration for many retail startups and small time sellers. Kishore Biyani, the founder of the Future Group, that manages Big Bazaar and Pantaloons, has stated in his autobiography that his inspiration to start his retail venture was Saravana Stores. Biyani has mentioned that he visited Saravana Stores several times to understand their business model before he started his retail venture.
Saravana Stores is a household name in Chennai. For instance, it  provides a delightful shopping experience to several of its longtime customers. It is impossible to leave the stores without purchasing some thing. It is not an upscale destination for the discerning shopper . However, it is definitely the shopping destination for the common man, woman & child.
Saravana Stores is an unforgettable Chennai shopping experience.
Read our other blogs here
Top 10 saree shops for the bride to be 
---
View our videos
SIGN UP FOR NEWSLETTER
Be the First to Know. Sign up to newsletter today