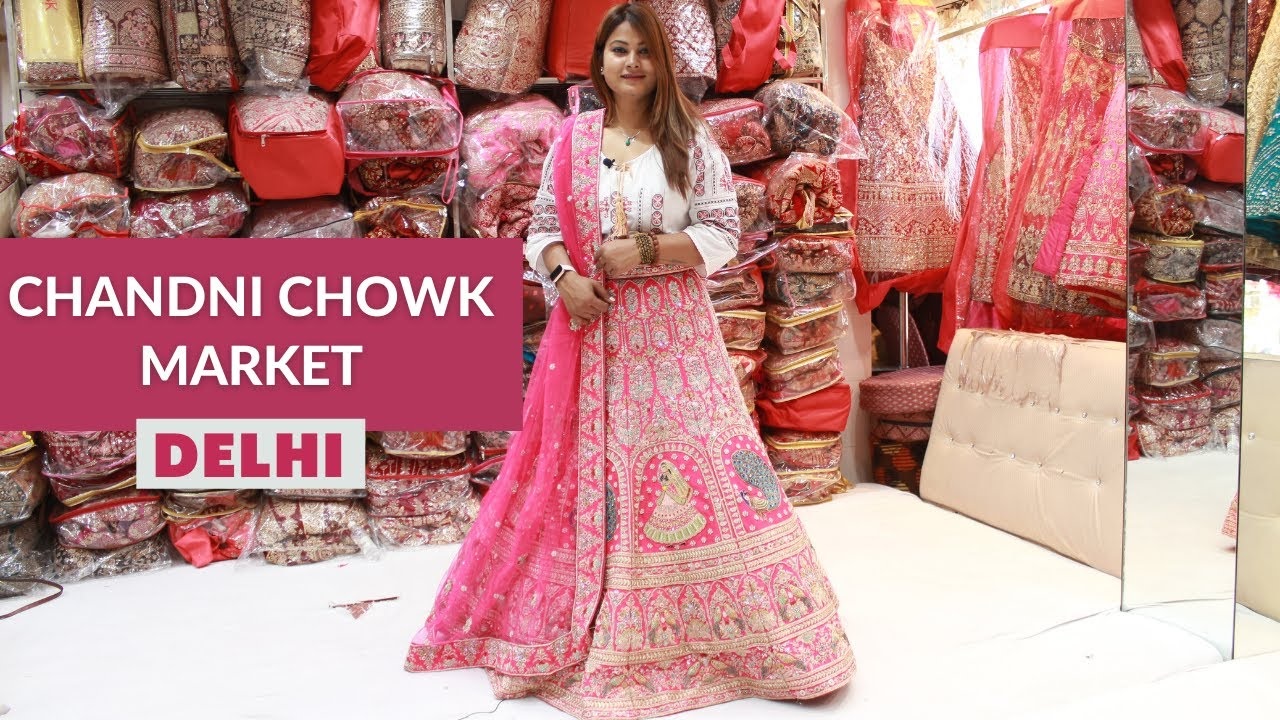 Chandni Chowk Delhi -Tour & Shopping
Kausy M
2712 views
add comment
Chandni Chowk Tour
Chandni Chowk meaning "moonlit square" or "moonlit market" in Hindi, is one of the oldest and busiest markets in Old Delhi. It was built in the 17th century by the Mughal Emperor Shah Jahan and was designed by his daughter Jahan Ara. For instance,this market is in North Delhi and is terribly crowded and chaotic at all times. However, some of Delhi's world famous monuments like the Red Fort, Jama Masjid (religious monument for Muslims) and the Sis Ganj Gurudwara (Sikh religious monument) are located nearby and are major tourist attractions.
The Red Fort and the Jama Masjid were also built by the Mughal Emperor Shah Jahan when he moved his capital from Agra to Delhi. 
In other words, to give you the true Delhi experience, we have created simple walking/cycle rickshaw tours that will take you to the best shops in town, the best places to eat while you shop, and also let you catch a glimpse of the historic splendour of the capital city of India.If you have never traveled by a cycle rickshaw, this is the time to try it. Enjoy the ride for as little as Rs50/Rs100. Metro Station: Chawri Bazaar/ Jama Masjid/ Red Fort.It is time well spent in this part of Delhi . It will be a un unforgettable experience.
Getting There
Take a cab or take the Metro train Yellow Line to Chandni Chowk and then take a cycle rickshaw or walk to Red Fort. If you are on the violet line, get off at Lal Kila (Red Fort )station. If you have your own vehicle, park it in Red Fort.
 Red Fort
The next stop on our tour will be the Red Fort. Take a rickshaw to Red Fort from the station. As a matter of fact,The Red Fort was the residence of the Mughal Emperor of India for nearly 200 years, until 1857.
10:00am- 12:00pm. – Take a tour of the magnificent Red Fort. As a matter of fact, it is called the Red Fort as the facade is in Red sandstone. In addition to guided tours, they also have the Sound and Light show in the evenings.The detailed art work  & jali work inside the Fort is marvellous. As you enter this impressive fort, you will go through the Chatta Chowk bazar, which is a covered bazar. This was originally meant for shopping within the Red Fort complex.It resembles the Grand Bazar in Istanbul.
 In addition, Every Independence day, the prime minister of India addresses the nation live from the ramparts of the Red Fort.
Chatta Chowk Shopping
Chhatta Chowk Bazar, Red Fort
You can shop for small handicrafts, bags, shawls, silver jewellery &  colourful beads.There are about 50 shops selling interesting Indian articles. It is an impressive shopping market. The shop owners originally stayed in the first floor.As you walk past the bazar, the vistas open up. The magnificent Red Fort has the Diwani Aam, Diwani Khas,Private & public audience spaces, private chambers, Royal Baths & the Pearl mosque.The Peacock throne that was looted from the Red Fort  by Nadir Shah of Persia, held pride of place in the Red Fort. In addition,there is a museum & a gift shop as well. The extensive lawns & water bodies give a feeling of a beautifully planned & well constructed Fort.
 Timing :9.30am – 4.30pm daily (except Monday) Entry Fee: Rs.30/-(For Indian Citizens) and Rs.250/- (For foreigners)
Entry Fee for Sound and Light Show: Rs.60/-
Jama Masjid
Next take an erikshaw for Rs 50 & go across the street to Jama Masjid
12.30. You will reach the Jama Masjid entrance.However,do not be surprised with the noise. In other words, there is long walk from the main road with street hawkers all the way. Above all, it is not a very pleasant 10 minute walk as you will get shouted out.Start your tour of Jama Masjid.As a matter of fact,Jama Masjid is the biggest mosque in the India and can accommodate upto 25000 people in its courtyard. It was built during the period 1650 – 1656. You can carry your shoes inside but you cannot wear it. Alternately, you can deposit the shoes outside for a small sum of money.All important Islamic festivals are celebrated here. In addition, if you climb the minaret, you can see  a fairly vast expanse of Delhi.
Give yourself at least half hour to see the monument. Tourists not allowed during prayer hours Entry: Free Photography: 200 Open all days of the week: 7.00 am – 12.00 pm 1.30 pm – 6.30 pm.
Chandni Chowk Delhi
1:00pm – After that, head out to Chandni Chowk. Come out of the side gate that leads to Chandni chowk from Jama Masjid. Gate No 3.Take an e rickshaw to Chandni  Chowk. On the way, you will see the old havelis & several shops in Dariba Kalan.In addition, you will enjoy the shops selling sterling silver & silver jewellery. It is difficult to take your car in there, but not impossible. If you have your own vehicle, ask for a parking lot when you reach Sis Ganj Gurudwara on Chandni Chowk. Parking is about ½ a km away.
https://www.shopkhoj.com/delhi/chandni-chowk/
Visit the Sis Ganj Gurudwara. This is an important place of worship for the Sikhs. (Entry free)
Food Tour
1.30pm – 2.30pm – Time to hit the restaurants. Haldiram and Bikanervala are standard vegetarian fast food restaurants in Chandni Chowk. While the Parante wale Gali in this area is famous for its fried paranthas, ( flattened breads ), the road side shops which serve these are not modern eating places and it would be more of a roadside eating experience. There is a famous sweet shop right in the beginning of Dariba Kalan lane. Their Jalebis (fried sweets dipped in sugar syrup) & samosas  are very famous. You can identify the shop by the crowds in front.
Karim's, near Jama Masjid, is a very well known non vegetarian restaurant. Further, if you are in the mood to taste some authentic Indian meat and chicken preparations, do not miss Karims.
2.30pm – 4.30pm. Take a cycle rickshaw tour to Dariba Kalan and Kinari Bazar.However, you can walk if the weather permits and you are brave enough to handle the crowds.
Shopping Areas
Dariba Kalan is the name of a lane and it is the oldest bullion market in the country.Further, today, it is home to several shops selling silver, silver plated articles, gifts and souvenirs as well. Silver chains and bracelets are aplenty.Visit Gulab Singh Johrimal if you wish to shop for fragrance oil(s), scented potpourri and soaps. This shop is also situated on Dariba Kalan.
Similarly, in Kinari Bazar, you can find colourful brocade borders and laces. You can also shop for gift packing items such as sweet boxes, trays, sari covers, gift covers and all such items that are required for an Indian wedding. You can get them at wholesale rates. Kinari Bazar is a narrow lane but you will be astonished with the variety and items on display here.
Bridal Lehenga Shopping @ Chandni Chowk Delhi
4.30pm –Finally ,visit the O.P Jawaharlal shop in Naya Katra. They are best known for wedding lehengas . You can easily spend a couple of hours here if you are considering placing an order for a wedding lehenga.
The main road in Chandni Chowk has several lehenga shops. The lehengas are very reasonable. They will be in the Rs 5000-Rs 8000/piece with a lot of heavy work.M/S Ashika Collection (Phone No _ 9810121389)is one such shop.It is a wholesale shop for lehengas & bridal sarees and kurta Pyjamas.
6:00pm – End your Chandni Chowk Delhi Shopping and Food Tour at the Red fort for the sound and light show at Red Fort Complex. It is magnificent.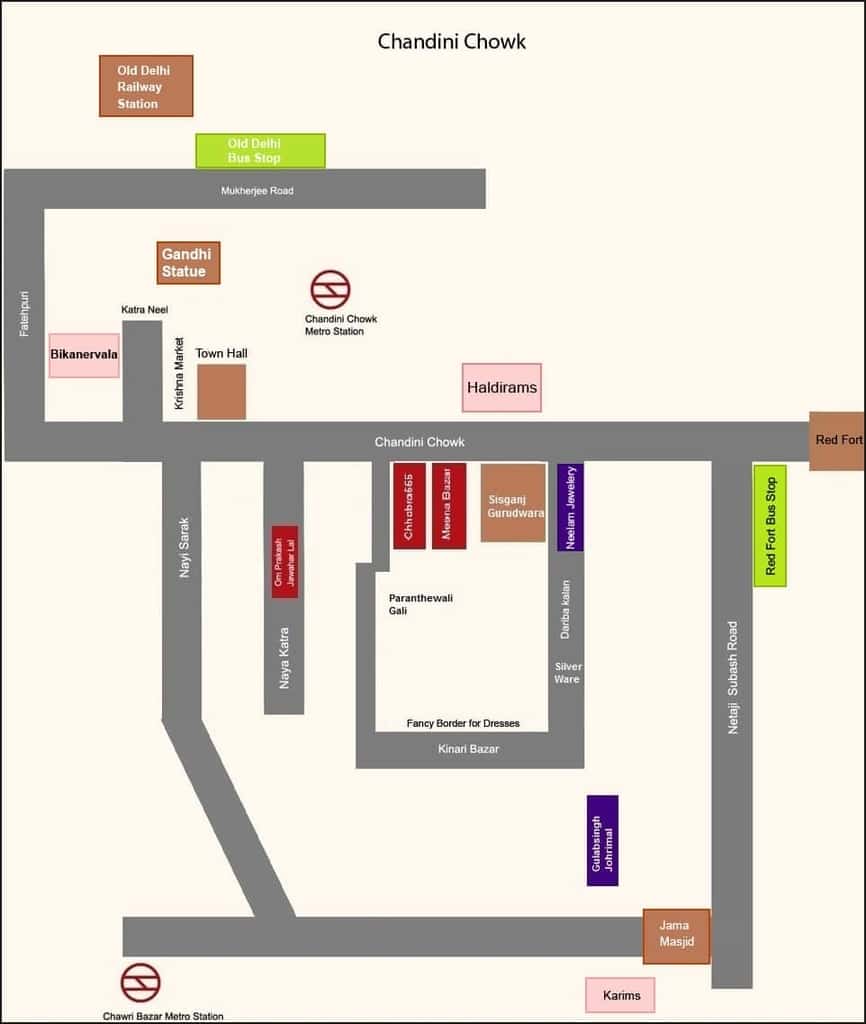 ---
View our videos
SIGN UP FOR NEWSLETTER
Be the First to Know. Sign up to newsletter today