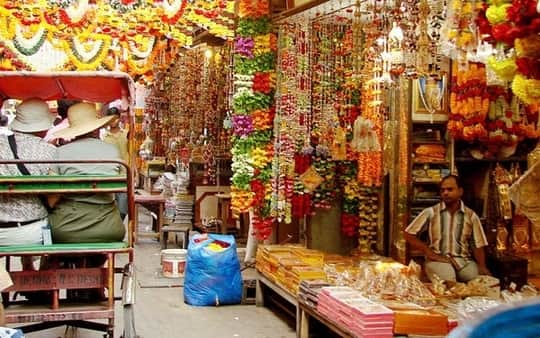 Top 8 Reasons to Visit Chandni Chowk Market, Delhi
Jul 13, 2018
Kausy M
10720 views
add comment
Top 8 reasons to visit Chandni Chowk Shopping Market, Delhi: Chandni Chowk market reviews.
Chandni Chowk Market, Delhi
The Red Fort is one of the most popular tourist spots in old Delhi. We were first time visitors to Delhi.
We went and soaked in all the grandeur and history of the Mughals and the Mughal architecture because we were curious about the history of the Red Fort. The guide at the Red Fort spoke about Chandni Chowk, the moonlit path in front of the Red Fort. While we made inquiries, we were warned about the crowds and the chaotic traffic due to the congested roads due to its popularity. We, however, decided to brave the traffic and make our way.
In addition, we wanted to see the old Delhi shopping markets. Finally, we hired a hand rickshaw right at the beginning of Chandni Chowk.
1 . Our first stop was the ShishGanj Gurudwara.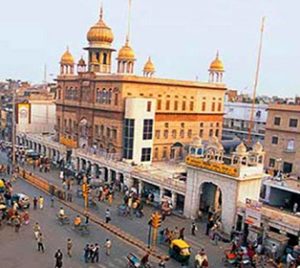 This gurudwara was built in 1783 in honour of Guru Tegh Bahadur, who was the 9th guru of the Sikhs. It is a large and spacious gurudwara. It seems like a gurudwara with a lot of religious & historical significance for the Sikh community.
2. Jalebi & Samosas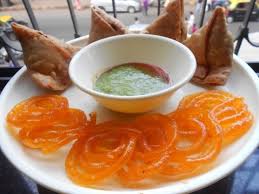 This is one of the top 8 reasons to visit Chandni Chowk Shopping Market. The crowds and smells drew us to the hot samosas and the mouth watering jalebis. Due to the presence of the large crowd we reached the spot too. It is at the entrance to  Dariba Kalan. We tasted the  mouth watering samosas and the hot jalebis. There is something divine about this.
3. Silver jewellery and imitation jewellery.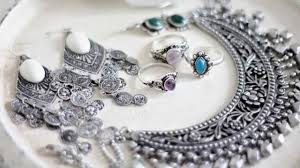 Dariba Kalan ( means unparalleled pearls in Persian) is the original lane for silver articles and silver jewellery. Take your time and walk into as many shops as time permits. Silver bracelets, silver earrings and silver rings are all available by the dozens. There are several shops for imitation jewellery/costume jewellery as well. The prices are very reasonable as compared to other Delhi Markets.
4. Ittr- Ittr or Attar
Is a fragrance and perfume made from flowers, plants and other similar natural ingredients. Lavendar, rose, jasmine and sandalwood are some of the popular oils and fragrances. Hence, we bought some too at Gulab Singh Johrimal stores.
5. Zari borders and laces from Kinari Bazar
From Dariba Kalan, turn into Kinari Bazar. Beautiful Zari borders and laces are showcased in several shops. Some are broad and some delicate. Parsi embroidery borders are also available here. They can be added as an embellishment to dresses, salwar kameez and saris. Since we wanted some borders for the saris, we bought some too.
6. Choodas & Kaliras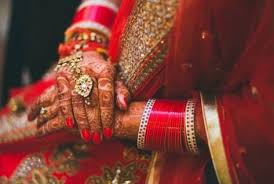 Kinari Bazar is also the Delhi shopping place to buy gift boxes, trays and colourful pouches for gifting sweets, turbans for the groom, choodas & kaliras ( Bridal bangles) and garlands for welcoming the groom's party( Baraat). Hence, this is a wedding shopping place . While the choice is plenty, the rates are probably moderate. Consequently, several Delhites visit this market during the wedding season.
7. Wedding Invitations and wedding accessories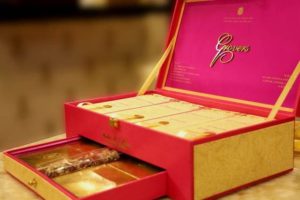 Step into Chawri Bazar for selecting the wedding invitation of your choice. There is a great deal of variety. Choose the one which you like the best. As a matter of fact, many Delhi families get their wedding invites printed here as the prices are very reasonable as compared to other Delhi Markets.
8. Bridal lehengas @Chandni Chowk Market 
There are a dozen shops in Chandni Chowk Market to shop for that special bridal lehenga. O.P Jawaharlal has made a name for itself and so have others. This is one of the best shops as compared to the other shops here. We made sure we saw the entire range. Finally we bought a simple lehenga as we could not resist buying.
In conclusion, while Chandni Chowk shopping market is not for the faint hearted shoppers and takes a lot of efforts and patience, it is well worth the experience. Hence, if you like to experience an unusual shopping experience in a historical shopping market go to the Chandni Chowk shopping market.
Finally, here are the Top 3 Tips for shopping in Chandni Chowk market:-
1. Take a cycle rickshaw to go around the market because you cannot walk easily.
2. Compare prices in a couple of shops before you buy
3. Visit Kareem's for Mutton Kurma and biryani.
Other Related Blogs
Riding in a Rickshaw in Chandni Chowk, Delhi
Chandni Chowk Delhi Shopping and Food Tour
Why Everyone Goes to Chandni Chowk for Diwali Shopping?
---
View our videos
SIGN UP FOR NEWSLETTER
Be the First to Know. Sign up to newsletter today