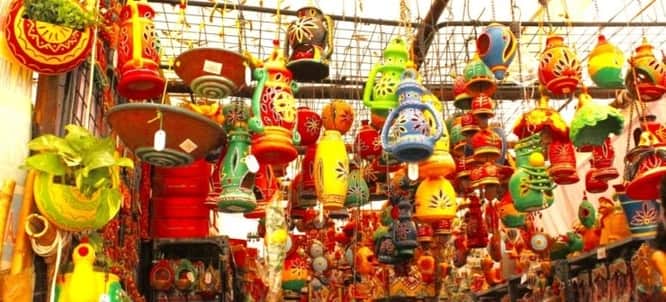 Why Everyone Goes to Chandni Chowk for Diwali Shopping?
Nov 03, 2018
Kausy M
1005 views
add comment
HAPPY SHOPPING WITH COVID PRECAUTIONS IN 2020
Top 7 Reasons to Do Diwali Shopping in Chandni Chowk
1. Diwali Fire Crackers
Diwali celebrations are incomplete without Diwali shopping in Chandni Chowk for fire crackers. But….
The pollution in New Delhi gets worse around this time of the year and bursting of fire crackers contributes to the pollution. For the past 10 years, school children have been taught " Say no to crackers" as it seriously pollutes the environment. The message has been socialized among the urban elite and many households refrain from bursting crackers. The Supreme Court of India has halted the  bursting of fire crackers in 2022. Hence fire crackers will not be part of Diwali shopping in 2022. They will also be not  part of Diwali shopping in Chandni Chowk.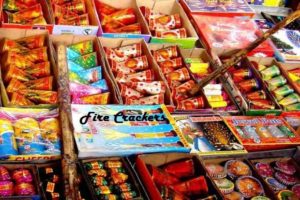 Chandni Chowk has some of the best known shops for fire crackers They are located near the Jumma Masjid. If one shop is crowded, you can always hop on to the next one & so on. Fire crackers such as flower pots, chakras, rockets, sky shots and sparklers are available at very reasonable prices . It is certainly one of the best places to buy crackers in Delhi.
2. DRY FRUITS
Firstly, it is customary to gift dry fruits to friends and neighbours during Diwali.
You can select good quality dry fruits at very good prices in Khari Bhaoli in Chandni Chowk.
Figs, cashewnuts, pine nuts, pistachios, dates, raisins and walnuts are typically distributed to friends during Diwali.
There are ready made gift boxes that are customised in Chandni Chowk. Therefore, it is a good idea to buy dry fruits in Chandni Chowk.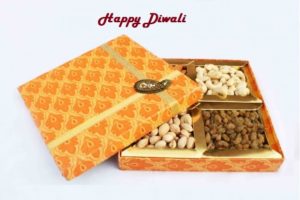 3.PACKAGING BOXES
Diwali is all about packaging. There are garments, chocolates, dry fruits , candles, diyas and candle stands to be packaged. There is no better place than Kinari Bazar in Chandni Chowk Market to buy packaging material. Cardboard trays, woven bamboo baskets, metal boxes for packaging and ribbons are all available .
The choice is extensive when compared to other Delhi shopping markets.
PUJA ESSENTIALS 
In addition, You can also buy a puja tray and puja essentials such as the deities of Lord Ganesha & Goddess Laxmi. These deities are very important for Diwali, together with the diya and the Puja thali(plate).
4. SWEETS
Diwali is the time to indulge in eating sweets and distributing sweets to friends. Sweets should certainly be an essential part of Diwali shopping in Chandni Chowk.
Haldirams Sweet Shop
Chaina Ram Sindhi Confectioners, Ram Pershad Makhanlal, Megraj & Sons and Rabari Bhandar are some of the famous sweet shops in Chandni Chowk.
Milk sweets, dry fruits burfi, badam rolls and kaju rolls are some of the wonderful Indian sweets that can be purchased from the Chandni Chowk sweet shops .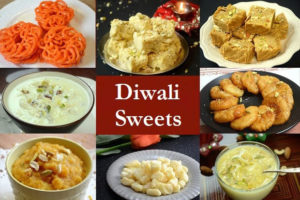 5.UTENSILS &GOLD COINS
Diwali is preceded by Dhanteras.  However, this day is considered auspicious to buy gold coins and utensils in silver or stainless steel. Established silver jewellery shops in Dariba Kalan stock gold coins and silver utensils .
6. DIWALI CLOTHING
Any type of Indian clothing is available in the Chandni Chowk Market. For instance ,Bridal lehengas, sarees for festivals, Anarkali salwar suits, shararas, gararas and several other types of Indian ethnic wear is available in in this market. In addition there are several shops selling casual wear  salwar suits and sarees in Chandni Chowk .
OP Jawaharlal, RCKC and Chabbra are some of the branded shops for garments. In fact, there are innumerable shops that sell garments in this market at budget friendly prices too. There are touts and agents who will pull you into the garment shop in the pretext of showing you around, if you are not careful. However, try and see a few shops before you deicide on a particular shop. This will give you an understanding of the range of products and prices .
7. Diwali Lights– Diwali is all about candles & lights
It is customary for people to decorate their homes & offices with colourful lights. It is similar to Christmas lighting in the West, when all homes and
shopping markets are lit up.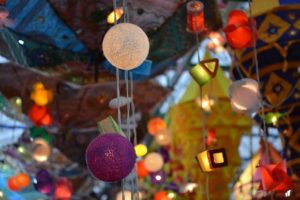 Shopkhoj recommends Sadar Bazar for festive lights. Incandescent or LED mini lights, net lights and icicle lights are all available in many interesting shapes and sizes.  Above all, the Sadar Bazar Market is a very budget friendly market .
Go on be bold and visit the Chandni Chowk Market today. Enjoy the  Diwali shopping in Chandni Chowk. In addition also enjoy the Jalebi and samosas in Chandni Chowk.
Related Blog:
---
View our videos
SIGN UP FOR NEWSLETTER
Be the First to Know. Sign up to newsletter today