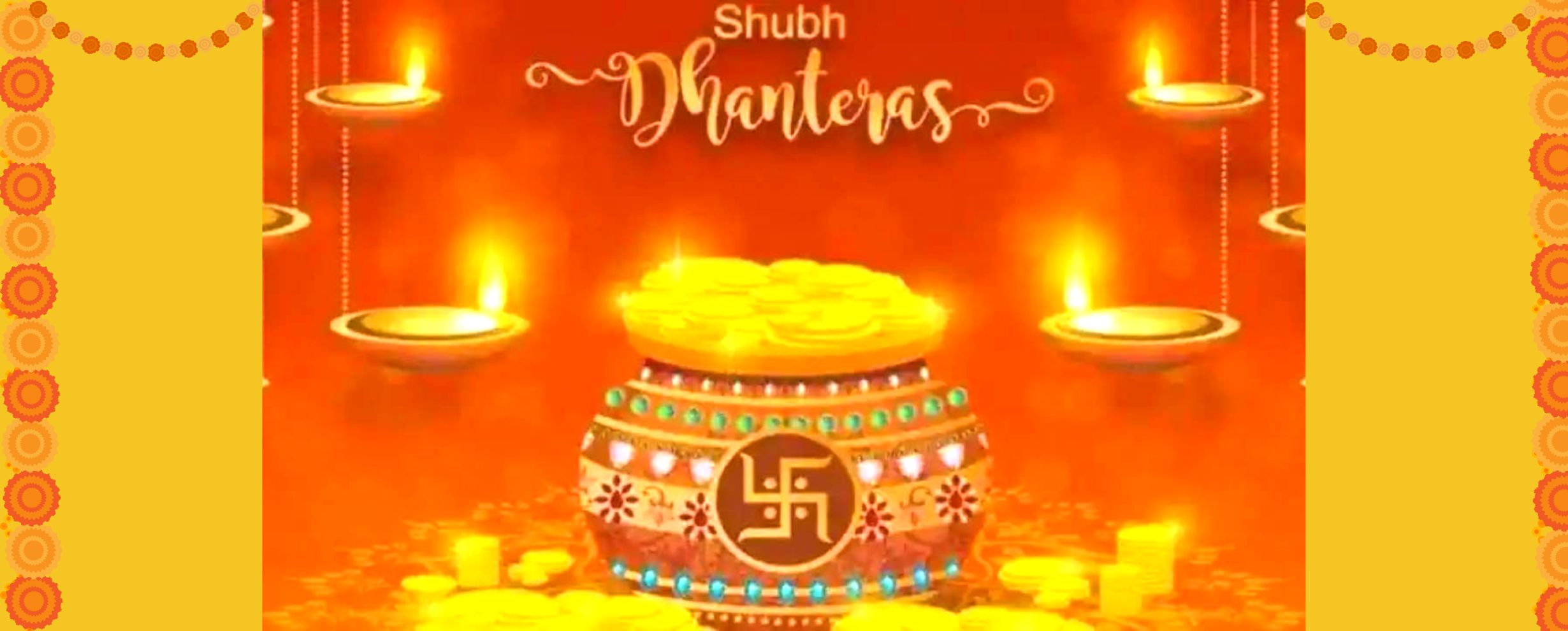 Dhanteras Celebrations
Nov 05, 2018
Kausy M
447 views
add comment
Dhanteras
Dhanteras precedes the Diwali festival. As a matter of fact, it is considered auspicious to buy some item made of metal on this day.
Preparation for Diwali
Firstly, Homes are cleaned thoroughly, whitewashed or painted as the case may be. In addition, all the unwanted old stuff from the homes is thrown out. Everyone gets ready to celebrate Diwali. Diwali is considered the auspicious beginning of a New Year. For example, the homes and offices are decorated with lamps, diyas  flowers and Rangoli. Deities of Lord Ganesha and goddess Lakshmi are installed in the prayer rooms. All this is for the puja being done on Diwali day. All the entrance to the homes is beautifully decorated. Dhanteras is a festival that precedes Diwali.
Dhanteras is the auspicious day when everyone visits the shopping markets to buy gold or silver coins and utensils. They also end up buying LED lights, sparkling lights, hanging lights, icicle lights, paper lamp shades.
Diyas and Candles
Real flowers, streamers made of paper flowers, diyas made of mud, painted diyas, diya stands, large earthen pots and painted flower vases are all purchased.

In addition, candles, tealight candles , scented candles  and candle sets are all purchased. Street markets in Sadar Bazar, Chandni Chowk, Lajpat Nagar & GK M bloc.
Rangoli
Rangoli is designs done on the floor with coloured powder. Beautiful floor decorations are done in  homes and offices. Images of deities, elephants, peacocks and diyas are the subjects that are usually portrayed in the designs. The rangoli is done in the corners of the homes and also in front of the prayer/puja  rooms. Marigold flowers are also used in rangoli designs.
Deities of Ganesha and Lakshmi

It is a must to buy deities of Lord Ganesha and Goddess Lakshmi before Diwali. They could be made of mud, copper, brass, silver or even gold. All the Diwali street markets are filled with several stalls where the dolls are sold.
Lord Ganesha is said to be the destroyer of evil forces and Goddess Lakshmi is worshipped to usher in prosperity to homes.
Buying Metal on Dhanteras

All the shops selling utensils are crowded. It is customary to buy a stainless steel bowl, a new plate, a new jar or a cooking plate, nonstick pots and pans on this day.
One major purchase on Dhanteras is silver and gold. People who can afford to do so buy silver coins or silver gift articles. Some people even buy gold coins or gold jewellery. It is considered very auspicious to buy gold on this day. Jewellery shops have special sales to promote light weight gold coins that is affordable .

Shopkhoj wishes its readers a happy Dhanteras and happy Diwali!
---
View our videos
SIGN UP FOR NEWSLETTER
Be the First to Know. Sign up to newsletter today