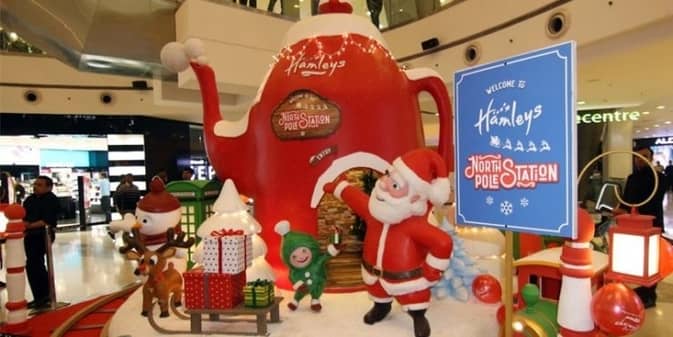 Jingle Bells are Ringing! – Christmas Celebrations at DLF Mall of India
Monika Chauhan
1539 views
add comment
I think both children and parents eagerly look forward to the Christmas celebrations, the season of joy and cheer. It is delightful to sight a well decorated Christmas tree, listen to Christmas carols and watch Santa Claus distribute gifts to excited kids. Well, if you are looking to spend some fun time this Christmas season, head straight to DLF Mall of India, Noida.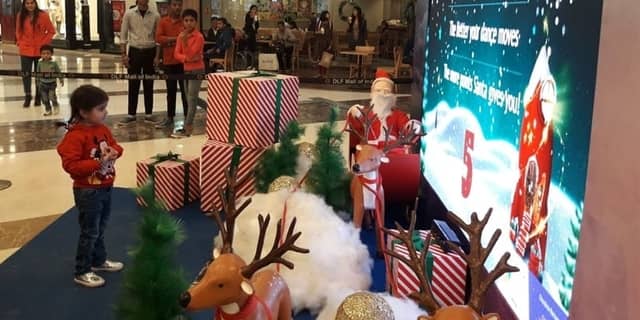 You will be greeted by a dazzling Xmas tree, huge reindeer's installations driving Santa Claus' sleigh as he makes his journey around the world and children dancing and playing around.
Christmas is the much-awaited festival that comes knocking at our door in December. The magic of Santa's world transforms our homes into a wonderland. Christmas trees are adorned with red and green lights, hanging garlands, traditional Christmas bells, bubbles, stars, and assorted gift boxes.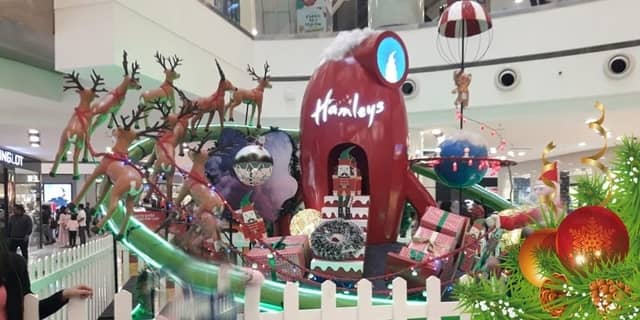 Shopping Malls go all glittery to create a festive atmosphere and welcome children.
The entire DLF Mall of India is done up with lovely Christmas decor. It is lights, bells and stars everywhere. Hamleys – The Finest Toy Shop in the World (as they like to call themselves) has installed an attractive Christmas-themed booth right at the entrance. The magnificent display shows Santa dancing to funky music and young kids joining him on the dance floor. Did we mention its fun to see the young dancers keeping pace with Santa?
The Best Christmas Celebrations– A Visit to a Toy Shop
You know what your young ones impatiently wait for when Christmas is around the corner? Its toys, toys and just toys gifted by none other than Santa.  So off you go to the third floor of DLF Mall and Hamleys. As soon as you enter the store, you are greeted with enthusiastic cheers by the Hamleys team.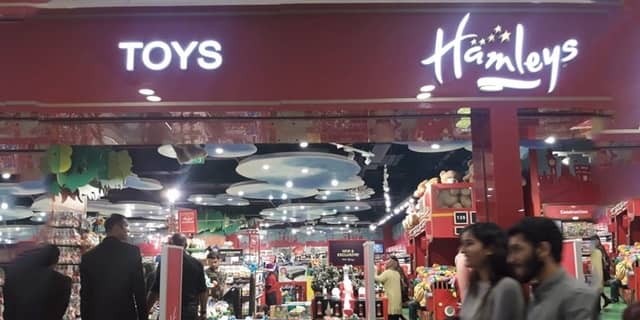 You will be amazed to see the variety of toys in this store. Soft toys, learning toys, books, science kits, dolls, action toys, puzzles, bubbles and water toys, play centers and playhouses, remote-controlled vehicles and what not. You name it and they have it! It would seem that the whole world of toys has been brought under one roof.
You will wish you are a child again.
Fun & Games at Hamleys- Christmas Celebrations
Among the star attractions at the store is this game called Yellies, where spider pets respond to voice commands. We are sure kids would love this and will find it hard to stop screaming at these spider toys from Hasbro because "The Louder you yell, the Faster they go." What's more, a free gift is waiting for them after they finish the game. Check out the video below for details.
Grab all you want in 30 seconds for FREE!
Hamleys has launched the new program across the country.
All you need to do- Shop at the store for Rs 2,000 and above between 13 and 20 December, 2018. Subsequently, you can use this shopping bill to take part in the Freeze Run which will take place on December 22, 2018.
A quick look at terms and conditions below:
Kids under 12 are eligible to participate
Retain the bill with you till December 22, 2018
On the Activity Day, visit Hamelys store at 9 am, write your name on your bill and drop it in the drop box
Santa will pick out one lucky winner who will get the chance to grab all he/she can from the store in under 30 seconds
Sounds so much fun!
Letter to Santa to make your wish-list come true
There's another contest too. Just pen down your thoughts to Santa in a letter. You never know, but if you are the lucky one, you could stand a chance to have your wish-list come true. So write your letter now.
We came across a lot of other brands offering discounts in the run up to Christmas. Here are a couple of them.
Style with Ayesha-Christmas Celebrations
Ayesha, a retailer, has a variety of fashion accessories in the store. It has products suitable for both young girls and boys.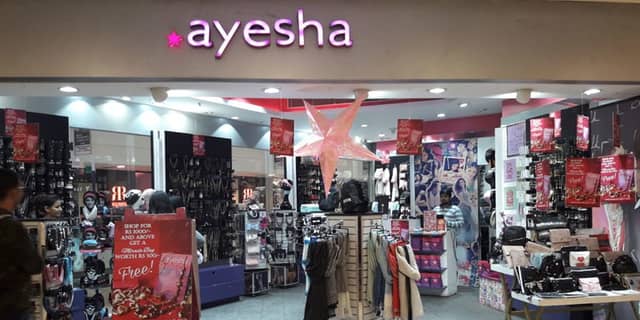 For boys, these include key rings, wallets and sunglasses. When it comes to girls' fashion, it offers a whole range of products from earrings, bracelets, necklaces, sunglasses & scarves. Furthermore, the brand also offers other accessories to kids in the form of hair accessories, bags, hats & footwear.
Here's what's on offer…
Christmas Hot Sale
On fashion shopping of Rs 1,000 and above, you can win yourself a Miracle Bag worth Rs 500. Take a look at the picture below to quench your thirst on how this Miracle Bag looks like!
Validity: This offer from Ayesha is valid till January 1, 2019.
Scoobies – Awesome Stationery under one roof
Scoobies is the bright and incredibly colorful one-stop shop for different stationery products. It has everything you can dream of – from crazy colour pencils, glitter bags, EVA cases, pencil holders, dreamy bottles, tote bags for kids, water bottles for boys, colour coordinated school bags to match with pencil boxes and snack bags, to matching calculators and mind blowing colorful stationery for kids.
Above all, what you would definitely love is the fact that everything under the roof is eco-friendly with no compromise with the quality.
Well, we are tempted to pick some stuff from this Australian stationery brand and impart a colorful twist to our own work desk.
Christmas Hot Sale
If you shop for Rs. 1,000 from Scoobies, you can win for your young ones a free gift worth Rs. 250.
As part of another Pre Christmas offer, you can choose your favourites from each item mentioned below and make your own combo at Rs. 1,299.
Colored Glue stick
Sky Gel Pen/ Field Gel Pen
2 in 1 sharpener cum eraser
Glitzy Highlighter
Squad Fold up ruler
Pencil cases – Owl Pachino/ Hottie/sweetie/oolala/yanky boys/whipper snapper
So when are you planning a day out with your family?
Santa Claus is coming to town at the Fantastic Festival at DLF Mall of India!
---
View our videos
SIGN UP FOR NEWSLETTER
Be the First to Know. Sign up to newsletter today