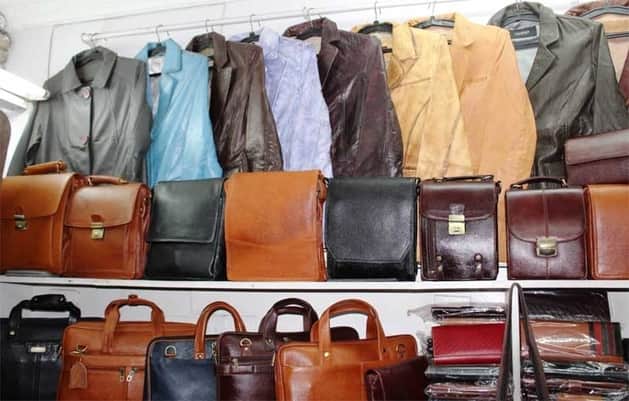 Shopping for Leather Jackets & Bags? – Checkout Yashwant Place
Kausy M
6127 views
add comment
Yashwant Place in Chanakyapuri
Chanakyapuri is known for its high-profile embassies and posh residences. The beautiful tree lined wide roads and the distinct embassy buildings define the locality.  In addition, it is home to diplomats, industrialists and politicians. Above all, it has maintained this exclusive and stately appearance for decades. This locality also has the popular Chanakya Theatre &  Yashwant place Market. You will find shops that sell leather bags, leather jackets, fur coats, boots, gloves, silver jewellery and semi-precious jewellery in the market.
Chanakya Theater in Chanakyapuri
Firstly, the Chanakya Theater in Chanakyapuri was a popular old-style movie theater in South Delhi. There were also a few eateries here including the famous Nirulas. One could enjoy a movie, a meal in any of the eateries and an ice cream at Nirulas. Everyone loved it .It was an idyllic spot in the 80s and 90s.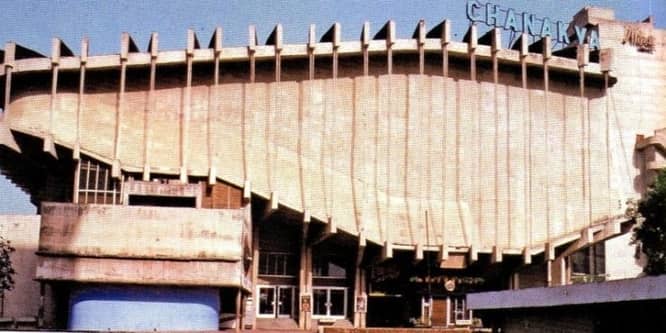 However, the theater was later razed to the ground and now in its place, what sprung up is the Chanakya PVR Complex with multiplex cinemas and shops. The Chanakya PVR Complex is a glitzy luxury mall.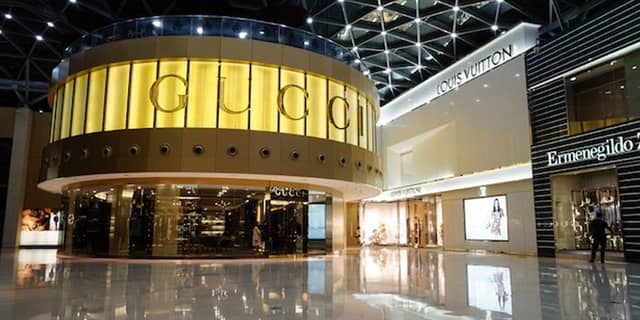 It is a compact one with glistening gold & glass everywhere, reminding you of the Versailles Palace in France. There are 3 floors of luxury shopping in this mall including a Hermes and Channel store.
Food Hall in Chanakya Complex
On the lower ground floor is Food Hall. Step into the Food Hall for gourmet cheese, fruit, bread, exotic sauces and all the groceries. Just walking around the aisles and feasting your eyes on the food products is a gratifying experience.
[metaslider id="10074″]
The colours, the variety and the freshness of the food displayed will set your taste buds tingling and make you feel rather hungry. They have a food court in house that caters to fine dining experiences with exotic food and beverages.
Yashwant Place Market for leather jackets
[metaslider id="10023″]
Right outside the Chanakya Complex is a very different kind of food court. This is the Yashwant Place Market open air food court. There are small shacks that barely seat 10 to 15 people. Mouthwatering fresh momos, Chinese noodles, fish & chicken tikkas are freshly dished out in front of your eyes. It is a popular eating place with youngsters and it is cheap. Due to this reason it is always crowded.
Russian Market a k a Yashwant Place Market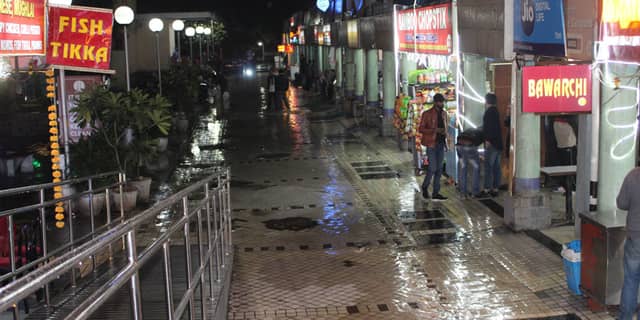 As you trace your way to the Yashwant Place Market shopping area, you can certainly  smell the leather. There are 2 low slung buildings facing each other that are inter connected by a walkway. Shops are at 2 levels.
The market is quiet, bar the shopkeepers chattering away. Occasionally, you can hear a foreign language being spoken and spot a few foreigners.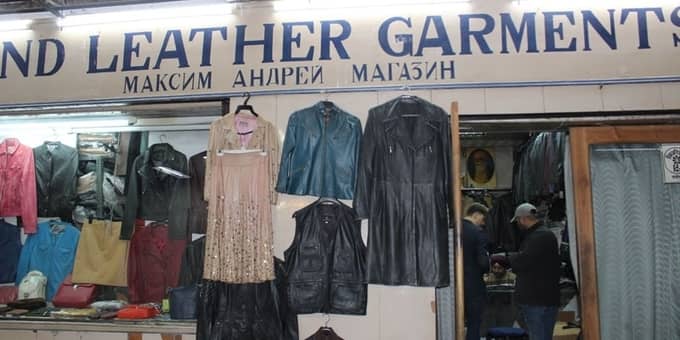 You will notice that the hoardings are in English and Russian .The shopkeepers will inform you that the Yashwant Place Market is also called the Russian Market.
leather jackets everywhere
There are a few shops that stock Kashmiri carpets and gift items as well. They are just a handful though.  Further, there is also a grocery store & a pharmacy in the market.
What caught our fancy was the leather bags and leather jackets.  There are plenty of them. There are clutch bags, handbags, trolley bags, laptop bags and travel bags, all in genuine and pure leather, as we were informed. Considering that these shops have remained in the same spot for several years, it could and should be ceratinly genuine leather we would think. A backpack bag was for Rs 2500 the trolley bags costs around Rs 4000/piece. The prices are far cheaper as compared to leather bags in online portals.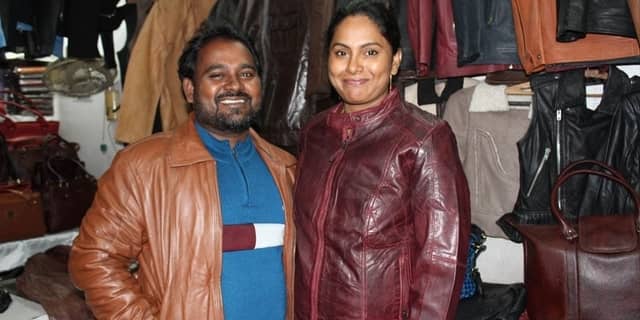 Finally, we found leather jackets in multiple colors and designs are displayed in almost all the shops. Jackets in red, pink & purple, in addition to the black & browns stand out. Leather jackets with fur necklines, with matching belts, and in several international designs are stocked in these shops.
Further, you can also check out the fur coats in dark deep colours and picture yourself in the Siberian snow. Leather gloves, fur caps and boots complete the picture.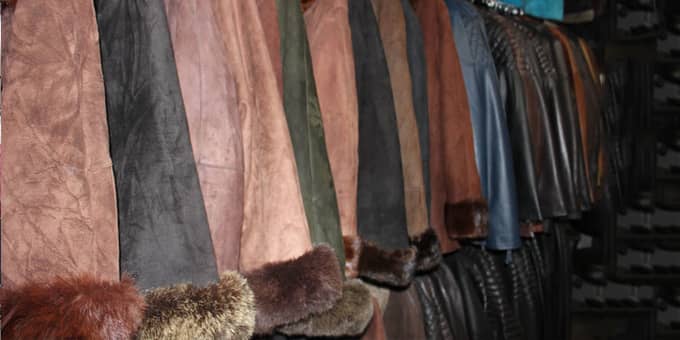 The average price of leather jackets is Rs. 1500/Piece. Again, it is much cheaper when compared to leather jackets that are available in other branded shops.
You can probably walk around the shopping market and check out the designs, the prices and the fit before you decide your purchase.
Why Russian?
We chatted with the shop owners to find out about this astonishing Russian connect.
Yashwant Place Market is close to the Russian Embassy.  Therefore ,the proximity of the Russian Embassy, the communist rule in Russia and the close ties between  the erstwhile USSR & India have defined this market. Most noteworthy is the fact that the jackets and the jewellery are created predominantly for the Russians.  Hence, shopkeepers speak fluent Russian. The signage's and name boards are in Russian. They create  silver jewellery according to Russian designs and trends. Russian women tourists can be found hovering around the jewellery shops. Above all, there are shops which have multiple strings of beads in jade, ruby, turquoise, sapphire and pearls. If you are fond of strings, Yashwant Place Market should be on your itinerary.
Mark your diaries, ladies, and make your way to the Yashwant Place Russian Market. Don't let out the secret too soon.
---
View our videos
SIGN UP FOR NEWSLETTER
Be the First to Know. Sign up to newsletter today