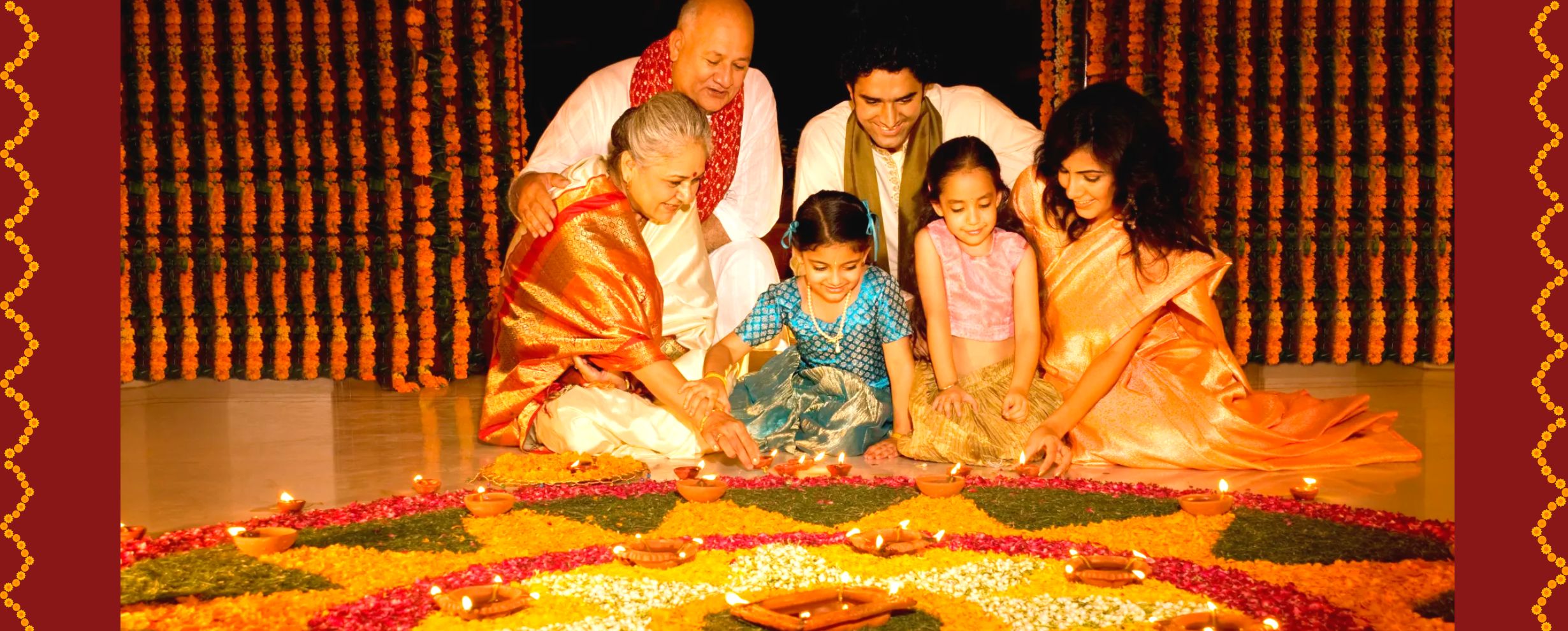 Diwali Decorations Ideas
Kausy M
1514 views
add comment
"India is getting ready to celebrate Diwali
What is Diwali?
Diwali is the biggest  and most popular Indian festival which is celebrated in the  Hindu month of Karthik (October /November) on Amavasya ( new moon day). It is celebrated  20 days after the Dussehra festival. The religious significance of Diwali is wide ranging for Hindus, Jains, Sikhs & Buddhists. While the Dussehra  festival is celebrated  to commemorate the victory of  Lord Ram over Ravana, Diwali is celebrated to welcome Lord Ram back to his kingdom in Ayodhya. Diwali is also associated with welcoming goddess Laxmi ( goddess of wealth & prosperity into homes). Jains celebrate Diwali as the day, Lord Mahavira attained Nirvana. The Sikhs  celebrate this day as Bandi Chor Divas to mark the release of one of their gurus, Guru, Hargobind from a Mughal prison. Buddhists also celebrate Diwali as a worship to goddess Lakshmi.  Traditional Diwali decorations include lighting lamps, rangoli floor designs and garlands for lord Ganesha and goddess Lakshmi.
Traditional Diwali Decoration ideas
Shopping markets, homes and offices are all lit up in colourful lights at least a fortnight ahead of the actual Diwali day, which is on the  Special Diwali sales and Diwali discounts drive people to the shopping malls & shopping markets. Gift shops and sweet shops are particularly busy at this time of the year. Diwali shopping in Delhi is a joyous period. However, Diwali in 2022will be devoid of the customary fire crackers. There will be no community celebrations due to the pandemic. Social distancing norms should be followed too. However, let us celebrate the spirit of Diwali despite the Covid concerns. Let us celebrate  Diwali 2022 safely ,conscientiously and happily. The common message is the victory of good over evil and light over darkness.
Let us be grateful and celebrate the festival  with family & friends.
Why & how is Diwali Celebrated?
Deepa means lamps and Deepavali or Diwali, symbolises row of lamps in Sanskrit. Hence, candles and oil lamps and festive lights are lit everywhere.  The celebrations last for 5 days . Homes  & offices are cleaned and decorated with colourful Rangoli( floor designs with coloured powder.) Diyas are placed on the floors and outside the homes. New clothes are purchased for the entire family.  Family gatherings give importance to  food and traditional sweets. Typically, it is a time to  get together and celebrate as a family and as a community. Firecrackers were an important part of Diwali until they were banned. Diwali is a very traditional festival celebrated in India for centuries.  It has been mentioned in numerous religious texts, such as the Vedas  and by several travel writers from outside India.
Fire Crackers are Banned -But celebrations continue.
 Diwali – All India Festival and Diwali Decoration ideas
The interesting fact is , Diwali has become an Indian festival and  people of all religious and ethnic backgrounds participate in the festive joy to make it special.  In addition to homes ,Temples & offices, all the main shopping markets are all lit up  2 weeks ahead of Diwali . The festive spirit is all prevalent everywhere . Diwali is the best time to shop as Diwali discounts and special Diwali exhibitions drive sales during this season. Gifting is a major Diwali tradition similar to Christmas .
Reasons why Diwali is celebrated across India
In North India, it is thought that  on Diwali Day Lord Rama returned to his kingdom, Ayodhya, after defeating the 10 headed demon king Ravana. He was welcomed back  and greeted by the citizens of Ayodhya. The lit lamps to welcome him. Hence the lighting of the lamp becomes symbolic. In addition, Diwali is also the beginning of the New Year and a very auspicious occasion.
Laxmi Puja is performed in offices and homes welcoming Goddess Laxmi for that reason too. Goddess Laxmi is considered the goddess of wealth & prosperity. Laxmi Puja is usually done after sunset at around 8 pm in the evening. The entire family gathers around for Laxmi Puja.  Lord Ganesh & Goddess Laxmi are the primary deities. This is followed by the bursting of fire crackers, distribution of sweets and a family dinner.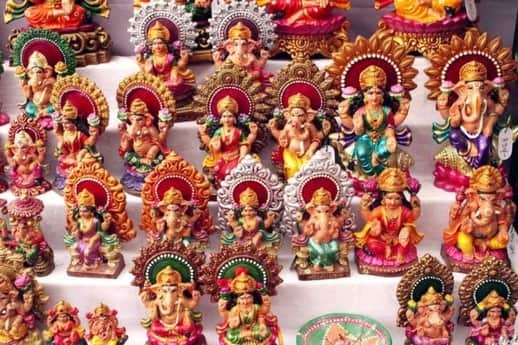 South India Diwali celebrations
In South India, Diwali is celebrated to rejoice the killing of the demon Narakasura by Lord Krishna.  It is considered auspicious to bathe in the river Ganges on this day. There is a family gathering for the ritual puja.  However, the puja is done in the morning in South India. This is followed by bursting of firecrackers. Finally, sweets are distributed amongst family and friends. Diwali in South India is more subdued as compared to celebrations in North India.
In East India it is Kali Puja during Diwali. Goddess Kali is the consort of Shiva aka Parvati. https://en.wikipedia.org/wiki/Kali_Puja
Traditional Diwali Decoration ideas
Whatever the mythology or history behind the celebrations, India celebrates Diwali together. All educational institutions and offices are closed for Diwali.It is probably the most important festival that keeps a country as diverse as India celebrating together.
The commonalities on Diwali Day include worshipping a Hindu deity, lighting of homes and business establishments with, candles and Diyas, bursting of firecrackers and having a family dinner. Playing tash or cards is a tradition in North India. Further, Diwali parties and card parties start one month ahead of Diwali. Diwali shopping in Delhi is an all-week affair causing major traffic jams in the city.
In addition, gifting is a very important part of the Diwali celebrations. Gifts to family members, neighbours and friends is a tradition in all homes.  Likewise Corporate houses share gifts with staff and employees. This is a customary practice.
  Diwali – shopping in Delhi
Gifting – What are the popular gifts for Diwali and where to source it from
   Sweets
Sweets are the most commonly distributed item during Diwali- Desi sweets or Indian sweets made of sugar, milk/flour/dry fruits and essences make for great gifts. Kaju Kathli and kaju roll (cashewnut sweet) peda(milk sweet) Anjeer ki barfi, (sweets made of figs) moti choor ladoo, soan papdi(kind of flaky sweet), kajur barfi (sweets made of dates), besan & moong (dal flour) ladoo and Gulab Jamun, are some of the popular sweets available across Delhi. Haldirams, Bikaner Sweets and Nathu Sweets are well known sweet shops to buy the sweets.
   Gift Hampers
Dry Fruits packaged in a basket, hamper, tray, or carboard boxes are all very popular, Cashewnuts, pinenuts, pistachios, almonds, figs and dates are packed in a box together. They are healthy and always welcome. It is because of this reason that dry fruit gifting never goes out of fashion.
Gift hampers- There are ready made gift hampers with nuts, cookies, chocolates and cakes available in department stores. The gift hamper can be customised to have an assortment of crisps, cheese, sauces, cookies chocolates, juices, spreads, fruits and dry fruits. Organic food in jars are all available. The hampers can be customized to suit ones budget and preferences. Modern Bazar, Big Bazar and other big grocery stores do the hampers.
Chocolates– Chocolates, from Cadburys or Lindt are available in most shops, to be easily packaged and distributed. There are several private chocolate makers as well, who prepare gourmet chocolates. Chocola has some interesting chocolates.
Cakes all the bakery shops get ready to bake & distribute Diwali themed cakes.
Scented Candles– Candles come in a variety of shapes and sizes. Coloured and scented candles are available in every market. Fragrance People, Kama, Fab India, Good Earth and Oma are some of the prominent shops for candles.

Home Decor & Diyas – Traditional Diwali Decorations

Decorative diyas– There are several Delhi markets and shops that create colorfully painted diyas. These are available in Dilli Haat, Select City Mall and in street shops in Lajpat Nagar & Sarojini Nagar. Blind school in Delhi is one of the best places to visit for Diyas.
Home decor products, dining accessories and kitchen essentials are other gifting ideas. Visit the TIP Top Market in Karol Bagh, Fab India & Good Earth for some innovative products.
Idols of Deities– Idols of Lord Ganesha and Goddess Laxmi are very popular for gifting. They are typically made of silver, sterling silver, brass, semi-precious stone or glass.
Silver gift articles for high end gifting such as pens, silver trays, silver cups, silver glasses, picture frames, tea pot sets, candle stands, deities of lord Ganesha or Sai Baba, vases, nut bowls. clocks, bottle openers, paper clips, pen knives, book marks, bottle openers, jars, jugs & diyas, fruit bowls are some of the luxury products available.
Diwali Melas for Diwali shopping in Delhi
Finally, there are many Diwali meals(fairs) that happen in Delhi. The Blind School Diwali Mela, the Sundernagar Diwali Mela and other melas are all popular. Similarly, there are melas in Select City Mall and in other Delhi shopping markets.
As a matter of fact, several individuals put up their stalls where they sell dresses, diyas, home decor, plants, jewellery, bags and shoes. Most noteworthy is the fact that they are very interesting, and gifts can be purchased from the melas as well. As a result, the melas are heavily crowded.  However, if you are interested in buying Diyas from the blind School Mela, you can order it online or contact Mr. Shrawan on 9953494425.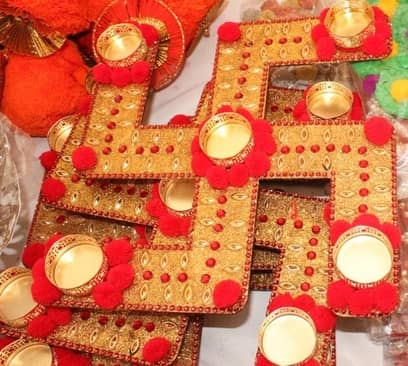 In addition, the melas have some great food stalls. There is North Indian, South Indian, Rajasthani, Gujrati and Chinese cuisine that is available in the melas. The food is fresh and most certainly tasty.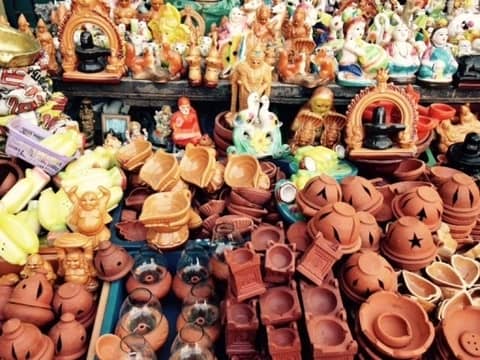 SHOPKHOJ WISHES READERS A HAPPY & SAFE  DIWALI
Eat sweets, make merry, be generous, share your love and kindness this Diwali.
Our other related blogs are: –
 Chennai Shops for Diwali Saree Shopping
---
View our videos
SIGN UP FOR NEWSLETTER
Be the First to Know. Sign up to newsletter today