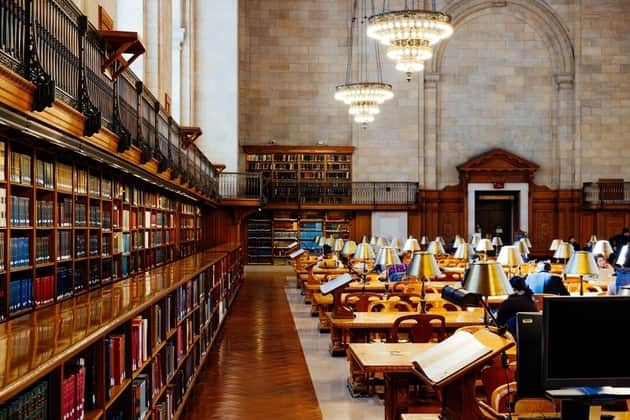 For all ye Book Lovers !
Jul 12, 2018
manjula
833 views
add comment
Oldest Bookstore in India: Higginbothams
Higginbothams  is located in Mouunt Road or Anna Salai road in  Chennai. As a matter of fact, it is India's oldest bookstore. Bang opposite the LIC building, the book store is a treasure house for old and new books of all categories. The building itself is an iconic landmark sprawling over 10000 sq feet, with its quaint tower, marble floors, high ceiling and stained glass windows.
The building 
To quote a local historian, "The Higginbothams building was designed specifically to protect its precious stock: the high ceiling allowed the air to circulate in order to reduce mustiness, potentially destructive to books; the number of windows was kept to the bare minimum to protect books from the dust of the un-metalled roads and were decorated with stained glass imported from Europe.In addition, the Italian marble floors and a splendid staircase leading to a second floor added to the building's ornamentation."
History: Higginbothams Bookstore in Chennai
This Chennai bookstore was established in 1844 by an Englishman, Abel Joshua Higginbotham. Above all, it is interesting to note that he was found as a stowaway in a ship. In fact, Mr. Abel Joshua was left on the streets of Chennai to fend for himself. Firstly, he started his career selling Bibles to soldiers. Further, he worked as a librarian. Subsequently, he progressed to purchasing the business of the missionaries calling it "Higginbothams".
The store commenced sale of stationary, publishing and printing their own books. They were appointed as the "official bookseller to HRH the Prince of Wales" during 1875. After serving as Sherif of Madras, Abel Joshua died leaving the store to his son C.H. Higginbotham, who was instrumental in moving the store to the current location and expanding it. Subsequently in 1949, the store was bought by Amalgamations group, who are still the current owners.
What to expect at Higginbothams?
As you enter the bookstore, you are greeted by the silence and a view of people of all ages browsing through the books in all sections. In addition, close to the entrance there are recent releases where you can find recently released books. "Faster than lightning – an autobiography of Usain Bolt" caught our eye, and we quickly picked the book and read a few sections randomly.
 Map Guides
For example, it is one of the best places to get map guides to the states, cities and towns of India. As a matter of fact, the store has a large collection "Maps of India". Detailed road and railway maps of Tamilnadu, Karnataka, West Bengal and all other states are available. These maps also give details of places of interest, worship places and sights to see. We stop to wonder if these physical maps will retain their relevance in the age of smart phones in the years to come.
In addition, in the Spiritual section, one can find books of all religions. Further, books and talks released by spiritual heads by well-known heads such as Ramakrishna Paramahamsa, Swami Vivekananda, J Krishnamurthy, Ramana Maharishi and many more. Even books released by lesser known religious heads can be found in regional languages.
 Self Improvement Books
There is no dearth of Self-improvement books in the store. A separate section dedicated to this category. Robin Sharma 's "Who will cry when you die", Stephen Covey's "The Seven habits of Highly effective people", Gladwell's "Outliers" and "Blink", Duhigg's "Power of Habit : Why do we do what we do, and how to change", the "One minute" series and so on – books with such powerful messages, best sellers for more than a decade, root you to the spot and spend hours browsing trying to pick out relevant tips that suit us.
 Children's section
Children's section has books for all ages. The Entire series of Harry Potter, Panchatantra, Jataka Tales, tales from Indian Mythology are best buys. Books for infants such as coloring, writing and picture books are available. Children's books collection is sizable and varied.
The stationary section has us spoilt for selection, with the varieties of letter pads, types of folders and all nature of writing accessories (pens, pencils, boxes, erasers etc).
Students Section
Climbing a curved staircase, the first floor is dedicated for mostly college text books. Medical, engineering and computer books are in great demand and sell fast. A large collection of Tamil books from many publishers are found here, which cannot be found anywhere else.
"So Many Books, So Little Time". Today, Higginbotham's has an extended chain of 22 outlets spread across the southern states of Karnataka, Andhra Pradesh, Tamil Nadu and the Union Territory of Pondicherry.
At this amazing Chennai bookstore, one can always find the book you wanted and three more you didn't know you wanted.
And as you wait to pay the bill with an armful of books, you find yourself curiously checking out the books the others in the queue have purchased, and marking them to your memory for the next visit.
Odyssey Book Store
Review of the Odyssey Book Store in Chennai
Odyssey is a book store chain that commenced with its first book store at Adyar, Chennai in 1995. As on date it has opened shops across the country in Bengaluru, Calicut, Hyderabad, Delhi, Mumbai, Jaipur , Noida and Pune. While it started selling primarily books, the stores now sell music, videos, toys, stationary writing accessories and gift items.
The shop boasts of a large collection of books of all categories. Recent releases and best sellers have a separate section right at the entrance. The staff are always ready to help out when we are searching for a specific book.
The Odyssey bookstore also hosts events such as book launches, the most recent being the launch of the book "Birds of Prey" authored by Archana Sarat.
The Adyar branch is the largest store in Chennai, and one can spend more than an hour browsing through what the store offers.
Eswar Book house, T.Nagar Chennai
Review of Eswar Book house in Chennai
Eswar Book house is the textbook shop of Chennai. With modest beginnings, the book store was started by Mr. Periaswamy who worked as a Sales executive for a leading publishing house. Not a graduate himself, he started the bookstore in 1985. During 1980s the early computer books such as Beginner's guides for Clipper, Dbase, C++ could be purchased here. Now the shop is well stocked with books on latest technology, bio sciences, and Accounting among many others. Text books for schools and colleges, guides for Public service exams are popular picks. The Eswar bookstore now has an ebook web site http://www.eswar.com/where it is possible to browse and order books online.
For many of us, whose education was completed before the onset of online shopping, Eswar book store has been The shop for text books and reference books. The main shop is at Natesan Street,  T. Nagar.
Our other blogs are :-
10 famous streets to visit in the Parry's Corner Shopping Market in Chennai
Hot Coffee, Warm Cakes, Good Books and Stylish Shopping – The perfect monsoon afternoon awaits you at Khan Market !
---
View our videos
SIGN UP FOR NEWSLETTER
Be the First to Know. Sign up to newsletter today