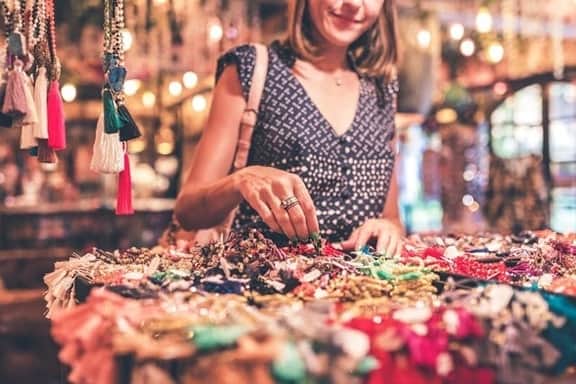 10 Famous Streets To Visit In Parry's Corner Shopping Market In Chennai
manjula
105897 views
add comment
Parry's Corner, a quintessential business district in Chennai, is named after Thomas Parry, a Welsh merchant who was instrumental in the setting up Parry & Co in Chennai in 1789. The corporate headquarters of this company is still situated in this area in a famous building called Dare House.
Parry's Corner is a neighborhood in George Town, Chennai, India. Often referred to as Parry's, it is situated near the Chennai Port, at the intersection of North Beach Road and NSC Bose Road.  In addition, The Anderson Church is the oldest and most prominent church in this area.  In addition, there is an intercity bus service from this area.
Read our blog on Best shops for wedding shopping in Chennai 
Shopping in Parry's Corner
In other words, Parry's Corner is one of the oldest and most congested areas in Chennai.  However, It is also a very popular shopping market in the city. It is a wholesale shopping market dealing in a variety of products ranging from fabrics, cosmetics, bangles and stationery items to utensils, plumbing equipment & cycle parts. For instance, there are about 25 streets in this area between Rajaji Salai and Wall Tax Road (as shown in the map below) that comprises the shopping market. What is unique to the Parry's Corner shopping market is that each street specializes in one particular type of product. One has to explore the shopping market several times to get a sense of the market and the numerous products that are available here. Chennaites flock to this area during the Diwali, Navaratiri and Christmas festivals.
Parry's Corner has very narrow streets that are always crowded. There is a constant cacophony of sounds of two wheelers, auto rickshaws, cycle rickshaws, bullock carts and of people walking the busy streets. Hence, the best and probably the only way to shop in this market is to walk or take a two-wheeler.
[Also Check Out
Top 10 Handicraft Shops in Chennai
]
Best Time To Visit Parry's Corner
The Chennai weather is hot and humid during most parts of the year. So, the evenings ,when the sea breeze sets in , are probably the best time of the day to visit this market. One can travel by car or any other public transport upto Pookadai (Flower Bazar) police station or to Broadway (which is a prominent landmark), and then walk or take an autorickshaw to Parry's Corner. The map above can be used as a reference. It is also possible to ask your way around as most shop owners are very helpful. In fact, asking for directions is important as one can easily get lost in this crowded shopping market.
For example, most shops open by 11 am and close by 8 pm.  Further, the roads are in fact deserted after 8 pm.  The shops are closed on Sundays and on national holidays and other festival days. Many of the shop owners belong to the Marwadi community from North India. In addition, they have shaped the Chennai trading landscape to a large extent.
Let us now take a shopping trip through the Parry's Corner Shopping Market. The incredible range of products that is available in these streets will leave you speechless.
Exploring the Parry's Corner Shopping Market
Here are the street names and the products that are available there:
Perumal Mudali Street
Coloured glass bangles is what is famous in this street. There are more than 400 shops in this street. The whole street lights up in color as the sunlight fades in the late evenings and casts a beautiful glow on the glass bangles. The street is also called the "Vallaiyakarra theru" (bangle street). The crowds throng the bangle shops during festival days. Shopping needs for Vallakaapu – which is a function held to celebrate the seventh month of gestation for a woman, is specially done here. In this function the expectant mother is adorned with glass bangles. Many shops have included artificial jewelry, beads, fancy buttons and toys to their product list. Some shops are popular for beads and jewellery making accessories.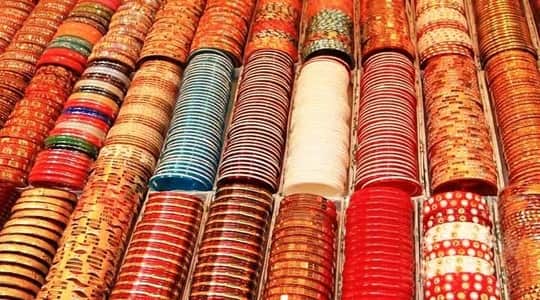 Godown Street
This street is a hub for textiles. Sarees, readymade garments, fabrics & dress materials are available in plenty. Cottons, polyester and a variety of synthetic materials are available.  However, the shops are small and are stacked with fabrics on both sides, leaving little room for customers. It is a common sight to see the whole family squatting on the floor of the shop and making bulk purchases, prior to major festivals or an impending marriage in the family. Each shop has its own loyal clientele who have shopped in the same shop for generations.
This street is known for surgical instruments and chemicals. Customers are predominantly hospitals and dispensaries. However, people in need of a wheel chair, a walker or similar accessories can also do their purchases here.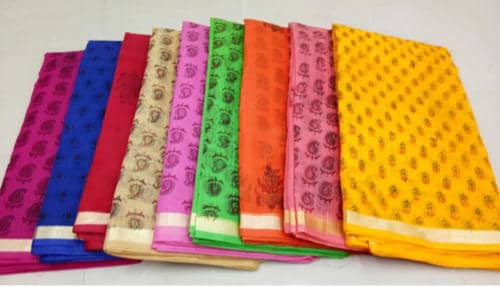 Bunder Street
has stationery items ,such as staplers, stickers, zip locks, plastic covers, color paper used for handicrafts & decorations and cellophane tapes. These are but a few of the items available here. It should be noted that since the shops sell in wholesale, the Parry's Corner is one of the oldest and most congested areas and is also a very popular shopping market in Chennai. There is a minimum quantity of purchases which has to be made.
Devaraja Mudali Street
This street is known for more than one product. Glassware, synthetic colors and dyes and picture frames are some of the products available here . The street also has a few shops that sell human wigs, Hair peddlers sell human as well synthetic hair wigs, hair stretches and hair lengtheners (Sauri, in Tamil). This street has two very large and ancient temples –Sri Chenna Malleeswarar Temple and Sri Kesava Perumal Temple. The Shiva and Vishnu temples are located side by side. Built in the 17th century, the temples were used for town meetings, discourses and music programs.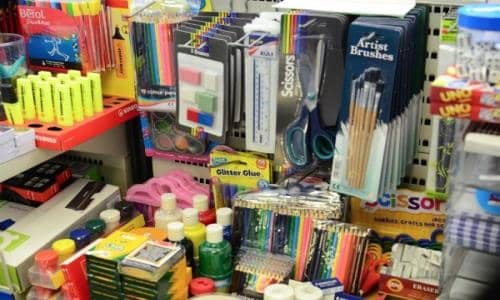 Anderson Street
This street has paper products. Printing paper, paper boards, diaries, notebooks, book binders and files are all sold here. It is also in this street that one can get a variety of wedding invitations printed.
Evening Bazaar Road
In the early days, this area was where people shopped in the evenings. Hence the name Evening Bazaar. Household appliances, utensils, crockery and cutlery are famous in this street. The popular and well known retail stores are M.A. Ethirajulu Naidu for vessels and Currimbhoys for cutlery and crockery. M.A. Ethirajulu Naidu were one of the pioneers who set up the first store for household vessels in ever silver in Chennai.
As you enter the store you can see vessels all around you, some even hanging from the ceiling. Tiffin carriers or lunch boxes are very popular in this store. From a single container lunch box up to a six container lunch box, they are all available here. Large sized tiffin carriers, where food for 25 members can be packed, are also available. Other items that are popular are spoons, plates, kadais ( fry pans ), thookkus ( storage boxes), ceramic pickle jars, pressure cookers and idli cookers. In most South Indian weddings, the bride is gifted with the entire kitchen set. For example, a set of dinner plates, serving vessels, cooking vessels and large storage vessels to store household provisions, called seer ( part of the dowry ), can be purchased here for as little as Rs. 5000.
Currimbhoys, a shop started by Karim Bhai, four generations ago, initially sold kerosene and paraffin lamps. Slowly they expanded to tableware and cutlery. Bowls, dishes, cups and saucers made of bone china are available here. A whole range of traditional glassware items for the bar such as beer mugs, brandy and cognac glasses are available here. One may also shop for table ware such as water glasses and serviettes.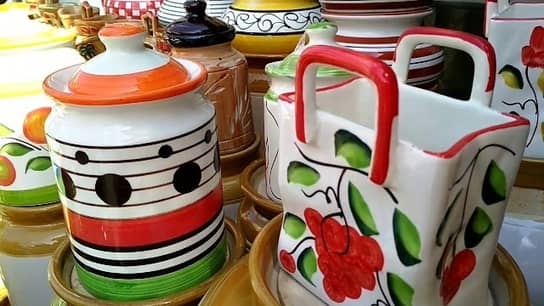 Stringers Street
This street is for foot wear, shoes, stylish party wear and sandals. Children's shoes are a popular item here.
Mooker Nalla Muthu Street
This street is popular for plumbing items, such as motors, pumps, pipes, angles, hoses, ducts & valves of all sizes and shapes. Also available are insulation materials, packaging and cushioning and padding materials.
Audiappa Naicken Street
This is the street for dry fruits and spices. Cashewnut, walnuts, figs and almonds can be purchased in bulk. All kinds of spices are also available in these shops such as cinnamon, kari patta, saunf, kala jeera and many more. Further, dry fruits are also available in Strotten Mudali street.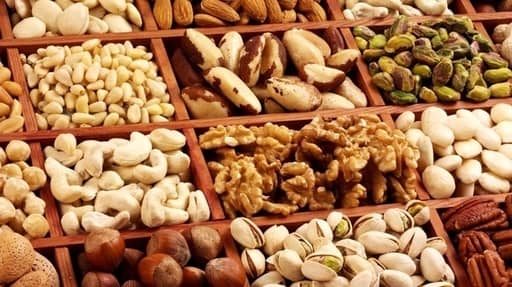 Kasi Chetty Street
This street is popular for its imported goods. The street is the 'go to' place for toys, gift items, perfumes, handbags, electronic goods and cameras. Doll houses, play gyms and musical toys are available in plenty as well. Moreover, the variety of items sold here is amazing. If you have a child in the family you would be compelled to visit this street. Brides are also often seen here looking for imported fabrics, laces, ribbons and cosmetics for their wedding trousseau.
Thambu Chetty Street
Shop for hardware, ball and roller bearings, tiles, and sanitary ware. This is where the Kaligambal Temple is located. Shivaji, the Maratha warrior is supposed to have visited this temple in the late 17th centuary.
Govindappa Naicken Street
This street is lined with shops that sell electrical goods. Electronic and electrical wires, wire meshes, wire cutting equipment, cables, batteries, electric motors and connectors, to name a few, are the products sold.
Sembudoss Street
Has iron and steel, rods, pipes and sheets. Household needs such as iron grills, doors, and other industrial and construction equipment are available here.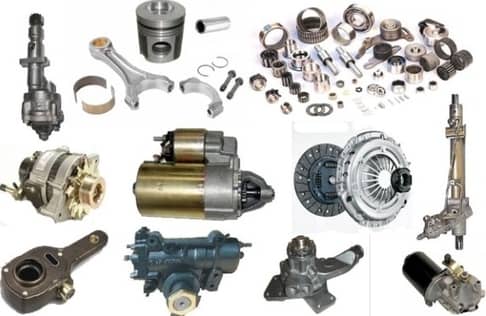 Badrian Street
This is Chennai's old flower market. The strong smell of jasmine and the refreshing sight of roses and marigold can bring back memories of the film My Fair Lady. There are shops that weave garlands and braids for special occasions. The prices are considerably lesser when compared to the city flower markets. However, old timers of Chennai can definitely see a decline in the business here after the main flower bazaar moved to Koyambedu, which is another part of town. One has to tread carefully in this street as it is always slippery.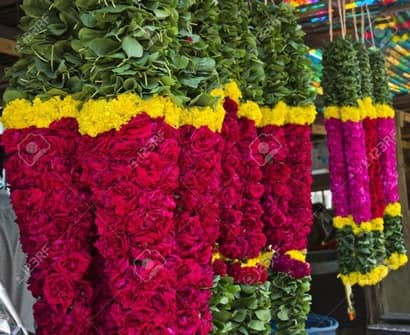 Broadway
This street is famous for cycles and optical shops. Cycle shops have bicycles of various brands and for all age groups. There are racer bikes, teen bikes and baby prams. Some shops also have fitness equipment such as treadmills for gym. Broadway is also popular for purchasing weighing machines and fire fighting equipment. Different kinds of weighing scales such as crane weighing, electronic platform and digital, jewel weighing and high precision lab scales to name a few.
Manufacturers and wholesale dealers of fire extinguishing and fighting accessories have set up their shops in Broadway. From medical first aid kits, flash lights, torches, gas detectors, face respirators, fire hoses to fire protection needs for industries such industrial blowers and exhausts , they are all available in these shops.
Broadway Road was also once called "Pai Kadai", the place where we could purchase all kinds of straw mats. Straw mats have many uses in India. They are used as a , mattress for sleeping, for seating, as blinds and curtains, wall hangers and table mats. Even today, one can find quite a few shops selling mats on this road.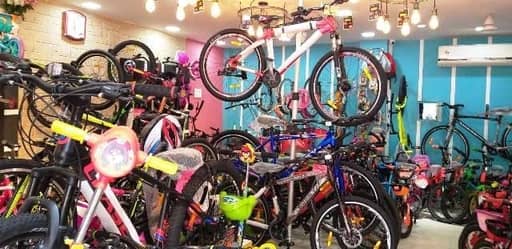 Mint Street
Last but, not at all the least, Mint Street is arguably known as the longest street in Chennai. With a long history, the street derived its name from the presence of many pawn brokers and money lenders who migrated from other parts of country to set up their businesses here. Moreover, a coin making unit was also present in this road which could have contributed to the name of the street. The street is certainly popular for many reasons.
The first one, is for the variety of North Indian food restaurants that sell murukku sandwiches, chaat items, vada paav, pav bhajis, paan ice cream, badam milk and jilebis. During evenings and in the night, a few vendors set up street shops selling artificial jewellery, vegetables, fruits, handbags and footwear at very cheap prices. Similarly, the street has many ready made shops that sell trendy salwars, sarees and dresses that are attractively displayed outside.  Further, street has a Jain temple known as Sri Chandraprabhu Jain Naya Mandir, The architecture of this temple is based on the Dilwara temple near Mt. Abu in Rajasthan.
Parry's Corner Shopping Market is also known by other names – Sowcarpet, Pai Kadai, Poo Kadai, George Town, Mannady or just Town.
A Few Tips-In conclusion,
– Plan to spend the whole afternoon exploring this Shopping Market.
– Access is best by walk.
While the streets mentioned above can be used as a guideline, however, one can always stop and ask one of the shop owners or a bystanders for directions and one would get detailed instructions.
The Parry's Corner Shopping Market is the best place to buy household essentials & gifts in Chennai.
Try & bargain for the best price.
To become familiar with the entire area and traverse through the maze of streets confidently, one has to visit Parry's Corner several times.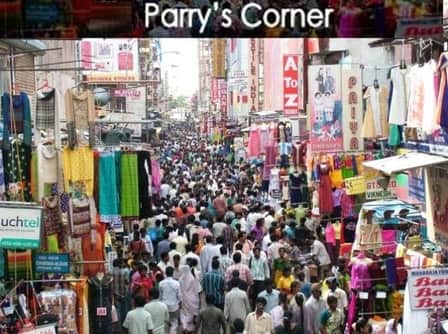 Best Known for-
Glass bangles
Imported fabrics & cosmetics
Toys
Cycles
Plumbing and construction materials
Related blogs:-7 Chennai Shops for Diwali Saree Shopping
---
View our videos
SIGN UP FOR NEWSLETTER
Be the First to Know. Sign up to newsletter today