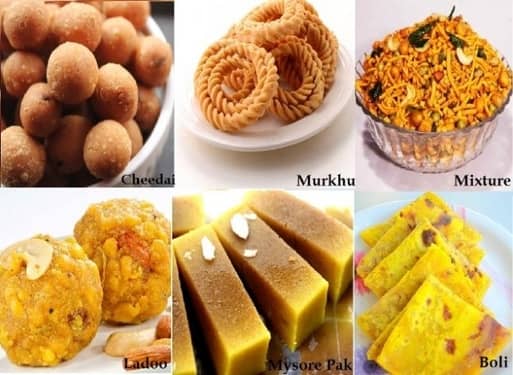 4 Sweet and Savory Shops in Chennai
manjula
2245 views
add comment
Sweet and Savory Shops
In South India, it is customary to gift a box of sweets and a box of salty snacks when visiting friends and relatives. This is because the in the hot weather in Chennai, flowers do not stay fresh and wilt very soon & hence do not make for ideal gifts. Usually, a box of sweets from a well known and reputed sweet shop and a packet of chips or pakodas (fried bengal gram flour dumplings) is always welcome. These snacks are typically consumed with coffee & tea in the evenings. One could be judged by the host on the contents and the quality of the sweets. It is therefore better to go to reputed sweet shops in Chennai when buying sweets for gifting. Let us introduce you to the well known sweets shops in Chennai. Some of them have online ordering facilities too!
Review of Sri Krishna Sweets – What to try and what to buy
When a Chennaite hears the name 'Sri Krishna Sweets,' the image that springs to his mind is the Mysore Pak ( a sweet cake made of bengal gram flour and ghee ), soft and delicious dripping with ghee. Sri Krishna Sweets has its origins in Coimbatore, South India. This shop was started by a family in 1972 for home-made sweets made with pure ghee. While one can purchase all the favourite South Indian sweets and savouries in this shop, they sell some unique sweets as well. Laddu ( a round soft sweet ) is a local delicacy.
Laddus
The store specialises in moti laddu (made with chickpea flour), maa laddu (made with roasted gram), rava laddu (made with semolina) and the special laddu which is similar to the laddu one gets in the famous Lord Balaji temple in Tirupati in Andhra Pradesh. Do taste all these items and then pick up half kilo of each of the laddu varieties. Karupatti (palm jaggery) is an extract from palm trees and is known to have rich nutritional and medicinal values. Sri Krishna Sweets sells sweets made of karupatti such as karupatti Laddu and karupatti Katli.
 Flat Pancakes
Almost all of their branches have a separate counter for Boli ( flat pancake with sweet stuffing /spicy stuffings). They are freshly prepared in your presence you after they receive the order. There is another counter where a lady is busy making the traditional South Indian snack called the Kuzhi Paniyaram which is a mixture of rice and black lentil batter, deep fried and served with coriander chutney. This is also made fresh and can be eaten while it is hot and while one is waiting for the other orders to be ready. Sri Krishna Sweets was one of the first shops to introduce this snack.
Finally , do not forget to pick up a box of Mysore Pak, their signature sweet. They are laid out in large trays and cut into rectangular shapes and stocked in cardboard boxes while they are still warm. They melt in your mouth so fast that you will soon stop counting how much you ate. So put that calorie count on the back burner and make your way to this Chennai sweet shop right now!
Review of Adyar Ananda Bhavan (A2B)- Sweets Shops in Chennai
The Adyar Ananda Bhavan chain of sweets and snack shops is very popular in Chennai as well as in the rest of Tamilnadu. From very humble beginnings about three decades ago, where the sweet shop was first started in Adyar, a local residential area in Chennai, the chain has expanded by, opening several branches in various parts of the city. Today, the Adyar Ananda Bhavan, also known as A2B has become popular and all its branches are filled with customers at all times.
Milk Sweets & Bengali Sweets
The sweets here are always freshly made and delivered each morning. Milk sweets and Bengali sweets are good takeaways. Our recommendation would be the Chandrakala / Suryakala, chum chum, Kajoo Katli and Kaala Jamoon. Milk is the main ingredient in all these sweets. One can find different varieties of halwa ( moist cakes) such as the – Bombay halwa, the dry fruit halwa and wheat halwa. There is also a special corner for the Boli ( pancake) varieties made of coconut and lentils. Since bolis have to be consumed hot and within a day, the stocks are limited.
 Spicy Savories
There is a special section devoted to savories such as pakodas & mixtures. There are many varieties of pakodas available, such as onion, cashew, bitter gourd, ladies finger and beetroot pakodas. Pakodas are finger foods, where the nuts or vegetables are dipped in gram flour and deep fried. Mixture is another hot favorite savory. This is a made of a mixture of nuts, curry leaves & other fried dumplings. There is also cornflakes mixture which has lavish doses of cashew nuts and cornflakes.
Traditional South Indian items@Sweet Shops in Chennai
Other South Indian snack favorites include– murrukku, thattai, seedai and karasev. They are made of rice flour & gram flour, twisted into interesting shapes & fried. Crispy and salty snacks such as these are very appetizing.
A2B is also well known for its varieties of special pickles and rice mixes all of which are moderately spiced. The rice mixes are to be mixed with rice for a special flavored rice.
Many outlets of A2B have expanded to serving chat items, a North Indian specialty and some outlets also run a vegetarian restaurant. At present, there are more than ninety branches across the city. Economical and fresh, Adyar Ananda Bhavan Sweets and Snacks shop is by far the most popular restaurant and sweet shop in Chennai.
Review of Grand Sweets 
Yet another chain store, started by a couple selling homemade sweets and snacks is the Grand Sweets and Snacks. This shop is known for its consistent quality.
 Popular items
Popular sweets in this store are the maaladoo and the pedas. However, the savouries are the hot favorites. Apart from the murrukku & seedai, we can get thattai and a variety of mixtures. Rice podis such as karakulumbu (spicy sambar) podi , paruppupodi ( lentil podi ), curry leaf podi and corrainder podis taste excellent. Podis are dry powders that are to be mixed & eaten with rice. Puli kaachal (Tamrind mix)when mixed in plain rice becomes puliyodara (Tamrind rice). This is one of their hot selling items. The stocks are limited, at any point of time so as to retain the freshness.
 Freebiies
Sometimes, the shop surprises you with free prasadam served in a banana leaf cup. This happens when the daily pujas & offerrings happen in the store. Grand Sweets enjoys a huge and loyal clientele, and one can notice a sizable crowd, at any point of time. They follow a token system for billing.
Review of Venkateswara Boli Stall – Sweet Shops in Chennai 
Started in West Mambalam, Chennai, as a small outlet, Venkateswara Boli Stall, specializes in Boli (stuffed lentil flatbread). There are four types of Boli available here, lentil boli, vegetable boli, coconut boli and jeera boli. The shop has expanded to selling other sweets and snacks including mixtures, pakodas and chips. At present, there are several branches across Chennai and many of these outlets sell chat items (North Indian snacks) and vadai items also.
All these shops are packed during the festive seasons such as Diwali, New Year, Pongal and other major South Indian festivals. The shops cater to large orders from corporates and business houses and they do roaring business during the marriage season.
Our other related blogs are:-
---
View our videos
SIGN UP FOR NEWSLETTER
Be the First to Know. Sign up to newsletter today