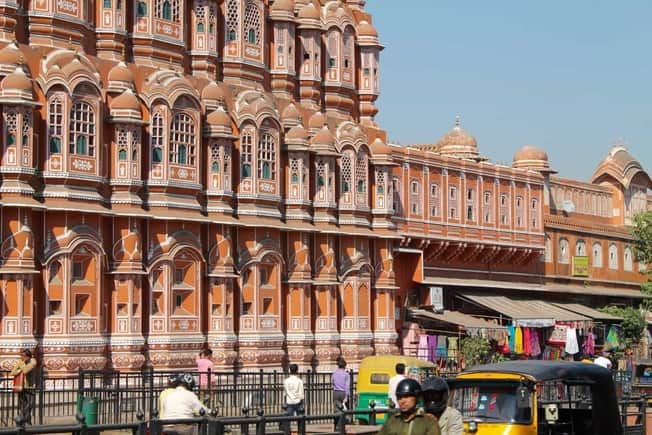 Markets In Jaipur
 Jaipur Shopping Markets
The city of Jaipur is very historical. For instance, the forts & Palaces of Jaipur are a great tourist attraction even today. The old shopping markets of Jaipur are in Johari Bazar & Bapu Bazar. Above all, It is a unique experience to shop at these places.
Johari Bazar Shopping Market
Johari bazar means Jeweller's market . It is the market where the erstwhile kings & queen's shopped. Johari Bazar is on the same road as the CityPalace and the Hawa Mahal(wind palace). The gaiety and colour of this Jaipur shopping market is unmatched . The place could appear surreal to tourists who are not comfortable with colour & chaos. This is a wholesale market for grocery items .However, do not underestimate this market as being just a grocery market. It is the best shopping market in Jaipur for traditional bridal wear dresses . For example, dresses such as  lehenga cholis and heavy worked bridal sarees. In addition, this market has  shops that sell beautiful silver jewellery & gem stones as well . However, take a walk in this long stretch of road . You will find shops that sell colourful stoles, salwar kameez, Jaipur quilts and bedsheets,juttis and typical Jaipuri sweets .
Bapu Bazar Shopping Market
Bapu Bazar-Bapu Bazar is at the corner of Johari bazar and is again a noisy & crowded street .They are popular for quilts , block printed fabrics ,cotton salwar suits, lac and glass bangles.
MI ROAD Shopping Market
Similarly, there are thriving markets in MI Road Jaipur, and the Civil lines area in the City. MI Road is a large central avenue in Jaipur named after Mirza Ismail , the first Prime Minister of Jaipur. The Government Emporiums ,big jewellery houses and several other interesting shops line this historic street.
Civil Lines Shopping Makert
Civil lines on the other hand,is a quiet residential area .Some of the best shops for salwar kameez,kurtis,skirts and home furnishings are all located in this street.
Amber Fort Shopping Market
Amber Fort,on the outskirts of Jaipur,served as the principal fort of the Maharajas of Jaipur. The area surrounding the Amber fort is ofcourse a tourist area . Above all, this is a good Jaipur Market for jewellery, soft cotton fabrics and furnishing items such as dhurries,rugs and bed sheets.
22160 views