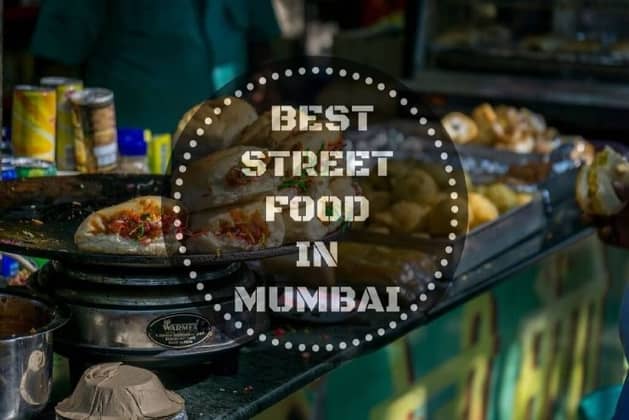 Mumbai Street Food
Jayashree
534 views
add comment
Mumbai is a cultural melting pot of sorts. Everyday, scores of people from across the country come here to find their share of luck. Firstly, the cosmopolitan atmosphere has contributed to some interesting cuisine in Mumbai. If there  is one thing that bonds the various ethnic communities, it is the love for the best street food in Mumbai.
The city, in many ways, is a leveller of sorts. You will see office goers and blue collar workers standing next to each other during lunch hours enjoying the street food. The food is fresh, tasty & reasonably priced.
So here you go – The list of the best Mumbai  street food and where you can have them
1. Pani puri:  Mumbai Street Food 
First of all, the pani puri undoubtedly tops our list. The pani puri is also known as golgappa or puchka in other parts of India. They are small round fried puris with tasty fillings.
It is available mostly after 4-5 pm in the evening.  This is  probably one of the most popular snack items of Mumbai (and number 1 on this old-blogger's personal list too). From the taste of the pani puri to the type of filling, everything is customized to each customer's liking. You will often see many people standing with 'katoris' in front of the pani puri walla, – some like it spicy, others like it sweet, some want the 'ragada' filling, others want the aaloo filling and the fitness conscious may even go for the sprout filling.
Besides the standard pani puri, select shops now have it available in a number of flavours like 'hajmola', 'amrud' 'jaljeera' and 'garlic'. But one pani puri that is a 'shot' apart is the Vodka Pani Puri available at Pratap da dhaba in Andheri West.
https://www.shopkhoj.com/wp-content/uploads/2018/07/Samosa-chat.jpg
For the rest, pani puri is available around every corner,  even though the one at the Juhu beach is certainly quite popular.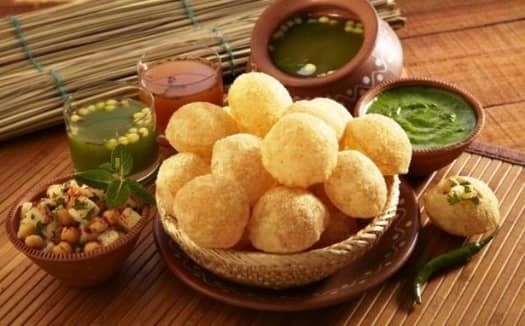 2. Bhel and chaat:
Similarly, Bhel puri, dahi batata puri, ragda puri, sev puri and ragda pattice constitute the second popular snack item in Mumbai. Mixed with sweet chutney (made of dates) and spicy chutney (made of mint and chillies), topped with sev and spices, each snack is made in under a minute right in front of you and also needs to be consumed immediately. Consequently, it is fresh and crunchy.
Gupta Chaat Center outside Matunga Station is  most notably one of the several popular joints that sees a never ending crowd of Mumbaikars craving for this snack. These scenes will make you wonder if Mumbaikars eat anything else at all!
Bhel puri is made with puffed rice.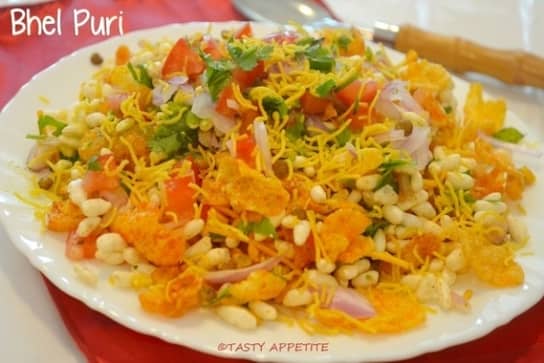 3. Wada Pav: Mumbai Street Food 
Wada pav has  certainly constituted as a staple food for many. Available in the range of Rs. 6 – Rs. 15, the simple yet tasty potato filling is wrapped in a chick pea flour batter and deep fried into tasty and spicy wadas.  Above all ,the extra zing comes from the special dry garlic and chilli chutney that goes into the pav. 2 wada pavs is a lunch for many who  probably cannot afford better or for others who simply cannot get enough of this Maharashtrian favourite. If you have the stomach, then you can try the chinese wada pav and other flavours.
Similarly , both the  Jumbo wada pav and Karjat wada pavs are a great try.
The wad pav are square buns with potato fillings.
Sachin Tendulkar had mentioned during one of his interviews that Wada Pav was his favorite street food.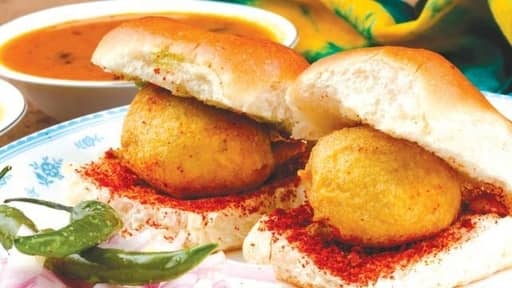 4. Dosa:
The South Indian breakfast item is another  super popular street food in Mumbai. From butter dosa to the masala cheese shezwan dosa, you name it and you will find it here. The catch – you will get a whopping quantity of butter and cheese too. It does make it completely irresistible but also a tad unhealthy. Who said you have to eat healthy all the time!
The dosa is made with rice & lentil flour.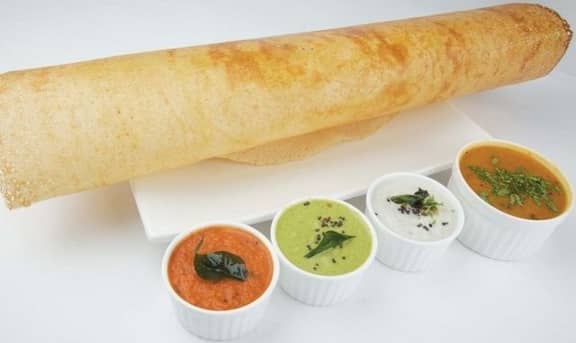 5. Frankie:
The budget version of the wrap or roll, frankies are available with a variety of fillings that will leave your tummy happy. From corn cheese frankies to spicy chicken frankies to the roti filled wraps almost make you feel like home.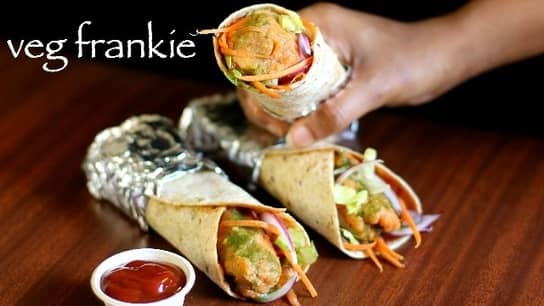 6. Sandwich:
The Mumbai sandwich is not one to be taken lightly. The multi-layer monster is lined with veggies, cheese and then topped again with butter and cheese. It is a superb filler to the evening snack craving where some people daringly convince themselves that the veggies in this snack make it a healthy option.
The Sandwich shop in the Bandra market is super popular.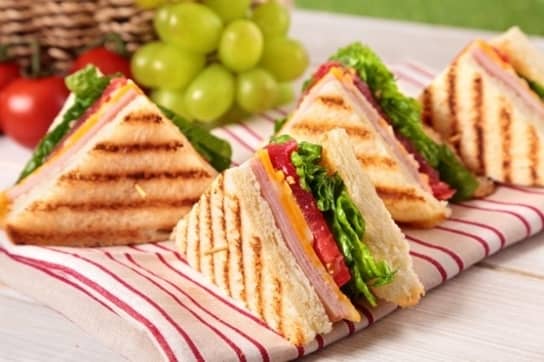 7. Pav Bhaji: Mumbai Street Food
It seems like the  Pav Bhaji is an all time favourite lunch and dinner choice for Mumbaikars. Though many people make pav bhaji at home, nothing quite matches the flavour available on the street. Filled with dollops of butter, and extra cheese on request, this dish is available in its 'Jain' version too. The Jain version will not have onions or garlic.
They are square buns with spicy veggies.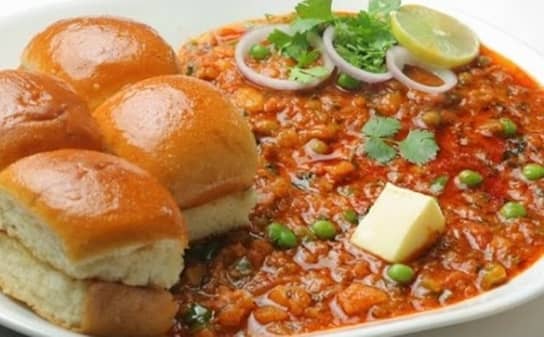 8. Kababs:
What is life without a little kebab on the side? Hmm.. boring, we would say. Mumbaikar or not, you have to try the kebabs at Bade Miyan. Known popularly for its range of non-veg kebabs, Bade Miyan now also offers veg kebabs that are made in a separate kitchen.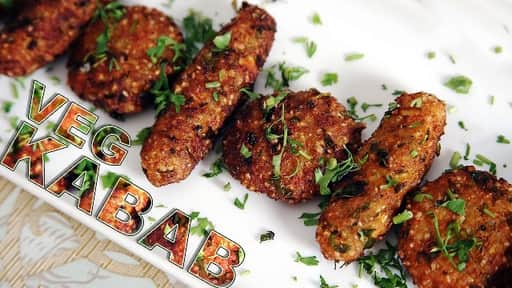 9. Falooda and Golas: Mumbai Street Food 
 If you are trying hard to stop your mouth from watering, this is where the dam breaks and you run to grab something from the fridge and come back to read. The most popular variety of falooda – the rose falooda is a delightful drink / dish – a bit of both – that is topped with dry fruits, tuti fruti and vanilla ice cream. The kulfi falooda available at Juhu beach is a must try.
There is really no better place to try golas than Juhu beach. Made with crushed ice dipped in a syrup of your choice, the 7- colour rainbow gola is favourite. Of course, the selfie with 'gola lips' is a must!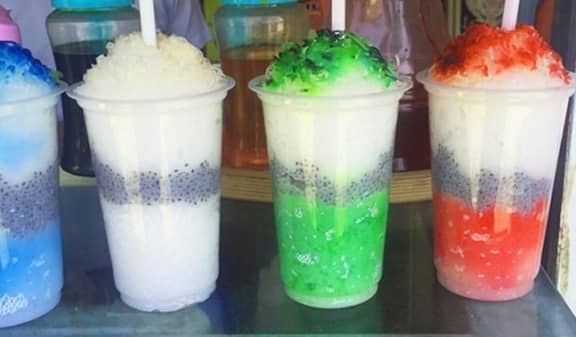 10. Bun maska and irani chai:
Another favourite breakfast staple, this simple dish of sweetned bun filled with (a lot) of amul butter and the accompanying irani chai is a refresher. When we've gone out with friends, we have lost count of the number of bun maskas and chais over a three hour long conversation.it is probably a hot favourite with youngsters.
The Koolar at King's Circle in Matunga even has a juke box where we've spent hours laughing and enjoying and having a good time.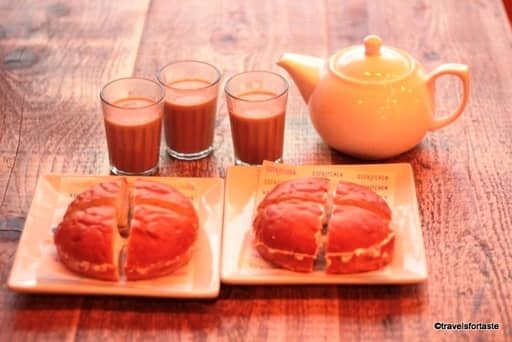 11. Samosa and chole:
If 'chatpata' is on your mind and your hungry tummy is growling angrily, it is time to appease it with a full serving of samosa and chole. A mix of two dishes that individually offer a tasty snack, when put together topped with onion, coriander and a dash of chutneys, it becomes mouth-watering, and tempting. It is certainly a national favourite.
Served hot and delicious at Guru Kripa hotel in Sion.
Chole is spicy chickpeas.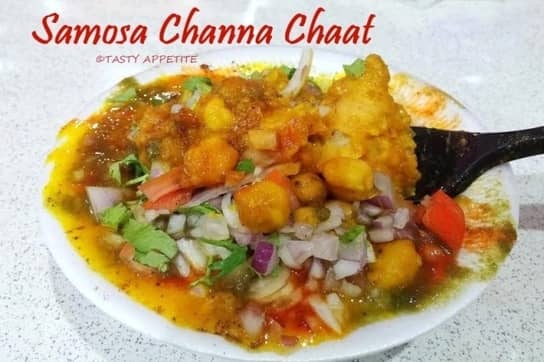 12. Street style Chinese: Mumbai Street Food 
The Indian version of Chinese food is filled with flavours that match local tastes. In addition,  street side chinese stalls offer everything from Hakka noodles to Chicken lolipop. The popularity of these stalls is noteworthy. Many serve the questionable version of Chinese bhel which  have been often  cited as being served with harmful food colours. Even then, many indulge in it as it is one of the few snacks available for as little as Rs. 10 in some areas. When you visit one of these stalls, shout out a special instruction of 'no ajinomoto, no colour' to have a safe experience.
Try the Tasty Chinese Corner in Kandivili. It is certainly one of the best places for Chinese street food.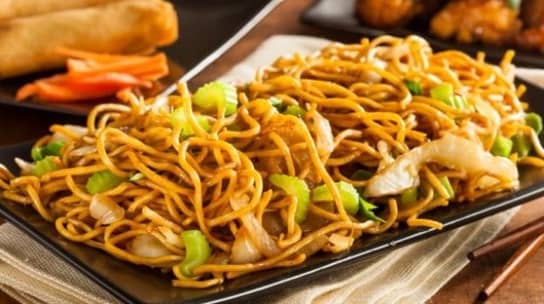 13. Poha upma and wada:
Outside popular train stations and office hubs, you will notice local women (entrepreneurs) set up food stalls as early as 7AM selling breakfast favourites like Upma, Poha, Misal, Sabudana Khichdi and Sheera. Ranging from Rs. 15 – Rs. 25 per plate, these are lapped up by office goers who are living the fast paced life and  hence do not have enough time to catch healthy breakfast at home. Above all , they are  fully home cooked and made in typical Maharashtrian style. These little pop-ups tend to wind up by mid-day. According to some, these little stalls manage to rake up a good income a month. That is more money than the several people they choose to feed everyday.
Poha is beaten rice flakes.
You have to see this Daily Economics video and be enlightened on what happens behind the scenes of such street businesses.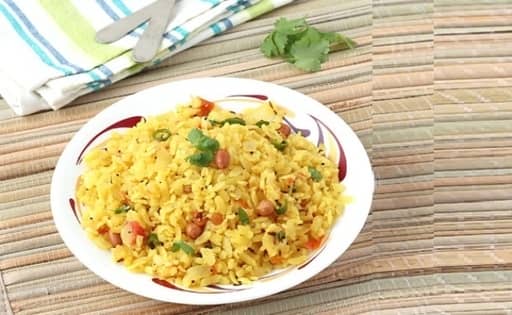 ---
View our videos
SIGN UP FOR NEWSLETTER
Be the First to Know. Sign up to newsletter today