We sang Christmas carols and had our share of plum cakes & puddings. Now that Christmas is over it is time to party and ring in the New Year. Let us get party ready for New year's eve. Take inspiration from these trendy outfits and smart accessories. It is ok if you plan to have a low key event & keep it simple or plan on a big party or event. However, going by the latest news reports, we suggest you have a cozy  party with close friends. Keep it small.

A new party outfit is absolutely in order. And we think we all deserve it, after what happened this past year. Above all, create the mood, the style & the fashion.

Shopkhoj has picked up party outfits and accessories to make it easier for you to  dance the night away in style.

Make sure you also have matching accessories & make up. Glam up and make the most of it. There are so many You Tube tutorials on make up. The more you try ,the more you are likely to get that perfect look . And yes, remember, less is more. While it is all fine to be glammed up, make sure that you don't overdo things . You have to look natural ,stylish & be comfortable.
New year's eve Outfit ideas
Athena Black Velvet Sheath Dress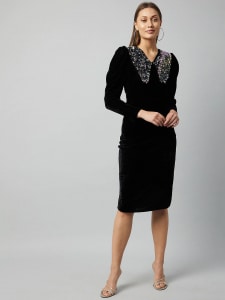 From Myntra
Sequined Cropped Top For New Year's Eve party
Cropped top in sequined mesh. This is trendy .You can never go wrong with this on New Year's eve.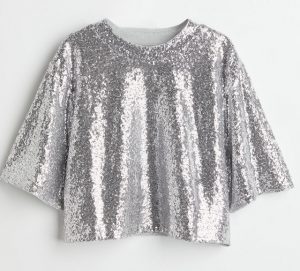 From H&M
Sequined Pants
Trousers in sequined mesh. High waist with a concealed zip in one side and straight legs.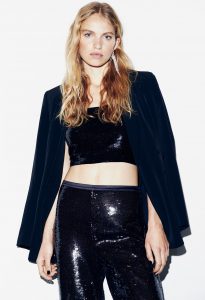 Sparkly Midi Dress
 This is a V- Neck  strap Dress . Really cool & chic.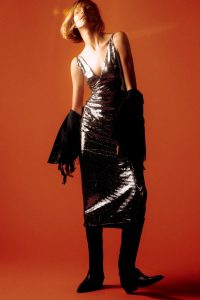 Velvet Midi Dress For New Year's Eve
 This is not the usual black colour. The shocking pink will stand out on New years' eve.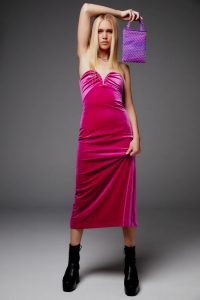 From Zara 
Jumpsuits
The off shoulder jumpsuits are truly amazing and supper stylish.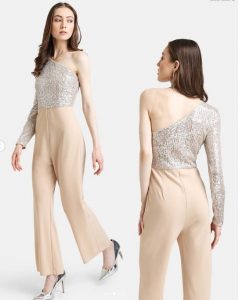 Black Embellished Knee Length Dress
This black one piece  dress is truly stunning . You can never  go wrong with it anyway.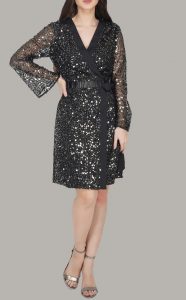 From Nayka
Beaded Necklace for new year's eve
 Isn't this exquisite, simple & elegant ? Further, you can pair this with any dress.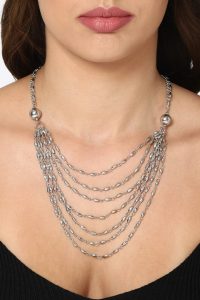 Ancient Coin Pendant Layered Necklace
 Layered and asymmetrical chains are in and way to go . Absolutely gorgeous.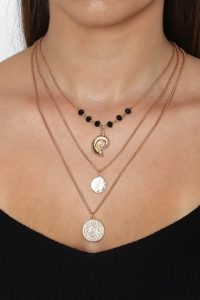 Metal Link Hip Belt
Gold & silver belts are in and this one comes with a clasp too.
From Forever 21
New Year's eve Outfit Ideas 
Pointed mules
Mules look beautifully stylish and this one comes with beaded stones .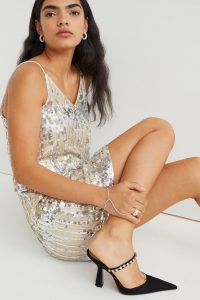 From H & M
Suede Tall Boots for New Year's eve
These boots are absolutely essential especially in the winter season.They look trendy too.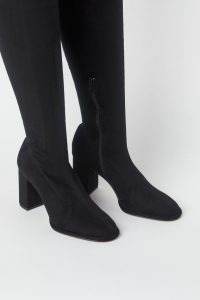 From H & M
Strappy High Heel Glitter Sandals
High heels and buckles look positively chic & fashionable . Viola !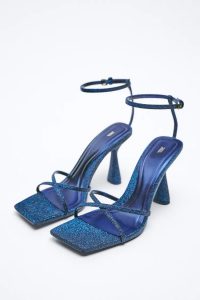 From Zara
New years' eve accessories- Quilted shoulder bag
The dresses & the shoes and you will need a fashionable bag to go with it too.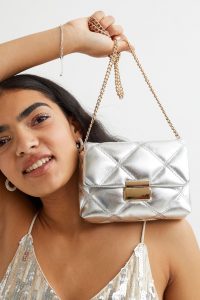 from H&M
Large Rhinestone Earrings FOR New Years' eve
If you are fond of large statement pieces ,these earrings will do the trick.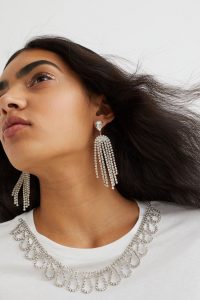 From H&M
Did someone say New Year's Eve party?
Here are 15 outfit ideas for New Year's party