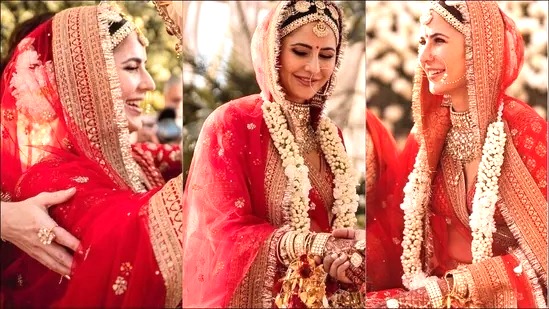 6 Best Bridal Lehenga Shops In Delhi
Guest Blogger
60179 views
add comment
Wedding bridal lehenga shopping is certainly a major event for any bride. Where should you begin ?As a matter of fact, families spend a lot of time researching & locating the best shops for the bridal lehenga. Further, the wedding purchase story has just begun with the lehenga. There is much more shopping to be done.The jewellery, the return gifts, the wedding cards and wedding ritual essentials such as the garlands, kaleeras (bangles worn by the bride), puja plates and lamps make up the  entire wedding purchase. Silver articles are  also exchanged between the bride and the groom's families. It is a mad rush to get all the purchases done in a short time and it can get stressful too. We are here to help with the  list of best lehenga Shops in Delhi. 
List of Markets for the best Wedding Bridal Lehenga
If you are from South Delhi and you are not wanting to venture out very far, you can visit the South Extension shopping market for wedding shopping rather than visit any North Delhi market.
1. South Extension Market-Bridal Lehengas in Delhi
South Extension Market Part 1 & 2 are full of shops for wedding wear dresses. Ritu Kumar is a designer wear store for high end bridal lehengas, bridal wear saris and Indo fusion party wear dresses. Dresses for the wedding, the mehendi & the sangeet functions are available here. It is certainly an excellent shop. They do have an online option as well. 
Frontier Raas is a popular shop for traditional Indian ethnic wear dresses.  Likewise, Nalli is the reputed store for Kanjivaram silk sarees and wedding sarees. Anantam and Meena Bazar in South Extension Part 1 have a limited stock of bridal lehengas. Raisons and Roop sarees  stock beautiful sarees. South Extension Part 2 has Ushnak Mal Madan Lal, Ushnak Mal and Ushnak Mal Madan Lal pride. They are 3 branches of the same family. The selection of bridal wear  is varied and interesting in these shops. Heritage is another  established shop for bridal wear dresses. You can also buy the groom's dress in this store. Manyavar is a popular store for  the groom.
Jewellery- 
Khanna Jewelers and Tanishq are the prominent jewellery stores in the South Extension Market.
Silver gift articles- Bellirams is well known for silver gift articles. As compared to some of the other markets, the South Extension Market has several popular shops for jewellery.
Further, there are good shops for footwear such as Venus Steps, Metro, for the bride. 
2. Defence Colony Market- Wedding Bridal Lehenga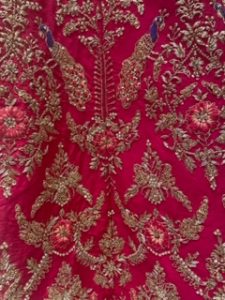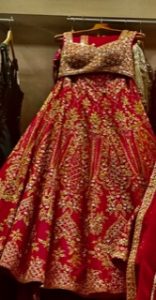 Until a few years ago, the Defence colony market was popular for eclectic restaurants and grocery shopping. The main road in Defence colony market is now a fashionable address for designer boutiques and hence for wedding shopping. Shantanu & Nikhil, Rohit Bal and Tarun Tahiliani are some of the top designers in India for Indian ethnic wear dresses. Banaras Ekaya specializes in Banarsi sarees and bridal lehengas.
3. Karol Bagh Market- Bridal Lehengas in Delhi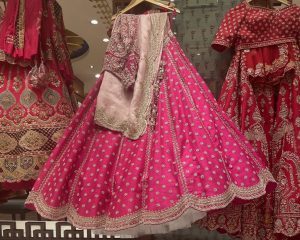 Karol Bagh Market is one of the oldest shopping markets in Delhi. It is a crowded market with ready to wear garment shops, home furnishing shops, shops for shoes, bags & imitation jewellery. This wedding shopping market is  almost as popular as the Chandni Chowk Market. It has some of the best wedding shops
However, it is one of the best places to visit for wedding shopping. Bridal lehengas and sarees are available at Meena Bazar, Frontier Raas and Bombay Selections. RCKC & Roop Sarees  have a stock of party wear sarees.
PP Jewellers, Khanna Jewellers, Mehre di Hatti , Bholasons Jewellers and Bimal Jewellers are some of the old established jewellery shops in Delhi. It is because of this reason that Karol Bagh is considered as one of the best shopping markets for  jewellery.
Wedding gifts and trousseau items can also  be purchased in the Gaffar  Market & Tip Top Market
4. Chandni Chowk Market-Bridal Lehengas in Delhi 
 This is  is the go to Market for wedding shopping. Notwithstanding any  other market that you may decide to go to for purchasing  a bridal lehenga, a visit to the Chandni Chowk Market is a must.  It is an old and popular market which is crowded at all times. It has one of the best markets for wedding shopping. While the South Extension Market and Karol Bagh Market have a handful of established shops, the Chandni Chowk Market has several shops where bridal lehengas are available at wholesale prices. Hence,if you are looking for very reasonably priced lehengas, then head to this Delhi Market in old Delhi.
Above all ,there are mini markets in Nai Sadak where the traditional bridal lehengas are available from Rs 5000/piece. OP Jawaharlal in Chandni Chowk Market is the most well-known shop for good quality bridal lehengas. They can make a replica of any designer lehenga in a matter of months. Bridal lehengas and bridal sarees are available from Rs 30000/piece and can cost upto Rs 3,00,000/piece. Further, there is Sudhir Bai shop which is also  very good for expensive lehengas. His is a popular shop as well.
In addition,  the Chandni Chowk Market is also the best place to shop for wedding trousseau. Wedding invites and paper bags can be purchased in Chawri Bazar. Kinari Bazar  has shops for bags, boxes, trays, paper garlands, safas, kaleeras and gifts.
5. Shahpur Jat Market- Wedding Bridal lehenga
If you are looking for stylish dresses and new designers to customize & design a bridal lehenga, then you should visit the Shahpur Jat market for your wedding shopping. There are innumerable shops for trendy designer wear lehengas, party wear ethnic dresses & gowns. Indo fusion dresses, gararas, shararas, dhoti pants and the bridal lehengas with gowns and capes are all available in the Shahpur Jat Market. It is easy to walk around this market as it is not crowded.
6. Lajpat Nagar Market-Bridal Lehengas in Delhi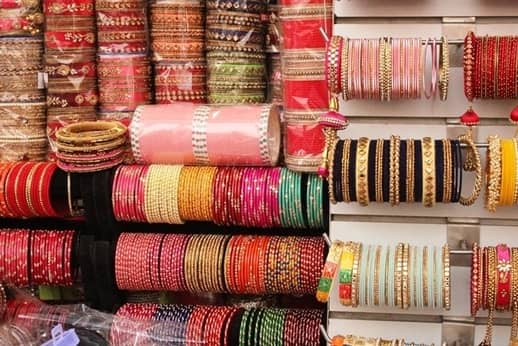 This market is again a well-established one for mundane and everyday essentials. Consequently, you can shop for cotton salwar kameez, school books, kids' dresses, home furnishings and utensils. However, the Lajpat Nagar Markethas some of the best shops for reasonably priced wedding lehengas, salwar suits, gowns and sarees. You can get to buy a trendy lehengas for Rs 30000/piece.
Above all, wedding items such as Kaleeras,  maang tikkas can all be purchased in the jewellery lane in Lajpat Nagar .
In addition, the  major attraction about the Lajpat Nagar Market is the fact that there are several shops for renting bridal wear dresses and jewellery as compared to purchasing the dresses.
So, if you are not the one to spend heavily on bridal wear dresses & jewellery, why not visit the Lajpat Nagar shops for wedding shopping?
7 things to know before you choose a lehenga
Also read, The Complete Guide To Wedding Shopping In Delhi's South Ex Market

---
View our videos
SIGN UP FOR NEWSLETTER
Be the First to Know. Sign up to newsletter today