Saree Market in Delhi-Top 10
Feb 18, 2023
Jyoti
30317 views
add comment
The saree is an Indian ethnic wear garment. It is a national costume. It is an unstitched garment which is 6 yards in length. Further, it is typically worn with a blouse.The long & free flowing saree fabric adds a feminine touch & sensuality. In other words, it is a graceful garment that is complimentary to any figure. To the average person, sarees are gorgeous & simply beautiful.
As a matter of fact, India has a fantastic range of ethnic fabrics & textiles that go to make the saree look ethereal & gorgeous.While the idea of a saree is simple, it provides an infinite palette of choices. From the use of different materials ,colours, weaves, prints &  embroidery – the choices are endless and provide a plethora of possibilities to suit any occasion.Each of the States  in India have their own unique textile, weave, designs. Almost all the varieties are available in Delhi.
With festivals round the corner, let us explore the top 10  saree markets in Delhi.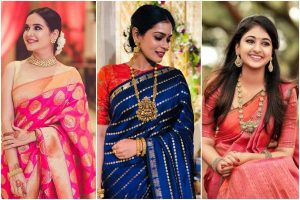 is a popular market in the old city of Delhi. The lanes & by lanes (known as gallis) are lined with hundreds of shops. To think that you are walking on streets paved out during the Mughal era will give you goosebumps.As a matter of fact,The Red Fort built by Emperor Shahjahan is right there. Further,Chandni Chowk has been the center for Delhi shopping for several centuries and it has grown to be one of the busiest of  Delhi shopping markets. The beauty of Chandni Chowk is that it is both a wholesale & a retail market. There are innumerable shops for sarees, bridal lehengas, dry fruits, books, electrical items & everything else.One can buy a saree for as little as Rs 500 or for as much as  Rs 50,000/piece.
Best shops – RCKC. OP Jawaharlal, Chabbra 555
Pros :Number of Shops More than 100.Great prices as it is a wholesale market.
Cons- It is extremely crowded. Beware of touts. Visit 3 or 4 shops before you make bulk purchases.
Kalpana Store & a branch of Nallis Store is in the CP Market. Kalpana is a trusted saree shop & has been on the map for the last 50 years. Further, they stock exclusive sarees in tussar silk, Chanderi silk, Kora silk & Kota. They also stock multiple varieties of cotton such as Maheshwari & Gadwal sarees. In addition, they also stock salwar suit fabrics.
The State Emporia Complex on Baba Kharak Singh Marg stock some of the finest collection of sarees from all the Indian States. This street ,Baba Kharak Singh Marg has a row of shops.It is in Connaught Place. As a matter of fact, State Emporia, aka, State Government Shops are all conveniently lined up adjacent to each other. Each Emporia is named differently.
You can buy  a Chikan kari cotton sarees from UP Emporium, Tussar silks from Delhi & Bihar Emporium, Kanjivaram Silk from TamilNadu Emporium, Mysore silk from Karnataka Emporium, Pune sarees & Paithani from Madhya Pradesh, Pochampally from Andhra Emporium, Chanderi from Mriganayani Emporium. Further, you can buy  Muga silk sarees from Assam Emporium, Patola silk from Gujarat, Emporium, Leheriya & Bandhej sarees from Rajasthan Emporium.. As a matter of fact, if you are truly interested in looking at the splendid range of Indian sarees, the State Emporia is a must visit.
Pros- All shops are in a row. There is no bargaining . Prices are fixed.
Karol Bagh  is one of the finest Saree Markets in Delhi. It is an old shopping market.Ajmal Khan Road in Karol Bagh is best known for shopping. It has now been made into a pedestrian road. Clothing, accessories, artificial jewellery, shoes bags & cosmetics are all available in this market.
Best Saree shops- Meena Bazar, Frontier Bazar, Bombay Selections, RCKC. Prices would be from Rs 1000-Rs30000
Pros-As a matter of fact,  you can get the best of wedding sarees & simple daily wear sarees at very affordable prices.
Cons- There are street stops & it can get crowded at times.
This market is less formidable than the Chandni Chowk Market. It is less crowded. It is easily accessible from Central West & South Delhi. In addition, you are likely to get almost everything that you can get in Chandni Chowk market  You can buy household items, home decor, uniforms, books, clothing & apparel. However, this market is best known for fabrics and salwar suits. You can also find  good saree shops in Lajpat Nagar Market. Simple cotton sarees, party wear sarees & festive sarees are all available here. For instance, this is not the market if you are looking for designer sarees. However, good quality sarees in georgette & chiffon with heavy embroidery work are good buys. There will be about 10 good saree shops in this market compared to 50 in Chandni Chowk Market.
Best Shops-Malhotra & Nargis. Price range -Rs 5000-Rs10000/saree. Fewer Crowds. Bargaining is allowed in certain shops. It is easily walkable.
Cons- Numbers are few in comparison to Chandni chowk. Hence, the selection is not very wide.
This market is in South Delhi too. As a matter of fact, it is 5/6 kms away from Lajpat Nagar Market. It is similar to Lajpat Nagar Market. For example, you can buy groceries & shop for apparel & accessories in the same market. It is best known for street shopping for jeans, tops & skirts.
There are around 20-saree shops in this market. It is best known for cotton, stain, chiffon & georgette sarees in the Rs500-Rs5000 range. Lehza is a very well-known saree shop in Sarojini Nagar Market. They stock all varieties of sarees including Kanjivaram, Banarsi & embroiderd sarees.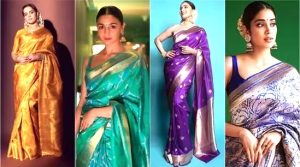 Cons- It is a crowded market
South Extension is one of the best Delhi markets for sarees. You can shop for an extensive range of bridal wear sarees & wedding lehengas. The prices will be on the higher side as compared to say, Chandni Chowk, Lajpat Nagar or Sarojini Nagar Market. That is because the shops are better appointed & it is a retail market.  Further,the market has exclusive clothing shops for men & women. In addition, you can find jewellery shops, shoe shops & bag shops here.
This market is well laid out in 2 parts. Part 1 & Part 2. The following are some of the well known shops in this market.
Ushnak Mal Moolchand, Ushnak Mal Pride, Heritage & Meena Bazar
They are some of the finest Delhi shops for heavily worked sarees in georgette, chiffon & silk. Beautiful Banarsi sarees are also available here. The prices would typically range from Rs 10000/to Rs 25000/saree
The choice is amazing in these shops and you cannot get a better selection of sarees .Frontier Raas has Kanjivarm silks, heavily zardozi worked georgette sarees & Banarsi sarees. It is on 3 floors.Prices range from Rs 5000-To Rs 50000/saree
Nalli Silks is a South Indian store Chain. The Kanjivaram silks range from Rs 3000 to Rs 40000 saree . In addition to Kanjivaram silk ,they stock Mysore silk , Banarsi silk, Bandhej & leheriya sarees, Kanchi cotton sarees& Kora silk.
Ritu Kumar is the designer saree  shop  in South Ex. They stock exclusive designer sarees. Further the prices will be  in the Rs 50,000 range/saree.
Best Buys- Bridal & Party Wear Sarees
It is an open air market for weavers & crafts persons.It is near south Extension  Market  &  has handloom, cotton ,chanderi & Tussar sarees.
This market is not one of the best for saree shopping. However, L'affaire has a legacy of stocking some exclusive sarees in Kanjivaram silks, tussar silks & Banarsi silks. They have an upmarket clientele.
Fab India occupies the pride of place in GK N block Market. They have a fantastic collection of sarees in Chanderi silks, Kora silks & in pure cotton also. Further, "Kilol", close to Fab India also has a beautiful but limited collection of sarees in Chanderi Silk & KOTA sarees
Designer Wear Sarees
It is important to know that Designer wear sarees are available only in select Delhi Saree Markets.
Shahpur Jat Market  is a designer market  that has a collection from young & upcoming designers. Scout around & you may find some good saree designs that suit your budget.
Ambavatta Complex & Emporio Mall are best known for established designer's shops. Names such as  Tarun Tahiliani, Manish Malhotra,  Sabyasachi Mukherjee, Anamika Khanna & Anita Dongre are famous here.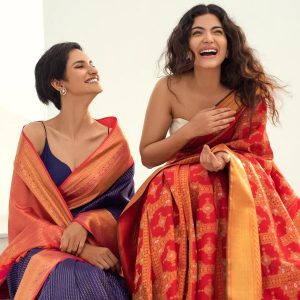 In conclusion,  if you love sarees, we recommend that you visit the Saree Market in Delhi for a rich & exciting experience.
---
View our videos
SIGN UP FOR NEWSLETTER
Be the First to Know. Sign up to newsletter today