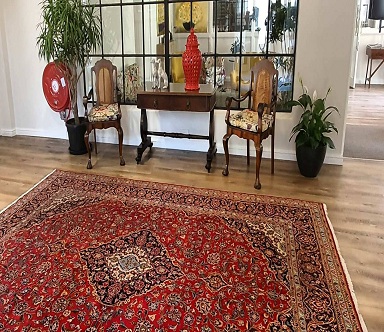 Best Shops for Carpets
Best Carpet Shops In Pondicherry: In the Tamil Quarters in Pondicherry, New Cottage Arts has some beautiful collection of carpets. As one would expect, you will come across a variety of carpets at this store.
To give you a little background about the shop, it all started way back in 1962 when Ghulam Mohammad Shah laid the foundation for New Cottage Arts. He focused on selling products that draw the best from nature.
Today, the shop is well known for the export of carpets, bronze and other items of Kashmiri art and craft.
On the first floor, you can check out a range of silk on cotton and silk on silk carpets. For the uninitiated, the carpets from Kashmir are simply loved for their beauty and opulence all around the world. The Kashmiri hand knotted silk and woolen carpets are always in demand for their unique craftsmanship as well as aesthetics. They come in a plethora of colors, designs and sizes.
At New Cottage Arts, you would love to discover carpets in softer or brighter shades to match with the interiors of your home.
The shop also boasts of exquisite wall hangings with Zardosi embroidery and cushion covers with the Kashmiri chain stitch. Moreover, it houses brass and bronze artefacts of deities of Hindu Gods, bowls, lamps and some jewellery pieces.
The shop also covers your fashion needs with its lovely collection of silver chains, earrings and bracelets.
Check out Shopkhoj.com for the well-known carpet shops in the quaint city of Pondicherry.