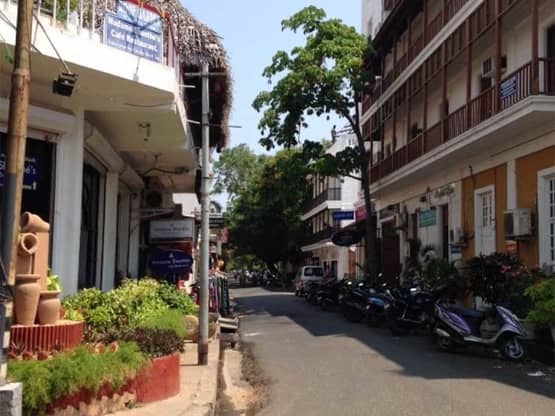 Top 5 Pondicherry Shopping Places
Monika Chauhan
3748 views
add comment
If there is one place in India which straight away transports you to the beautiful country of France, it's Pondicherry. What attracts people to this city is its pristine beaches and the calm waters of the Bay of Bengal, its rich culture and tradition, the spirituality centre at Auroville and the impressive French architecture. This Indian Union Territory is located 160 kms south of Chennai, the capital of Tamil Nadu. It is also known as Pondy as well as Puducherry (its official name).Read about the Top 5 Pondicherry Shopping places.
Why the French Connection?
As you enter this evocative city, you will certainly notice the all-pervasive French heritage here. Not just the architecture, you will also be surprised to note the road signs in French, the streets bearing French names, people conversing in fluent French and the perceptible influence on the cuisine in most of the restaurants and cafes.
Well, the city was a part of French India until 1954. In fact, it was the largest colony under French rule in India till then. This is why the legacy of the erstwhile European colonial power continues to be visible till date in Pondy.
Top 5 Pondicherry Shopping places-French Quarters and Tamil Quarters
There are in fact two distinct areas in Pondicherry known as the French Quarters and the Tamil Quarters. Although the areas are physically divided by a canal, the quaint French Quarters near the Bay of Bengal seamlessly extends to the heritage-laden Tamil Quarter. What's more, people speak both the French language and Tamil in the city.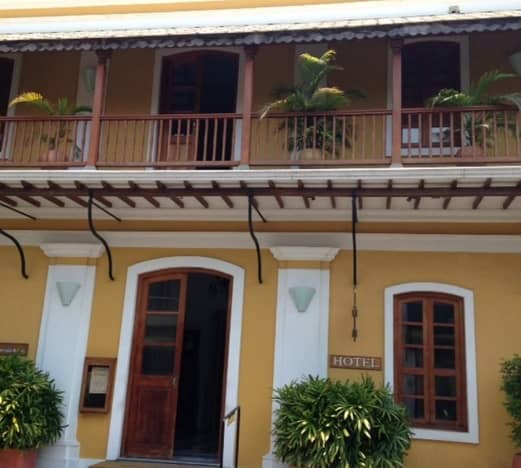 Shopping in Pondicherry
If you thought the city is just about relaxing and discovering inner peace, there's more to it than meets the eye! Let's give you a rundown of top shopping destinations in Pondy. From textiles, designer wear dresses, export surplus, leather items, Kashmiri carpets to pottery and furniture, the city has everything to offer. Pondy is a tourist destination and you can hence find several handicraft shops here. There are exclusive shops for Kashmiri carpets and shawls that are popular with tourists. Products manufactured in Auroville town are considered among the finest in the entire country.
Planning a trip to Pondy? Keep this Ultimate Guide handy for awesome tips on shopping…
1. Top 5 Pondicherry Shopping places-Auroville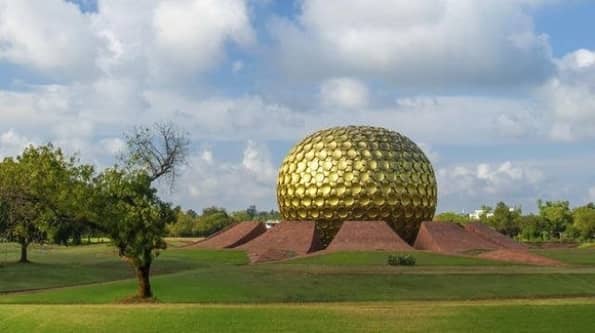 Auroville is an international township near Pondicherry with people from a cross section of nationalities and social backgrounds. It aims to promote community spirit through sustainable enterprise. Above all, it symbolises human unity, harmony and synthesis among different cultures.
Inspired by the vision of Sri Aurobindo, Auroville was founded by a French National Mira Alfassa, 'The Mother' who was his follower and confidant. At Auroville, commercial activities are encouraged to help sustain the economic growth and progress of the township. There are several small scale manufacturing units that operate in Auroville. In addition, it encourages foreign nationals to open manufacturing units and export their products as well.
Auroville Visitors Centre
Set up in 1988, the Auroville Visitors Centre welcomes a large numbers of visitors every day.
As you walk in, you get an introduction to the many aspects of Auroville life, its community and its work through a Photo Exhibition.  Matrimandir is a golden dome reserved for prayer and meditation. They regularly run video shows 'Introduction to Auroville' and 'Introduction to Matrimandir' in English and Tamil.
The Visitor Center has 3 shops that stock all the products manufactured at Auroville. You can shop here for garments, lamp shades, candles, incense and other decorative items.
The range of products available here is irrefutably amazing.
Shops in Auroville
Upasana, for instance, manufactures ladies garments such as tops, tunics, palazzo pants and skirts.
For colorful crocheted shoes, you ought to visit Ganesh Beads. They specialise in crochet embroidery. While Vanville specializes in leather bound books, Svaram allures you with the musical sounds of wind chimes, drums, string instruments, xylophones and flutes.
Further, you can also shop for leather bags here which are manufactured in Auroville.
To tell the truth, words can't do justice to Auroville's natural beauty. It is something to be felt and not seen!
(For more details, click here Why You Should Not Miss A Visit To The French Township In India – Auroville)

2. Top 5 Pondicherry Shopping places-Shops in French Quarters
Looking to shop around at a relaxed pace? Visit this part of Pondicherry to fall in love with shopping at chic boutiques while adoring the architecture of the colonial buildings.
Rue Dumas, Rue Romain Rolland, Rue Suffren and Rue du Bazar,  Rue St Laurent are some of the most popular streets in the French Quarters with  the best shops in Pondicherry. Let us take you through some of the most exciting ones here…
For ethnic wear, Anokhi is one of the best places for shopping in Pondicherry. Their versatile collection includes everything from flowy long dresses to jumpsuits, tunics, tops, skirts to palazzos and kaftans. The Jaipur-based brand is simply loved for its collection of Ajrakh, Bagru, and Sanganer prints (textile prints from the state of Rajasthan).
Janaki
If there is one boutique which captures the spirit of Pondy in a unique way, it's Janaki. Featuring a wide range of eco-friendly products, Janaki truly promotes sustainable living. You can visit this huge store at Romain Rolland St and shop for lovely garments, such as jackets, tops, palazzo pants, indigo sarees and hand-painted skirts.
The store also stocks exclusive pottery, aromatherapy products, hair and skin care products. Furniture items like dining tables and consoles are also available here.
Cluny Embroidery Center
It is time to go for the traditional shopping at the Cluny Embroidery Centre on the same Romain Rolland Street. You are sure to get fascinated by the 18th century French building in which the center is housed. Cluny is a group of institutions, which include schools, medical centres and convents in Pondicherry.
What you will spot here is women working on a range of home linen products such as tablecloth, hand towels and napkins with floral hand embroidery. They are exquisite. Most noteworthy is the fact that when you make a purchase at this facility, you actually support all the underprivileged women (from in and around Pondicherry) who work here.
We recommend you to make a call at the Centre to check the opening hours as visitors are allowed for only a few hours a day.
Curio Centre
Browsing through colonial antique furniture can't get more exciting than in the French Quarters. Curio Center and Geetanjali are two exciting shops here. They may appear to be a small shop from the outside. However, they certainly make great places to shop for antique wooden furniture and curio pieces. There are 3 rooms filled with poster beds, consoles, tables and chairs in both the shops.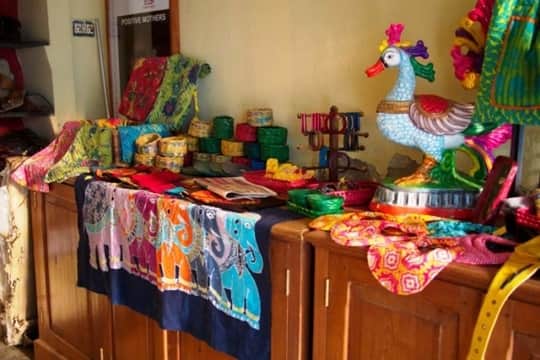 3.Top 5 Pondicherry Shopping places- Shops in Tamil Quarters
Having shopped in the French Quarters, are you now ready to explore the Tamil side of Pondicherry? Just opposite the more organised French Quarters, the Tamil Quarters reminds you of any other crowded South Indian town.
Think verandas, red oxide flooring, temples, chaotic streets with traffic and you get a glimpse of the Tamil heritage in Pondicherry.
LaBoutique D'Auroville
La Boutique D' Auroville stocks a wide selection of trendy casual wear garments such as  skirts, tunics, palazzo pants, stoles  and tops. Explore shopping here for incense and candles, besides tablemats, trays, lamp shades made of paper, gift boxes, leather bags as well as jewelry pieces. All these products are manufactured in Auroville.
Your search for a quality leather handbag ends here. Hidesign is the best place to shop for high-end handbags, sling bags, shoulder bags, clutches, credit card holders, gift bags, briefcases, laptop cases, wallets, belts and garments. There are more than 30 colours from which you can choose your best pick. We also liked their collection of leather jackets and sunglasses.
So what is unique about the leather products from Hidesign? Well, each piece is individually handcrafted and vegetable tanned in their own tanneries. Solid brass buckles are what you will spot on their leather bags. Hidesign is headquartered in Pondicherry.
Kalki
Similarly, the Tamil Quarters also houses Kalki, the exclusive retail unit for Auroville products in Pondicherry. The huge shop is a must-visit for non-leather footwear, hand-painted silk clothing, perfumed candles, incense, oils, ceramics, jewellery and handmade paper items and garments for children. You will definitely love to shop for products made in eco-friendly Auroville manufacturing units.
Casablanca
Your shopping in Tamil Quarters is incomplete without a visit to the biggest store in Pondicherry. You guessed it right. We are talking about Casablanca, the well-known store home to many independent designer labels.
Above all, they stock a wide selection of cosmetics and perfumes from international brands. Casablanca also has casual women wear as well as jewellery. Tops, skirts, tees, tunics palazzos and trousers are all on display here. You can also pick one of those trendy costume jewellery pieces here; these include bracelets, necklaces, earrings and chains.
There is also a whole section dedicated to pottery from Auroville. We particularly loved the section on home furnishings. Tablecloths, bed spreads, bedcovers, cushion covers, curtains and table mats, are simply awesome. They are all made at Auroville.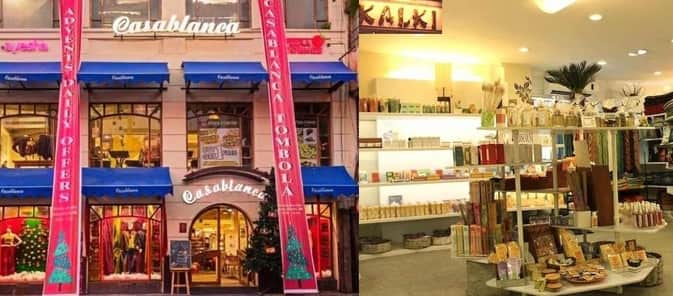 4. Providence Mall
Say hello to the first shopping mall and cinema multiplex in the town of Pondicherry! Standing tall at Venkata Subba Reddiar Road in Pondicherry, Providence Mall is your one-stop station for food, entertainment and shopping solutions.
Ever since its launch in November 2017, the mall has been a hot favourite with shoppers for its eclectic mix of international clothing labels as well as top beauty brands. The mall is replete with brands such as Nallis, Soch, Big Bazaar, Aurelia, MAX, Poorvika, Reliance Trends, Twin Birds, Woodlands, KFC, Toni & Guy and lots more.
On top of that, it also hosts fun music and dance events with fun-filled games and gift vouchers. Movie buffs, head to SPI Cinemas here to enjoy the latest releases on a swanky 5-screen multiplex.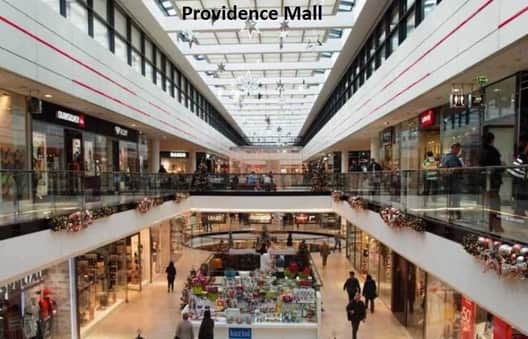 5. Top 5 Pondicherry Shopping places Serenity Beach Bazaar
One of the city's most exciting marketplaces, Serenity Beach Bazaar is an open air market approximately half a kilometre away from the East Coast Road. Franco-American national Kasha Vande launched this market way back in May 2011. In other words, the primary idea is to provide local craftsmen an opportunity to sell a wide range of traditional handicraft products.
Kasha ki Aasha, a beautiful home decor shop and PondyArt, an initiative to build awareness of critical societal issues by using art in a public place, are among her other noteworthy endeavors in the city of Pondicherry.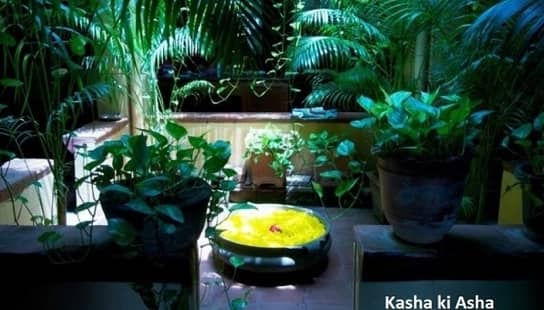 As a matter of fact , the Serenity Beach Bazaar specializes in souvenirs, garments, bags, accessories, ceramic items and beach products. This popular bazaar definitely covers everything for all shopping enthusiasts.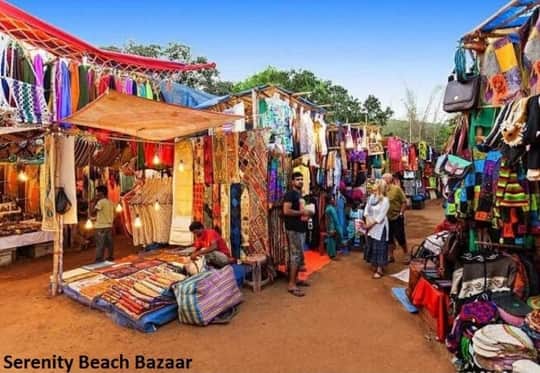 In addition, the market is popular for its several eating outlets to let you enjoy delicious snacks and refreshing beverages. Other attractions include live music, yoga, concerts, and fun-filled workshops for children.
Heads up shopaholics!!! These Top Shopping Places in Pondy will definitely leave you spellbound. Are you excited?
---
View our videos
SIGN UP FOR NEWSLETTER
Be the First to Know. Sign up to newsletter today