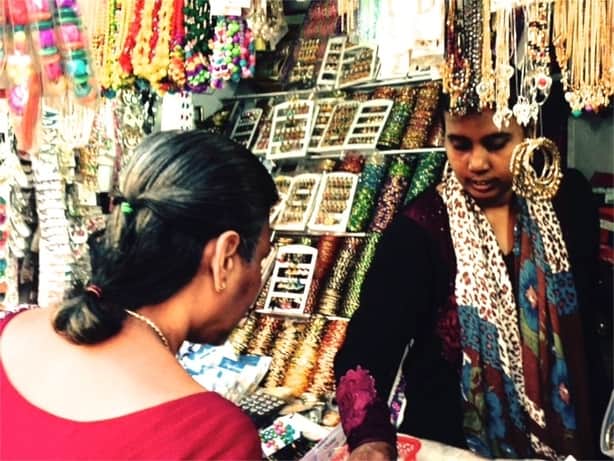 Street Shopping in Mylapore, Chennai
Jul 12, 2018
manjula
1573 views
add comment
Mylapore Shopping Market, Chennai
Street Shopping in Mylapore Market: Mylapore was one of the earliest townships that ultimately led to the creation of Chennai, erstwhile Madras.
In addiition, the Santhome Cathedral, the Kapaleeshwara Temple & the Ramakrishna Math are all in Mylapore. Time seems to have stood still in Mylapore as it retains an old world charm even today. Life revolves around the temple and the temple tank here. Grocers, flower sellers, fruit vendors and small shopkeepers have shops alongside the temple tank, as do the more well known jewellery shops and silk saree shops.
 Cultural Heritage of Mylapore
Further, the rich cultural heritage and the vibrant atmosphere of the Mylapore shopping market make for a beautiful & distinctly different experience from the modern day mall. For instance ,every year there is a Mylapore festival which is organised in the month of January that schedules more than 30 cultural events. January (known as Margazhi in Tamil ) is considered a sacred month. The cultural event is entirely run by volunteers. Music and dance performances, Rangoli competitions, heritage walks, temple tours and food walks are some of the numerous events that take place during this time.
Street Shopping in Mylapore: Enjoy the food walks
As a matter of fact, the food walk is an annual event that takes us to small local eateries that have been in operation for several decades, in the Mylapore shopping market. These eateries predominantly offer hot South Indian snack items. It is conducted by local volunteers over two days, between 4 pm and 6 pm. It is a free tour and one only pays for the food one wishes to eat in these places.  Further, one will never be able to get food at rates cheaper than at these places.
Following are some of the reputed eateries in the food walk event in Mylapore.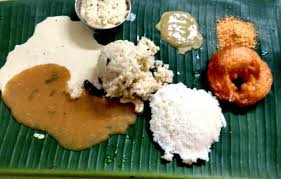 Rayar's Mess:-
One of oldest eateries, Rayar's Cafe or Rayar's Mess was started in 1935, in a hut, in Kutchery Road, Mylapore. Currently it is situated in Arundale Street, off Kutchery Road. It is still a small place and only 16 persons can be seated at any point. The mess is open from 6 am to 11 am in the mornings and from 4 pm to 6 pm in the evenings. Saturdays and Sundays are very crowded and one has to stand in a queue even for takeaways. Snacks such as idli, vada, pongal and coffee in the mornings & adai, potato bonda, mysore bonda, rava dosai and jangri( sweet) in the evenings are available. Food is served in a banana leaf and prepared fresh & served hot. The mess boasts of celebrity clientele from its early days.
Many actors such as MK Thyagaraja Bhagavathar, Nagesh, Cho, VK Ramaswamy & K Balachander were regular visitors during their time. The owners proudly mention that the late Chief Minister M G Ramachandran used to come for idlis and eat them seated in his car, even after he became the Chief Minister.
Karpagambal Sweets:-
This tiny stall is always crowded in the evenings for its hot pakodas and onion samosas which are prepared on order.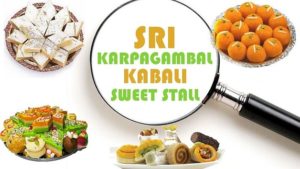 Street Shopping in Mylapore- Senthil Softy Zone:-
Another shop with humble beginnings is Senthil Softy, located in Kutchery road. It was started in 1987. What started as an icecream shop selling softy icecream (ice cream in cones), is now a full fledged bakery with cakes, sandwiches for Rs. 15 each, chats and flavoured milk shakes. The service is fast. But one has to jostle with the crowds to even place the order.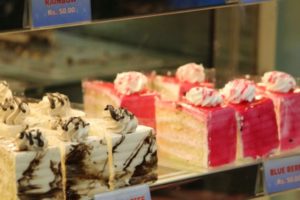 Pottukadalai shop:-
Exactly opposite Senthil Softy is this pottukadalai shop. Pottukadalai is roasted gram dhal, used in chutneys and also eaten as a snack. A small packet of 10 gm costs Rs. 10. The shop also sells dry roasted ground nuts and rava laddu.
While walking to the next eaterie, one can witness a Kolam competition in progress. Kolams are patterns drawn on the floor with rice powder. It is a customary practice in South Indian homes to have a Kolam drawn in front of the homes everyday. Contestants create kolams on the road and eminent judges decide on the winners. It is indeed a delight to watch complex designs being meticulously drawn with rice powder. Both men and women participate in this competition. This competition also has been going on for more than a decade.
Jannal Kadai:-
Further, let us move to our next stop. Located alongside the Kapaleeshwar Temple, this shop does business only through a window. Hence the name Jannal kadai (window shop). The household members initially started off by selling hot bajjis made of chillis and raw bananas. Each evening, they would open the window when the bajjis were ready and serve them with chutney. They have now included more items such as pongal, tomato baath, and other South Indian snacks. They are now open in the mornings as well. Once the prepared items are finished, they would close the window, indicating that the sale was over for the day.
 Street Shopping in Mylapore-Mami's Tiffin Stall:- 
It is a common practice for women to augment their incomes by setting up a mini kitchen outside their homes and serving up tiffen items / breakfast items. As a matter of fact,  this is how Vasantha Maami started her mess in the early sixties, setting up her stove outside her home and cooking and serving idli, dosas and vadai. Located very close to the Kapaaleeshwar Temple, this small eaterie has now become a full-fledged hotel functioning from 6 am in the morning. Idli, dosa & medhu vadai are accompanied by tasty chutneys are very popular. Filter coffee is something to go for. An early morning visit to the Kapaaleeswar Temple followed by breakfast and coffee in Maami's mess, is a traditional way to start the day for many Chennaites.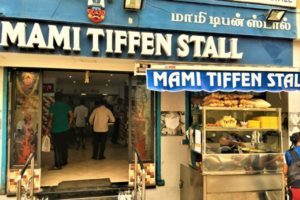 Kalathi Stall:
This small shop, tucked away near the vegetable market, is popular for its rose milk. For Rs. 15, one can see customers queing up for the tasty & refreshing rose milk. Mr. Mani who runs the shop, has seen screen celebrities such as Cho Ramaswamy, Sivaji Ganesan and tennis star Ramanathan Krishnan visit his shop for the legendary rose milk.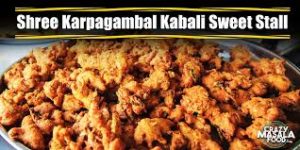 Ganapathy's Butter and Ghee
This shop started in 1942 and is located in Chitrakulam West Street. It is a shop selling fresh homemade ghee . What is unique is that the butter arrives from a town called Uthukulli by train every morning. A part of it is taken to be churned to ghee over the next three hours & the remaining is sold as butter. The butter and ghee from buffalo is believed to be higher in protein and calcium content that the normal ghee from cows. In addition, the shop has many interesting varieties of chips, such as beetroot chips, karela (bitter gourd)chips, jams and sweets and home made pickles. They also sell a very well known South Indian momo dish called " kolukattais". They are made in both sweet & salted varieties. These are available in limited quantities and sell like hot cakes.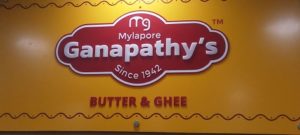 In other words, Mylapore as a locality has contributed a great deal to the history of Chennai and still retains its old world charm. Some of the residents have lived in this locality for generations. As we understand, a proposal has been submitted for seeking a UNESCO World Heritage tag for Mylapore.
For instance, events such as the Mylapore festival attract a lot of visitors and locals and highlight the rich and ancient heritage of Mylapore.
Other Blogs:
4 Must-Try Sweet and Savory Shops in Chennai
Where to Shop and Eat in Annanager, Chennai
---
View our videos
SIGN UP FOR NEWSLETTER
Be the First to Know. Sign up to newsletter today