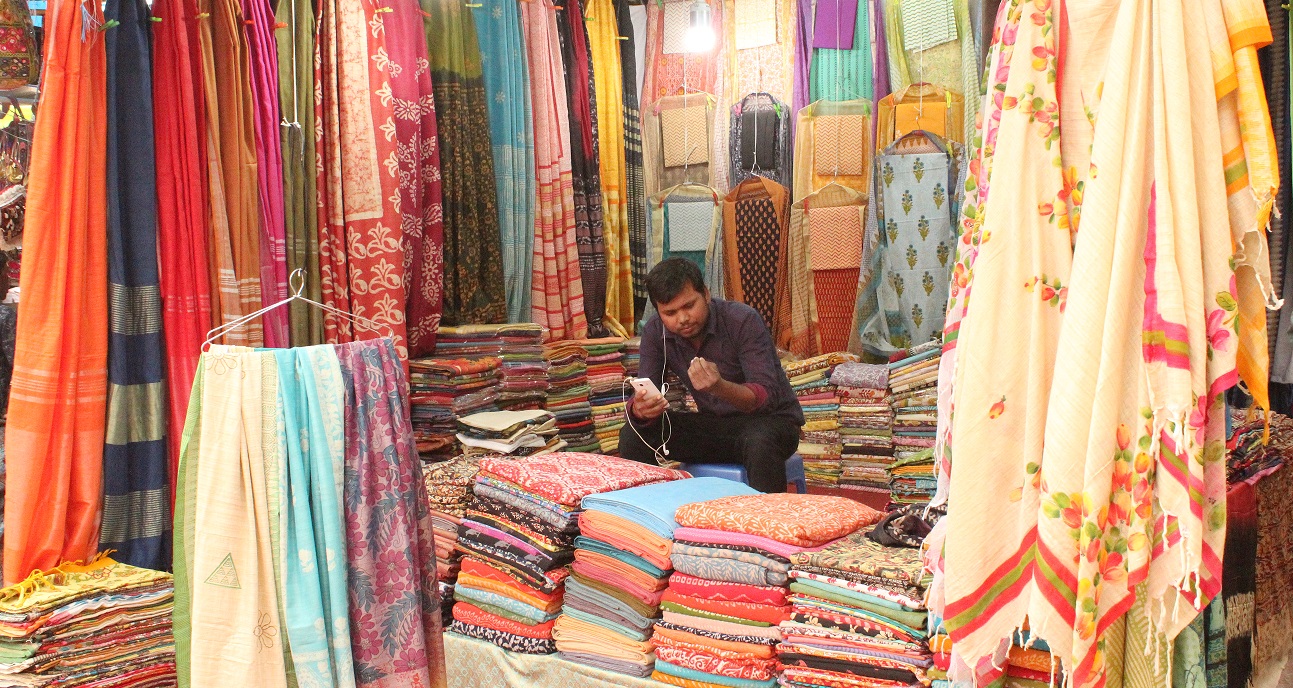 Street Shopping in India: 7 Different Streets, All Great Experiences
Kausy M
943 views
add comment
Snippet: From Chandni Chowk in Delhi to Fashion street to Garihaat, street shopping in India offers the satisfaction of bargaining and getting a steal deal. But be careful or you may just be fleeced too. Here, we take you through a virtual ride through seven famous streets from seven cities in India. Get ready to go shopping the good ol' fashioned way.
The cacophony of horns, the din of stall owners calling over each other and a flurry of fabrics swaying in the wind luring the next customer, narrow (and a little dirty) by-lanes and interesting local cuisine – expect all this and more when you decide to do some street shopping in India.
What to expect  from Street Shopping 
As much as each street differs in its offerings, the enthusiasm and local culture it brings with it makes it a must for you to visit them when you are in the city. The best part of street shopping in India is the little pleasure it allows you to derive out of bargaining. Most rates are deliberately inflated expecting a bargain. Some shops even do a straight double on it fully knowing that the bargain most often starts at 50% of the said rate and eventually settles around 75%. This leaves the shop owner with a nifty profit and the buyer with a sense of redemption on getting a good deal. Basically, everyone goes home happy.
In a market where shops are jostling for space, the customer gets an upper-hand. You'll often see customers stage a 'walk-away' when they've expressed interest in a product but disagree on the bargain price. It then becomes a 'who-blinks-first' game. Will the shopkeeper manage to sell even if his profits are cut? Is the customer willing to let go of his find which he may or may not get later? Ah, the simple questions of life are the best.
 Bargaining Tips 
Tip 1: Inspect your prospective buy thoroughly. Street shoppers are experts in sweet talk and it is a well-known fact that they my try to occasionally slip you a defective piece. This is especially done with tourists knowing that they won't have the time to go back for an exchange. It is all part of the game and you need to be one step ahead if you want to get your money's worth.
Tip 2: Take advantage of the 'boney' time. For shop owners, 'boney' is the first sale of the day. Most people believe that letting their first customer walk away will bring bad luck for the rest of the day. This makes them eager to close a 'boney' deal. Going to the market just when it has opened can make you a boney customer and walk away with that little extra bargain. You can also take advantage of the market's closing time. Some shops may be in a hurry to close up and just end up offering you the deal you want.
Even then, look for a local guide who can take you to the best shops where you'll get the real deal. Wondering how to find one? Get in touch…
Let's get ready for Street Shopping in India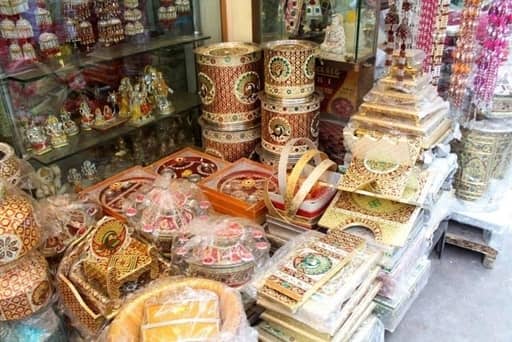 1. Chandni Chowk in Delhi
OP Jawahar Lal shop here is famous for wedding lehangas. Kinari Bazar is the place you go to do all your wedding shopping. Shri Ram Hari Ram is a reputed name for jewellery. Chhabra 555 has a great collection of designer sarees. Here, have a look at what else you can find in this amazing Delhi market.
One of the oldest markets in India's capital city, the name of the market translates to "Moonlit square". The market gets this name because a canal ran through the length of the market in 17th century reflecting moonlight and giving it an ethereal feel. The canal no longer exists but the market retains the name.
Though you are likely to find a bit of everything in this market, it is famous for its variety in apparel. From fabrics to completely stitched Indian outfits, you can find what you want at the price you need it. At one end, the market stays up-to-date with latest trends while its narrow lanes itself remain in a time wrap.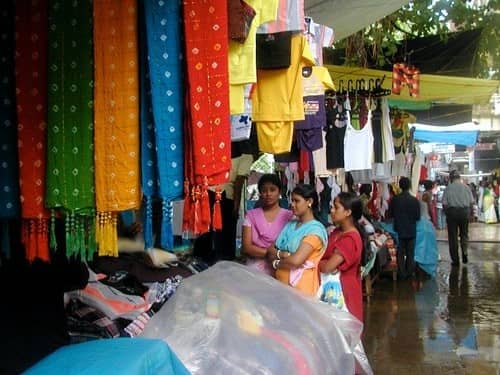 2. Garihaat in Kolkata 
From north we move to the sleepy city of Kolkata. Kolkata city streets are known for a bunch of things – 'melt-in-your-mouth' roshogullas and sondesh, exquisite jewellery that still holds the gold lustre from yesteryears and sarees that are an absolute must-buy. Garihaat isn't as sleepy as the rest of the city. The sound and lights lead you to a street. Despite competition from other Kolkata malls and markets, Garihaat continues to remain popular for two reasons – it is practically accessible from most parts of the city and it sells everything you want to buy. You can pop in for a movie or enjoy the street food when you need some rest and get back to shopping right where you dropped off. For more info on where to shop in Kolkata, see this Kolkata shopping guide.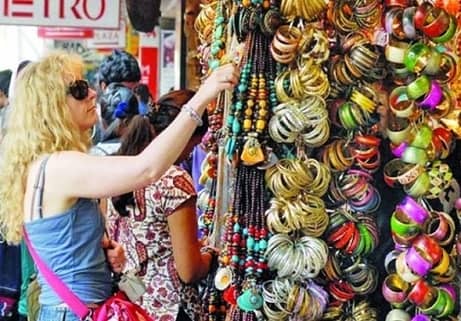 3. Fashion Street in Mumbai
From the ever sleepy city in the east, we welcome you to city in the west that never sleeps. The self-proclaimed fashion capital of the country, Fashion street's eclectic mix of 'brand' and 'street' fashion at a throwaway price will leave you mesmerized. Around 150 shops make a part of the street which contain the latest trends in clothing and accessories. We don't guarantee on the 'quality' of the product although the stall owner will be sure to make 'guarantees'. T-shirts and tops are generally common things you can pick up from this market. Bulk buying can get you some bargains. We recommend you:
a) Go in a group to get better bargains and have more show in numbers.
b) Roam around the market first taking stock of everything before you zero in on a buy. Multiple shops may have the same product so you know who offers the best deal.
c) Go on weekdays as the place is crowded to the hilt during weekends.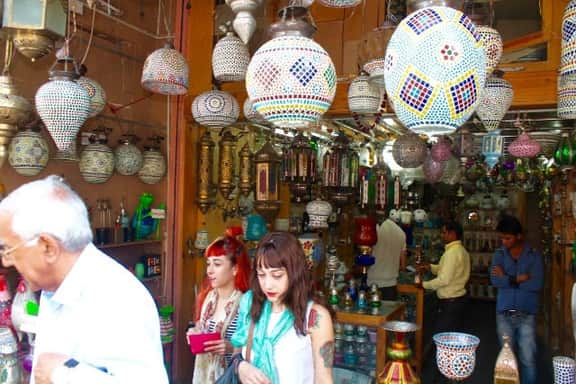 4. Bapu Bazaar in Jaipur
Bapu Bazaar is the most commonly recommended market in Jaipur for tourists. You'll get all things traditionally rajasthani here from mojris to fabrics to lac bangles to bedsheets. Most people tend to hire a cab to get to the market. It is most likely that the shop your hotel recommends or the one that your driver takes you to promising a good discount is the result of an internal commission setting. Go with a budget, find out average prices in advance and look up a detailed Jaipur Shopping Guide to find out recommended shops by tourists.
Also check out the tasty tid bits of local flavour here – from aam papad to achchars, you'll have the taste of Bapu Bazaar with you long after you come back.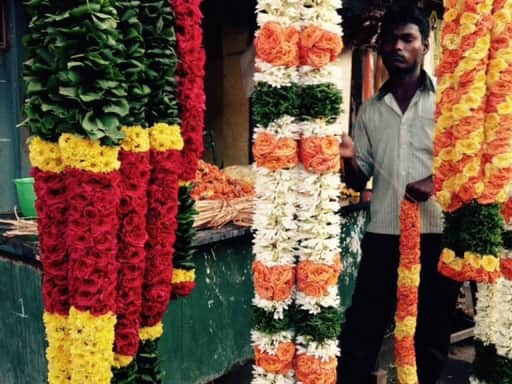 5. Mylapore in Chennai-Street shopping in Chennai
If you want a slice of classic Chennai shopping with a mix of street and mall, Mylapore is the place to go. The shops line the four sides of the water tank of the Kapaleeshwara temple. From spices to silver, you'll find quite a bit in this noisy market where you are free to bargain for the best price. Do check out the costume jewellery and dance accessories used by Bharatanatyam dancers. You'll also find interesting souvenirs at the GIRI trading store to take back for yourself and the family. If you get tired, you can cool your heels at the City center shopping mall and check out some of the local savouries at the food court. And last but not the least, there are traditional kancheepuram saree shops here too. Check out the best Mylapore shops.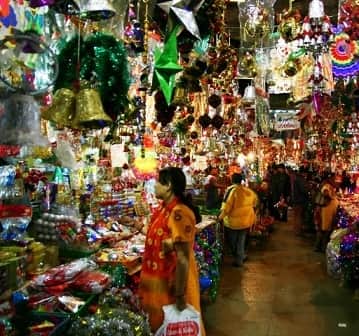 6. Jayanagar in Bangalore
While a big chunk of Jayanagar constitutes residential area, blocks 3 and 4 are commercial centres. The 11th Main road has the collection of branded clothing and jewellery stores. The area is also home to Central mall with a Big Bazaar among other stores. You'll find the streets dotted with small boutique outlets selling designer wear. We wouldn't label it exceptional but Jayanagar has everything you need for a day out with the family. Check out the shops in Jayanagar.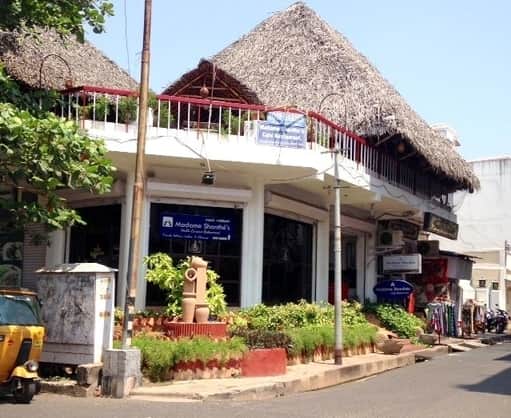 7. French Quarters – Street shopping in India in Pondicherry 
French Quarters in Pondicherry offers a truly unique shopping experience. Away from the hustle-bustle of big cities, the lane is dotted with boutique shops and seems like a different world in itself. Shopping in a street with French names that have a nice ring to them is quite nice. Several of the shops have small cafes that offer unique delicacies for you to try while you shop. Do check out Via Pondicherry for its amazing selection of bags. See our review of other shops in French Quarters here.
We don't think there is ever a woman who can say she has shopped enough. So we'll be sure to scout the rest of India to bring you shopping havens that can keep the shopaholic in you as addicted as ever.
Other Blogs :-
The best street foods in Mumbai and where you can have them
---
View our videos
SIGN UP FOR NEWSLETTER
Be the First to Know. Sign up to newsletter today