1. Lajpat Nagar (Central Market)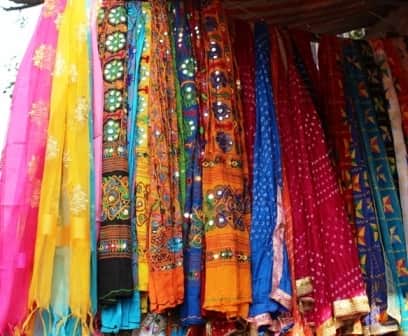 This is a Delhi shopping market where a lot of day to day shopping is done. Shop for crockery, utensils, home furnishings, imitaion jewelery and casual wear salwar fabrics and deisgner wear fabrics.
Location: South Delhi, near Defence Colony (between Greater Kailash and South Extension).
Bus/Metro: Lajpat Nagar Metro Station on Violet line
Days closed : Mondays. Open from 11 am to 7 pm
Best known for : Casual wear salwar kameez suits, footwear, designer wear textiles , imitation jewellery and home furnishings.
Tops shops in Lajpat Nagar Shopping Market:
(a) Jewellery lane Street Shopping
(b) Salwar lane
(c) K.C Creations
(d) Hast Kala
(e) Westside
Top Eating Palces: KFC, Food Court.
Tip: It is crowded at all times. Keep your belongings safe. You can try & bargain in all the street shops.
2. Janpath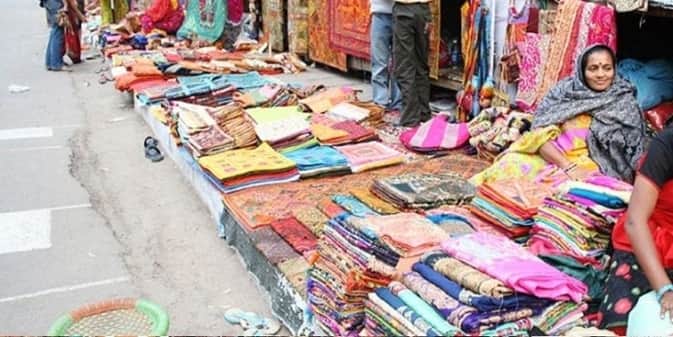 Janpath is predominantly a street shopping market. The Government operated Central Cottage industries Emporium is in the Janpath Shopping Market in Delhi.
Location: Janpath, just off Connaught Place.
Bus/Metro: Regal Bus Stop/Rajiv Chowk Metro Station, on the Yellow & Blue Line.
Days closed : Some shops in CP and the Central Cottage Industries Emporium are closed on Sundays. Street shopping is open on all days.
Best known for : Imitation Jewellery, casual Tops and dresses and boho chic clothes in the Janpath street shopping lane.
Tibetan artifacts, and masks in the Tibetan stalls in the main Janpath lane.
Gujrati patchwork bedspreads , skirts, colourful beaded bags in the side lane – this lane is full of handicrafts and textiles from Gujarat.
Central Cottage Industries Emporiums- Exquisite Indian handicrafts in brass, silverware & carpets.
Tops shops:
(a) Street Shopping
(b) Central Cottage Industries Emporiums
Top Eating joints: Pizza Hut , Sarvana Bhavan
Tip: The Janpath street shopping lane is crowded. Take care of your belongings. Bargain. No bargaining in the Central Cottage Industries Emporium. It is a government owned fixed price shop.
3. Chandani Chowk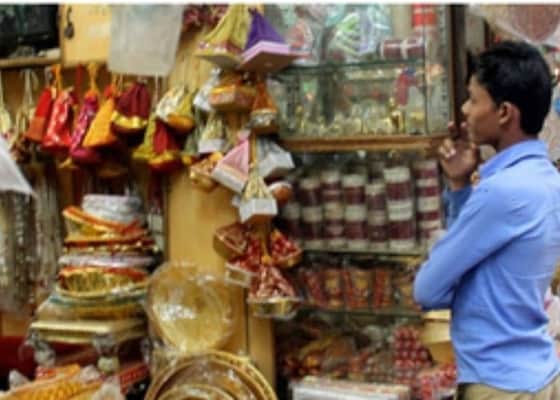 Chandni Chowk is a hisitoric part of Old Delhi. Several of the shops have been in exisitence for decades. There are specialised wholesale markets such as the dry fruit market, cloth market, market for books, market for wedding purchases and so on. Producst are very cheap.
Location: Old Delhi.
Bus/Metro: Chandni Chowk Bus Stop/Metro Station on the Yellow line.
Days closed : Sundays.
Best known for: Silver ware in Dariba Kalan, Fabric borders &, wedding essentials in Kinari Bazar, perfumed oils and essences ,
& Bridal wear dresses.
Tops shops:
(a) O.P Jawahar Lal
(b) Kinari Bazar
(c) Gulab Singh Johri mal
(d) Dariba Kalan
Top eating Places:- Babu Ram paranthe wale, Kanahiya lal.
HaldiRam & Jalebiwala at the entrance to Dariba Kalan.
Tip: Take a cycle rickshaw & ride through Dariba Kalan & Kinari Bazar. It is crowded and noisy. Streets are very narrow. Keep your belongings safe. It is a totally different experience.
4. Dilli Haat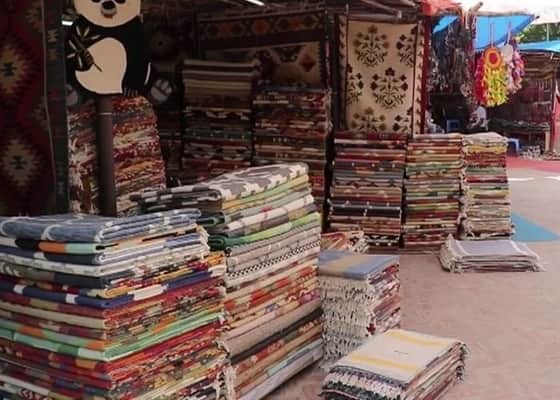 Dilli Haat is an open air shopping market in Delhi. Craftsmen and weavers from several Indian States display their products at very affordable rates in this shopping market.
Location: Opposite INA Market, south Delhi.
Bus/Metro:
Days closed : Open Daily from 10.30 a.m. to 10 p.m., including national holidays.
Best known for : Indian handcrafts,textiles, durries & imitation jewellery.
Tops shops: Dilli Haat
Top Eating Places: Food stalls all over the States.
Tip: Dilli Haat Shopping Market is not very crowded. Take a leisurely stroll. Check out many stalls before you buy. Bragain and get the best prices. Try out food form the various Indian States
5. Khan Market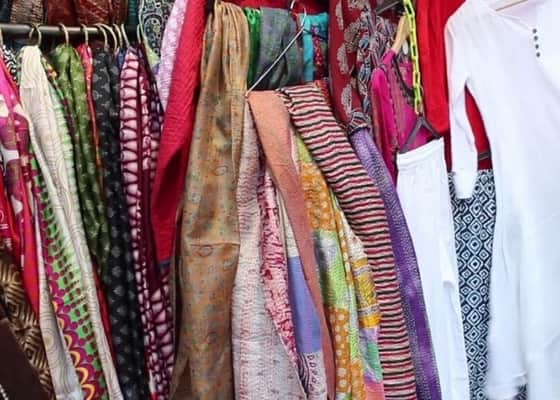 This is a very popular shopping market with the expats. Street shopping for beaded necklaces and sandals is popular with youngsters. Cafes and bookshops, crockery shops and general provision stores are all there .
Location: New Delhi, not far from India Gate.
Bus/Metro: Khan market bus stop/Metro station, Violet line
Days closed: Sundays. Some shops are open on Sundays too.
Best known for: Street shopping for fashion jewellery, ethnic wear dresses, designer dresses, luxury home furnishings, cosmetics, book shops, music, shops, cafes & bakeries.
Tops shops:
(a) Good Earth
(b) Amrapali Jewels
(c) Anokhi
(d) Bahri Sons
Top Eating Places: Subway, Cafe Turtle, Mamagoto, Latitude & Khan Chacha.
Tip: You can easily spend the entire day in Khan Market.
Enjoy the book shops and the leisurely stroll checking the various shops& cafes.
6. State Emporium in Connaught Place

The State Emporium in Baba Kadak Singh Marg is an assortemnt of several State Government owned shops in Delhi. It is a great experience to see the variety of ethnic wear textiles & handicrafts available in the different States in India in a row of shops.
Location: Connaught Place, New Delhi.
Bus/Metro: Regal Bus Stop/Rajiv Chowk Metro Station, on the Yellow & Blue Line.
Days Closed: Sundays.
Best known for: Handicrafts, fabrics, saris and furnishings from various Indian States.
Tops shops:
(a) Rajasthali
(b) Gangotri
(c) Gurjari
(d) Moha
(e) Utkalika
(f) Kashmir Emporium
Bop eating Places: Bikanervala
Tip- It is a shaded walk way. The products are distinct and the variety is amazing. A 'GO TO'place for tourists who are visiting Delhi for the first time.
7. Greater Kailash M & N Block Market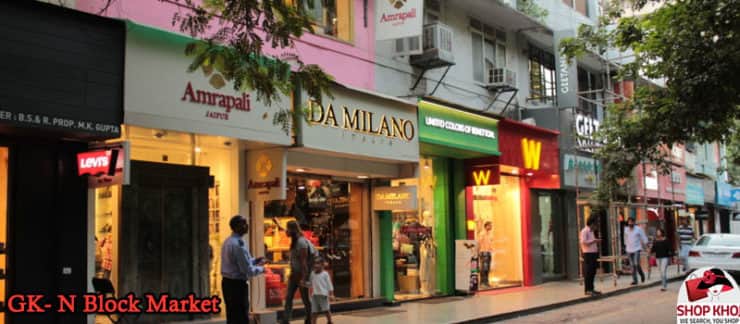 The Gretaer Kailash 1, M block Market and the N block Market are very close to each other.
The M block market is known for its pavement shops where the trendiest tops, skirts and leggings can be bought at throwaway prices.
N block market has the best shops for cotton dresses and salwar kameezes. Very quiet market .
Location: South Delhi, New Delhi
Bus/Metro: Bus Stop :-Kendriya Vidyala/ Pacific Sports complex; Opposite GK-1 ( Petrol Pump), Andrews Ganj, Near LSR College. Metro station-Moolchand, violet line.
Days closed : Tuesday.
Best known for: Silver jewellery, readymade blouses, Casual wear dresses and Cafes.
Tops shops:
(a) L'affaire
(b) Kalpana
(c) AND
(d) Roshan Tailors
(e) Anokhi
(f) Cottons
(g) Forests Essentials
Top Eating Places: Prince Pan for chaat, Starbucks, & Moti Mahal Deluxin GK M block .
Café Diva, Kasbah, Café Turtle in GK N block.