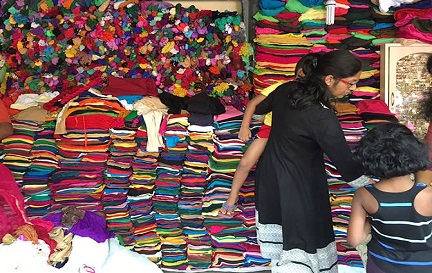 Jayanagar
First of all, Jayanagar has grown a great deal. The layout, with its 10 blocks is believed to be designed by Shri M. Visveswarayya. It  is one of the best planned layouts in Bangalore. While most of the 10 Blocks...Read more
First of all, Jayanagar has grown a great deal. The layout, with its 10 blocks is believed to be designed by Shri M. Visveswarayya. It  is one of the best planned layouts in Bangalore. While most of the 10 Blocks are residential areas, the 3rd, 4th, and 5th are busy commercial hubs.
Jayanagar shopping is a great experience. Jayanagar area is surrounded by Basavanagudi, JP Nagar, BSK II Stage, BTM Layout, and Banashankari Temple Area.
Sarees, Salwar Suits & Jewellery
The Asoka Pillar Road area, The 10 Feet Road area and the  BDA Shopping Complex are some of the best Bangalore shopping places. In addition, the 10th Main Road and the 11th Main Road also have some of the best shops in Bangalore.
Further, The 11th Main Road is the high street of fashion. Many popular Bangalore shops such as Deepam Silks, Anokhi, Tanishq, Khazana Jewelry, Good Things and Cantabil are located here.
Angadi Silks & Deepam Silks
The Ring Road areas – also known as Marenahalli areas – in Jayanagar 5th Block also boasts of famous Bangalore sari shops like Nalli's, Neeru's, and Angadi Silks. You can also spot C.Krishnaiah Chetty & Sons, the famous jewellers, here.
The Ragigudda Area has the Central Mall, Big Bazaar, E-zone and a number of boutiques shops for ready-made garments. It seems that Jayanagar is one of the upscale shopping markets in Bangalore. The variety of shops is more when compared to other Bangalore Shopping Markets.
Further, you may like to check out these restaurants in Jayanagar: Nandhini Paradise, Ragoos, Adigas, New Shanthi Sagar, KFC, Baristas, Eurasia Pasta & Barbeque, Tangra – Indo Chinese, Mainland China, Maiya's, Nagarjuna Chimney, La Casa, Gufha (The President Hotel), Casa Piccolo, Grill squre, Village and Chutney Chang.
Days Closed :- Open all days.
Timing :- 11 am- 8 pm
Bus/Metro :- Jayanagar 3rd block bus stop
---
489 views