The just concluded 70th Republic Day Parade in New Delhi showcased India's military strength and the rich diversity and cultural heritage of the Indian States. Now the curtains go up on India's famous Surajkund Mela – the biggest fair in India displaying a colourful blend of crafts, culture and cuisine.
The International Surajkund Crafts Mela 2019 is on from the 1st until the 17th of February.  Haryana Tourism Ministry organises the mela  in collaboration with Union Tourism and Union Textiles and Cultural Affairs ministries.
Surajkund is near Delhi, in the State of Faridabad.
Welcome to the Surajkund Mela 2019
Firstly, as you enter the large open mela (fair) grounds, the rhythm of the drum beats to folk dance and music and the rustic ambience is sure to rouse your excitement. There is shopping, there are cultural shows, there is an amusement park for children and finally, there is a large food court with multi ethnic cuisines. Surajkund mela is  surely one of the largest and most interesting melas in India.
Surajkund Mela 2019 - 33rd Surajkund International Crafts Mela
Further, it is a delightful treat for visitors who can get an opportunity to familiarize themselves with artefacts, performing arts and traditional dance forms and cuisines from India. It is therefore very popular with Indians and foreign tourists.
Theme State: Surajkund Mela 2019
The Surajkund fair organisers pick one Indian State every year, which is  showcased as the Theme State of the year. The basic idea is to pay special attention to one Indian State and exhibit the textiles, art and crafts of that State. This helps in bringing uniqueness to the fair as there is a new theme introduced every year.
The Theme State for this year is Maharashtra. As a result, there are many stalls that display the textiles & artefacts of this State.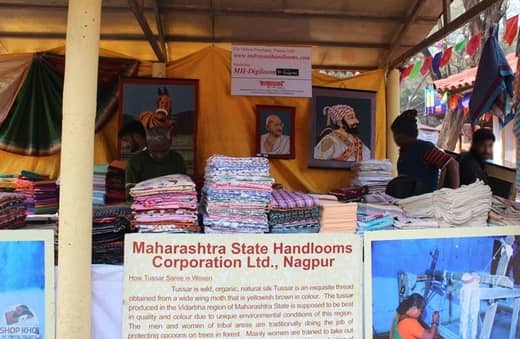 Similarly, there is partner Nation chosen every year. The partner Nation for the 33rd Surajkund Mela is the Southeast Asian country, Thailand.  There are beautiful paintings, silk fabrics, silver ware, pottery, puppets and sculptures which represent Thailand's culture.
Shopping at the Surajkund International Crafts Mela
The most noteworthy or significant aspect is that the organisers invite national award winning artists  regularly  to participate in the mela. Almost all the stall owners are award winning artists. Consequently, the products on display are of superior quality that befit the artisans. Handicrafts, paintings, carpets, home decor, fragrant soaps, ayurvedic products, items made from ivory, cane and grass, pottery, textiles sarees, salwar suit pieces and stoles, the Surajkund Mela 2019 has it all.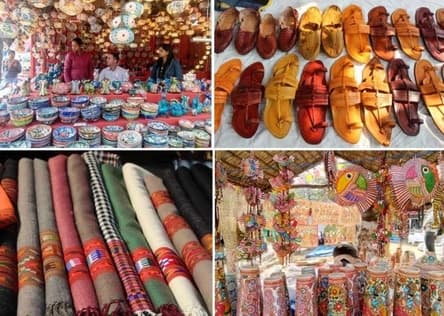 There are traditional Banarasi sarees from Varanasi, popular Madhubani paintings from Bihar, puppets and spices from Rajasthan, beautiful 'Chikri' woodcraft from J&K and elegant Chikankari work from Lucknow. The pride of place however is given to stalls, textiles and handicrafts from Maharashtra. The artisans are present in the stalls and the prices are hence kept reasonable.
Likewise, there are international products from across the world that is also available here. There are  brass ornaments from Thailand, carpets and glass lanterns from Egypt, traditional folding fans and lacquerware from Japan, Chinese silk from China, and batik fabric from Sri Lanka and so on.
Top 6 Stalls to visit at the 33rd Surajkund Mela
We have covered the top 6 stalls to help you gain a quick insight into the cultural diversity this mega fair has to offer.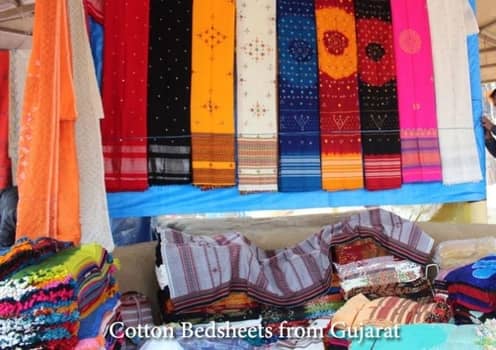 Vankar Kaya Samat is from Sarli district of Bhuj, Gujarat. He is a winner of Sant Kabir Award 2012. At the Surajkund Mela 2019, he is showcasing cotton bedsheets in vegetable colours at a starting price of Rs 700/piece. In addition, there are mirror worked bed spreads, stoles and scarves that is available here.
Wooden sculptures from Andhra Pradesh
Take a look at these impressive wooden sculptures, which are carved out of a single piece wood. Prices ranges from Rs. 150 to Rs. 3 lakh /piece. Firstly, the subjects are Hindu deities or scenes form the epic stories of the Rmayana & the Mahabarata.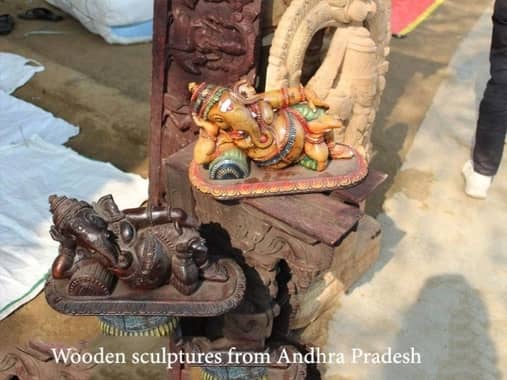 Leather dolls (Tollu bomallu) from Andhra Pradesh  
[metaslider id="10889″]
This stall has colourful handcrafted leather objects. They have beautiful lamp shades and door and window hangings  made from leather. In addition, there are large leather canvases depicting a scene or a story form the Hindu epics, all of which are made from leather.
The price of products ranges from Rs. 250 to Rs. 20,000/piece.
Jute swings from West Bengal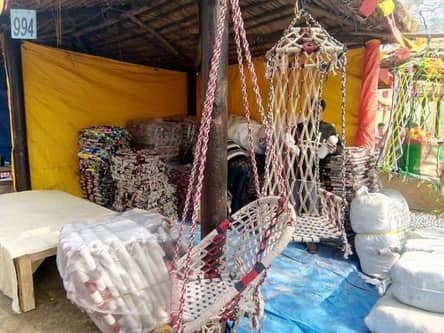 This West Bengal stall has traditional jute jhoolas. Above all, they sure won't burn a hole in your pocket as they are being sold at a price range of Rs. 500-Rs. 2,200/piece.
Tanjore paintings from Tamil Nadu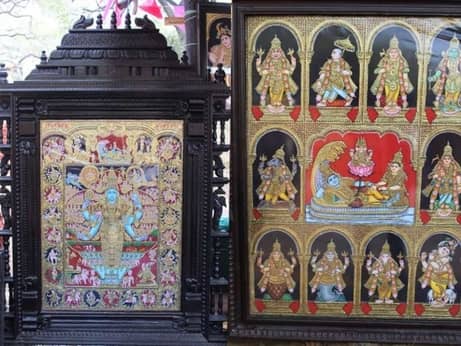 Finally, your search for the popular Thanjavur (Tanjore) paintings from South India ends here. The paintings are all embellished with gold foil and they beautifully depict Hindu gods and goddesses. Prices range from as low as Rs. 2,000/piece all the way upto Rs. 5 lakh/piece.
Pamper your taste buds with India's Regional Cuisines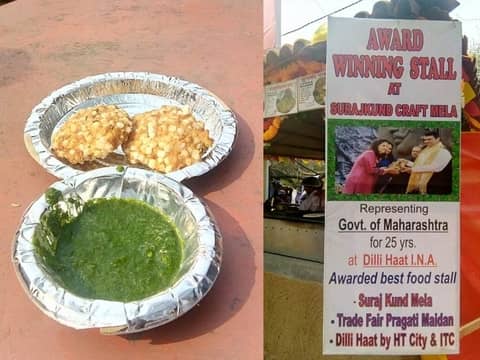 George Bernard Shaw once said: "There is no love sincerer than the love of food." If you are a hardcore foody and in love with delicious cuisines that India has to offer, the Surajkund Mela 2019 is your shortcut to nirvana. This place lets you sink your teeth into a wide-range of dishes from different regions of the country.
Punjabi Sarson Ka Saag with Makki Ki Roti, Litti Chokha – a popular delicacy from Bihar, mouth – watering Dosa and Idli from South India, Kashmiri Dum Aloo and other amazing delicacies will leave you wanting for more.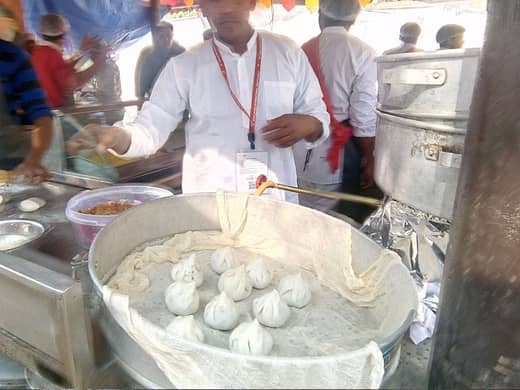 Maharashtra Food Stall
The variety of food Maharashtra Food Stall has to offer will make it hard to stop at just one plate or two. But it's okay to give your calorie-counter a miss for a while and enjoy the gastronomical joyride at the Food Court of Surajkund Mela. You can try Puran Poli, Pithla Bhat, Pao Bhaji Pulao, Bhel Puri, Sev Puri, Sabudana Khichdi, Sabudana Vada, Thepla, Zunka Bhakar and more all at a reasonable price.
Surajkund Mela Food Stall 2019 | Behind-the-Scenes
We tried freshly made Modak at the Maharashtra Food Stall, which actually melt in the mouth leaving behind a lovely taste. Try having one when you visit the stall and you will agree with us.
Cultural Performances
The Mela offers a glimpse into folk performances from India. You will be treated to the Lavani dance, which is the traditional folk dance of Maharashtra.
The open air theater has uninterrrupted cultural activities in store for you; these include folk dances, scintillating dance and music performances by foreign troupes, skits and street plays, musical evenings, stunt shows and mesmerising Kavi Sammelans (poetry readings).
Amusement Zone
Further, there's free entry to the amusement zone this year. Here your young ones can enjoy the many rides, starting from ferris wheel to twister rides to bungee jumping and video games.
Here's How to Reach the Surajkund Mela
Surajkund is located in the Aravali hills and is at a distance of about 8 km from South Delhi. A good network of roadways, railways, and airways keeps Surajkund well connected to other major States as well.
It is probably easier to drive from Delhi to Surajkund.
Nearest Airport, Railway & Metro Stations
 Airport: The Indira Gandhi International Airport is about 27 km. away from the fair.
Railway Station: The New Delhi Railway Station and Surajkund, Faridabad are at a distance of around 23 kms.
Metro Station: The nearest metro station is the Badarpur Metro Station, which is 14 km away from the Mela. You can cover the rest of the distance through an auto or a taxi available at this station.
Cultural Performances Lined up for this year
1 February – Folk dance by Maharashtran artists
2 February – Performance by Bollywood singer Akkankksha
3 February – Cultural Programme on Haryanvi theme and Fashion Show
4 February – Performance by Thailand's artists
5 February – Performance by Rajasthani artists
6 February – Performance by Srilankan artists
7 February – Performance by Maharashtran artists
8 February – Performance by Bhojpuri classical singer Malini Awasthy
9 February – Kavi Sammelan by well-known poets
10 February – Performance by classical dancer Anu Sinha
11 February – Performance by WOW Womania Folklores Band and Sufi Qawwalis
12 February – Performance by Sa Re Ga Ma fame singer Dr. Rinku Kalia
13 February – Sufi songs by Punjabi Artists
14 February – Performance by Paddy boys Band
15 February – Performances by international artists
Key Information: Surajkund Mela 2019
Location: Surajkund, Faridabad
Dates: February 1, 2019 – February 17, 2019
2019 Theme State: Maharashtra
Timings: 10:30 AM – 8:30 PM
Tickets: INR 120 on Weekdays and INR 180 on Weekends (50% discount for differently-abled, senior citizens, serving soldiers, war widows and their dependents, and students with valid ID cards only on weekdays)
So when are you planning to visit the 33rd Surajkund International Crafts Mela for the experience of a lifetime?