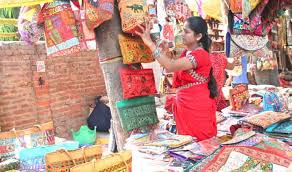 Check Out When Delhi Markets are Closed
Jyoti
29765 views
add comment
Delhi is a huge metropolis. We will not blame you if you are not able to zero in on the best places to shop. Which are the best markets for garments, which are the best markets to buy for silver jewellery and which are the best markets to buy handicrafts? Which days are the popular shopping markets closed and what are the best buys in these Delhi  markets?
Read the Shopkhoj Shopping Guide
1. Sarojini Nagar Market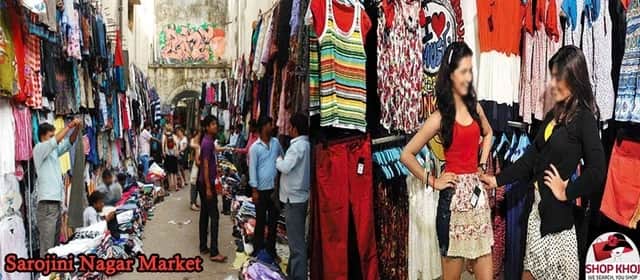 The Sarojini Nagar Market or SN is a family shopping destination.  It is a fairly large Delhi shopping market. The main shops are on one side of the road and the makeshift shops are on the opposite side. Not a very structured market place.
It is always crowded due to the inexpensive products available in the market.
Bargaining – Allowed unless explicitly stated otherwise.
There is multi-level parking available.
Closed on : Monday
Nearest Metro Station : Sarojini Nagar Bus Stop/ INA Metro Station on yellow line.
Best for : Handbags, Home decor, footwear, Indian ethnic wear dress shops and white goods. Street shops for tops, skirts, jackets, nighties, jeans, children's dresses, shoes, chappals and bags. Also available are fresh food, grocery, meat & poultry.
Market : Sarojini Nagar Market
2. Connaught Place- Delhi Market

Connaught Place is primarily two concentric circular building. It is the pride of Lutyen's Delhi with it Gregorian styled architecture. Very structured large market with a huge open garden in the center. It has some of the best restaurants in Delhi. Multi-level parking is available in Baba Kharak Singh Marg.
There are shops and offices in Connaught Place.
Closed on : Sunday
Nearest Metro Station : Regal bus stop/Rajiv Chowk metro station, yellow line.
Best Shops in Connaught Place : Ethnic wear shops, Imitation Jewellery, branded shirts, trousers and handbags.
Street shopping in Janpath : For imitation jewellery, tops, skirts, jackets, mirror worked bed covers, colourful cloth bags and mirror worked umbrellas.
Baba Kharak Singh Marg : State emporiums for handicrafts and ethnic wear clothes & handicrafts.
Cottage Industries Emporium : Best of Indian Handicrafts
Market : Connaught Place Market
3. Chandni Chowk-Delhi Market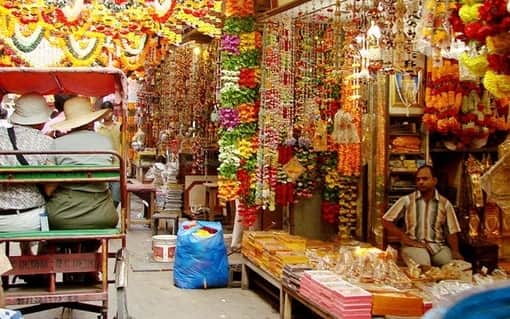 Old Delhi's historical Market that was designed by Shahjahan's daughter. It is opposite the Red Fort. Today it is noisy, crowded & chaotic. Not a structured market. You have to walk the streets to shop here
Closed on : Sunday
Metro Station : Chandni Chowk Bus Stop/Metro Station on the Yellow line
Best shops : Chandni Chowk is a wholesale market. Chandni chowk has bridal wear lehenga shops, bridal wear salwar suit shops and bridal wear sari shops.
Dariba Kalan is the street for silver jewellery & silver gifts shopping. Kinari Bazar is the best place to buy zardozi borders, wedding essentials, gifting trays & bags, boxes and bangles, Bride groom's head dress (safa), garlands and everything else.
Nai Sadak is the place to buy books of all kinds. Chawari Bazar is well known for its invitation cards. Meena Bazar is a covered bazar inside the Red fort for small handicraft items and accessories. Bagirath Palace is the place for electrical goods.
Market : Chandni Chowk
4. Khan Market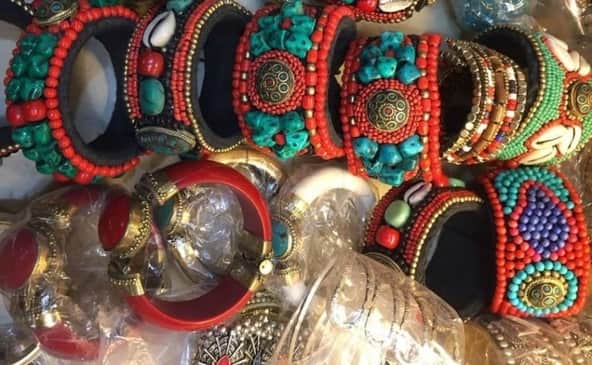 Khan Market is in central Delhi near the Lodhi gardens. It is a small structured shopping market with excellent book shops, restaurants, coffee shops, cake shops grocery shops & shops for garments, home decor, jewelry and eye wear.
It is a luxury shopping market and several foreigners in Delhi shop in khan Market.
There are two well defined roads with shops with an inner interconnecting lane. There are stray dogs and street shops in this lane.
Closed on : Sunday
Bus/Metro : Khan Market Bus Stop/Metro station on the Violet Line
Best shops : For home décor and Indo western dresses, Ayurvedic creams, shampoos & lotions.
Street shops have bets of imitation jewellery, bead necklaces, skirts, tops & sandals.
Market : Khan Market
5. Kamla Nagar- Delhi Market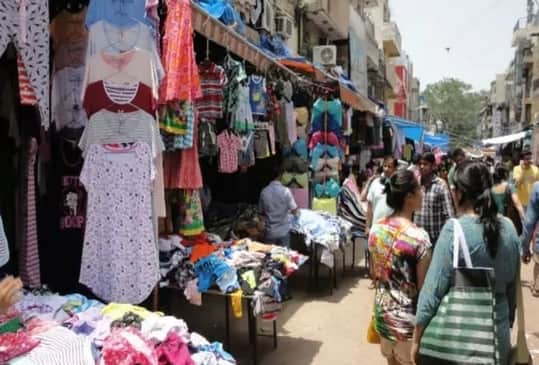 Kamla Nagar which is situated next to the University of Delhi, North Campus is a student's shopping paradise. There are lots of budget shops
Bus/Metro : Vishvidalaya Metro Station on yellow line
Best for :  Imitation jewellery, hand bags, shoes, dresses bridal wear & sherwanis at budget friendly prices.
Market : Kamla Nagar Market
6. GK – M Block Market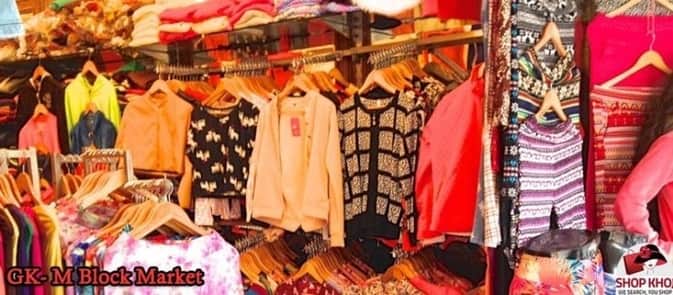 GK M Block is the mainstay of South Delhi shoppers. Best for pavement shops that sell track pants, latest casual wear ethnic dresses and night suits.
Closed on : Tuesday
Bus/Metro : GK-I Bus Stop; Metro – Kailash Colony, Violet Line
Best for Fabrics, Ethnic Salwar Suits & Sari Shops
Best for Ready-made Blouses
Market : M Block Market
7. GK – N Block Market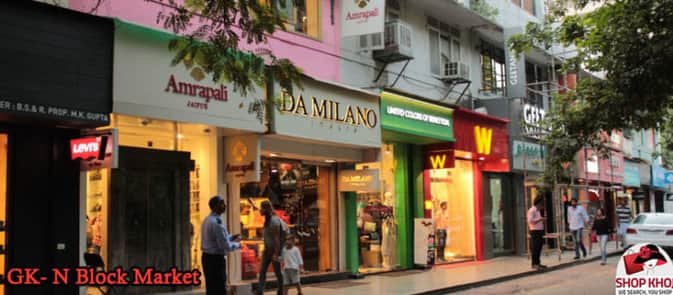 GK N block Market is not as crowded as the GK M block Market. It has some excellent, restaurants, coffee shops & book stores. It is a small well maintained structured market.
Closed on : Tuesday
Bus/Metro : Kendriya Vidyala/Pacific Sports complex – Opposite GK-1 (Petrol Pump), Andrews Ganj, Near LSR College.
Best for : Fab India, Anokhi, Kilol shops.
Best of cotton Indian ethnic wear. Imitation jewellery, Furnishings in Anokhi & Fab India.
Furniture in Fab India, food products in Fab India. Ayurvedic products such as creams & moisturisers.
Kama Ayurveda & Forest Essentials.
Market : N Block Market
8. Karol Bagh- Delhi Market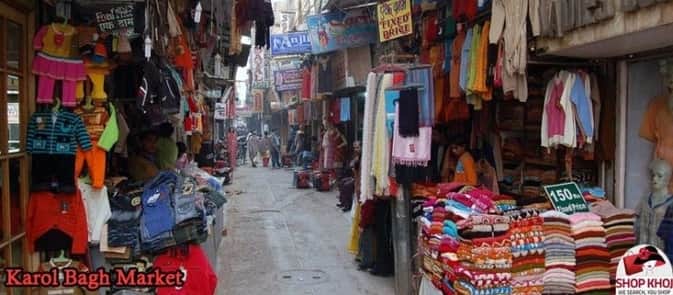 It is an ever crowded market. Street shops and branded shops. Parking is non existent, Street shops sell economically priced sandals, chappals, hand bags & bags, children's garments.
Closed on : Monday
Bus/Metro : Karol Bagh Bus stop, Karol bagh metro station. Branded shops is best for bridal wear lehengas & saris,  jewellery. It is one of the best Delhi shopping Markets for gold & diamond jewellery shops.
Market : Karol Bagh Market
9. Nehru Place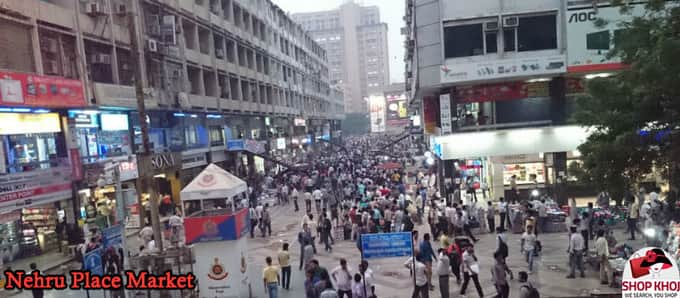 Nehru place is an extremely crowded market in the middle of corporate buildings. However it is the best place to buy Fabrics in Delhi. There are about 20 odd shops in Nehru place who have the best fabrics in Delhi. From exquisite silks to rugged upholstery everything is available here. They export fabrics and all the designers flock to this place for fabrics.
Closed on : Sunday
Bus/Metro : Nehru Place bus stop/Metro station, violet line.
It is best known for mobile phones, laptops, desk tops, batteries, sim cards & printers.
Market : Nehru Place Market
10. Lajpat Nagar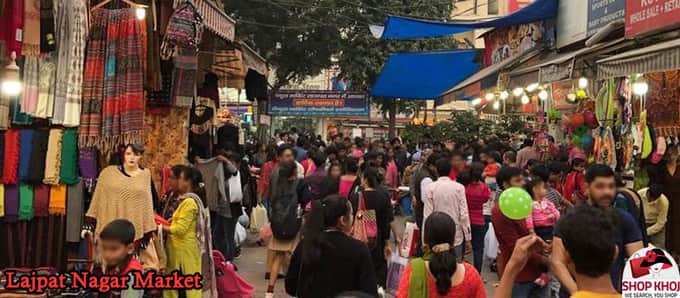 Lajpat Nagar is an open market with road side street shops and small boutique shops. It is perpetually crowded because you can get everything available under the sun in this South Delhi Market. Not a very structured market.
Bus/Metro : Lajpat Nagar bus stop/Lajpat nagar metro station violet line.
Shop For : School books, crockery, nighties, home furnishings, home decor, casual wear salwar suits and luxury salwar dresses, bridal wear sarees, imitation jewellery.
Market : Lajpat Nagar
11. South Extension I & II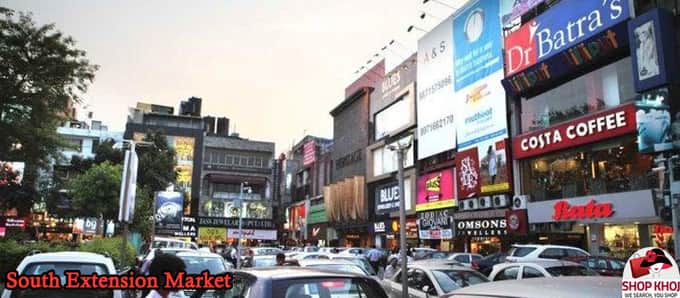 South Extension is a well laid out Market and is very popular in South Delhi.
It is a Luxury Market for bridal wear saris, bridal wear lehengas, Salwar suits.
Closed on : Monday
Bus/Metro : South Ex 2 Bus Stop/Moolchand-Violet Line/ AIIMS Metro Yellow Line.
Best for : Footwear and jewellery.
You can also shop for jeans and tees.
Market : South Extension-I Market
12. Shahpur Jat
Shahpur Jat has a typical village look & feel with narrow roads, stray cattles, cyclists, pedestrians & motor cycles going on the roads.
Bus/Metro : Siri Fort bus stop/Hauz Khas metro station, yellow line.
Best for bridal wear shops, designer boutiques selling exclusive and exquisite dresses such as Pakistani kurtis, khadi dresses and shawls.
Market : Shahpur Jat
Other Blogs :
 Read about Best Shops in Delhi
---
View our videos
SIGN UP FOR NEWSLETTER
Be the First to Know. Sign up to newsletter today