Let us explore Umbrella Shopping in the city of Chennai.
Umbrella Shopping: Ebrahim Currim & Sons – Stag Umbrellas (Maan Mark Kodai)
The first recorded use of the umbrella was about 3500 years ago. The umbrellas were initially a symbol of wealth and nobility. They were first designed to protect the nobles and aristocrats from sunlight. Umbrellas were also carried by wealthy women It is a quintessentaial Far Eastern contraption that later caught on all over the world .
The umbrella had begun to flourish in France by the early 18th century. A Paris merchant, Jean Marius, invented a lightweight, folding version that, with added waterproofing materials, could protect users from both rain and snow. In 1712, the French Princess Palatine purchased one of Marius's umbrellas. Soon thereafter, it became a must-have accessory for noblewomen across the country. Later ,British umbrella users reported being teased for mimicking the French carrying umbrellas in public.
Now , many centuries and several improvements later , the umbrella has become what it is now; a necessity in times of sun & rain . Its miniature version is used as cocktail decoration.
The first foldable pocket umbrella was created in 1928.
Umbrella Shopping: Different types of umbrella
The classic umbrella
Which is a very old & simple design, large, mostly black and opens and closes easily with easy mechanism. This is the commonly used type and manufactured in large numbers in India.
Automatic umbrellas
Come in a variety of bright colors and designs, can be opened and closed with a simple button on the handle, using one hand. This is mostly used by women and children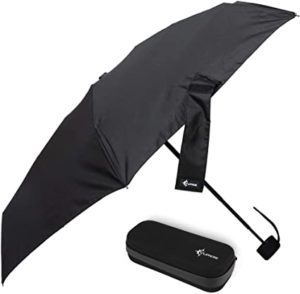 Compact umbrella
Pocket friendly that comes as a three-fold or a four-fold. Measures about 8 inches when closed and fits easily into a handbag. This cannot be used when the wind is strong and the rain is heavy.
Bubble umbrella
It is transparent and dome shaped and covers a person up to the shoulder. The purpose is to ensure vision through the transparent material.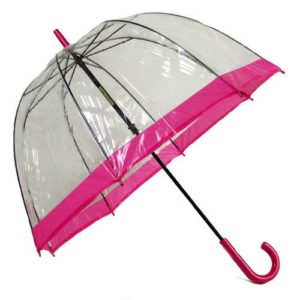 Kids umbrella
It is small in size and brightly colored, and are used by children for sun and rain protection.
High wind umbrella
These are made from thicker material and can hence withstand high winds.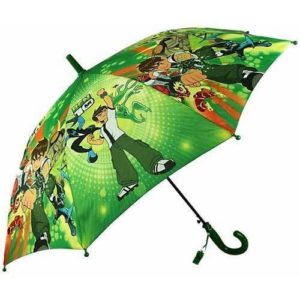 Beach umbrella
It is a large stationary umbrella that protects multiple persons from sunlight. Some are coated to absorb harmful UV radiation. These are mostly used in public areas, such as beaches, patios, and restaurants.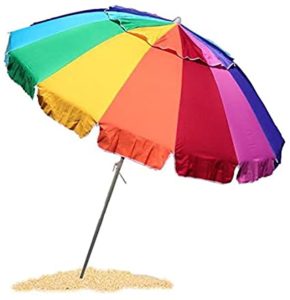 Glitter umbrella
It is a fancy umbrella that is used in weddings and temple festivals. They have a longer than usual handle and have golden colored festoons giving them a grand appearance. In India, it is customary at weddings to welcome the bridegroom riding a horse and a umbrella over his head.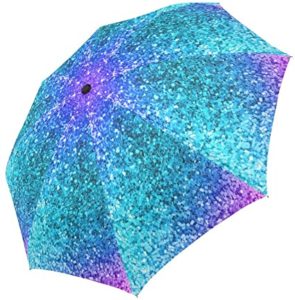 Umbrella Shopping: Ebrahim Currim and Sons
They were pioneers in umbrella making in India. Mumbai based Ebrahim Currim started his career in 1860 mending umbrellas. Gradually, he grew to create his own umbrellas and called his line 'Stag'. The Chennai shop was set up later on and is currently run by one of his sons. The original Stag umbrella, popularly known as "Thatha Kodai" or "Grandfather's Umbrella" had the customary sturdy metal frame and handle . The metal frames were assembled together first and thereafter the black fabric was hand stitched around them. Until almost 1960, black starched cotton fabric was used as the fabric for umbrellas . Since then, nylon has taken over as the material of choice. In recent times, technology has enabled machine stitching of umbrellas.
The two storied shop located in Parrys Corner, Chennai, is almost 100 years old. The building has two floors, about 2400 sq feet and stacked with umbrellas from ceiling to the floor. They virtually monopolized the umbrella market for many decades. The shop now sells more than 130 varieties of umbrellas, including the glitter umbrellas used for weddings and temple festivals. They also do promotional umbrellas where company logos are printed on the fabric. It is difficult to choose just one, given the large range of colors and designs Prices start from Rs.100 /piece. Before the days of online shopping, it was here that one was able to purchase two fold and three fold umbrellas, popular with working women. In a city like Chennai, when, on many occasions, a day starts with bright sunshine and ends in pouring rain , having an umbrella is always useful .
Ebrahim Currim and Sons have also produced their own brand of raincoats. Raincoats for men, women and children in some bright colours are available. The staff in the shop can repair & replace bent metal frames, torn fabric or broken handles for a nominal cost.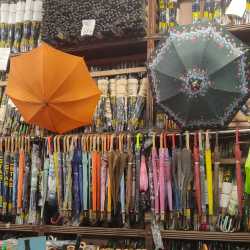 Today, the century old business is grappling with competition from low cost umbrellas that are imported from across the border but the company has managed to hold its own with competitive pricing and innovative designs.
Our other blogs are :-
10 famous streets to visit in the Parry's Corner Shopping Market in Chennai