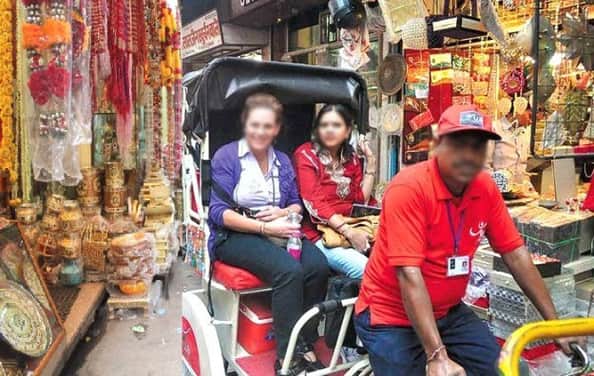 Riding in a Rickshaw in Chandni Chowk, Delhi
Kausy M
746 views
add comment
We had visitors from England and we wanted to show them around old Delhi. They had heard so much about Chandni Chowk , the historic part of the capital city of Delhi. So off we went. The weather was perfect in January. It was a bright sunny day and the temperature around 15 degrees C.
Jama Masjid
Our first stop was the Jama Masjid. It is the biggest mosque in India built in 1656 by Emperor Shah Jahan. They were spellbound by its immense size and the wonder of the architecture. We then took a cycle rickshaw to Red Fort. That was fun, in hindsight though! In other words, they were holding on to the sides of the rickshaw for dear life with eyes closed! It was a first time experience and the loud street noises and the non-sturdy rickshaw ride at a fast pace (that is how the rickshaws are driven in Delhi) was similar to a rollercoaster ride, or so they thought.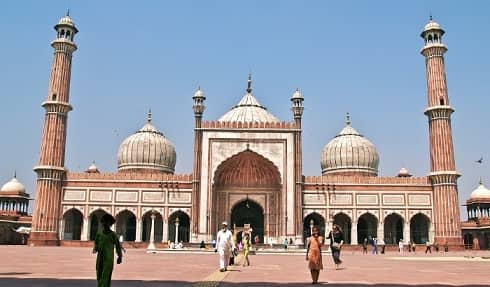 Red Fort
We reached the Red Fort in just 10 minutes. The walled city, including the Lal Qila or Red Fort, was established in 1650 AD by the Mughal Emperor Shah Jahan. We first entered the Chatta Chowk market behind what is known as the Lahori Gate.For instance,  Chhatta Chowk is an arched shaped passage with a row of shops on either side.As a matter of fact, during the reign of Shah Jahan, Chhatta Chowk was considered very exclusive and it specialized in the trading of goods such as precious stones, gems, jewellery, silverware, gold, velvet, brocades and silk, all catering to the imperial household.  For example, today, it is a covered bazaar for souvenirs, ranging from artificial jewelry, fake antiques, handicrafts and embroidered bags to hand-painted wall hangings. We toured the magnificent rooms in the RedFort with the river bed forming the backdrop.
Riding a rickshaw in Chandni Chowk
Chandni Chowk (moonlit square) is the main street that runs from the Lahore Gate of the Red Fort to the Fatehpuri Masjid. As a matter of fact,  a canal ran through its length and served as a waterway. The moonlight reflected in the canal waters lent an ethereal feel to the place. Riding through Chandni Chowk on a rickshaw, we come to the Sis Ganj Gurudwara, which is a place of worship for the Sikhs. Kirtan (Prayer ) is in progress and the atmosphere is very peaceful, considering the bedlam outside.
Hunger pangs.  Finally, we proceed to the Haldiram, right across the Gurudwara. It is a well known snack house with mouth watering delicacies like chaat, raj kacchori and tikki, all spicy, tangy and sweet. We enjoyed it greatly and finished the meal with a lassi (buttermilk).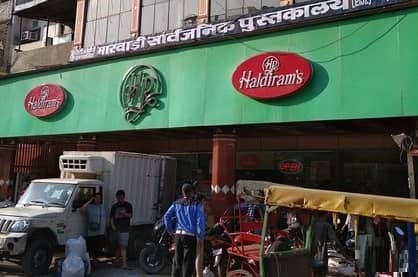 Wholesale Markets in Chandni Chowk
Now then on to shopping in Chandni Chowk. They are wholesale merchants who do retail selling as well.  In addition, there are innumerable shops housed in closed and open markets, everywhere. Further, it is very crowded, chaotic, and confusing. For example, it is a cacophony of car horns, cycle rickshaw bells, hawkers' vocal cords and blaring music and a mish-mash of electrical cables, sign boards and decorations.  Above all, we could see old havelis (big houses) with beautiful and intricate trellis work in the midst of some dilapidated buildings.
Even if the weather permits, it is difficult to walk. You are jostling for space and my guests were wondering how you can possibly see so many people in one street! We are accosted by agents guiding us to visit their shops. It is hard time keeping them at bay. But we resist taking a rickshaw and decide to walk. We retrace our steps to the SisGanj Gurudwara and turn right into Dariba Kalan. The smell of hot jalebis is tempting as we enter the street and we delve into these with gusto, not withstanding our fulfilling meal at Haldiram.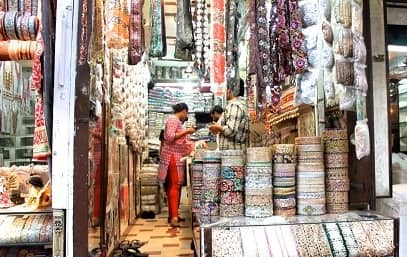 DaribaKalan
Dariba Kalan, is the jewelry lane with several silver and gold Jewelry shops. We walk into into Shri Ram Hari Ram. It is an established jewelry house with beautiful traditional pieces. Ram Gopal& sons, Hari Singh & Co are a few places that sell imitation jewelry. Our next stop was the attar (perfume shop), Gulab Singh Johrimal. We picked up oriental essences such as rose and jasmine, perfumed oils and some aroma sticks.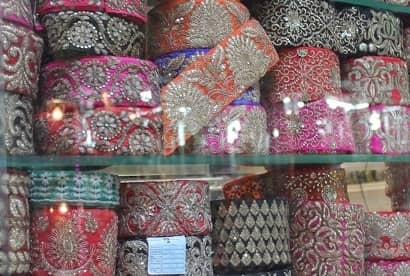 Kinari Bazar
We then made our way to Kinari Bazar. We were hopping from one shop to the other, checking out the lovely colourful brocade borders, tissue saree covers, gift boxes and an entire range of products for an Indian bridal trousseau. Kinari Bazar, leads us to Paratewala Gali, which as the name implies , is very well known for its paratas. They are (flattened breads with vegetable stuffing).
No, we were not finished yet! I wished to show them the famous OP Jawaharlal Shop, that is the go to shop in Delhi for bridal lehengas. They are the most famous lehenga shop in Chandni Chowk, with the latest lehanga designs. All the best designer lehengas had been copied here. We could show them any lehenga design and they would promise to make it for us in a 2-3 months time.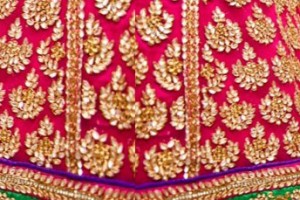 Karims
The last rickshaw ride is in Chandni Chowk . It takes us to the back of Jama Masjid and to Karims. Karims is best known for its mouth watering Mughlai food . It is dinner time!
Read more about the Chandni Chowk market shops.
---
View our videos
SIGN UP FOR NEWSLETTER
Be the First to Know. Sign up to newsletter today