Imitation Jewellery in Kolkata, West Bengal: Gold jewellery holds a revered place in the Bengali household and, conventionally, women wear gold jewellery at Bengali weddings and other traditional functions. But trends have changed and imitation jewellery is very much in vogue.
Imitation Jewellery in Kolkata: Top Shops
Let us take you through the best places to shop for imitation jewellery in Kolkata. In fact ,the street shops are the best places to find a wide variety of imitation jewellery set in the latest designs.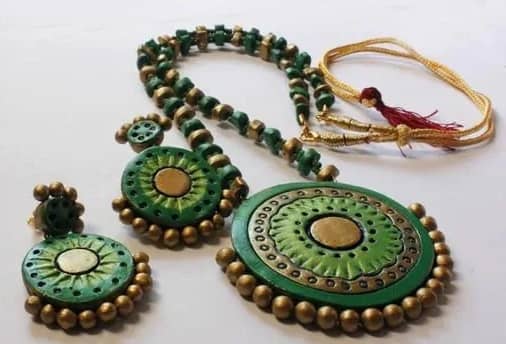 1. Imitation Jewellery in Kolkata: Gariahat
Start from the pavement in front of Kimbadanti Stores that stands opposite Basanti Devi College and walk towards Rashbehari Avenue. You will come across at least 15 to 20 shops selling a wide variety of imitation jewellery. They have chunky heavy pieces as also lightweight small trinkets for daily use.
Further, there is jewellery made of terracotta, oxidized brass, beads, translucent and opaque stones, feather and different metallic alloys. Some are funky jewellery pieces. Most of the jewellery is inspired by tribal designs. Click Here
2. Imitation Jewellery in Kolkata: Dhakuria, Dakshinapan
Outside the gates of Dakshinapan Shopping Complex there is a cluster of 10-12 shops on both sides of the pavement . That leaves very little room for passers by. The jewellery is from the North East and Santhal Parganas. They are made of beads, wood, colorful threads, terracotta and metallic alloys . Dokra and rupdosta are two of the popular metals used for making jewellery.
The former is made of brass ,while the latter is an alloy of silver and aluminum. You can order modifications to the jewellery on display and bargain for the best price.
3. Imitation Jewellery in Kolkata: Rabindra Sadan (Academy Exit)
This is a large open air shop for imitation jewellery at the gate of Rabindra Sadan that leads you to the Academy of Fine Arts. The Academy of Fine Arts is considered to be the Mecca of theatre in Kolkata and the city's elite are frequent visitors here.
This shop has exclusive and exquisite imitation jewellery. There are silver jhumkas and danglers, statement neckpieces, bangles, solid cuffs, chunky finger rings and such items. It does not make much sense to bargain here .