Shopping in Gariahat is something you shouldn't miss when you come to Kolkata. It is a shopper's paradise. Dresses, accessories, electronic gadgets, home decor items, day to day essentials, fresh food, poultry, vegetables; in fact any item on your shopping list will definitely be found in this area. Gariahat is on one of the arterial roads of South Kolkata that starts from Ballygunge Phari-Hazra Road crossing and travels southwards towards the Gariahat Market.
The Ballygunge AC market, the Mukti World Mall and the Dakshinapan Shopping center are some of the main attractions on the Gariahat Road.Gariahat
Shopping in Gariahat: Fish Market
Gariahat shopping experience is incomplete if you don't take a look at the fish market. A pair of hilsa fish can cost up to Rs 1800 at the peak season. And the locals swear by it.
There are numerous shops on Gariahat and also hundreds of others located inside the huge building that is Gariahat Market. There are both retails stores as well as pavement stalls.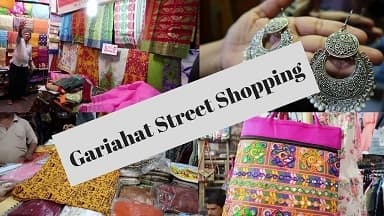 As a student in Kolkata, I spent a lot of time in Gariahat. Pocket money was limited during our college days but it seemed sufficient to shop at Gariahat. Within a budget of Rs. 500, we could easily pick up a fancy skirt from a shop and a matching top or kurti in the next shop and team it up with suitable accessories from the third shop and still save some money. Even today, a normal printed kurti costs as little as Rs.150 a piece and the fancier ones will cost Rs.250/piece.
Shopping in Gariahat: Bridal Wear and Gold Jewellery Shops
Gariahat is not only for street shopping. Some of the best bridal wear and gold jewellery shops are also in Gariahat.  Check out Adi Dakeshwari  Bastralaya ,Priya Gopal Bishoyi, Traders Assembly,Benarsi Kuthi
and India Silk House There are several shops that stock Bengal cotton sarees, for which Kolkata is very famous. The Gold jewellery shops are A. Sirkar& Co,Raj Lakshmi Gold & MP Jewellers.
In spite of the brand frenzy and the major malls that have taken over the city in the last ten years, for shoppers like me Gariahat still retains its charm!!!
Gariahat street shopping means jostling for space in narrow lanes, bargaining for skirts, cotton pants, earrings, bracelets, handbags and other accessories, eating street food such as rolls and puchkas at hole in the wall restaurants, eating rasogollas, and enjoying the spirit of Kolkata in the heart of Kolkata.