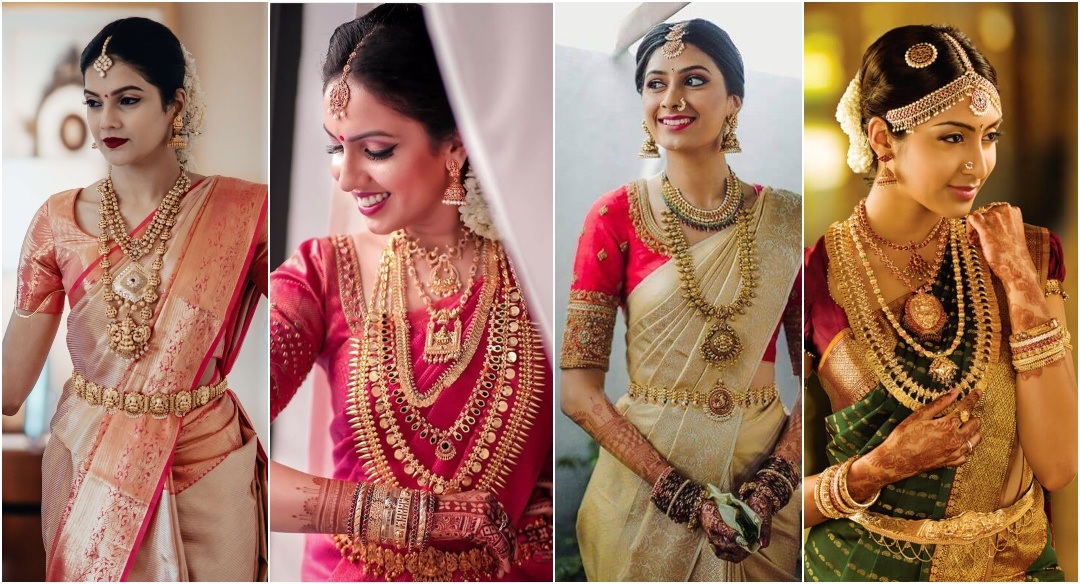 Best Shops For Wedding Shopping In Chennai
Kausy M
21045 views
add comment
Weddings are elaborate affairs in India. Relatives and friends are all invited to join the wedding festivities. More the merrier is the adage. Weddings are customarily  performed as per religious affiliations of the bride & the groom. Traditionally, the bride's parents conduct the wedding. Hence, the economic circumstances of the  bride's  parents are usually a deciding factor of when, where & how weddings are  conducted. In addition, social dictates play a significant role in marriage spends and the manner of celebrations. This blog is about wedding shopping in Chennai.
Weddings Traditions in North India & South India
Customarily, a wedding is  solemnised by a priest. There is a ritual element & a fun element to the wedding celebrations, like in most countries. Weddings in North India are usually very different to weddings in South India. Weddings in the North pack in more fun events, such as singing & dancing in the sangeet & mehndi functions. In the mehndi function for instance, the hands of the bride & the groom are coloured in red patterns and the dhol (drums) are played to usher in the festivities. The sangeet function on the other hand is a pre cursor to the main wedding and is a kind of engagement ceremony. In comparison, the South Indian weddings are strictly religious and more sombre. However, things are bit different now and the blend of all cultures has necessitated that singing & dancing form a part of South Indian weddings too.
In conclusion, there is more than one event for the bride & the groom to enjoy themselves and  welcome the guests. Hence, the bride & groom will need more than just a single wedding dress & jewellery to tide over all the events. Further, there are gifts to be purchased for the bride & grooms families.
 Best Shops For Wedding Shopping In Chennai
 Wedding shopping includes wedding dresses for the bride & groom & their relatives & friends, jewellery for the bride and  silver gift articles and items required for the marriage rituals. These are some of the main items to be purchased. It is definitely a daunting task. Here, we talk about the best shops & shopping places for wedding shopping in Chennai and we hope it helps you  with your wedding shopping.
 Wedding Sarees
A beautiful Kanjivaram silk saree is the topmost priority for  South Indian brides. Typically, that is the bridal wear. Kanjivaram silk sarees come in a riot of colours and with exquisite woven zari work. The colours and designs are absolutely amazing. From bright pinks and blues to sombre greys & pastels, they all look gorgeous. Personal preference & choice is the key to selecting a Kanjivaram silk saree.
 The T.Nagar,or Pondy Bazar  Market, as it is popularly known, is one of the best markets in which to purchase Kanjivaram silk sarees for the bride and for the entire family .Rmkv, Kumaran Silks, Nalli ,Pothys & Sundari Silks are some of the best  shops for bridal sarees. Bridal wear sarees can start from Rs 20000/saree  and go up to a few lakhs of rupees. It is remarkable to note that all the shops mentioned above are within walking distance of each other. If you do not find what you are looking for in one shop, you can always hop over to another shop. Kumaran Silks, Pothys and Rmkv are shops that are also always crowded. The saree selections are of course very good.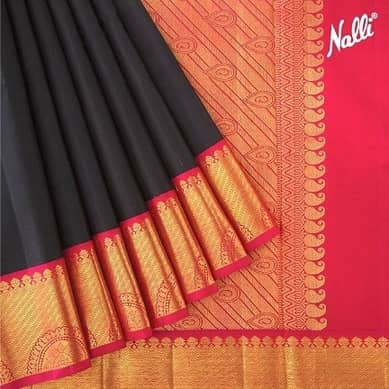 If you are  not in favour of crowded shops, you can check out Sundari Silks and Nalli amongst the shops mentioned above. These are large shops. Sundari Silks has a quiet ambience, with a stock of beautiful bridal wear sarees. Nalli  Silks is an established shop (nearly 100 years old) and is housed in a 3 storied building. It is housed in the same iconic location from where the shop opened  in the year 1928. Nalli has 3 floors dedicated to sarees from cotton to Banarsi and  Kanjivaram silks. Hence, you can check out the selection on Kanjivaram silks in the price range  that you are looking for. In addition, all the shops have the traditional dhotis for men .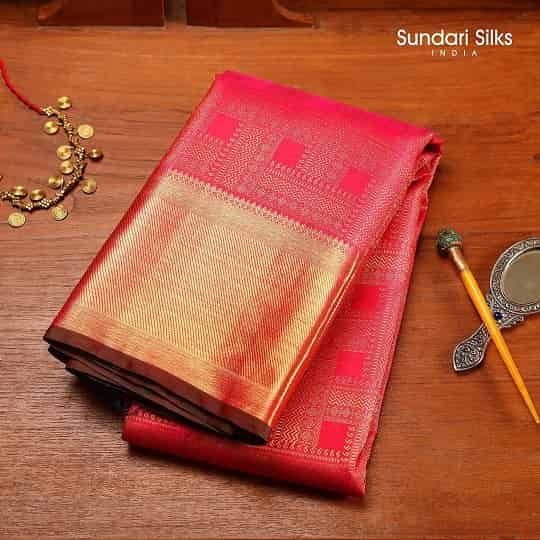 T. Nagar Market can get very crowded in the evenings. The street hawkers and vendors will be busy selling you anything from hair clips, flowers & mobile phone covers to peanuts and pins. In other words, it would be best to visit this market in the morning time or in the early afternoon.
 In addition to the T Nagar Market, the shopping markets in  Mylapore & Luz  areas have very good shops for Kanjivaram silk sarees. Rasi Silks in Mylapore, for instance, is an old established shop that is right in front of the  Kapalishwar Temple. The streets surrounding this famous 7th C temple are colourful and interesting.  Sreenivas Silks is a small shop with a good collection of sarees at reasonable rates. Other shops are Tulsi Silks & Kanchi Weavers that are right opposite to each other near the Nageshwar Rao Park.
 Saree shopping in Kanchipuram
Families usually travel to Kanchipuram near Chennai  to purchase Kanjivaram silk sarees  at wholesale rates. Firstly, the shops in Kanchipuram have the latest collection and the prices are more reasonable than Chennai shops.
Kanchipurm is just 70 kms from Chennai & it is a temple town boasting of several  large 7th C  Hindu temples. Some of the best shops are
PRAKSAH SILKS , BABU SAH , Varamahalakshmi Silks 
Bridal lehengas& gowns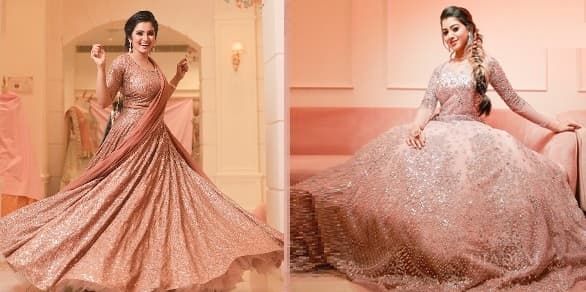 Nungambakam is an upmarket locality in Chennai. The Khadar Nawaz Khan Road in Nungambakkam is particularly filled with upscale shops. It has some of the best shops for North Indian style heavily embellished georgette  & silk sarees. In addition, heavily sequinned gorgeous  bridal  lehengas are also available in these shops. Take for instance, Man Mandir. It is a much sought after shop for lehenga cholis, zardozi worked sarees and light party wear sarees in georgette, chiffon, satin & silk. They have matching ready-made blouses too.
Designer Wear Shops
Further, check out Evoluzione. It is  a popular store for several designer wear brands under one roof. They stock designer lehengas, sarees, blouses & accessories. Ritu Kumar is the other prominent  designer wear store in the adjacent lane. They have a limited but exquisite collection of lehengas & cholis. This is a premium designer wear store and it is no doubt expensive. Gaurang is another well known designer brand for beautiful ethnic designer wear sarees, salwar suits & lehengas. Rupkali, Rangoli & Karishma are other stores for North Indian type sarees in this area. They are not designer wear.
Moksha in Cathedral Road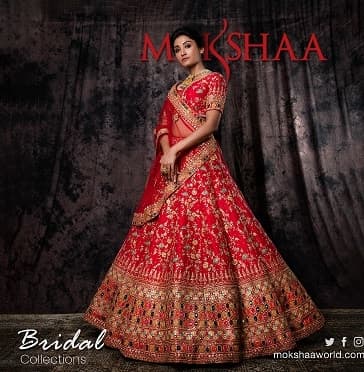 Cathedral Road  is a long stretch of road connecting the beach to Mount Road. In the Cathedral Road Market area, Kay & Moksha are two popular brands for lehengas & North Indian sarees & salwar suits.
Moksha has bridal wear for both men & women. While women can pick up shararas, salwar suits ,bridal lehengas & bridal wear sarees, men can pick up their sherwanis & kurta pyjamas. In addition, they stock sarees in silk, georgette chiffon & crepe all with embroidery or gotta work done on them. In the silk variety for instance, they stock Kanjivaram & Banarsi silks as well, although it is not a traditional Kanjivaram silk saree shop.  Glitzy ready made salwar suits look appropriate for the mehendi function or for a sangeet function. Bridal lehengas & bridal gowns occupy one floor. They also have ready to wear blouses.
Kay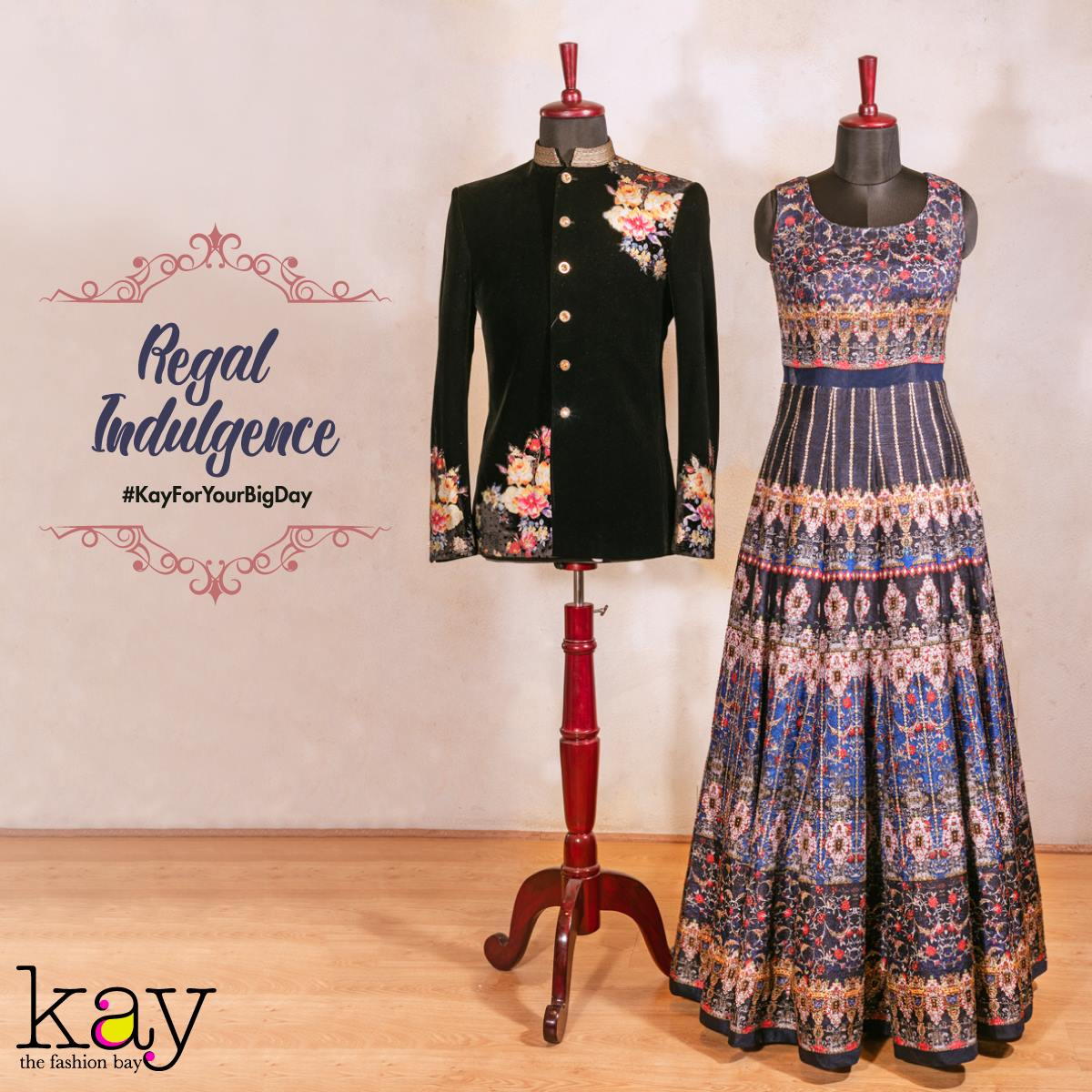 Kay is another shop adjacent to Moksha that has a great collection of wedding wear dresses. Anarkali salwar suits at around Rs 25000/piece are beautiful & gorgeous. Above all , the bridal lehengas & cholis are a must see in this shop. Tussar silk  sarees & Banarsi georgette  sarees with heavy sequins are also available here. Ready made blouses in Banarsi silk are  another attraction in this store. Kay also stocks children's party wear clothes and ethnic dresses for men.
The Sowcarpet Market in Chennai has some fantastic shops for bridal lehengas ,sarees & gowns. This is a wholesale market. It is a paradise for bridal wear dresses, imitation and fashion jewellery. You can purchase an entire wedding jewellery set for Rs 2000. This would  probably cost at Rs8000- Rs10000 in the retail market. However, Sowcarpet Market is quite far from  Central Madras ,where the Mylapore &T Nagar Markets are  located. Further, it is a very crowded market.
Gowns for the bride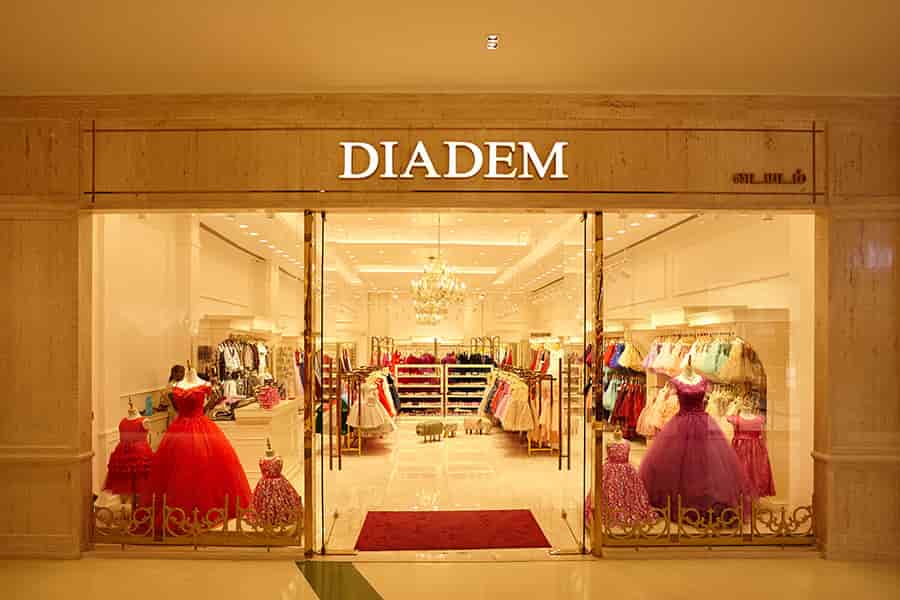 Diadem in Anna Nagar  is a favourite choice for western wear gowns and children's party wear gowns including boy's blazers. Bridal gowns are available in plenty in colourful & sequinned designs. They also stock brides maid dresses,  shoes and wedding accessories such as tiara & veil. Other shops for bridal gown in Chennai are –Sheers Bridal Boutique in Egmore, Daisy Bridal Pret Couture Teynampet, The Eva in Valsarvakam & the Dress shop in Adyar.
It is quite common for all  brides to wear a gown at their sangeet function today.
 Best shops for wedding shopping in Chennai- Jewellery Shopping
Typically, the South Indian bride would purchase a gold and a diamond set, bangles and a ring. In addition , the udyanam (or kamarband/girdle/gold belt)and anklets may be purchased. The Talai Saman or Maang Tikka  is the ornament for the head.
Cathedral Road  has some of the best jewellery shops in Chennai. Starting from Khazana, who have multiple branches in Chennai as well as in other Southern cities. The jewellery is predominantly in gold. There are gold earrings, gold bangles & bracelets, gold rings & mangal sutra or thali on display in the ground floor. The first floor has necklace sets in gold & also kundan jewellery. Prince Jewellers, originally from Kerala  is right opposite the Khazana shop. They have a  good collection of gold, diamond & silver jewellery. In addition ,there is a small collection of platinum jewellery too. Further, one can also shop for silver gift articles in this shop. Ranee Jewellers in Alwarpet have interesting silver & antique jewellery.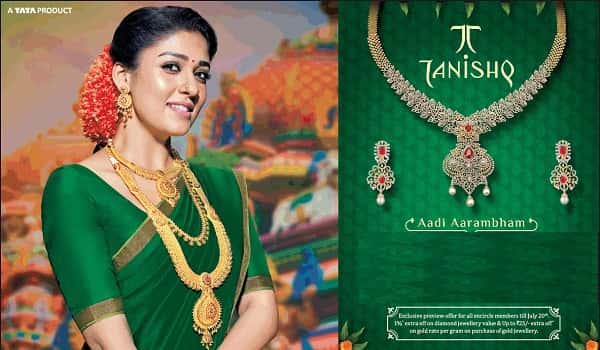 Diamond Jewellery
Tanishq ,which is next door to Khazana , is a Tata owned shop  & is one of the most trusted jewellery shops in India. Dazzling diamond necklaces, bracelets, bangles, earrings & rings are beautifully crafted & displayed. While there is a limited collection of jewellery in Tanishq, the choice is excellent & so is the quality. The prices could be on the higher side when compared to other jewellery shops. However, one is paying for  the quality. In other words, you can easily pick up any piece of jewellery from Tanishq & be assured about the quality. TANISHQ
Bapalal, right next door to Prince Jewellers, is a paradise for diamond jewellery. Mr. Bapalal Mehta founded the shop nearly a century ago. They are known for the quality of their diamonds. The 3rd generation is running the business now. Diamond jewellery is on the first floor & silver gift articles are on the ground floor.
As you go further down  Cathedral Road, you will reach the Gemini flyover bridge where the Vummudi Bangaru Chetty shop is located. This is another iconic shop in Chennai. They are trusted jewellers and one can find all the gold ornaments for the bride in this store. The adjacent store has silver jewellery, silver gift articles and diamond jewellery. GRT in T. Nagar Market is another popular store for jewellery in Chennai.
GRT Jewellers
Silver jewellery- gifts & wedding related items
Sukra Stores in Mylapore  has a fantastic collection of beautiful silver ware, gift articles & articles required for the wedding function. It also has silver jewellery. This store is located near the Kapalishwar Temple. Beautifully crafted deities of lord Ganesha and goddess Lakshmi can be found here. In addition, a variety  of traditional oil lamps in silver and candle stands in several designs can all be found in this store. Temple jewellery too is  available here. Temple jewellery is primarily intended for use in classical dance .They also stock silver anklets and small silver jewellery pieces. Further, silver gifts can be  also be found in Bapalal in Cathedral Road, Vummudi  in the Gemeni flyover and in Prince Jewellers as well. If you are keen on Temple Jewellery ,do visit the Shanthi Tailors shop in Mylapore.
Sukhra Stores,  Shanthi Tailors 
 Best shops for wedding shopping in Chennai-Brass & Stainless Steel Utensils
Sarvana Stores and Ratna Stores in Pondy Bazar  have a complete range of all the brass & stainless steel utensils that is normally purchased for a South Indian wedding. The Mylapore Market  too has small shops that sell kitchen utensils in stainless steel.
Finally, if you are looking for puja articles for the religious wedding ceremony, look no further than  Giri Trading Store in Mylapore. Brass lamps, brass plates agarbathi sticks, Kumkum, sandalwood and mehendi powder are all available here. In addition, paper garlands and kolam/rangoli stickers are also available here. Manjal is a good shop in the MRC Nagar area for palm leaf baskets ,trays and other colourful gift items
We have covered some of the important purchases required for  wedding  shopping in Chennai. We hope you enjoyed reading our blog. Do write back or leave us a comment below.
Read our Other Blogs on Kanjivaram Silk Sarees and Jewellery:-
---
View our videos
SIGN UP FOR NEWSLETTER
Be the First to Know. Sign up to newsletter today