Chidambaram Travel Guide: Chidambaram is a town, situated about 250 km south of Chennai. There are trains and buses to reach the town, by road the journey takes about 5 hours. The roads are good and the journey is very pleasant. From Chennai, we pass through Pondicherry, which is about 70 km from Chidambaram. Visitors to Chidambaram are primarily for pilgrimage reasons, as there are quite a few legendary temples in and around. The town itself has seen many kingdoms, Medieval Cholas, Later Cholas, Pandyas, Vijaynagar Kingdom, the Marathas, and the British.

Chidambaram Travel Guide: Thillai Nataraja Temple
One of he most celebrated shrines of South India, this temple has rich historical, cultural and religious significance. This temple is one of the PanchBoothaSthalams, signifying the five elements (wind, water, fire, earth and space). Chidambaram temple represents space (akaasha), and is represented next to the sanctum sanctorum with an empty space and a garland of 51 golden leaves.
In early days, the region was a forest of mangrove trees (Thillai). These trees are no longer found here. The temple was built to primarily celebrate Lord Shiva's cosmic dancing. It is here that Lord Shiva is said to have danced and enchanted many.
The main deity of Lord Shiva as Nataraja, is in the form of Ananda Thandava (Dance), performing His cosmic dance. It is only in this temple that Lord Shiva is represented as a human form, all other temples represent Lord Shiva as Linga.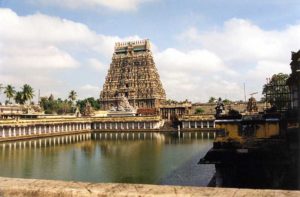 The architecture of the temple is fascinatingwith nine gateways and four Gopurams. The Eastern Gopuram has all the 108 dance postures of Bharatnatyam. The roof over the main deity is made of gold and is held by 64 beams, representing 64 forms of art. The roof has 21600 golden tiles representing the number of breaths taken in a 24 hour period. The golden tiles are fixed using 72,000 nails representing the number of veins in our body. The roof top has 9 sacred pots representing the nine forms of energy. The temple complex has five sabhas (halls).
Chit sabha – where the main deity is enshrined; Kanaka sabha – located in front of the deity, where all the rituals are conducted; Nritya Sabha – the hall where Lord Shiva is said to have danced with Kaali; Raja Sabha – the 1000 pillared hall, representing the yogic chakra; Deva Sabha – where five deities are enshrined, Lord Ganesha, Lord Muruga, Lord Somaskanda, SivanandaNayaki, Lord Chandikeshwarar.
Legend
The Legend behind this temple is very interesting. On one occasion, Kaali, also known as Thillai Nayagi, the patron god of the forest, challenged Lord Shiva to a dance competition. The loser would leave the forest. Lord Shiva accepted the challenge and Lord Vishnu was requested to mediate. As the two celestials danced away for many hours, Thillai Nayagi seemed to outshine, and was able to match the prowess of Lord Shiva. Seeing this, Lord Shiva presented a posture, wherein he lifted his left leg over his head, known as UrdhvaTandava posture. Kaali, being a woman was not able to replicate, hence admitted defeat and left the forest. However, the goddess was enraged and Lord Brahma appeared before her to clam her. To commemorate this, there is a temple located on the outskirts of Chidambaram called Thillai Kaaliamman Temple, where the Goddess Kaali with four faces is said to have resided after the contest. The deity is in an angry stature, and also in a calmed stature.
Within the Chidambaram temple there is a shrine for Lord Vishnu, where Lord Vishnu is said to have watched the contest in a reclining state. Also known as ThiruChitraKoodam, this shrine is one of 108 DivyaDesam. Thus, there is a Vaishnavite deity within a Siva temple.
Worship in this temple is done six times a day, starting from early morning puja where the Lord's Padukas (footwear) are brought in a palanquin, from Palli aria (resting room) to the main sanctum. This is accompanied by drum beats, chimes and chants. For each of the six pujas, the SpatikaLinga (crystal Linga) is anointed with ghee, milk, curds, rice, sandal paste and ash. This is followed by Aradhana to the main deity. The second Puja, which is at 11.30 am, is revered more, as another deity,the Rathinasabapathy (Nataraja made of ruby) is also anointed. Devotees throng each day for these pujas, which are performed with reverence and devotion. The last puja of the day is the Arthajaama, after which the Lord retires for the day. This puja conducted with the same reverence around 10.30 pm, is said to be special, as the divine forces of the entire universe is said to retire into the Lord when He retires for the night. In this puja, the Lord's footwear is taken from the main sanctum to Palli Arai (resting room).
Many cultural festivals are held in this temple, especially dance related. Since the Lord is enshrined in a dance posture, the temple is visited by devotees in performing arts.
Chidambaram Travel Guide: Sri Sattainathar Temple, Sirgazhi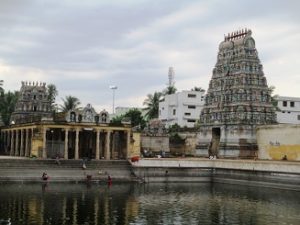 Located about 17km from Chidambaram, this temple, is also known as Brahmapureeswarar temple, is located in the town of Sirgazhi. The temple enshrines three forms of Lord Siva at three levels, one has to climb a flight of stairs.
Brahmapureeswarar, is at the lowest level. It is believed that Lord Brahma worshipped Lord shiva, here, hence the name Thoniappar, at the second level, enshrines Lord Siva in a Thoni (boat). It is said that Lord Shiva was once travelling with 64 arts on a boat during Pralaya (floods) and found this town of Sirgazhi, unaffected by the floods. He, therefore, stayed here with his consort Uma Devi.
Sattainathar/Vatukanathar at the third level, where Lord Shiva word the skin of Lord Vishnu to prove that Lord Shiva and Lord Vishnu are one. Devotees seeking resolution to litigation issues visit this temple.
Chidambaram Travel Guide: Vaitheeswaran Koil (Koil or Kovil is Tamil for temple)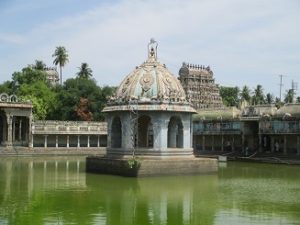 Located 27 km. from Chidambaram, this temple is visited by devotees for many reasons. One, for relieving ill effects of the planet Mars known as Mangalik Dosha or Chevvai Dosha. Separate shrines are present for Chevvai (mars), where poojas are performed on Tuesdays.
The second reason, Lord Shiva is worshipped as "God of healing". Devotees with illnesses seeking relief visit this temple. The main deity in the form of Linga, is said to be Suyambu (self manifested). Lord Shiva's consort Thaiyalnayaki can be seen with medicinal oil in a separate shrine. Devotees dissolve jaggery in the temple tank, light lamps made of rice cakes and offer salt, black pepper mixture to remove ill effects of bad health. The priests in the temple give medicinal balls, which is holy ash rounded with saffron, which when consumed is said to cure diseases.
As in most Shiva temples, sanctum sanctorum for the nine planets is present, however, unlike other temples, in this temple, the nine planets are in a row facing one direction. Other notable aspects of the temple include: five gopurams all in a straight line; presence of maragadha lingam (emerald Lingam); JatayuKundam, where Jatayu (the vulture bird who tried to save Sita in Ramayana) is said to have achieved moksha.
This temple is also popular for Nadi Jothisham. Nadi is an ancient method of astrology from palm leaf. As per the belief, each and every individual has a recorded palm leaf where their family history, characteristics, and all events in their life time are present. The Sages who recorded this, are said to have spiritual powers to look into the past and future of the entire universe, and recorded the lives of the past and future. There are several Nadi Josiers (astrologers) around the temple, with merely a thumb print of the individual, they are able to trace the palm leaf related to the individual and give predictions.
Chidambaram Travel Guide: ThiruNangur Temples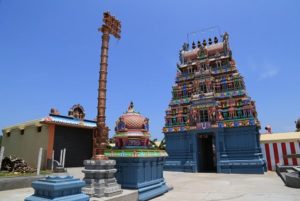 There are 11 temples around the town of Nangur in Nagapattinam are all part of the 108 DivyaDesams. Legend has it that, on one occasion, Lord Shiva danced in fury so fiercely that locks of his hair fell to the ground. As each hair touched the ground, a new form of Shiva appeared. Soon eleven forms of Lord Shiva had formed and each performing Rudra Thaandavam. The celestial deities worried that this would lead to destruction, if the dance continued. They prayed to Lord Vishnu, who appeared in eleven forms, on seeing this, the fury of Lord Shiva subsided. It is believed that the eleven forms of Lord Vishnu are the eleven temples of Thirunangur.
The temples as below. (reference http://prtraveller.blogspot.in/2008/05/thiru-nangur-divya-desams.html)
1. ThiruVellankulam Annan Koil: Deity here is believed to be the elder brother of Lord Balaji of Tirupathi, therefore devotees who are unable to visit Tirumala, can visit this temple with their prayers. The lord here is in standing posture. Prayers in this temple is said to provide longevity to life.
2. ThiruPurushottamar: Located close to the Annan Temple, Lord Vishnu is believed to have brought thirupaarkadal to this place to satiate the hunger of a child. The Lord is in standing posture.
3. ThiruSemPonSeiKoil: In this temple devotees pray for lost wealth, as the legend says that the Lord presented a poor man with wealth after he prayed for several days. Lord Rama is said to have visited this temple. The lord is in a standing posture.
4. Arimeya VinnagaramK udamaadu Koothan Koil:Presenting a seated posture, it is believed that devotees would have their sins wiped out if they prayed in this temple. As per the legend, Lord Vishnu appeared as Gopalan and he is said to have performed the type of dance called KudaKoothu which explains the birth of everything in this world.
5. Vaikunta Vinnagaram: In this temple, the Lord is said to be similar as in Paramapadham, in a sitting posture, one hand resting on the knee and the other on the floor, as in Vaikunta Logam. The Lord has another name Thaamarai Kannudaiyapiran (eyes like the Lotus).
6. ThiruThetriyambalamPalli Konda Perumal: Devotees would receive wishes of power in this temple. The deity also known as Senkanmaal Ranganatha Perumal, has four hands and in a reclining posture.
7. Mani MaadaKoilNaarayanaPerumal: Lord Vishnu stands like a lamp called Nanda Villakku which gives light continuously, emanating Gyana. During the major festival of Thirumangai Alwar which happens after new moon day, all the ten forms of Vishnu visit this temple. The lord is in a sitting posture.
8. Thiru Mani Kooda: Sri Varadaraja Perumal as the Lord Vishnu is known in this temple, is said to have rescued, Chandra (the god of moon) from a curse. The lord is in a standing posture with four hands
9. Devanar Thogai Madhava Perumal koil: It is here, in this temple, as the belief goes that all the Devas (celestial beings) congregate to have a darshan of the Lord. In this temple devotees pray for marriage and children. The Lord is in a standing posture.
10. ThiruPaarthaanPalli: Arjuna, one of the Pandavas in Mahabharata, is said to have visited this temple. Being thirsty, he struck his sword on the ground and water emerged. To mark this event, one can see Arjuna with a sword in this temple. The lord is in a standing posture and is also known as Sri ParthasarathyPerumal.
11. ThiruKaavalampaadi. The lord is seen here as in Dwaraka, and it is believed that a visit here is equivalent to a visit to Dwaraka. The lord is in a standing posture and is known as Sri Gopala Krishnan.
The eleven temples are open for about three hours in the mornings and evenings. Although we do not see much crowd, the priests perform the daily rituals earnestly and with devotion. The temples can be covered using a cab from Chidambaram. Another option is to go to Sirgazhi and hire an auto.
Chidambaram Travel Guide: Manakula Vinayagar Temple
pic credit :- Pondicherry tourism
To reach Chidambaram, from Chennai, we pass through Pondicherry, the French town. A very famous temple for Lord Ganesha is present, which is said to exist even before the French settlements ie before 1600. Manakulam, means pond of stand. The temple has gold plated walls, ceilings and Gopuram. Inside the temple, we can see more the carvings of more than 50 types of Vinayakar idols and several interesting paintings on the life of Lord Ganesha. An elephant welcomes us, at the door step, which is a source of delight for the young and old. The temple is a visual delight and we can see droves of tourists and pilgrims looking around with awe.
Our visit to Chidambaram lasted about 2 days, we went by road from Chennai, admiring the scenic beauty and enjoying the smooth travel on the National Highway. The temple visits took us about 1.5 days, as the temples were only a short drive from each other.
Thirunangur temples however, are only open for a short time span, therefore plan well in advance.
Please read our other blogs :-