Firstly, I like to visit the Greater Kailash shopping (GK M block Market) every week.  For instance,it is one of the popular shopping Markets in Delhi, NCR. In other words, I just like to walk around and check out the latest fashion trends, as well as check out the new Delhi shops that have opened up in this shopping Market. Above all, It is not crowded, there is ample room to walk around and, more important, the corridors are covered and one can walk in the shaded corridor.
So, summer or winter, it is a weekly expedition to the GK Market for me. For example, it is a favourite hot spot for the young & happening crowd in Delhi. They are dressed in smart and stylish clothes. Delhi women are savvy and dress conscious.
1. Street Shopping in Delhi -GK M block Market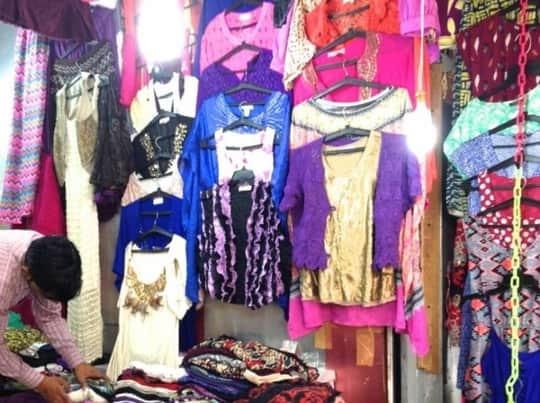 If you go around at 11.30 am to this shopping market, you can find street vendors opening their bags. There are several of them who regularly visit the GK Market. They carefully start to unwrap their bundles and stack & pile of clothes one on top of each other. Out come a great stock of leggings, jogging pants tunics, tops, palazzo pants, cardigans & scarves. You wonder how the street vendors manage to display so much in so little space. As winter is fast approaching, I take a look at the full sleeves flannel checked shirts. Pink & brown checks, red& black checks & many such combinations, they are slick & stylish. I do see some girls wearing it too. For example, they cost about Rs. 400/piece.
Cardigans & Capes @ GK M block Market
I am also interested in buying cardigans, capes and knitted tops with a little bling. What a great variety. They cost about Rs 800/piece on an average. The prices could go up to Rs 1200/piece for more heavily knitted cardigans. Some of them are branded apparel & export rejects. So you do not have to visit a Sarojini Nagar Market or the Janpath shopping Market to buy export rejects form Top Fashion houses at dirt cheap prices.
Cropped tops & Plazzos @GK M block Market
They are all available right here in the GK Market. These clothes are fashionable and trendy, & ideal for casual wear. Cropped tops and stripped palazzos and imagine buying them for Rs 350/piece. It is a steal. The vendors are very patient in presenting their collection. Walk around the market and make sure that you check out the price with at least 2 or 3 vendors before you decide to purchase.
These are temporary shops and there are days when the police are doing their rounds and the street shops close down, as they are unlicensed shops. But this happens very rarely. I also likes to pick up fancy bangles in these street shops. Colorful bangles in velvet with gold thread work and with gold beads. They cost Rs 200/pair. There are several variations of these bangles, which are available.
Further, you can of course shop at AND & Global Desi for higher priced & more formal clothes.
2. Jewellery Shops in Delhi
Also, if you are looking for jewellery shops in Delhi, look no further than the GK Shopping Market. They have some of the best shops for gold and silver jewellery. Step into Celestial or Siloffer for silver jewellery. Danglers, hoops and tiny silver earrings. Try them. I have been visiting these shops for years, when chunky bracelets and beaded necklaces were in fashion. They do nose piercing, ear piercing and tattoes also.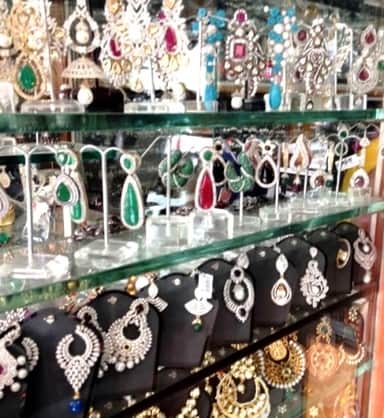 Shop for silver bracelets, jewellery sets in silver with semi precious stones such as pearl, rubies, jade and sapphire. In addition to  rings, they stock everything from small dainty silver rings to the outsized cocktail rings – gather them all. Visit these jewellery shops and shop to your hearts content. The prices are very reasonable. Then there is Hazoorilal Jewellers and Champalal Jewellers for gold and diamond jewellery. They are trusted names in jewellery. Traditional polki jewellery, diamond and gold jewellery are their forte. Hazoorilal is one of the best-known shops for jewellery in Delhi.
3. Best Shops for Party Wear Blouses in GK M block Market
GK M block Market is the best shopping market in Delhi to pick up ready-made blouses for saris.  As a matter of fact, there are about 20 shops that you can choose from, if you are keen to pick up a Bollywood style blouse for your saris. Designer style blouses in net, chiffon, georgette and silk, with sequins, embroidery and glitter. Blouses in silver & gold ,hot pinks, reds blue ,black and green are all beautifully displayed. High neck blouses, sleeveless blouses with Chinese collars, low neck and backless blouses, they are all available in several sizes. The collection is simply astounding .
As the tailors are sitting close by, they will alter the blouses in a jiffy.  For instance,several NRI shoppers make a beeline for the GK M block Market and pick up 10 or 20 blouses at one go. On any given date, there will be at least 100 designs to choose from. So no fret on the blouses, ladies. You will be spoilt for choice. There are about 7 or 8 basement shops in the main market for the ready-made blouses, which cost Rs. 1000/piece.
Roshan Tailors in the GK Shopping Market is one of the best-known shops for ready-made blouses. You can contact him & place your orders with him.There are more shops in the back lane too. Walk along and find the best fit. Further , Fabric shops such as Print Center & Super cloth Store are immensly popular.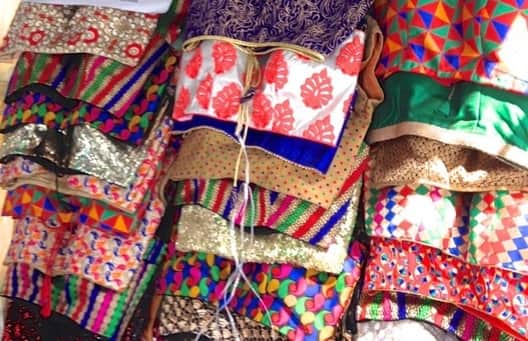 4. Best Shops for Clutches & Sandals in GK M block Market
And then there is footwear & party wear clutches. On the streets and in shops such as Delco, Feetoes and a few others. Sandals in gold and silver, some studded with stones and some in plain colours, some with bling and some with not so much bling, Delhities love to show off their pedicured feet in summer and winter. High heels and boots in black & brown in the latest styles are also available for the fashionable winter parties.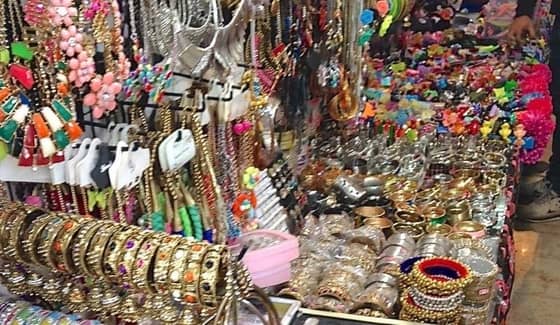 5. Eating Out in GK M Block Market
Yet another reason I visit the GK M block market, is because they have some excellent restaurants and coffee shops. Starbucks is right here in the middle of the market as is Café Coffee Day. Moti Mahal and Karim's have North Indian cusines. Junglee bIlli & Gastronomical kitchen & Bar have some eclectec bar cuisine. If you wish to try German and European delicacies, then you should try Zu Tisch. Folks in South Delhi drive to GK M Block Market for Prince Pan for a snacky chaat. One of the best chaat shops in Delhi. In the GK N Block Market, closeby is Pan Asian food in Dao, Italian food in Café Diva & Spago .In the Punjab & Kasba serve North Indian food.
In addition, I also visit the beauty saloons, Affinity and Gitanjali when I need a manicure or pedicure. I pick up cosmetics form Kunchals. I hop into Morning Stores if I need some healthy snacks or any cooking essentials &  Mahindra  Departmental stores for dining & crockery sets.
There is just so much to do in this Delhi Shopping Market. Go ahead and spend a day in GK M block Market and you will not have a dull moment.
The best time to visit this market is 'anytime ' except Tuesdays.
The market is open from about 11 am to 7.30 pm.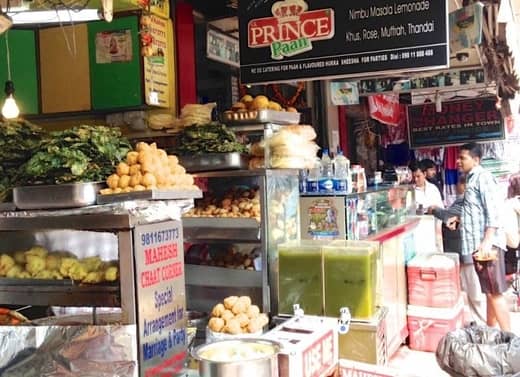 Read