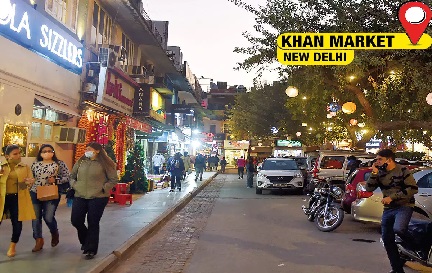 Khan Market
This high-end Delhi shopping market is named in honour of Khan Abdul Ghaffar Khan (popularly known as Frontier Gandhi). He was a freedom fighter & a close associate of Mahatma Gandhi. Khan Market is situated in the heart of Delhi...Read more
This high-end Delhi shopping market is named in honour of Khan Abdul Ghaffar Khan (popularly known as Frontier Gandhi). He was a freedom fighter & a close associate of Mahatma Gandhi.
Khan Market is situated in the heart of Delhi and is close to India Gate.It ranks as the market with one of the highest rentals per square foot in the world. You can look forward to some of the best book shops, Clothing Shops  shops, cosmetics and handicraft shops .It also boasts of excellent coffee shops & restaurants.
Clothing Shops
Fab India and Anokhi are well known shops selling Indian ethnic wear dresses. You will also find designer boutiques selling exquisite Indian dresses. Anita Dongre is one such famous boutique as is Ritu Kumar. They stock beautiful evening wear, party wear & bridal wear dresses. Well known home furnishing shops including Good Earth and Fab India have outlets here. You can even find exclusive garments in Good Earth.  International brands like Benetton, Levis and Adidas add to the international flavor of this Delhi Shopping Market. Amrapali, a famous jewellery shop, is well worth a visit. Silverline sells a good range of silver jewellery and precious stones.  In addition, there are shops for Lingerie, accessories, cosmetics  & sunglasses .
 Biotique, Kama & Forest Essentials that sell Ayurvedic products for skin and hair  care have their branches in this Delhi shopping market. The world famous Body Shop has its branch in Khan Market.
Street Shops 
While this Market is popular for luxury shopping there are street shops for Kurtis, shoes, sandals and fashion jewellery. Just walk around the inner lanes to shop. You will also find Mobile repair shops ,shops for electronic products and fruit sellers.
Take a look at the video link:
Street Shopping in Khan Market, Delhi | Shopkhoj
Lamp Shades & Chandeliers
Behind Khan Market is the Lok Nayak Bhavan where you will find lamp shades and chandeliers. There are about 50 shops with interesting deisgns.
Hyde Out for shoes and bags is tucked away here.
Best Restaurants in Khan Market, Delhi
It is not only upmarket with hip places to shop .Khan Market also boasts of great restaurants that dish out international cuisine such as Italian, Chinese and Pan Asian. In addition, there are modern coffee shops where the young hang out. You will also find shops selling exotic vegetables, fruits, meat, imported sauces and cheese.
The leading restaurants in Khan Market are TownHall, Latitude Cafe, Mamago, Chatter House,Big Chill & Khan Chacha.
Book Shops
Bahri Sons, Faqir Chand,Full Circle are some of the best book shops in Delhi which are in Khan Market .
The India International Center for Performing Arts is close by and so is the famous Lodhi Gardens.
Khan Market is both lively and relaxed and is known for exclusive shopping and leading brands. This Delhi shopping market is a favourite among the elite and the young.
Our Recent Blogs:
A new pair of shoes can change your life. Just ask Cinderella
Hot Coffee, Warm Cakes, Good Books and Stylish Shopping – The perfect monsoon afternoon awaits you at Khan Market !
"I can't explain why a bride buys her wedding dress, whereas a groom rents his tux." – Lou Holtz
Days Closed :- Sunday( Several Shops are open on Sunday too )
Timing :- 11 am to 8 pm
Bus/Metro :- Khan Market Bus Stop/Metro station on the Violet Line.
---