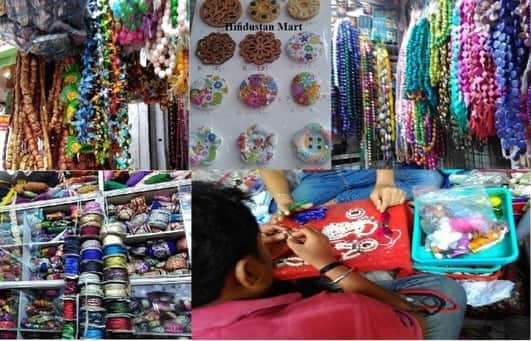 Beads, Bands, Buttons &Borders @ Hindustan Mart, Gariahat, Kolkata
Jul 12, 2018
nabadeepa
4574 views
add comment
Shop for Laces, Borders, Beads and Buttons
Firtsly, where in Kolkata will you go shopping to find laces and borders, beads, bangles, neckpieces and earrings at dirt cheap prices? In Delhi, you will probably visit the Chandni Chowk market and the Lajpat Nagar market. In Kolkata, Hindustan Mart Gariahat is the place where one can easily find everything.
Hindustan Mart Gariahat
Hindustan Mart is a small market in the Gariahat area, besides Basanti Devi College. This market is exclusively meant for raw materials needed for jewellery making, candle making, soft toy & flowers. There are a number of shops where you can find endless varieties of borders and laces, buttons and beads. For instance, there are jewellery findings (findings are the decorative part of the jewellery made of metal or other materials) and many other things.
Best Collections of Borders and Laces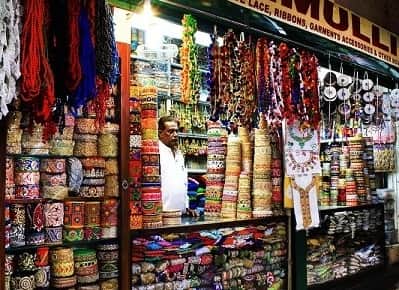 As you enter the market, the first shop you find on your right is well known for the best collections of borders and laces made of different  fabrics &materials. For example, there is a  wide variety of sequined borders & borders with traditional Rajasthani gotta work.  It is beautiful to see the zari borders, designer zari borders, gotta pati borders and embroidered borders in attractive colours. They also have an assortment of laces & net fabrics that can be sewn on to sarees, salwars suits, dresses, tunics and frocks. The prices are very reasonable as it is a wholesale market. In other words, the price of any of these borders starts from Rs. 30-40/meter and increases according to the quality and design.
Hindustan Mart Gariahat: Imitation Jewellery
Further, when you walk further into the market, you will find shops selling an assortment of materials that go into making imitation jewellery pieces. There are beads of every kind everywhere. The chunky bhatti beads, elegant drop beads, super glossy garnet beads and colourful glass beads. That is not all. There are findings for the earrings and neck pieces in imitation gold, silver metal, oxidized silver and dhokra. In addition, there are feathers too. This can be added as an accessory to dresses and with jewellery.
Further, you will also get different types of wires, hooks and studs to assemble and put the whole jewellery piece together. However, if you are not enthusiastic about putting in the effort to make the fashion jewellery yourself, there are people sitting right there to do it for you. You just  have to buy the materials from the shop. The shopkeepers will  assist you and send you to the right person who will then assemble them. For instance, all you need to do is share your specifications  with them. You can get a full string consisting of 50 beads for as little as Rs. 60. How about that?

Pic credit :- YouTube
The Designer Stuff
It does not end here.  In addition, you can find anything and everything you want with which to add on and accessorize your dress. There are ornamental applique(designed patchwork), brooches, a large collection of fancy buttons and several other trimmings and add ons for the dresses. You can just buy a fabric piece and you can get to design your own clothes with all the embellishments. How interesting is that? In conclusion, while designing your own garments and accessories can be time consuming and also stressful at times, the assortment of items available in this market can inspire anyone to at least make an effort and start to be a designer.
Ladies, you are bound to fall in love with Hindustan Mart Garihat.
Other blogs :-
A dip into the hippie fashion @ Sudder Street-Shopping in Kolkata
---
View our videos
SIGN UP FOR NEWSLETTER
Be the First to Know. Sign up to newsletter today