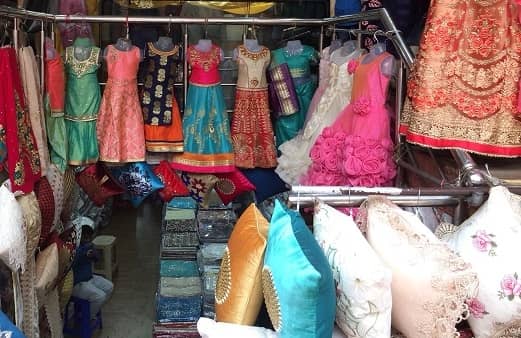 Central Market, Lajpat Nagar is a Paradise for Fabric and Jewellery Shopping
Kausy M
1197 views
add comment
Head to Central Market, Lajpat Nagar for all your quick fix shopping!
Last month, one of my close friends was traveling to Delhi for a wedding and while unpacking suddenly realised she had left her dress back in her hometown! She desperately called me, but none of my dupattas suited the style or colour of her dress.
Thats when I remembered Central Market – Lajpat Nagar. The noisy, messy and crowded open-air market in south-delhi is a quick-fix paradise. We rushed to KC Creations on the front road . The best shop for fabrics in all of South Delhi . As a matter of fact, they have great quality, colours and choice. I know friends who travel for hours from West and North Delhi to buy fabrics at KC Creations. It is best for fabric shopping in Lajpat Nagar.
Fabric Shopping in Central Market, Lajpat Nagar
Rich brocade, benares georgette, crepe silk, rough-silk, deep velvets, shimmery satins, breezy lace, colourful cottons, summery chiffons. Above all,  you name it and one of KC's 4 floors would surely have it!
We picked out a white georgette fabric with self-embroidery for Rs. 900.  Further, I also picked up a rich, turquoise and gold brocade fabric for a saree blouse that I wanted to stitch. It cost me  for Rs. 1200.
We then hurried to the small bench at the corner of the same lane where KC was located . For instance, there are 3-5 men  who take orders to dye cloth in the color of your choice! We gave them the white fabric we had just purchased and showed them the shade of pink . We said we wanted it dyed in that colour . Further, we received a slip with Rs 250 written on it and were told to be back in 45 minutes.
Borders & Trimmings in Central Market, Lajpat Nagar
So we walked into the tiny lane that sells ribbons, gold and silver rolls of borders. For example, they also had  sequins, silk border strips, hooks, buttons, gem-stones to stick on clothes . We finally  decided to buy a lovely thick gold border that would be stitched on the dupatta.
Fabric shopping in lajpat Nagar- We then walked past Ramjisons, Vastra and Hastkala, the other well-known fabric shops as well as lots of shops that were selling semi-stitched and read-made salwars.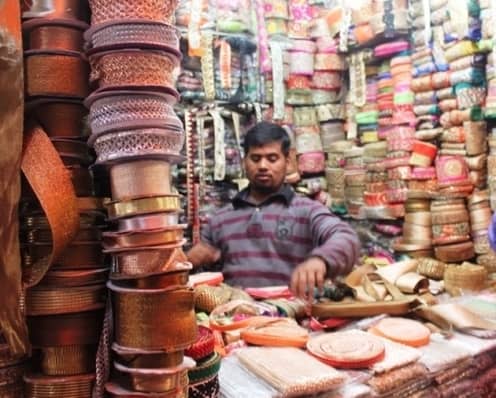 Necklaces & Bracelets @ Central Market, Lajpat Nagar
At the back-end of the market is the 'Jewellery Lane' with a sparkling display of artificial and semi-precious necklaces, earrings and bangles. After a bout of bargaining my friend picked up a full set of 24 pink glass bangles for Rs 800. In addition, she also picked up and matched it with 2 bracelet-sized gold bangles for Rs 300 each!
We also quickly picked up some beauty-essentials. They included hairclips, hairpins, safety-pins, and nail-polish remover and hurried back to where we had met the fabric-dyer.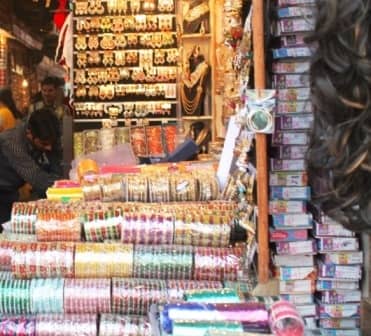 He was there with a bag full of freshly dyed cloth and out came our pink fabric-perfectly dyed! We paid the 250 Rs and just turned around to find a tailor sitting right behind us in one of the shop-porches.
After doing the 'piku' or stitching up the loose threads hanging on the 4 sides, he simply stitched on the gold border and voila- the gorgeous pink dupatta was ready. It now  had  the self-embroidery clearly visible!
In 1.5 hours – we had got a fabric, dyed it to the color of our choice, found a border, got it stitched and bought bangles and hair clips as well!
Thats what I love about Lajpat Nagar– you can find and do things here that are not possible in any other part of Delhi in such a short span of time!
Central Market, Lajpat Nagar is Closed on: Monday!
Read our other blogs
 6 Best Wedding Markets in Delhi 
---
View our videos
SIGN UP FOR NEWSLETTER
Be the First to Know. Sign up to newsletter today