Holi 2023: Celebrate Spring with Organic Colours & Water Guns
Jyoti
1268 views
add comment
Happy Holi 2023
Holi Hai- When Amitabh Bachchan sang Rang Barse Bheege Chunarwali  (meaning -The scarf girl is drenched in water colours. It is Holi) in the  Hindi movie Silsila, and serenaded his friend's wife in the spectacular song, it captivated the  spirit of Holi.
Heroines getting drenched in holi water colours and the men joining in the signing & dancing are some of the popular Holi scenes from Hindi movies.
With the onset of spring, the sound of drums & colours being sprayed everywhere , India is ready to celebrate Holi, the spring festival. It is on March 8th, 2023 (Wednesday) this year.
Applying or spraying colour powder to one another is  the essence of Holi and this is what makes Holi a fun festival for the young & old. Friends & relatives  gather together to celebrate . It is a community celebration. To be caught unawares with a water balloon breaking on your back is definitely not a happy one .
You obviously look around to vent out your frustration and anger at the offender until you remind yourself that the festival of colors "Holi" is here. Or as the popular saying goes "Bura na mano Holi  Hai" (Don't take it to heart. It is Holi.).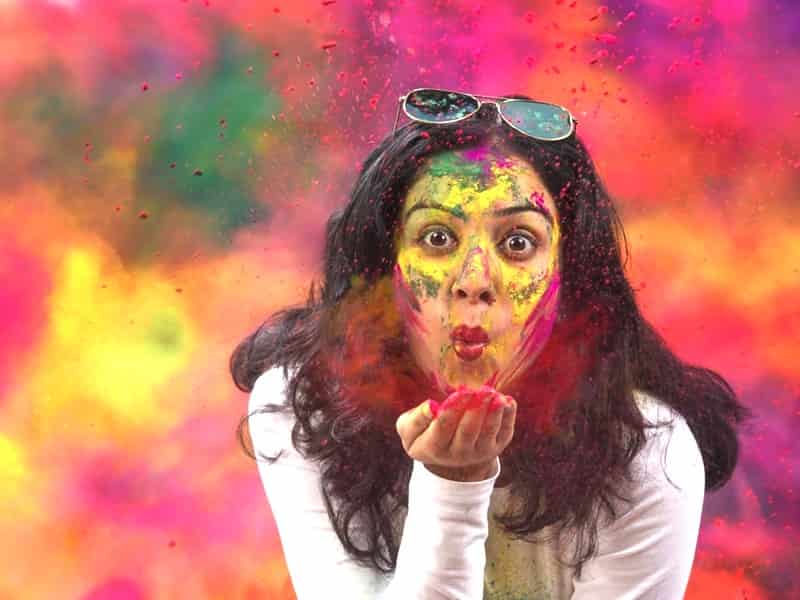 Rejoice -It is Holi
Communities need to rejoice, embrace & have a social connect . These festivities & celebration help to create  such a bond .
Holi is the Spring festival to be celebrated with colour powder, or gulal.   It is celebrated  in North India. Maharashtra, Gujarat, Rajasthan, Punjab, Haryana, Himachal Pradesh, Uttar Pradesh, Bihar, Uttarakhand, West Bengal are the States where Holi is predominantly celebrated. It is the joy of colours that adds life  and brings cheer to this festival. Dry & wet colours are used to play at Holi. Friends & family do not stop with just gently applying colours on the cheek. In other words, the hair, the clothes and everything visible is sprayed  with holi colours.  It is a physical game which adds more fun to the whole festival.
Film Holi Parties
For instance, Mr. Raj Kapoor used to host the holi parties in his RK Film Studios & all the small & big film stars would be part of the celebrations. Industrialists host film parties too. Holi was a big affair. The Diwali & the Holi festival are the two festivals that people really look forward to in India.
Why is Holi celebrated?
Every year, the celebrations start off on the evening of Purnima (the full moon) that comes in month of 'Phalguna'.
As a matter of fact ,the first day is known as Holika Dahan, or Choti Holi. For example, festival-goers light a large bonfire to ward off evil spirits as part of the religious ritual. The tradition is to assemble around the fire and offer a prayer for the prosperity and well-being of their loved ones.
The Story of Holika Dahan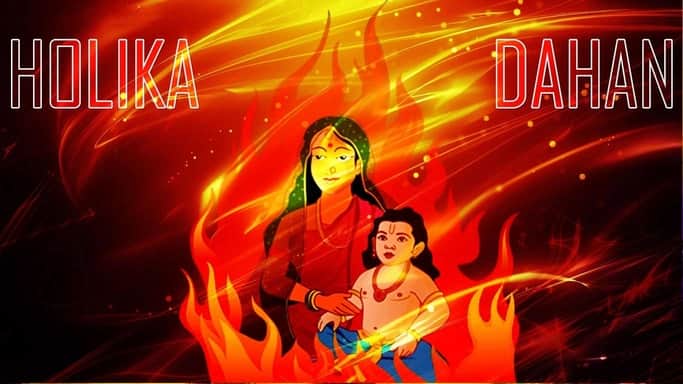 Legend has it that once a powerful but wicked king Hiranyakashipu saw himself above the Lord. He, along with his sister Holika, conspired to kill his son Prahlad who was an ardent devotee of Lord Vishnu. However, Lord Vishnu chose to manifest himself as Narasimha to kill the King (otherwise immortal) and his sister. Above all, this story from Hindu mythology characterises the victory of good over evil.
The Story of Radha and Krishna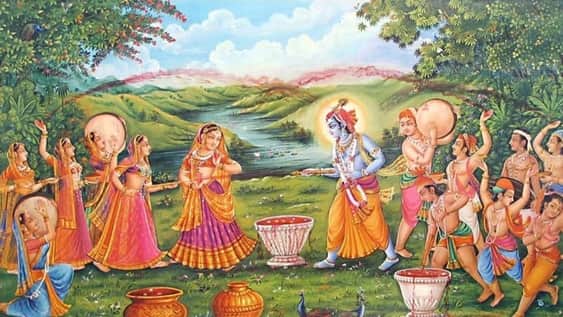 This festival has a connection with another mythological legend. Not many people are aware that the Holi  celebrations of Mathura and Vrindavan revolves around the divine love of Radha and Krishna.  As a mattter of fact, the story goes that Krishna was quite jealous of Radha's fair complexion and hence put colored powder on her face.The beautiful scene of Krishna playing holi with Radha and other gopis(friends) paved the way for the festivals of colors.This is the reason why the second day of Holi is popularly called Dhulandi or Rangwali Holi.
Children, adults and even elderly people play with gulaal or colored powder, water balloons and water guns,popularly called pichkaaris. Moreover, people joyfully dance to the beats of drums and other musical instruments. Don't be surprised if you find them singing and dancing  with gay abandon.On this day, people let go of any feeling of hardship and embrace each other. The festival thus helps create new beginnings and new friendships.Hugging & spraying colours is all part of the celebration.
Best Places to Play Holi in India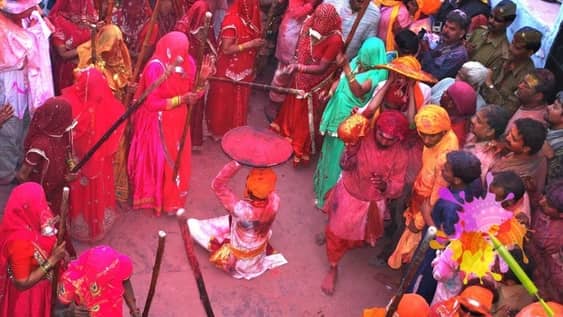 However, Holi is best celebrated in the streets of India's villages and towns.
Barsana and Nandgaon villages in Uttar Pradesh celebrate Lathmar Holi where women are seen beating up men with laths or sticks.People in West Bengal celebrate spring-inspired Holi in the form of Dol Jatra. In Uttarakhand, Kumaoni songs based on classical ragas are sung melodiously during Holi.
Delicious Gujiyas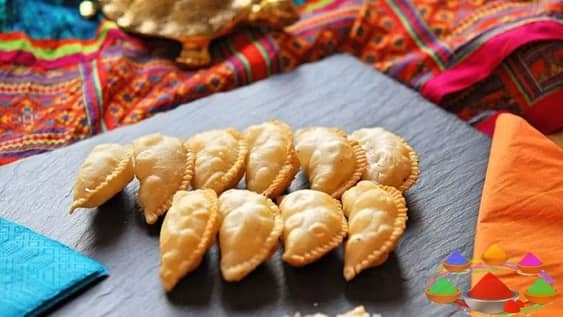 Can you already smell the festivity (read gujiyas) in the air? This half-moon shaped, syrupy delicacy with the filling of khoya, raisins and other dried fruits is specially made during Holi. It melts in your mouth so effortlessly.
Customary drinks like thandai and baang(spiced drink) are also popular in Holi along with other delicacies such as dahi balle.
If you haven't decided yet where to shop for all the festival paraphernalia, we have got you covered.
Holi Attire
White is the preferred attire for Holi celebrations. White kurtis, salwar kameez, shirts, dhotis are worn on this day. This is because, the pink, the red & all other colours will reflect on the white well. People normally wear old clothes that can be thrown away. The colours are bound to spoil the clothes and hence the choice of old  worn out clothes.
Cartoon Character-inspired Pichkaaris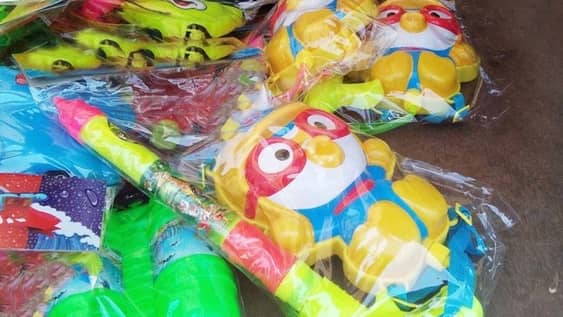 You can shop for animated water guns (pichkaaris), water balloons, gulaal, natural and organic colors, dazzling wigs, and other stuff from various markets in the city to liven up your Holi party.
You may like to pick one of those pumps with colorful water tanks for your little ones. They come in different designs like Angry Birds, Iron Man, Doraemon, Chotta Bheem, Spiderman, Hulk, Ben 10, Mickey Mouse, Motu Patlu, Barbie, and Disney Frozen, among others.
You know which cartoon your kid love to watch at any given time. So you may accordingly decide his/her favourite character-inspired water gun for the festive celebration. It is also advisable to check the capacity of the water tanks as per the age of your  child . They are all available on Amazon.
Best Markets for Holi Shopping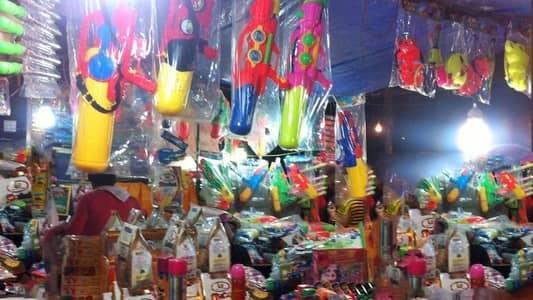 Sadar Bazaar, Chandni Chowk, Dilli Haat, Lajpat Nagar and Sarojini Nagar are some of the prominent markets for Holi shopping in Delhi.
And if you happen to visit Chandni Chowk aka the paradise for food lovers, you can't skip the delicious dahi balle, mouth-watering chat, crispy kachoris, matar samosas, lick smacking kulfi, irresistible jalebis, and frothy refreshing lassi.
We suggest you not to shy away from exploring all the treasures hidden in this very old market in Old Delhi.
Herbal Colors: Go Natural this Holi 2023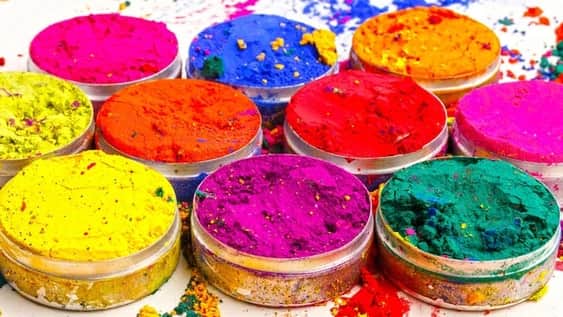 There is a lot of talk about celebrating this festival with chemical-free herbal colors. Let us be conscious about the environment
Gulaal is usually prepared with chemicals like lead oxide, copper sulphate, aluminium bromide and mercury sulphite. They help in producing various types of colour shades such as black, gold, silver and magenta.
The chemicals are quite damaging for your hair and skin. They may trigger rashes in skin or abrasion and irritation of eyes too. In some cases, they become the ground for serious health issues. Furthermore, these chemicals are detrimental to our natural surroundings as well.
Natural Colours
The best alternative  is to go for herbal natural colours. For these eco-friendly colours, natural dyes are used which are sourced from wood, barks, flowers and even roots of various plants. They are not only safe for your hair and skin but also come in multiple hues. Popular ones include yellow, pink, blue, green, orange and more. Even though they may cost you a little more than their chemical counterparts, you can be happy with your choice as it will not harm your skin or hair.
The other option is to make your natural Holi colours at home. For instance, you can make gulaal by blending 100 grams of turmeric powder with 200 grams of arrowroot powder. You can also add 50 grams of marigold flowers along with 20 grams of powdered orange peel. Finally add 20 grams of lemon to the mixture to get yellow-colored gulaal for your Holi celebration. For instance, beetroot juice, spinach extracts & turmeric can be added to cornflour to make a simple, organic & natural  Holi colours.
 Safety Tips for Holi 2023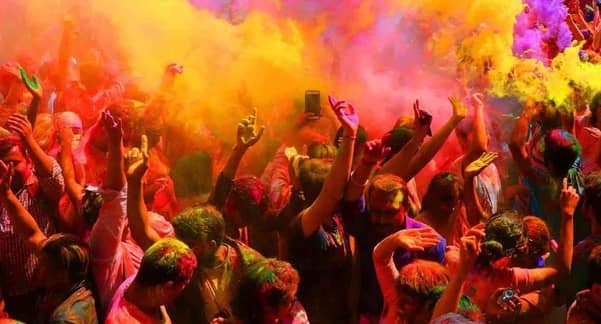 So you have chosen to go organic this Holi? But you never know if your friend is using one or not! How do you ensure that  your hair and skin are well taken care of while you indulge yourself playing Holi?
It is always advisable to apply a sunscreen of SPF 20 and above 20 minutes before heading out to play Holi. For very dry skin, apply a moisturiser too few minutes after using the sunscreen. Make sure you cover all exposed parts of your body!
Next, use pure coconut oil all the way from roots to tips to protect your hair from harmful chemicals. You may also go for jojoba and castor hair oil. This will hamper toxin-laden colours from sticking to the strands of your hair. You could opt for leave-on conditioner or hair serum to layer your hair.
Holi Accessories Online:-
Finally, get ready to buy holi2023 accessories online
https://www.amazon.in/SM-FASHION-Favorite-Magic-Balloons/
https://www.flipkart.com/
We have decided to play a safe and eco-friendly Holi this year. What about you?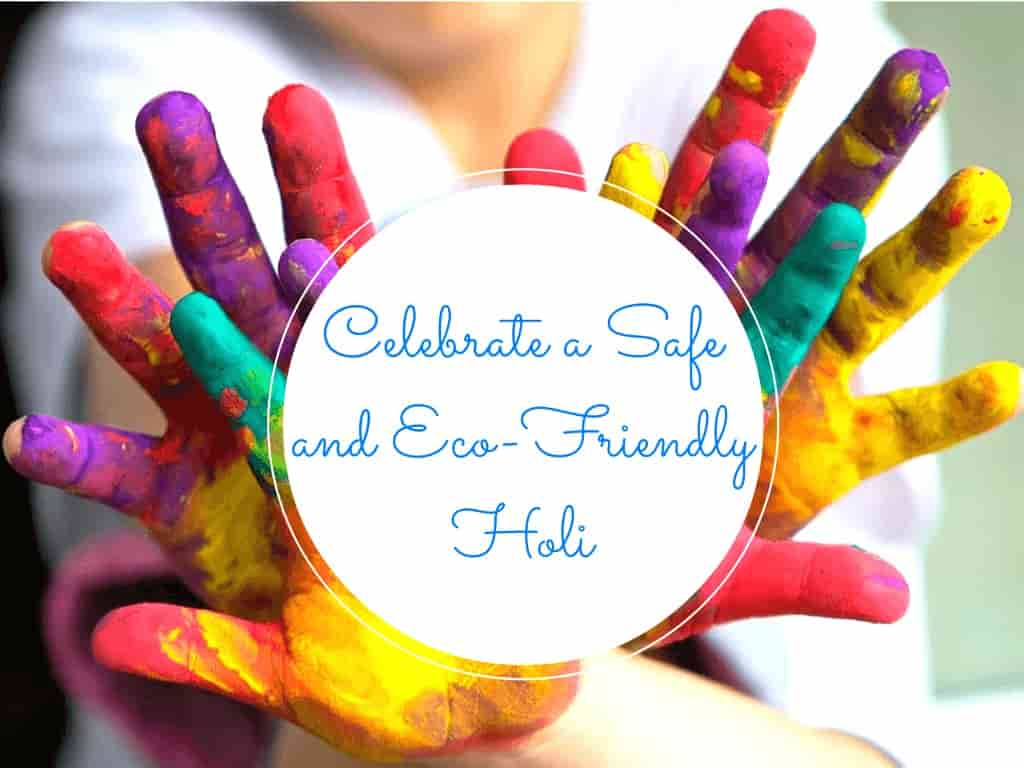 Read our blog on Best Ethnic Dresses for Holi
---
View our videos
SIGN UP FOR NEWSLETTER
Be the First to Know. Sign up to newsletter today