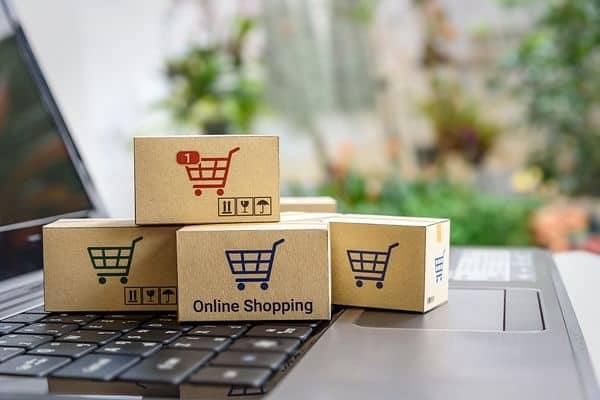 Online Shopping: Top 15 Indian Brands We All Love
Monika Chauhan
286 views
add comment
The ongoing COVID-19 crisis continues to keep shoppers away from markets and malls to shop for fashion and daily essentials. Given the pandemic, the fear of contagion remains constant even after easing of lockdown norms. No wonder e-commerce or online shopping in India has come out as the strongest retail channel today. In line with the current market trends, Shopkhoj.com has got the best online shopping websites with ethnic wear and personal care brands under one roof.
Check out these Top 15 online shopping  brands India absolutely loves…
Online shopping for Ethnic Wear: Kurtis, Salwar Suits, Anarkalis, Sarees & Lehengas

FabIndia
A visit to the Fabindia store is certainly nothing short of a great shopping experience for ethnic wear. The range is huge. From ethnic kurtas, kurtis, and salwar kameez, you can explore here ethnic salwars, palazzo pants, churidars and dupattas in a range of colours and style. In other words, everything contemporary.
 Further, this Indian brand is simply loved for being natural, and affordable. The brand connects over 55,000 craft based rural producers to modern urban markets, preserving India's traditional handicrafts in the process.
Founded in 1960, Fabindia started out as a company exporting home furnishings. The first Fabindia retail store was opened in Greater Kailash, New Delhi in 1975.
By the early eighties, Fabindia made its mark in the industry for garments made from hand woven and hand printed fabrics. The brand introduced its non-textile range in 2000, while personal care products followed in 2006. The brand later added handcrafted jewellery to its diverse range of products in 2008.
Biba
Talk about comfy kurtis, salwar suits and gorgeous anarkalis, no other brand does minimalistic glam better than Biba. Further, the brand has been a favourite with ethnic lovers since 1986. The Indian element is very much visible in their ethnic wear range, thanks to their Indian crafted look, hand-block prints, and vegetable dyes.
Do check out their range of simplistic churidars, leggings and dupattas. You will surely fall in love with flowy materials, eye-pleasing designs, and beautiful geometric patterns. For instance, the Salwar Kameez range attracts women shoppers with all the trendy patterns and colors. Check out their Anarkali suits paired with slim pants and asymmetric suits with palazzos and straight suit-pants combo.
The latest collection has trendy high-low kurtas, asymmetric kurtas, collared office wear kurtas, ombre kurtas, straight kurtas, and A-line kurtas.
Anokhi
What puts this homegrown brand apart from the rest of the brands on our list is its fusion of modern and traditional wear. The colourful collection of flowy and comfy kurtis is available with patchwork, block prints, appliqué, embroidery, and vegetable dyes.
This Jaipur-based brand certainly does a superb job at bringing all those traditional crafts back to your ethnic wardrobe.
As pioneers of hand block printing for the export market, Anokhi has built on these for the last 30 years.  For instance, Anokhi's designs effortlessly blend the bold and the striking, as well as the graphic and the colourful.
The brand surely stands out for the ongoing revival of traditional textile skills.
Global Desi
Looking for all things quirky and fluid in ethnic wear? Well, check out Global Desi's wide range of kurtas available in vibrant colours and prints.
Founded in 2007 by Anita Dongre, this Indian brand offers a fine blend of fusion prints and rich colours. Global Desi is better known as a free-spirited brand of boho-chic ensembles.
Their distinctive traditional pieces are something that all women love to pull off with elegance. With sizes varying from extra small to extra large, their collection also includes crop tops, capes, and tunics.
Global Desi is currently available at 146 exclusive brand outlets and 402 multi-brand stores across the country. Global Desi opened its first outlet in Mauritius in 2013.

Nalli
With a legacy spanning over 90 years, Nalli Silks has certainly earned the patronage of customers across generations. This iconic South Indian brand specializes in silk sarees typical to Tamil Nadu.
The brainchild of Nalli Chinnasamy Chetti, Nalli Silks is a household name for exquisite silks. The many decades of experience in the industry certainly give this brand an edge in offering original designs in sarees.
Above all, Nalli has broadened its focus from being a well-known saree-retailer to one of the most trusted names in fabrics, apparel, and home furnishings.
Nalli Silks is your Mecca for everything from exquisite traditional silks to lightweight fabrics like crepes, chiffons and georgette sarees.
From everyday wear to festive wear, the brand stocks everything to suit your taste and lifestyle.
Ritu Kumar
One of the dominant players in the designer wear segment in India, Ritu Kumar as a brand has been admired and worn all over the world.
Interestingly, Ritu is the first woman to kick off the 'boutique' culture in the country with the launch of her first store in 1960s in Delhi. Therefore, she is a trendsetter.
From flowing kurtis to finest sarees and stunning lehengas, the collection is all about luxury in a contemporary style. The embroidery on the couture bridal wear range perfectly matches the taste of a modern bride.
The company sources the finest fabrics and craftsmanship from across the country. The goal is to revive great textile skills and provide employment to hundreds of artisans.
Meena Bazaar
When it comes to the top ethnic wear brands, Meena Bazaar boasts of 5 decades of celebrated history in the Indian market. Started as a small store in 1970, the brand can now be found all over the country with 100+ showrooms.
Be it a wedding, party or trousseau shopping, Meena Bazaar has something for every occasion at great prices. The luxe collection comprises sarees, lehengas, gowns, suit sets, kurtis as well as accessories.
The embroideries and embellishments in Meena Bazaar's traditional bridal wear makes all women go gaga.  For example, be it stunning sarees or gorgeous lehengas, you will find each piece crafted with exquisite details and fine fabrics.
Satya Paul
One of India's premier design labels, Satya Paul is renowned for its innovative designs in sarees. At a time when there was little or no awareness about fashion or the idea of designer brands in India, Satya Paul introduced the idea of choreographed collections in 1985.
The brand is now present at over 35 locations in India and select high street boutiques abroad. For instance ,the brand's take on print innovations and use of vivid color palettes certainly revamped the way consumers looked at sarees. Satya Paul carved a niche for itself in the concept-based designs.
Women no longer restrict themselves to just Banarasi or silk sarees. This is because a Satya Paul saree is easy to wear and chic to suit any grand occasion. We are sure you too will find it tough to get over the tribal prints, floral motifs and pastel shades.
Online shopping for Personal Care Products
Shahnaz Husain
The renowned face of Indian beauty cosmetics, Shahnaz Husain started her herbal salon in the country way back in 1971. Above all, being a staunch believer in the ancient medical science of Ayurveda, the founder of the Shahnaz Husain Group has since been working towards promoting India's 3,000-year-old civilisation around the world.
Today the brand is operating in over 100 countries with its exports and franchise ventures.
What sets the brand apart is how it recaptures the ancient herbal system to make it relevant to modern customers. Shahnaz Husain boasts of nearly 375 innovative formulations for general beauty care, treatment of skin and scalp disorders, health and fitness.
In these products, the brand makes use of 100% ingredients from botanical sources. These include honey, cucumber, rosewater, flower extracts, neem and sandalwood.  Hence the popularity. We particularly liked products  such as  Shaglow, Shalife and Shamask which really do wonders for your skin.
Kama Ayurveda
There is yet another tried and tested Indian brand that blesses your skin and hair with epic results. Started in 2002, Kama Ayurveda is well-known for its iconic beauty treatments. They offer a complete range of body care and aromatherapy products.
Soap free face cleansers and natural plant masks, for instance, are made with organically grown herbal ingredients to enhance beauty and well being.
With its range of Ayurvedic products, the brand says "No" to any kind of artificial colours, artificial fragrances, petrochemicals, parabens, urea, propylene glycols or other harmful additives.
Forest Essentials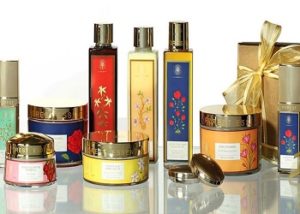 With its roots in the ancient science of Ayurveda, Forest Essentials was founded in 2000 by Mira Kulkarni in New Delhi. Today it is popular as the quintessential Indian beauty brand that combines the ancient beauty rituals of Ayurveda with a modern aesthetic.
Moreover, Forest Essentials offers handmade products across four categories: facial care, body care, hair care and wellness.  For instance, the beauty of these products is that they are not made in factories in industrial areas. They are in fact extracted from nature's vast repertoire in the Himalayas.
What we  finally get are fresh seasonal formulations using rare plant extracts, pure cold pressed oils, and herb infusions.
Biotique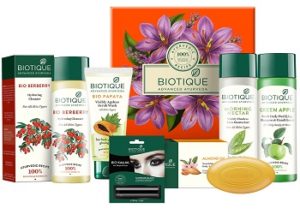 Biotique
If we are talking about natural products, we definitely can't miss out on the premium Indian Ayurvedic brand Biotique. Founded in 1992 by Vinita Jain, the all-natural beauty brand sells formulations derived from botanical extracts.
With 100% natural botanicals, Biotique definitely offers natural goodness for your health and beauty. They have a wide  range  of skincare and hair care products. Right from innovative cleansers, skin protection creams, replenishing night creams to hair oils, shampoos and conditioners, they have amazing preservative-free solutions for everyone.
Department Stores- Best online shopping in India 
Shoppers Stop
Finding online shopping tedious? Well, check out Shoppersstop.com, one of the best online fashion destinations in India.In other words, you can shop for everything out there.
This Indian department store chain opened their first store in Andheri, Mumbai in 1991. Above all, they boast a huge collection of clothing, accessories, handbags, shoes, jewellery, fragrances, cosmetics, health and beauty products, home furnishing and decor products.
Find everything in one place, whether it is women's ethnic wear from W & Biba, or salwar & churidar sets from exclusive brands like Haute Curry & Global Desi. Also, you can easily browse through exclusive offers and bag some of the best deals available at Shoppers Stop.
Lifestyle
A family favourite, Lifestyle is where you can treat yourself with anything and everything under the same roof. Part of Landmark Group, Lifestyle brings multiple categories including men, women and kids' apparel, footwear, handbags, fashion accessories and beauty under the convenience of a single roof.
Further, Lifestyle provides customers with hassle-free shopping, offering leading national and international brands at its online store lifestylestores.com.
Above all, Lifestyle is present across 77 stores, 44 cities and delivers to over 26,000 pin codes.
Max Fashion
Max was established in India in 2006 with the launch of its first store in Indore. For instance, Max India has a reach that extends to over 60 cities. Boasting a loyal customer base of over 5.5 million, Max offers apparel, footwear and accessories for the entire family – women, men and children.
Moreover, one can explore the latest in international fashion from around the globe, as well as Max's own label of in-house designs in a host of colour palettes. In other words, shoppers certainly enjoy great prices on a range of over 3,000 styles every season, in brand-new designs and fabrics.
Do let us know in the comments below which one is your favourite brand and why.
---
View our videos
SIGN UP FOR NEWSLETTER
Be the First to Know. Sign up to newsletter today