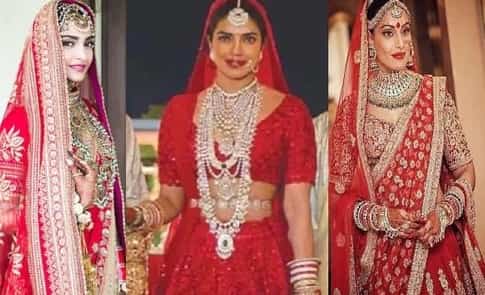 7 TIPS TO CHOOSE A BRIDAL LEHENGA
Ananya Madhavan
15153 views
add comment
Bollywood heroines  Deepika Padukone's crimson & gold lehenga& Anushka Sharma's flowery pastel lehenga, which they wore on their respective wedding days, are coveted by Indian brides .The bridal lehenga was by couturier  Sabyasachi Mukherjee in both instances. Priyanka Chopra was another heroine who wore a red  monotone bridal lehenga by the same designer.
The Lehenga Choli-Rural Dress
Have you ever visited Jodhpur and the surrounding desserts in the State of Rajasthan in India?  The sight of rural women in their long-plaited skirts with a full sleeves blouse and an odini or scarf covering their head is in sharp contrast to the dreary dessert. For example, her dress in simple cotton is not elegant or glamorous. She has minimal jewellery in silver or white metal except for the traditional maang tikka on the head. However, the brightly coloured unmatched ensemble, known as the lehenga choli, is a show stopper. The lehenga is the skirt & the choli is the blouse. It is the traditional garment of Marwari women in Rajasthan. Above all, It is this lehenga choli that has captivated the imagination of today's brides.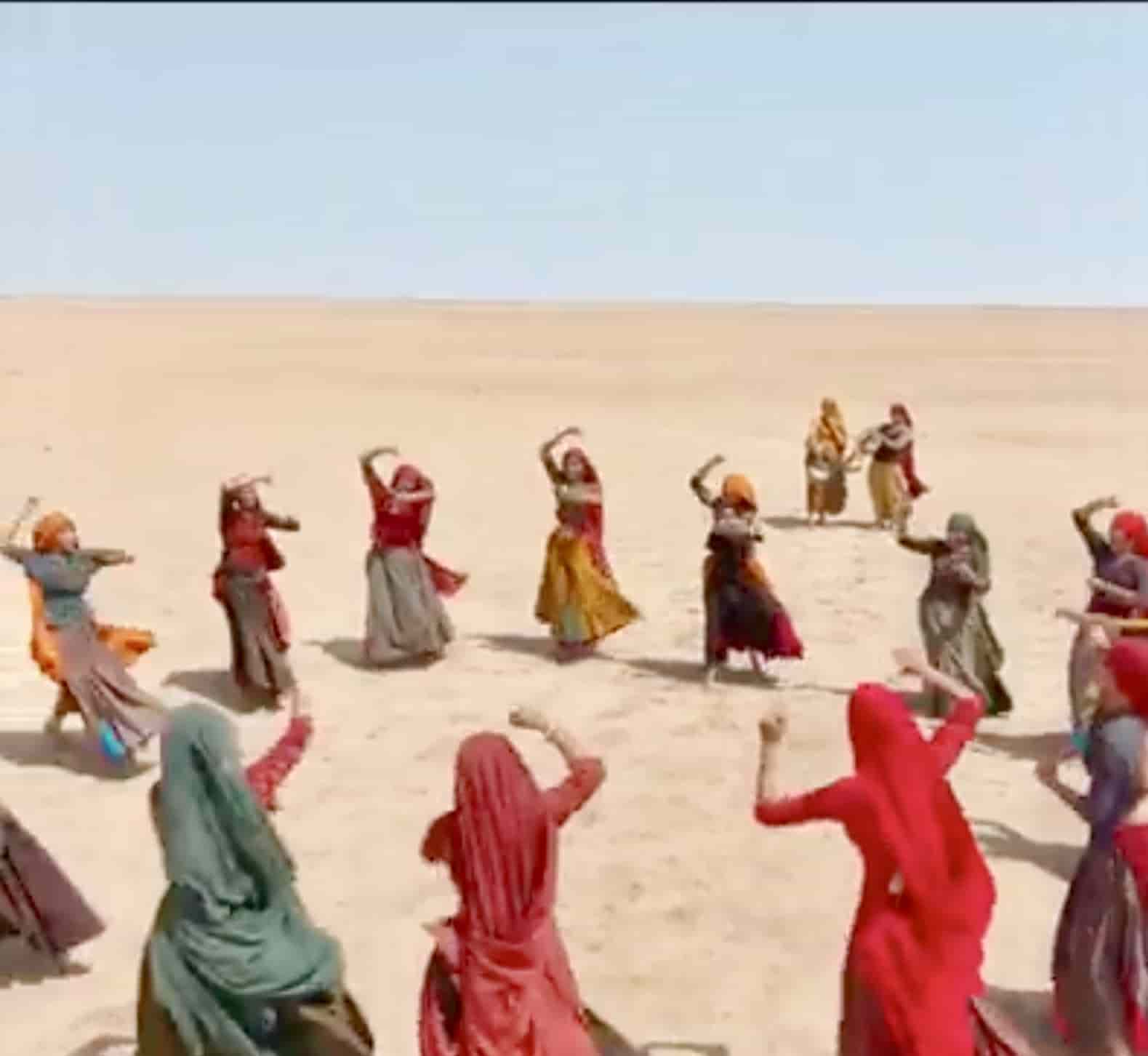 Royal Consort's Bridal Dress
If one were to visit  the Royal forts & palaces in Rajasthan, one can observe the bridal lehengas worn by erstwhile queens & princesses. The grandeur of the bridal finery on display, replete with  palanquins is like a fairy tale. These exquisite lehenga cholis were made with the finest silks, with gold trimmings.
From Marwari brides to Bollywood brides
Picture  Neetu Singh & Jaya Badhuri, yesteryear Bollywood heroines, as brides. They wore a traditional saree on their wedding day. Today's  heroines, like  Priyanka Chopra, Anushka Sharma & Deepika Padukone, choose to get married in a gorgeous lehenga choli.
The lehenga has moved from the villages and homes in Rajasthan to clothe Bollywood brides.  above all, Ace designers like Sabyasachi  Mukherjee, Abu Jani & Sandeep Khosla, Anamika Khanna and Shantanu Nikhil, to name a few , have transformed the traditional lehenga choli with their creativity and imagination.
Modern Brides
Today, it is a fashionable garment worn at cocktail parties, pre wedding functions and as a bridal couture of course. Women are courting the modern lehenga choli for the trendy+ traditional  appearance. There is a certain feminine grace to the garment that is unmatched. Further, the choice of  fabric, the colours and the  embroidery done on a lehenga is so varied and magnificent. This kind of intricate workmanship is unique. At the same time, the lehenga can  appear modern, sporty & seductive too. Thanks to the designers .Girls today want to retain their individuality and try out new styles. Even if they can afford heavy & expensive lehengas, they are desirous of wearing simple lehengas and stylish blouses. And modern lehengas are light, wearable and fun creations in joyous colours.
They are practical outfits that are  light weight. Brides are interested in the comfort and wearability, in keeping with the times. The wedding function has become more fun & not dictated solely by  traditional customs.
  FABRICS
The  fabric can be organic cotton or  organza for a voluminous lehenga, a Banarsi silk, raw silk  or velvet  for a traditional one and  Chanderi silk or  georgette  for the delicate look. The design itself could be a simple straight lehenga or a  billowy  one, a pleated lehenga  or a mix between a dress and a gown. The styles vary. The drape of each fabric is different and they can be styled in multiple ways . Silk will be more expensive than say a georgette lehenga or one in Chanderi fabric.
BRIDAL LEHENGA DESIGNS
Some  come with delicate embroidery & large floral motifs. Some  with intricate details and  zardozi work. There are floral prints, metallic work, multicoloured thread work ,gold sequins & resham and so on. The options are plenty. Lehengas can have a geometric design, straight line panels known as kalis, flowery motifs all over and zig zag design too.
The blouses  or the cholis also come in several designs.
A sleeveless blouse, a bralette blouse, a traditional half sleeved blouse or a full sleeved blouse. Long jacket blouses could also be tried out.
 Drape/Dupatta/Odni
The odni or the dupatta could be the most attractive piece  with heavy embroidery or one can choose to downplay it. It can be heavy in velvet or light in georgette.Good chances are you can be highly confused. That is why Shopkhoj has come up with a set of 7 things to remember when you choose one.
How to choose a lehenga
OCCASSION FOR A LEHENGA
If you are the blushing bride,  then it is important that you choose the bridal wear that you most  desire. It is also important to be a happy bride. Remember the glow comes from within. The dress will only complement the glow. That said, if you are looking for a bridal lehenga ,you will need to select the colours you prefer & the kind of detailing in the dress. To have a grand  bridal dress or an elegant but lighter one is a personal choice. A grand bridal lehenga in silk or velvet  typically has lots  of zardozi & embroidery work done on it. It can be heavy too. Maybe weighing up to 20 kgs!
You could also be looking to wear a  thsi dress for an  engagement function, a  cocktail party or sangeet function. Alternately ,it could be for your friend's or cousin's wedding too. In which case, you will definitely want to go for a simpler lehenga in georgette or Chanderi fabric.
PRICE POINT
They are available from Rs 600 to Rs 6,00,000 a piece. As is evident, the  price range is huge. Simple lehengas that are made in bulk are available online at Rs 600 to Rs 3000/piece. They are available in georgette and Chanderi  printed fabrics with minimal work done on them. If you would like one of those, please take a look at websites such as  Amazon, Flipkart, Biba, Ajio, Myntra and so on.
More expensive lehengas available in bridal lehenga shops and online shops too. There are designer lehengas too  starting from Rs 2,00,000/piece.
Readymade options at Bridal lehenga shops
There are reputed shops with a range of readymade  lehengas. Frontier Raas, Meena Bazar and OP Jawaharlal  are well known shops in Delhi, Kay & Moksha in Chennai, Aza Fashions & Seasons  in Mumbai, Deepam Silks in Bangalore, Zari and Pratap Sons in Jaipur and so on. All these shops have lehengas starting  from Rs 10000/piece to Rs 2,00,00 /a piece. For instance, there will be at  least 50-60 options in the store to try out. They stock both heavy and light lehengas with  a range  of exquisite embroidery.
When you shop for an  expensive lehenga, it is always better to see it, feel it & try it. Some of these shops have imitation jewellery and wedding wear sandals also. Hence, it will be good to try the outfits in the shop wearing the sandals & jewellery too. You would like to check how it looks on you .If you are happy with the colour, the design, the embroidery and everything else, well it is time to take out your wallet. Suitable alterations would be done to the garments as requested in the store. In fact, Shahpur Jat Market in Delhi has designer stores by  young & upcoming designers. They are definitely less expensive than luxury lehengas.
Online Lehenga shops 

Today you have a choice of buying lehengas online.  They come in small medium & large sizes. However, one may have to do some alterations to the blouse to get a good fit. The lehenga itself could still work. When making an online purchase, one will have to make sure if the lehenga is semi stitched or is a fully stitched piece. A semi stitched lehenga will have room to make adjustments and alter measurements to suit your size.
Additionally, one has to check if the lehenga ,choli & odni come as a set.  An evident point is of course that one should read  the reviews and the  return options before you order online.
Further, you will be happy to know that certain well known designers have their online site as well. Anita Dongre & Ritu Kumar to name a few. You can comfortably make your purchase there.
Bespoke Tailoring

Firstly, this is always an option. One can always get a lehenga tailored at good tailoring houses. For instance, you can choose the fabric, the colour, the type of embroidery that you would like and then  design the whole piece. You could go for  different colour combinations. Further, It  could be starkly different from what is available in the shops in general. You can collaborate with the tailor to decide what you want and at the price at which you want it done. Above all, It will be a custom piece just for you. You can choose versatile colours and patterns that can be mixed and matched with other items in your wardrobe.

or  at Shalini Kakkar https://www.instagram.com/shalinikakkardesigns/

The Luxury Lehenga-Designer Wear
There are several Indian designers of international repute. Designers like  Tarun Tahilaini, Rohit Bal,  Abu Jani Sandeep Khosla, Anamika Khanna , Ritu Kumar and  Anita Dongre have retail showrooms where one can go & check the designs available.  Sonam Kapoor wore a bridal  lehenga by Anamika Khanna. Each piece is unique and distinct in style, creativity and choice of fabric & work. You may have to make an appointment with the designer to discuss your design.  As mentioned earlier, a few of them also offer their dresses  for online purchase. As is common knowledge, designer lehengas are  luxury purchases and are expensive. There is a premium for the original design & creativity, the fabric, the workmanship and the customisation. In addition, some of the designers would be willing to customise existing pieces to suit individual preferences.
7. Lehengas on Hire
if you are interested in renting a lehenga, whether it is for your own special day or for any other occasion, there are several stores in Delhi from where you can do so. For instance, if you want a heavy zardozi worked lehenga and you do not want to spend a tidy sum on purchasing one, you can always rent them for the occasion. In addition, you will be surprised at the number of shops that have lehengas and saris on hire and the variety of dresses that they stock.
Let us leave you with what  socialite Isha Ambani wore at her wedding .
She  wore  a  maroon  velvet lehenga  with  zardozi  in silver, sitara & dabka with beautiful floral motifs and a blouse  with intricate buttis and a  thick border on the skirt. The dupatta was  a velvet drape. Further, Nita Ambani, her mother, was also spotted in an almost identical lehenga in royal purple. This was again by the renowned Sabyasachi Mukherjee.
Take a look at the bridal wear shop links given  below or go online and check out.
Best shops for lehengas in Delhi
To conclude, the Lehenga choli is the ultimate conventional  dress for the modern women of today. It can help her feel comfortable and & stylish from within.
---
View our videos
SIGN UP FOR NEWSLETTER
Be the First to Know. Sign up to newsletter today