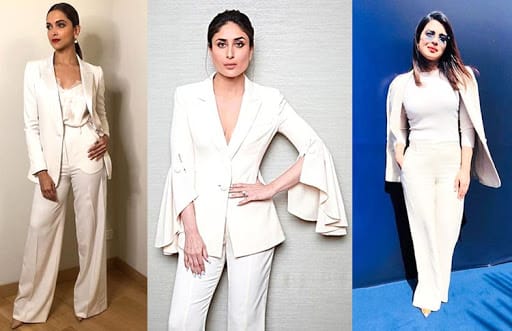 FASHION TRENDS- Indian Bride Ditched The Lehenga For A Pantsuit
Ananya Madhavan
352 views
add comment
The fantastic range of designer wear sarees & lehengas that India is well known for did not captivate one Indian bride. Instead, she chose to be unique and wore a pantsuit on her wedding. The traditional red saree or lehenga, the customary bridal wear, was replaced this time by a blue coloured pantsuit. Blasphemous ? Revolutionary ?
Indian brides love to wear bright, colourfully embroidered attire with a lot of sparkle & glitter on their wedding. It is one day in their lives when they love to dress up in exquisite traditional wear and will not spare any effort to get the perfect look. They will go to any length to visit multiple shops & shopping markets to purchase the  bridal lehengas of their choice. It could be a very expensive customised bridal lehenga from one of the ace Indian designers or a simple & modest one from one of the million stand-alone stores. In any which way, it is an elaborate & painstaking affair to choose & acquire the bridal lehengas or saree.
How did this bride choose a pantsuit ?
In this instance, the Indian bride  decided against a  traditional salwar kameez , saree or a lehenga and wore a pantsuit. The freedom of choice gives young men & women to choose  how, where & when they will get married. They love to experiment  & be unconventional. Modern young adults decide the venue & the conduct of the marriage ceremony celebrations. Hence, why not the wedding attire? With Covid dictating the strength of the crowd at weddings, one is free not to conform to customary wedding wear and expectations.
The more important question is moving from an Indian traditional dress to a completely western attire for an Indian wedding. Is this practice here to stay? Could it be that the  prohibitive cost of purchasing an Indian lehenga or a saree and accessorising it the traditional Indian way is pushing young women to seek other options? Or is it simply the audacity or the willingness to experiment and trod on an unbeaten path? There could be multiple reasons as to why young women prefer western attire on this occasion. Young men & women probably want to move away from age old traditions & customs and have a different kind of wedding. Their perspective could be new, unconventional & contemporary.
What is a Pantsuit ?
A pant or a trouser with a coordinated blouse or jacket is a pantsuit. It is a western dress. For example, it is definitely a copy of the masculine style of dressing which is trouser, a shirt & a blazer. It is also called the trouser suit. You will be surprised to note that the pantsuit was considered masculine and women were not allowed to wear this garment in an official capacity till about a quarter of a century ago, even in the United States.
Long skirts with a blouse or jacket were the attire of women till the 1950s and 1960s.
Although the trouser suit was first introduced in the 1920s in London during the World War, it was not common for women to wear them. Formerly, the prevailing fashion for women included a  coat, paired with a skirt or a dress. London designers, Luba Marks & Ossie Clark are credited with having brought the pantsuit to the forefront in 1960s. Yves Saint Laurent introduced his evening pantsuit range in the 1960s. It is believed that Lady Chichester ,wife of Sir Francis Chichester who was knighted by the queen, publicly wore the pantsuit for the ceremony.
Pantsuits for women
To protect themselves from the cold weather, women in US had to fight to wear pants & trousers in the winter months. Until 1993, women were not permitted to wear pants in the US Senate. It was considered unladylike. Senators were expected to dress in skirts and blouses. Above all ,pantsuits were considered masculine & hence inappropriate clothing for women. This is a far cry from  the time of Hillary Clinton, who almost exclusively campaigned in pantsuits.
Pantsuit Fashion
In the West, pantsuits for women are quite a common form of dressing today. In addition, designers promote bridal pant suit fashions through celebrities. Sophie Turner of Game of Thrones wore a pant suit at her wedding in Las Vegas. Sana Marin, the Prime Minister of Finland, made it to  a fashion magazine cover  wearing  a pantsuit.
 White for women
Bollywood celebrities, Priyanka Chopra, Deepika Padukone  & Kareena Kapoor Khan  were  some of the celebrities  photographed in an all white pant suit. You can add a feminine touch with the stylish bell sleeves to an all masculine dress. Alternately, you can also pair it up with a frilly shirt to make it feminine.
 Black Suits are the best 
Dark Coloured pantsuits  for women are usually considered  the official dress & primarily a corporate  attire. Dark colours such as navy blue, brown and black are usually the colours worn by men at work  as well.
Coloured Suits
Hillary Clinton wore it all. She consciously preferred to wear pantsuits in a variety of colours. She was a successful and astute woman who was running for the highest office in the US. More importantly, there were a group of women who followed and emulated her style of dressing .In addition,
there is  a FB Group called Pantsuit Nations, dedicated to Hillary Clinton supporters.
And then there is Meghan Markle, the Duchess of Sussex, who made the pantsuit an acceptable and adorable fashion item. Catherine, Duchess of Kent, Victoria Beckham, Margot Robbie and other celebrities  also sport the pantsuit at the red carpet frequently.
Suits with a bralette
Bollywood & Hollywood celebrities  such as Jennifer Aniston & Jennifer Lopez wear a pantsuit with a transparent  or a colourful & coordinated bralette. Some wear a pantsuit without a shirt or a bralette. Either way, the dressing style makes a powerful ,fashionable and feminine statement.
Glitzy Pantsuit for women
Finally, shimmering & glitzy pantsuits are the ultimate party wear dress. Monotone pantsuits  for women in shimmering fabrics are also definitely glamorous.
Pantsuit for wedding
The fact is this. Pantsuits look elegant uncomplicated, graceful & stylish. India has an exemplary & immeasurable range of textiles and garments. Therefore. the grace of an exquisite saree or a gorgeous lehenga cannot be compared with a superbly tailored pantsuit. For instance, the exuberance & grandeur could be missing in a pantsuit. However, it is an available choice in modern times.
RELATED BLOG
---
View our videos
SIGN UP FOR NEWSLETTER
Be the First to Know. Sign up to newsletter today