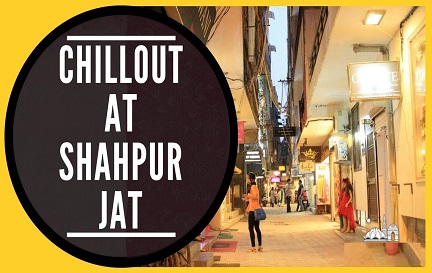 Shahpur Jat Market
For all the fashion lovers out there, this Delhi market is certainly one of the most fascinating places to go shopping. Brimming with modern apparel and latest accessories, the Royal Town of the Jats, if literally translated, Shahpur Jat is...Read more
For all the fashion lovers out there, this Delhi market is certainly one of the most fascinating places to go shopping. Brimming with modern apparel and latest accessories, the Royal Town of the Jats, if literally translated, Shahpur Jat is one of New Delhi's well kept secrets. For instance,the narrow cramped lanes, winding through crumbling haveli style houses belie the royal stature the area held during the times of Allaudin Khilji. He founded Siri, the first Muslim city of Delhi at Shahpur Jat in 1303.
As a matter of fact,it included the Siri Fort area and the neighbouring Hauz Khas reservoir as well. Now all that remains is parts of the stone wall or fort, a mosque, a structure called Baradari and the Tohfa Wali Gumbad.
Shahpur Jat Monuments
About 900 years ago, Shahpur Jat was slowly occupied by the Dagar farmers from Indri in Haryana. In other words, the land was fertile, they were able farmers and got rich quickly. Finally, as more clans came in, Shahpur Jat (the wealthy colony of Jats) came into being.
The surroundings are in ruins now, but Shahpur Jat still draws tourists to the old monuments…and some chic shops! Further,the government acquired the open farmlands here in 1978, to create the posh colonies of the Asiad Village, Panchsheel Park and Hauz Khas. The already heavily compensated farmers later made a killing by adding extra floors to their houses – it is these structures that now house designers' shops.
ShahpurJat Market  is a very interesting shopping market in Delhi. It retains its original, village, look and feel. In other words, it is hence known as ShahpurJat village at times .  For example, there are uneven pathways and narrow winding  lanes just right for a cycle or a scooter to pass through . They are not equipped to handle the 4 wheelers inside  he Shahpur Jat Market. As a matter of fact, there are small houses on either side of the narrow lanes,where you can  literally peep in to the homes and have a glimpse of domestic life . There is no hustle and bustle and the crowds are missing. In other words ,there are no swank store fronts with neon lights.There are general provision stores ,  stores selling vegetables and fruits, there are stationery shops and then there are hundreds of  bridal boutiques selling fashionable bridal wear.It is a surreal experience .
Bridal Boutique Shops in Shahpur Jat
Yes, today Shahpur Jat is a trendy hotspot for fashion boutiques in Delhi. Its proximity to fashion and design colleges in the Hauz Khas area, the cheaper rental prices and an artsy neighbourhood have all made it a prime location for aspiring designers to set up shop here.
Tucked into various corners of old bungalows, these designer stores retail anything from funky western tops and dresses through fabulous designer sarees in Kota, cotton and silk through trendy silver jewellery and unique home decor products.
Best Shops in Shahpur Jat
WRAP sells exclusive stoles, shawls and cloaks. The Shoe Garage sells custom- made shoes for women, while The Bag Garage sells clutches and purses. Shops like Creative Ghar and others sell kitsch furniture and home decor including sofas, beds, statues, candles, table-ware and cushions. Tan Him also sells pillows with cartoon prints and very elegant bags.
Ready-made designer apparel abound and Bridal Wear Dresses at Couple Cut Couture. Take your pick from Sitara Tarini, Osho, Viva, Aakarshan, Haute Couture, Darzi and Niket. Revolution offers designer wear in extra large sizes. Jewellery is somewhat exclusive – check out Aakaar, Tavishi and Kalden and decide for yourself. Go to Maya for wedding trousseaux, tunics, kurtas and customized dresses.
Shahpur Jat Market – Dada Jungi Lane
In the Jungi House lane, you will find Pakistani cotton suits with a starting price range of just Rs. 1000 each at Home Linen. Painted kettles and colored flower pots at Maximum are popular.
Shiva Oriental Rugs houses a large collection of expensive and exquisite Turkish and Afghan carpets and rugs.
The market is also home to a number of workshops for clothes and carpets, and is one of the largest production centres for Zari embroidery in North India.
It boasts of a number of books shops and publishing houses which not only stock old books in various languages but have technicolor posters of old Hindi films for sale as well.
The Quiet Village
Coupled with quaint coffee shops and shady trees, the book stores provide a quiet retreat from the hustle bustle of shops, where one can relax and enjoy the charming side of city life.
If you need to eat, The Slice of Italy is the only place. That apart, The Cafe Garage provides sandwiches. Otherwise you only have makeshift tea-stalls.
Read our related blogs:
---
What I did not know about the Shahpur Jat Market in Delhi
Top 3 reasons to visit the Designer boutiques in Shahpur Jat for best Lehenga shops in Delhi
Days Closed : Sunday
Bus/Metro : Siri Fort bus stop/Hauz Khas metro station, yellow line.
---
209 views