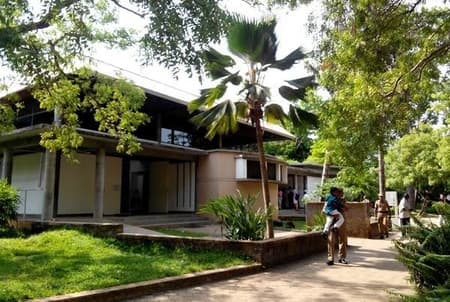 The Auroville Center
The Auroville Visitor Center is an entry point to the Auroville township. Auroville is a small town near Pondicherry. It is popular for the manufacturing of paper, leather, candles, ceramics and garments at Upasana Set up in 1988, the Auroville...Read more
The Auroville Visitor Center is an entry point to the Auroville township. Auroville is a small town near Pondicherry. It is popular for the manufacturing of paper, leather, candles, ceramics and garments at Upasana
Set up in 1988, the Auroville Visitor Centre welcomes a large numbers of visitors every day. As you walk in, you get an introduction to the many aspects of Auroville life. Matrimandir is a golden dome reserved for prayer and meditation. They regularly run video shows 'Introduction to Auroville' and 'Introduction to Matrimandir' in English and Tamil.
Moreover, visitors are encouraged to watch the film about Sri Aurobindo and the Mother, both of whom inspired the Auroville township. Further, the Auroville Visitor Center has parks, interesting shops and restaurants too.
Amazing Products: Auroville Visitor Center
Auroville encourages commercial activities to help sustain the economic growth and progress of the township. There are several small scale manufacturing units that operate in Auroville. Additionally, it encourages foreign nationals to open manufacturing units and export their products as well.
The range of products available here is irrefutably amazing.The Visitor Center has 3 shops that stock all the products manufactured at Auroville. You can shop here for garments, lamp shades, candles, incense and other decorative items as well.
Upasana, for instance, manufactures ladies garments such as tops, tunics, palazzo pants and skirts.
For colorful crocheted shoes, you ought to visit Ganesh Beads. They specialise in crochet embroidery. While Vanville specializes in leather bound books, Svaram allures you with the musical sounds of wind chimes, drums, string instruments, xylophones and flutes.
Besides, several shops in Pondicherry stock many of the Auroville products too.
Other related blogs :
Best shops for Auroville Products
---