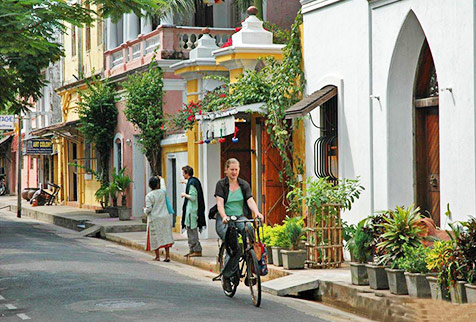 Tamil Quarters, Pondicherry
Pondicherry (Puducherry or Pondy) is one of the 8 Union Territories of India. There is definitely more to the coastal city of Pondicherry than just about relaxing and discovering inner peace. From textiles, designer wear, export surplus, leather items, Kashmiri...Read more
Pondicherry (Puducherry or Pondy) is one of the 8 Union Territories of India. There is definitely more to the coastal city of Pondicherry than just about relaxing and discovering inner peace. From textiles, designer wear, export surplus, leather items, Kashmiri carpets to pottery and furniture, Pondicherry has everything to offer. There are exclusive shops for Kashmiri carpets and shawls that are popular with tourists. Starkly different from the French quarters (also called White Town) is the Tamil quarters that resembles those in any South Indian towns. Going on a shopping spree in Pondicherry? Let's check out what Shops in Tamil Quarters have to offer…
 Shops in Tamil Quarters
Shops in Tamil Quarters are crowded and chaotic with a lot of activity and traffic at all times of the day. The names of the streets and roads are also typically Indian as against the French names in the French quarters.
The houses in this part of town have a characteristic small veranda (or a roofed platform along the outside of a house) in the front. It's quite different from the houses in the French quarters that have high ceilings with no verandas. Further, there are several well-known temples in the Tamil quarters.
Auroville shops
Locals typically own the shops in Tamil Quarters, Pondicherry. We recommend you to visit popular shops like Kalki and La Boutque. They stock exclusive Auroville products.
Further, Casablanca is the most popular department store. Hidesign, which is very popular for its leather bags, is also in this part of town.
The MG (Mahatma Gandhi) Road, JN (Jawaharlal Nehru) street and Ambalatadyar Madam street are the prominent streets for shopping in Pondicherry. Ananda Bhavan is a famous restaurant in this part of Pondicherry.
Related Blogs:
---