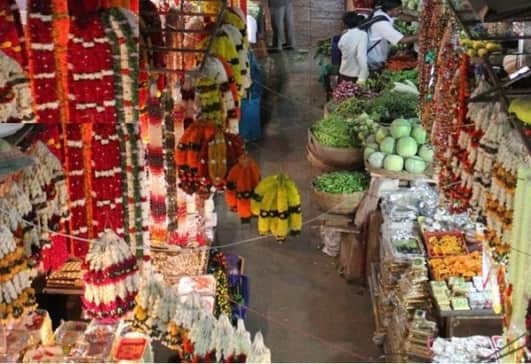 Bangalore Shopping – Street Shopping in Jayanagar
Jul 12, 2018
Ratna Singh
2741 views
add comment
Street Shopping in Jayanagar: While the Bangalore shopping malls are all glitzy and fashionable, hop across to the Jayanagar 4th Block Shopping Complex for a very different kind of shopping experience. This sprawling market is a treat for street shopping and a boon for people who are on a shoe string budget. You can get to shop for a variety of home accessories, imitation jewelery and cotton dresses at very reasonable prices.
As you enter the shopping market, especially the inner double storeyed building, you will notice that the entire place is jostling with people and there is frenzied bargaining. Shopkeepers display their stuff on the veranda all around the complex. Dresses for women and children are a big crowd puller. There are coloured leggings, salwar's, kurtas, dupattas, night dresses, slacks, inner wear garments, handkerchiefs and hand-towels in abundance. They are available at throw away prices. It is still considered, acceptable & practical to bargain with the shop-keepers for getting good price.
Street Shopping in Jayanagar: Home Furnishings Products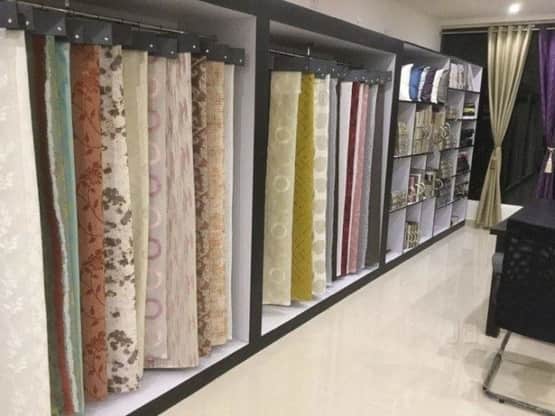 There are numerous shops on the first floor which sell curtains, bed covers, table covers, table mats and napkin sets. You need to look around a bit and choose from the wide variety of items on sale. There are curtains in cotton, cotton and silk mix, synthetic materials and in sheer fabrics as well. Cotton curtains in plain colours with pin stripes or with flowery motifs are reasonably priced and durable. They make for a great purchase. Also on sale are sofa covers in delicate lace-work and net fabrics.
Street Shopping in Jayanagar: Handbags and Leather bags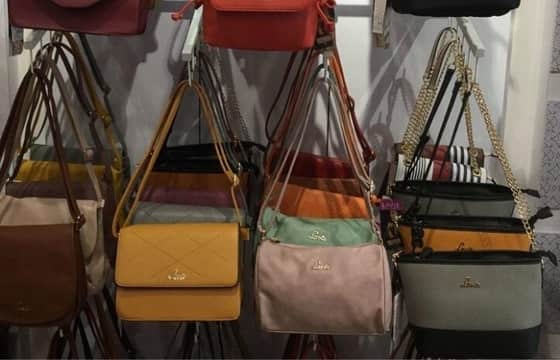 This is one of those markets which is also known for purses and hand bags. They may not be pure leather bags but the faux leather bags also make for a good purchase. You can find several types of purses and clutches; fancy and party wear clutches to smart casual bags for college goers.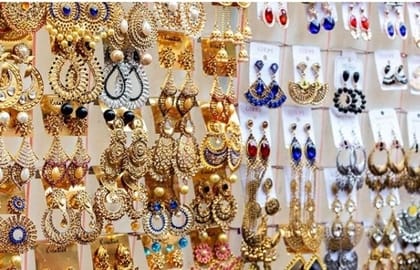 There are numerous shops for artificial jewelry and trinkets. It is a must visit shopping market for all women who love jewelry. From ethnic to trendy jewelry, you are likely to find plenty of designs and variety. Jewelry made of pearls, beads, stones, crystals, oxidized metal and silver are all on sale . Look out for the pretty jhumkas, chandelier ear-rings and danglers but don't stop at these. They not only stock individual pieces for the hands and ears such as earring, bracelets and rings but complete sets with necklaces, ear tops, pendants, and bangles and bracelets as well.
There are rows and rows of shops selling embellished hair bands and hair clips. Reasonably priced cosmetics are also available here. These shops are extremely popular with young ladies and working women.
In addition to the above , there are shops selling fresh fruits, vegetables, flowers and puja items in the complex. During festivals such as Diwali and Dusshera , the market is full of beautiful idols of gods and goddesses made of clay or metal. They also stock trays, bowls, lamps and diyas and colourful rangoli powder. The latter is used in colouring the floor on auspicious and festive occasions. On one of my visits to this market, I purchased a beautiful Ganesha toran made of paper mache and painted in bright colours for the main door of my house. (The toran is a wall hanging that adorns the entrace to a house)
On certain occasions ,the local artisans are also present, demonstrating their craft to the eager shoppers. Also present are mehendi artists who colour the hands with beautiful designs in a jiffy. (Mehendi is the art of applying henna to woman's hands)
Do not miss the street shopping experience in the Jaynagar Shopping Market.
---
View our videos
SIGN UP FOR NEWSLETTER
Be the First to Know. Sign up to newsletter today