Firstly, CP, as Connaught Place  is popularly known was built in 1931. It is  as part of a grand design for New Delhi by British architect Sir Edward Lutyens. Connaught Place  with its spectacular white columns and circular structure, soon became the business and commercial hub of New Delhi. Above all, it is still the heart of New Delhi – offering the best of shops and food, old and new.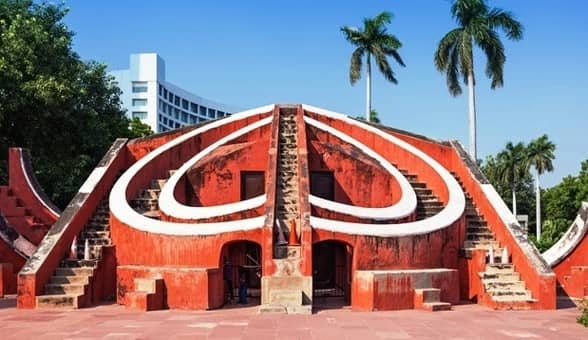 Connaught Place Tour
Delhi is one of those cities where nothing is isolated except the modern Delhi shopping malls. The authentic shopping districts are in the heart of the city. Delhi shopping Markets  are  surrounded by the grand Mughal domes  and  lovely British architecture. Further, they are also flanked by classic hotels and legendary  old restaurants.
To give you the true Delhi shopping experience, we have created simple walking tour that will take you to the best shops in Delhi, the best places to eat in Delhi while you shop, and also let you catch a glimpse of the historic splendour of the capital city of India.
Getting There
For instance, the center of New Delhi can easily be reached from any place in the city. You can go via taxi, bus, metro or local transport. The easiest route would be to hop onto the metro and get off at Rajiv Chowk station. This station, located below  Connaught Place (CP) is also where all the metro lines of New Delhi converge . Hence, you will find it on every Metro line and can get connections to anywhere in the city from here.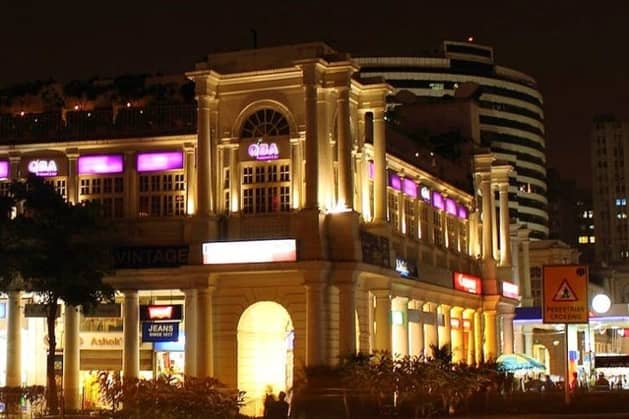 Connaught Place-Tour Covering Shopping and Food Options
Connaught Place is circular and can easily be covered on foot. It also has about 7 different  radial roads leading out of it.  They are  similar to  spikes on a wheel in a hub and spoke model. This leads  to various parts of the city.  As a matter of fact, the entire  Connaught Place (CP) Area, with its roads, lanes and by-lanes is an exotic labyrinth.  There are  several shops tucked into nooks and corners.  Delicious old eating joints  are very enjoyable .  Exquisite Indian handicrafts and traditional clothes and jewellery shops are a major attraction here.
Here's what we suggest as the ideal Delhi shopping tour at Connaught Place
10:00 a.m- Get a bright and early start to the day with a glimpse of modern Indian art. Visit the National Gallery of Modern Art located near India Gate. It is 10 minutes from C.P. by car/auto rickshaw).  They are open from 10 am to 5 pm.  However, they are closed on Mondays. The Delhi High Court is nearby.
11:00 a.m- Hit the street shops and bargain to your heart's content.  Shopkeepers are willing to bargain for great discounts on everything . One of Delhi's well known street shopping lanes- Janpath– is located right off C.P. Check out the map below  to know exactly where Janpath is. If you are travelling by local transport, the vehicle can drop you off right at  Janpath.
In addition, you can easily spend an hour shop-hopping at Janpath. Shop for cloth bags to Tibetan handicrafts, silver jewellery ,stained glass hookahs & papier mache ornaments.  In addition, lovely Indian scarves and skirts  are all available here. Janpath has it all. Stroll around the lanes, bargain hard and enjoy the open air market.

Cottage Emporium

12:30 p.m-  Further, once you are done, cross the road to the Cottage Emporium for a cool cold coffee and take  a break from the  heat . Enter the world of authentic Indian handicrafts . The Central Cottage Industries Emporium is a government run shop. It is open 11 a.m to 7 pm and it is  closed on Sunday. Above all , it is treasure house of beautiful hand crafted textiles, carpets , furniture, clothes, and jewellery from across India. However no bargaining is entertained here. The shop has a lovely collection of local sandalwood handicrafts, papier mache and incense sticks .  As a matter of fact, all these make for fantastic gifts . In addition,  there is  brass, copper, silver and marble  crafts. The Cottage also has a great collection of exquisite rugs and carpets in all shapes, sizes and colours . The  carpet section is hidden behind a staircase on the ground floor. So do not forget to ask for them specifically.

 Lunch Options 

1:45 p.m- It is now lunch time and there is plenty of choice. Our favourite picks

Saravana Bhavan – The best South Indian fare in town and is therefore always very crowded. The waiting time typically a minimum 45 minutes. Not a good place to go to if you have hungry little kids or elderly people in the group .
United Coffee House– The place to eat if you're in C.P. It is one of the oldest restaurants around. Has adequate seating and decent North Indian fare. It is a 10 minute walk to the inner circle of Connaught Place. (Check the map, or ask any passerby where UCH is located)
Embassy Restaurant – has been around since the partition of India in 1947. Also located in the inner circle of C.P. it is a 10 minute walk from The Cottage. Try the Chana Bhature or the Chicken Masala here.

Further, if you would like to try other cuisines, C.P. has more than 100 places to eat at .From Italian to Mexican to Lebanese to McDonald's – you will find it all here.
 Tea & Beyond 
3: 00 p.m– Post lunch, walk over to the State Government Emporia located off C.P. on Baba Kharak Singh Marg (See Map) .A 15 minute walk from the Inner circle will take you to the emporiums. Each Emporium represents a particular State in India. Each State, is extremely diverse in its clothes, jewellery and handicrafts . You can see the richness of Indian crafts and culture on display in these shops. Though you cannot bargain, the products are reasonably priced for purchase.
4:30 p.m – Walk back to the Inner circle and grab a coffee at the numerous coffee shops. Alternately, buy a lovely chocolate truffle pastry at Wengers (another favourite haunt) and sit in the central park and take a break. If you have bags of time and fancy a propah English Tea, do visit the Imperial Hotel located on Janpath Road and try their hot tea with an assortment of scrumptious cakes and sandwiches.
5:00 p.m – Head over to Indian Gate and Rashtrapati Bhavan for a nice walk.   As a matter of fact, one can just sit on the grass and take a break. Though not entirely walkable from C.P. – it is but a 10 minute car ride/ auto ride from C.P. This is what Sir Lutyens designed as the seat of the British in India.  This is where India was declared an independent nation by Prime Minister Jawaharlal Nehru in 1947 .And finally, this  is where India celebrates Republic Day with a grand parade each year on 26 January.
INDIA GATE 
The India Gate is dedicated to the Indian soldiers who died in WW 1.  As a matter of fact ,you are free to walk all the way up the hill, to the gates of the Rashtrapathi Bhavan (Presidential Palace). This is flanked by the North and South Block ,where the Government ministries are located. A large oval shaped building to the right of the hill is The Indian Parliament. The new central Vista is being constructed in that space right now.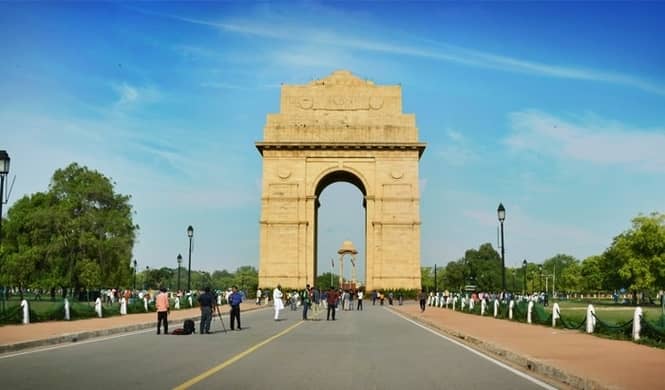 Visiting Monuments 
For instance, if you would like to visit a few other monuments instead of India Gate- you could visit the Jantar Mantar – located on Parliament Street, just off  Connaught Place (CP).  It is one of the oldest observatories built in the city. Open all days – Sunrise to Sunset, Entry Fee: Rs. 5 (Indians), Rs. 100 (foreigners) Photography Charges: Nil ( Rs 25 for video filming).
Else you could just walk down a few meters from the State Emporia on Baba Kharak Singh Marg and visit one of the famous Sikh places of worship . It is the Gurudwara Bangla Sahib- which is  a grand gold and marble structure . As a  matter of fact , it was originally built in the 1780's.
Finally, end your Connaught Place (CP) Delhi Shopping and Food tour with an ice-cream soda or Hot Chocolate Fudge at Nirula's restaurant . It is Delhi's famous ice-cream parlor  and is located on the outer circle of C.P. Or  else you could grab a Frappuccino at New Delhi's first Starbucks, also right here in the heart of C.P!