Salwar Kameez Shops in Delhi
The Lajpat Nagar Market is a crowded and noisy shopping Market. You can shop for anything from paper flowers and fibre glass fountains to bridal lehengas and imitation jewellery. However, shops for Salwar Kameez in raw silk & tussar fabrics is not so easy to find.
Salwar Kameez Fabrics in Lajpat Nagar
We found this tiny little shop by chance. It is in a tree lined avenue before the Central Market and it is diagonally opposite Home Saaz, the home furnishing shop. Raw Silk Emporium is a wholesale supplier of fabrics and ready to stitch salwar dupatta sets. They stock Tussar silk, Raw silk, Banarsi fabrics and others. They have their own manufacturing unit in the State of Chhattisgarh. Hence, the prices are very attractive and the collection is good.
Raw Silk Fabrics for Salwar Kameez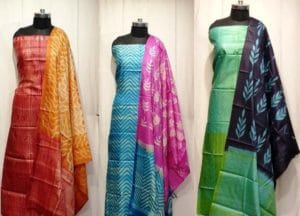 Firstly, they stock raw silk fabrics from Chattisgarh. They are available in all colours including pink, blue, cream and red. Raw silk is a solid fabric with a good fall. It is ideal for stitching dresses, shirts and kameez. It costs around Rs. 800 to Rs. 900/meter Secondly, they stock printed silk in multi colours with block prints. They are available at @ Rs.940/meter. These fabrics are ideal for stitching kameez, skirts or tops Thirdly, there is plain Tussar silk available at @ Rs. 750/meter. Tussar silk can be used for ethnic Indian wear dresses. A wrap skirt in a cream tussar silk set off with dark colour shirts and stoles would look elegant. Plain tussar can be dyed to the colour of your choice.
Ready to Stitch Salwar Kameez Fabrics
Raw Silk Emporium also stocks ready to stitch fabrics for the kameez and the dupatta. The fabric for the salwar can be purchased separately if required.
The following variety is available:
Kota Fabrics– Kota is very light and wearable fabric for the summer. It comes with self-checks .The red and pink fabrics looked absolutely striking and beautiful. They are simple and pretty.
Tussar Silk– Tussar silk kameez and dupatta have a grand look and feel. Ethnic party wear in printed Tussar is always popular.
Cotton Silk Fabrics– Cotton silk is a mixture of silk & cotton. Printed cotton silks are ideal for salwar kameez.
Maheshwari Fabric with Shibori Prints. Maheshwari sarees is fine and thin. It is a delicate blend of silk and cotton yarn – made in tiny checks or stripes with a coloured border. Maheshwari sarees are available in both cotton and silk.
Shibori
Shiburi is a comes from an age old Japanese method of resist dyeing technique of embossing textiles with blurry – edged motifs. Raw Silk stocks light Dhiburi dupattas in a range of bright colours including pink, red & yellow.
Banaris Dupattas
A light cotton silk banarsi dupatta looks dressy and classy when paired with plain shirts. They also stock stoles in cotton silk with digital prints. Hence, Shopkhoj recommends this store for raw silk fabrics, tussar silk salwar sets and the Shiburi dupattas.