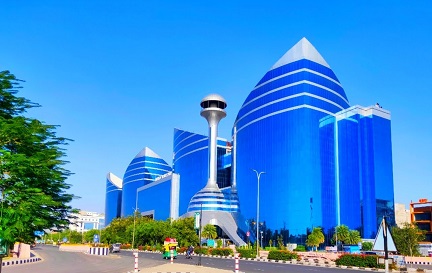 World Trade Park Jaipur Shops
World Trade Park Firstly,Jaipur is known for beautiful jewellery,Jaipuri quilts, the colourful leheriya & bandhej sarees, cotton block printed dresses and more. The Johari Bazar Market & the Bapu Bazar Market in the old City are still popular & crowded. The...Read more
World Trade Park
Firstly,Jaipur is known for beautiful jewellery,Jaipuri quilts, the colourful leheriya & bandhej sarees, cotton block printed dresses and more. The Johari Bazar Market & the Bapu Bazar Market in the old City are still popular & crowded. The World Trade Park Mall  or wtp mall in Jaipur has brought in an international shopping flavour to this historic city with multinational brands and recreational options.
It is a spacious mall and is known for its beautiful modern architecture.  The  gleaming glass exteriors  stand out in an otherwise  traditional and dusty landscape. It is one of the first big malls on the airport Road . It has office spaces, entertainment zones, international  stores , a multi cuisine food court and movie theaters.
Jaipur Shops – World Trade Park Mall
The shops are on two separate circular  buildings .
Some of the prominent shops for garments are  Mango, Promod, Zara , Marks &Spencers Forever New & Forever 21. Shop for trousers, tops, jackets, dresses, skirts& accessories in any of these stores. The World Trade Park Mall has a compact design. Hence, you will find it easy to visit several of these stores and then make your choice.
Aldo ,Charles&Keith are two of the most prominent international footwear brand in the World Trade Park Mall.
Also, there is  Swaroski & Tanishq and  Accessorize for real & Imitation jewellery.
This Jaipur shopping Mall is a treat not only for women but for men too .PeterEngland, Arrow ,Park Avenue, Raymond ,Lacoste, Sunglasses Hut, TagHeuer, Louis Philip & Rado are some of the shops.
In addition, Sephora& Body Shop complete the personal care /cosmetics stores.
There is also Meena Bazar & Biba for ethnic Wear.
Ethnic Bazar in WTP mall in Jaipur
The top floor is a surprise . There are no international branded stores in that floor.There is a mini bazar in that floor. There are affordable ethnic wear clothes & imitation jewellery stalls. It is a mini market place in the mall.
The adjacent Mall has Hamleys, the popular kids store and a kids play area with a small train ride to entertain the adults & kids alike .
World Trade Park Jaipur is an iconic landmark in Jaipur.. Read our review before you visit Jaipur shopping malls.
---